Leafy cardigan, Sirdar 9428
Hello again. Seems like a while since I've written a post. No apologies. Half way through the summer holidays and I'm facing the fact that it's proving a monumental task to do everything. Who knew? All work and play, leaves no time for blogging. I've also fallen into the trap that it's quicker to post a photo up on Instagram, but then I go on and gabble away, which rather undoes the quick part.
Talking of which, if you do follow me over on Instagram, you'll have seen that our summer has been filled with sun and crafting. I have so many projects to share here. Starting, as it's as good a place as any, with my latest finished knit. I finished my leafy cardigan, on one of the hottest days of the summer. It's remained too hot to wear, except in the evenings. Sirdar 9428, which is not a catchy title, so I'll stick with leafy cardigan.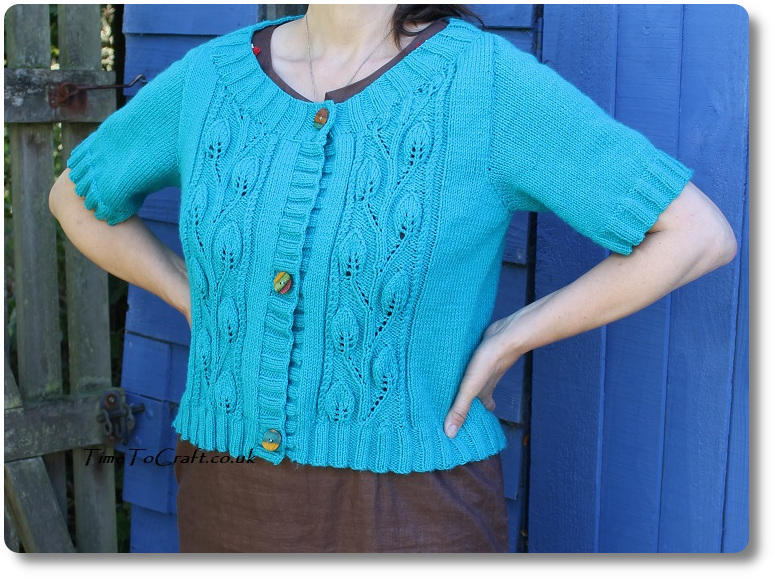 I loved this knit. The leaves only go on either side of the centre front, but I was actually bottom-lip-pouting sad when I finished the front panels. These leaves are good to knit. At the start, I wasn't sure if I'd ever get the hang of this stitch pattern, but perseverance won out, as you can see. Otherwise I'd be calling this project, my teal or modern art/abstract/slightly messy cardigan, I guess. Or not showing it at all. Anyway, here it is. It took one repeat of the rows, before I was liking it.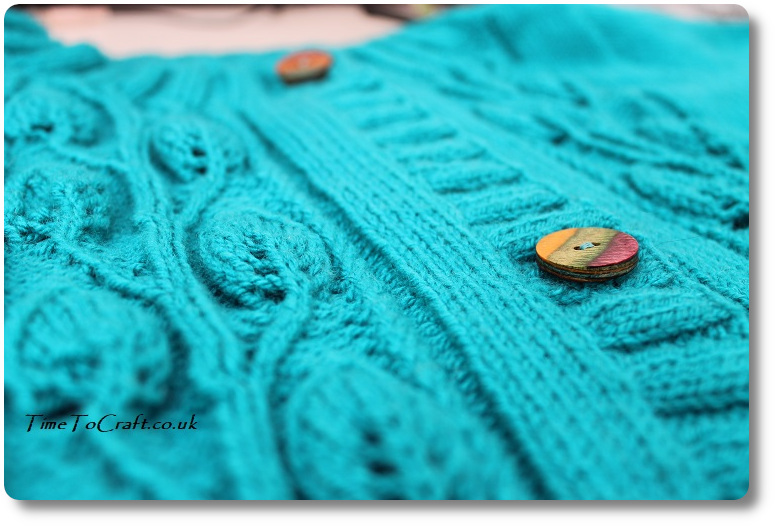 I was impressed at how the leaves almost look like they are about to grow out of the garment. One curly stem at a time. A slight breeze and they could almost flap elegantly and lazily. Eldest Teen even exclaimed that she didn't know you could make something like this with knitting, which I take as a compliment.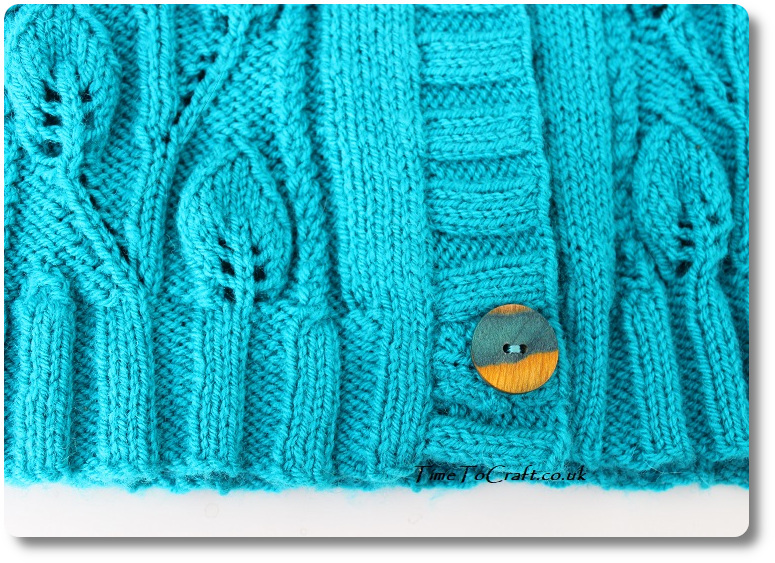 I wanted to avoid the cardigan looking too homemade. It kind of knocks my enthusiasm to wear something if I'm greeted with "Did you make that?" everywhere I go. Self doubt creeps in. Not a good feeling. I find my ribbing always gives the game away, so I purposely chose a pattern that did not use a knit one, purl one rib. This one is knit three, purl three and it does seem to give a smarter finish.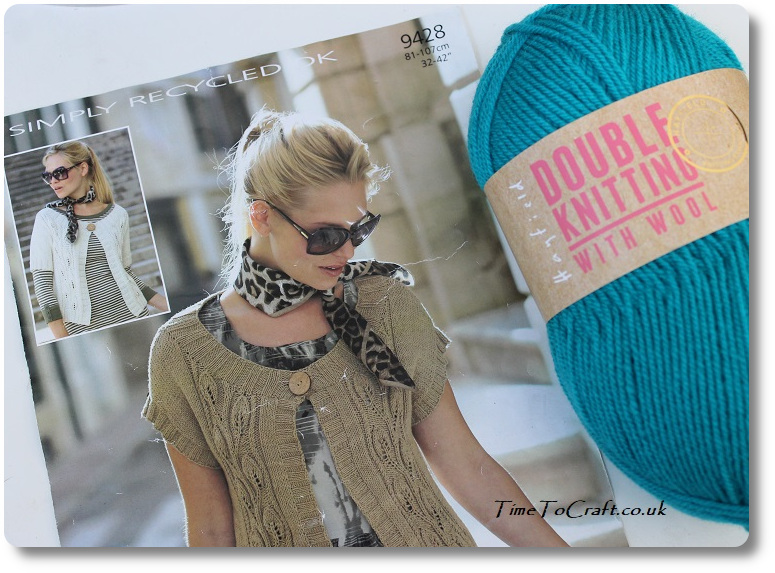 The pattern also calls for one, lone button at the top, which looked fabulous on the pattern's front cover model.  Once I tried the finished cardigan on, I realised that this style does not suit me. The front opening makes diagonal lines across my front, not almost straight down like the model. The diagonals were doing no favours to my midriff. Seriously, not a look I need.
Instead, I decided to add two more buttons. I've not added buttonholes to a finished knit before, but I've seen it done. When it came to the point of cutting into one of my stitches, I took a deep breath as there was no going back. The other fly in the ointment was that the knitted rows meant that the two new buttonholes would be vertical rather than matching the top button's horizontal alignment. No choice but to go for it and I'm not sure anyone could really tell unless they got close up and invaded my personal space.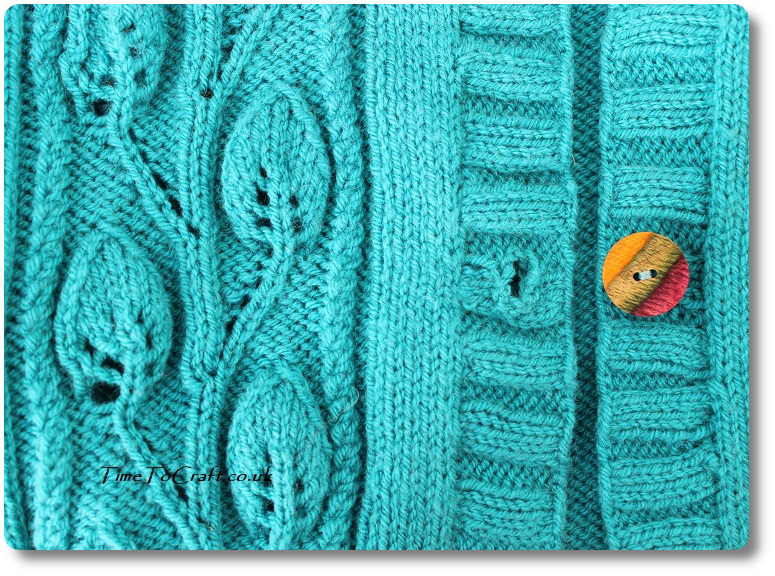 The buttons are 23mm Knit Pro wooden buttons. My sister gifted me the first one, a few years ago. Fortunately, I found two more. I love how they look against the teal wool. I used Hayfield double knit with wool, which is the same type as I used for the two hoodie's last summer. I'm not sure it shows how vibrant this colour is in the photos.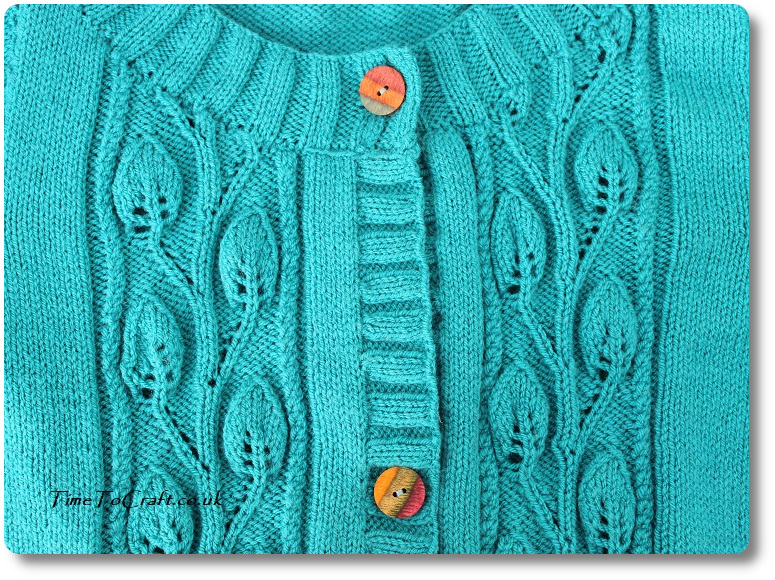 I made it in the fifth size. I wish I'd gone down to the fourth as it's a bit too big. All that running and giving up crisps since I started knitting it, has made a difference. Optimistically, I washed it straight away, but it still feels a little looser than I'd like. I've also found I prefer to wear it with more figure hugging, plain dresses, as it's more flattering if it's not competing with anything else.
I tried it on with my brown, linen, sheath dress today, for the photos, and it makes a perfect combination, I think.
Only other change I made was to make the sleeves, slightly longer. I had plenty of yarn. Ah, yes. OK. I'll admit. Between you and me, I managed to over order the yarn again. Again! When will I learn. I really don't know how I do it. I probably have enough left over to knit another in a smaller size, but I won't.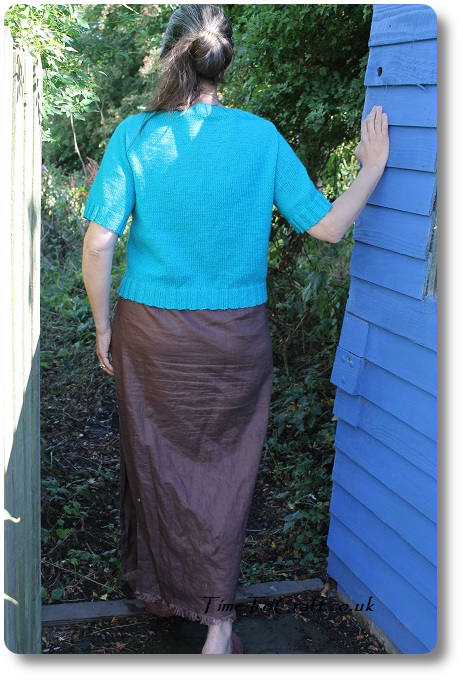 One is enough.
I'm very happy with my new leafy cardigan. It is warm and comfortable. I've cast on a different jumper already. Struggling with the first row, as the ribbing is complex, to say the least. I will get there. Just got to keep going. I've opted for a smaller size, too. And less yarn. Definitely less yarn, this time.
Right. Back soon with my next summer crafting project. It's a doozy, as they say.