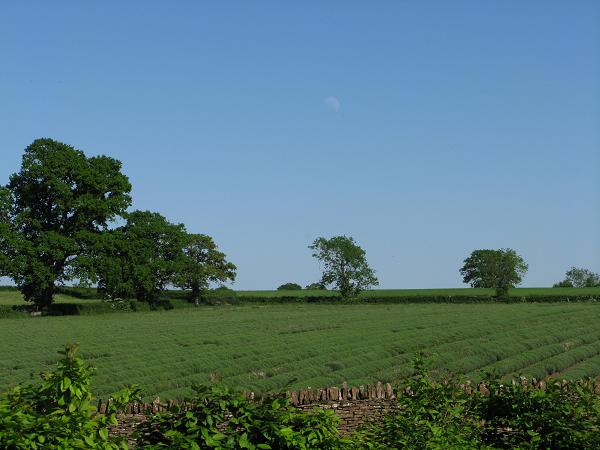 Late afternoon we headed over to Faulkland, Somerset to the Lavender farm. It's a place I have wanted to visit, ever since I heard about it. It certainly lived up to my expectations. It was beautiful and peaceful. The lavender is not blooming yet,  but the leaves are so aromatic that the air was full of fragrance. It was so hot and beautiful that we could have been in the south of France.
They have bee hives that were buzzing and people bent over weeding the lines of lavender. The farm is planting up another 5 acres. It is so dry that the farmer had hitched up a water pipe, under the tractor, which was drenching the ground before the lady, at the back, planted the lavender. It was a hot day and they had planted thousands already.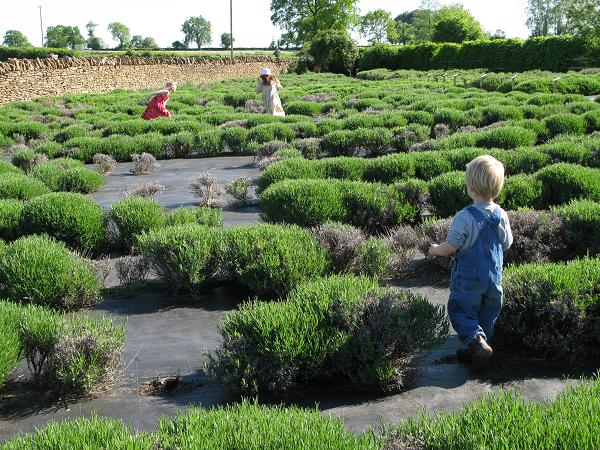 The children had not been keen to visit the farm. A field of lavender. Boring. When we got there they were so excited. They lapped up the atmosphere like it was honey. A happy place to be. There was an area with rabbits, guinea pigs and a little bantam hen, that kept them occupied while I selected some lavender plants and chocolate and lavender fudge to bring home. They ran among the lavender beds.
There was also a willow tunnel, on the kind of scale that I would love to do at home, but really cannot justify the space.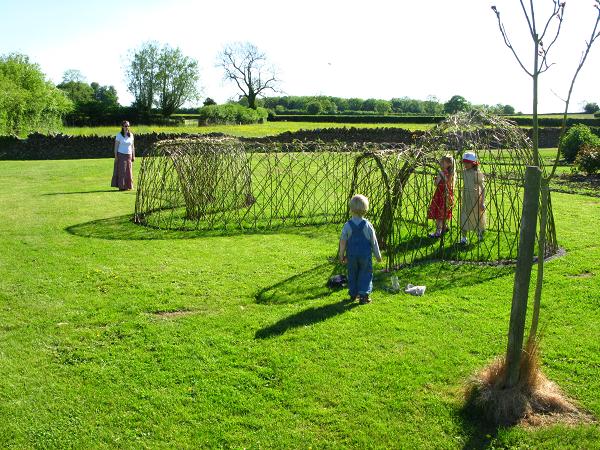 The girls loved running through it. I'd love to go back and see it when it has leafed up. Oh, and that is a rare photo of me in the distance (unless you are viewing this through Google reader, in which case  you're probably missing the photo and wondering what I'm on about!).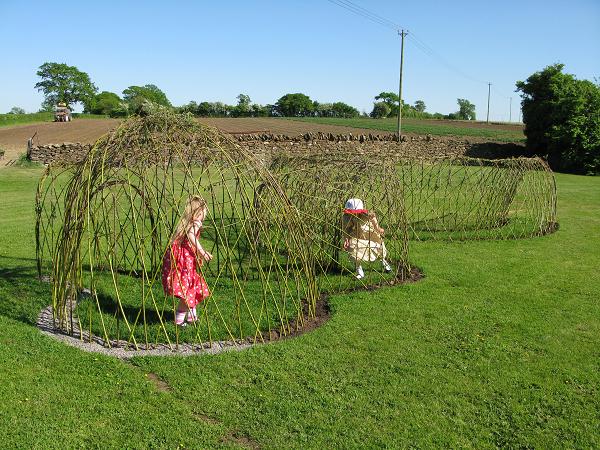 I think we could have bought a cup of tea at the cafe and sat and watched them, because they would have carried on having fun for a long time. TF had another fascination. He could not take his eyes off the tractor.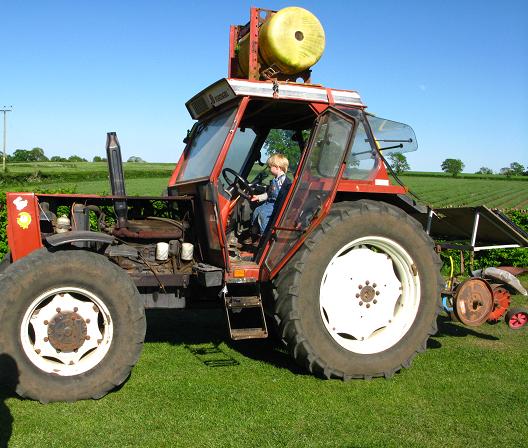 It was the end of the day. The farmer was hot and tired, probably ready for a cup of tea, but he noticed little TF.  As he was heading off to the farm yard, he stopped (and turned off the engine) and let TF climb on board and be a real tractor driver for a few minutes. TF was so overwhelmed!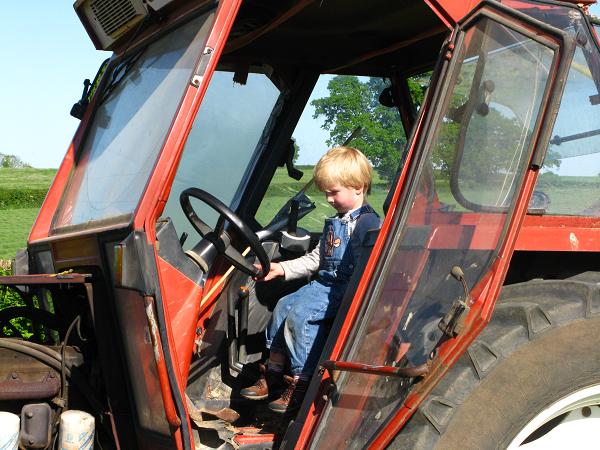 I find the farmer's kindness overwhelming. It would have been so easy for him just to wave and TF would have been pleased. I'm going to try and remember this next time I'm tired and feel like taking the easy route.
After stopping at a pub for a quick drink, playing in a play park, spotting scarecrows in another scarecrow trail, we finally made it home. I wanted to give the children one last lavender experience to ensure they had sweet dreams tonight. I cut up some muslin and grated some soap. The three children then put a spoonful of soap, oatmeal and lavender into the middle and we tied it up with ribbon.
I have never seen them get ready for a shower quite so quickly. They used these to scrub themselves. The smell of lavender was heavenly as I tucked them in to bed tonight. They were so tired that each of them was asleep by the time I went up 5 minutes later.
And this one is mine. So, I'm going to finish off this post (much longer than I meant to be, thanks for making it to the end) and head off for a shower. I wonder if I could take my tent to the lavender farm next time….
Hope you all had a lovely weekend.
I'm going to link this up to 5 Orange Potatoes Outdoor Challenge.