The nice-day-for-fish dress
When I asked the family when they could see me wearing my latest handmade dress, there seemed to be a consensus. On the whole. Not shopping. Maybe not to work. Not too formal an occasion. To a gallery or theatre trip, perhaps. A restaurant. Especially a fish restaurant. (I love fish) To an event.
There were suggestions that I might want to break it up with a plain cardigan or shawl.
I see their point. The print is big. In retropect, it might work better as a top.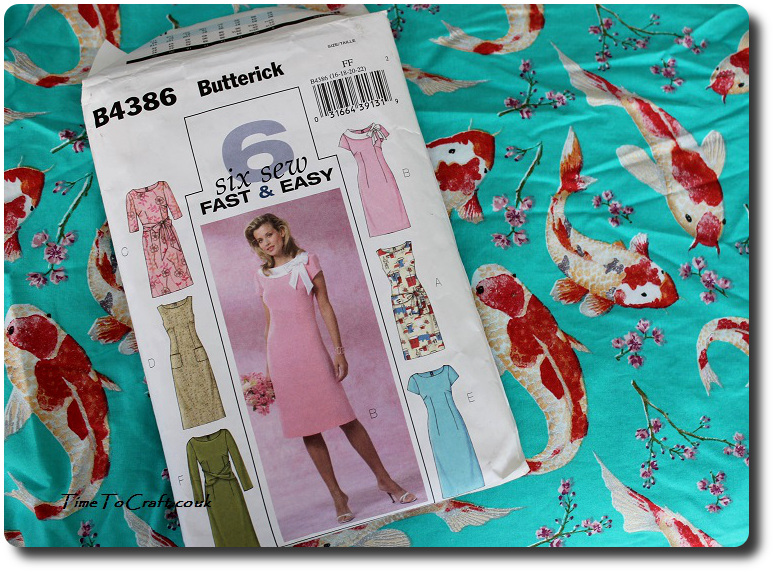 Putting that aside, I like it. It is so comfortable to wear. I used the Butterick  B4386 pattern again. I contemplated adding the sash this time, but I suspect it would have condemned the outfit strictly to special occasions only.
Having learnt from my previous dress, I made a few alterations. The back sagged, so I took 2mm off each of the side seams and made the back darts bigger, which narrowed the back without losing the comfort. The back hugs me more than the first time I used this pattern. I have plans to alter the darts on the brown one too.
I'm pleased I cut the fabric out carefully for the back. The fish swim effortlessly across the zip perfectly. I made an error when sewing it. Hmm. I guess that's what seam rippers are for. After careful re-pinning, I managed to match the two sides up again.
I usually hand sew hems, to give them a polished finish. This time I went for a decorative stitch. I kept it subtle. Trying to give the impression of waves, to go with the fish. It was so easy to do and just adds that little detail, that I will do it again. Maybe experiment with contrasting thread next time.
The cotton poplin fabric came from a local shop. It does crease easily, given half a chance. I forgive it as the colours are beautiful. It is vibrant, which is best seen in the sleeve photo.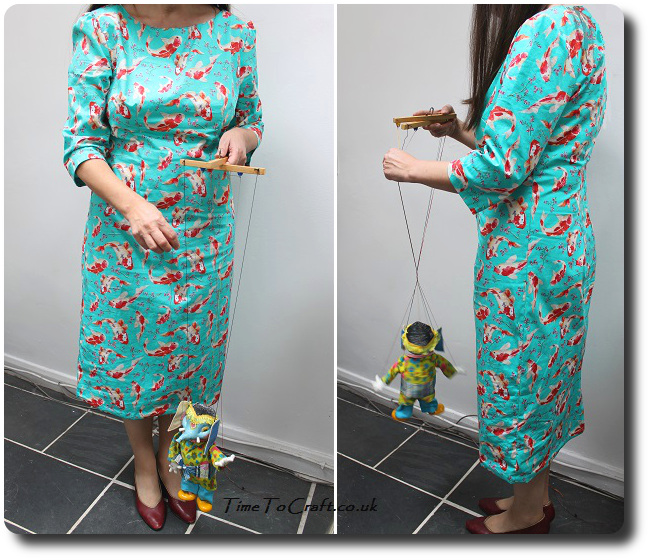 Raining today, so I retreated to my sewing room for the photos. Eldest helped take them, until all three children ran off with the puppet and left me to figure out the self timer. Ah well. Needs must. Shame though. I've always felt that particular puppet was flamboyantly dressed, making it the perfect companion for this particular dress.
I love this dress. A good rainy day dress. I shall find as many occasions to wear it as possible, because it feels fun to wear.
2 Responses to The nice-day-for-fish dress
There have been cases when people lifted my photos and words, and used them without credit to me or asking permission first. Using them for their own commercial gain. I have now added a level of security to deter people from doing this. Apologies to people who do play nicely. If you would like to use any of my photos, please contact me.
All my words and photos are copyrighted to me. They cannot be used for commercial benefit by anyone else. If you would like to use any of them, then please ask me first and don't just take. Written permission only. Don't pass my words, photos or ideas off as your own. It's not nice.
Cookie Policy
Our web pages do not use cookies however this website uses Google Analytics, a web analytics service provided by Google, Inc. Google Analytics uses cookies to help us analyse how people use our site. The use of cookies by Google Analytics is subject to change.