When a girl designs her own dress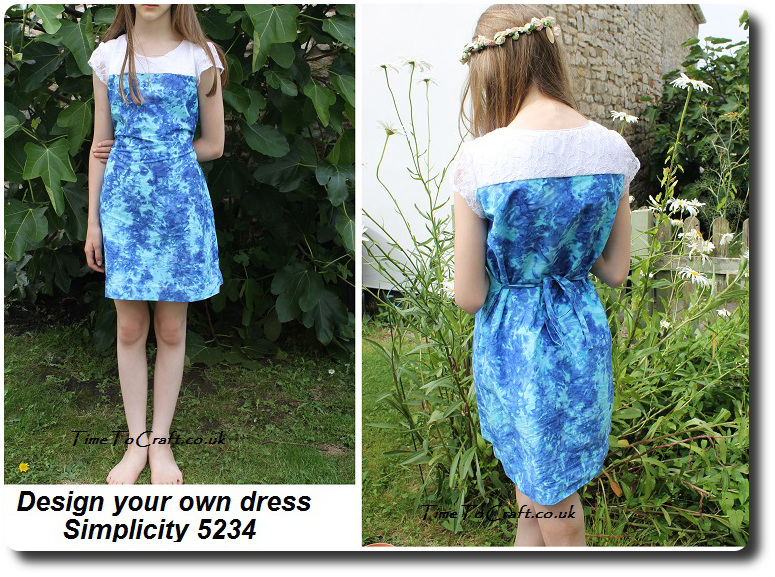 We sat on her bed, looking at the contents of her wardrobe. After flicking through the rail, I finally agreed with her. All her dresses were not suitable for a near-teen. It didn't help that since last summer she has stretched. I mean really stretched. Dresses were now tunics and the rest were too young.
More dresses were definitely required. (Music to a mother's ears, who likes to sew.)
It was a Saturday morning. The fabric shop would be open. Heading downstairs, I selecting a few possible patterns from my collection and let her choose.
Being a near-teen, she has clear ideas about what she likes. It is a fearless state of mind. She doesn't seem to compromise and worry about what her friends will think. She knows what she likes and what suits her. I hope she never loses that clarity.
The making of the dress
She opted for Simplicity 5234. A simple dress, that gave a variety of combinations. Different options for the neckline, yoke fabric and sleeves, while the dress stayed the same, simple shape. She could design her own dress. How good is that? She was decisive and went for view B. She wanted a lace overlay, with cap sleeves.
Fearless, I tell you.
Next stop, the fabric shop.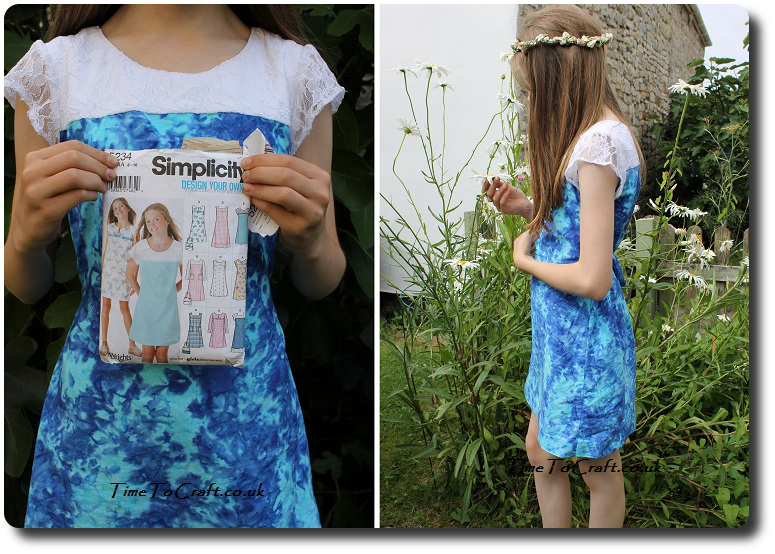 It didn't take her long to spot the perfect watery-blue. We looked at several laces and background fabrics, finally settling for a white, soft lace against white fabric.
Secretly, I was pleased she chose this dress pattern. I knew it would be quick to make and perfect for a wedding we were all going to this weekend. The dress is a pullover. No zips or buttons. A simple shape with a tie at the back.
I've not worked with lace before. The sleeves needed gathering at the top to ease them into the armhole. I found the combination of lace and gathering fiddly, but got there in the end.
Originally, she wanted the long version of the dress, but once fitted, she realised that the hem would work better for her as the short version. I cut off a couple of inches. If she changes her mind, I can easily add it back on.
The pattern was quick to make and no advanced tailoring. A great choice if you're starting out on your dressmaking journey. The instructions are straightforward. If I was to make it again, I think it would take me an afternoon.
Why it matters that she designed it
She loves her new dress. The dress she designed. She's not one to ask for lots of things, but when I prompted her, she did say she'd love another using the same pattern. I think I can manage that.
I'm glad we took this route. Yes. I could have let her loose in any number of clothes shops, with a purse full of money. I daresay, she would have found an outfit she liked. Maybe it would have been a compromised choice as closing time neared. This dress should last her a while (especially if I add the length back on). Unlike a shop bought outfit, it will not look easily dated. Eventually she will grow out of it, but it's not destined to be thrown away in a matter of weeks/months as so much of our fashion goods are in this country. As the fashion passes.
It may seem like a small thing, but I love that I was able to give her control of the design.
I try to bring my children up not to be sheep. Following others blindly, without a thought. They may roll their eyes, but they're also the first to point out when they see others following for the sake of following. I can also see in their actions that they understand. My daughter loves to draw. She loves to design. Doing it this way meant she could take her skill and transfer it to something she could wear. She led rather than being led by others. She designed it. She did it. Confidence boosted a notch or two more.
She wore her dress to the wedding and had a great time. She said it was an easy dress to wear.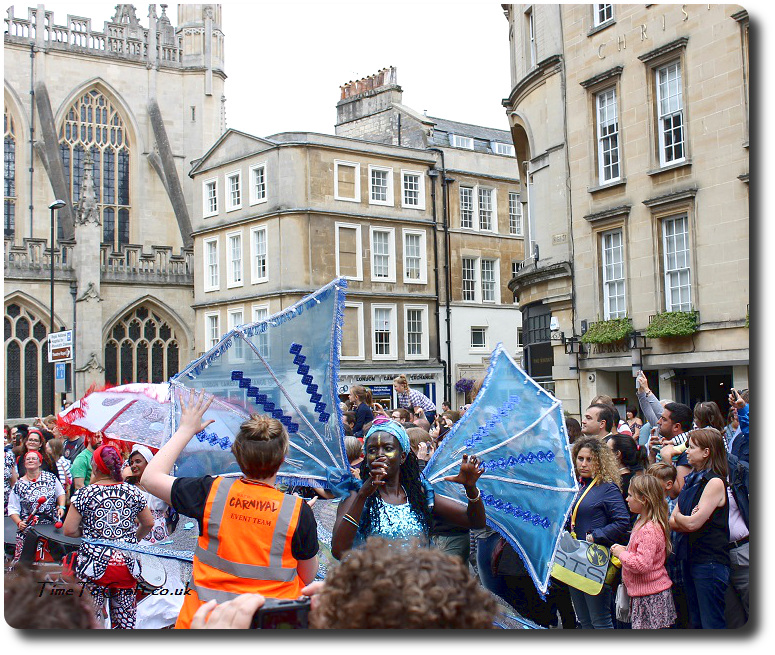 Bizarrely, after the wedding, in a way that no one could ever have co-ordinated the timing so perfectly, we stepped out on to the pavement, and straight into the Bath carnival.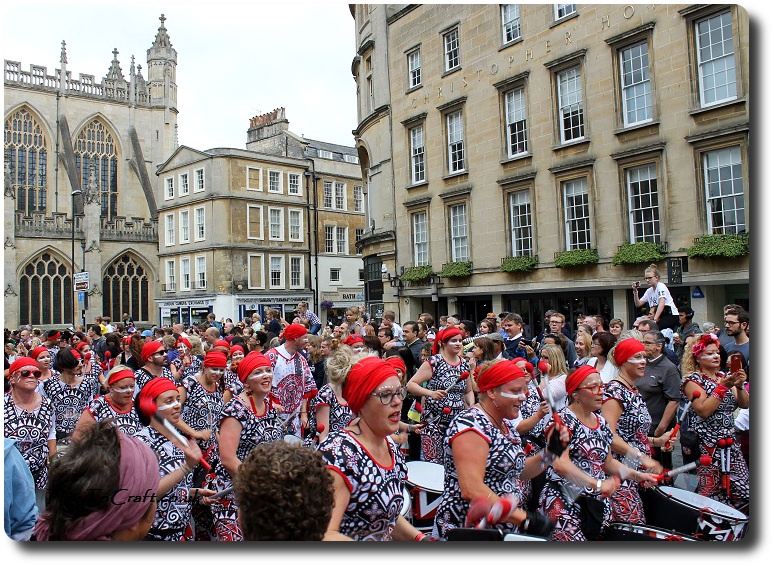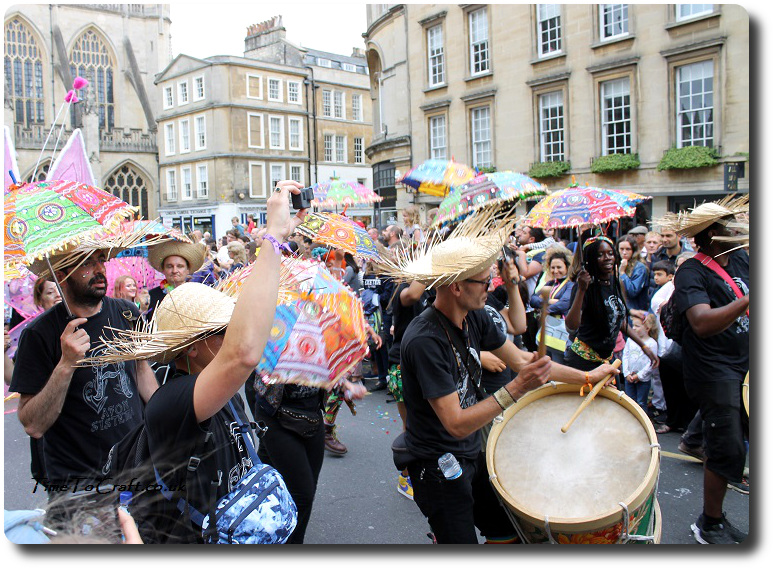 The music and dancing swept us all away. I had wondered if my dress (and this blue one) might be too bright for a wedding. Apparently not this wedding. Not with a carnival to finish off the proceedings.
Linking up with Crafting On and …