I love crafting with the children. Sometimes they have definite ideas about what they want to do and other times they are willing to go along with whatever I have planned. Today I wanted to felt a case for my mobile phone and the girls were keen to join me. In the past, they have felted pictures and around marble eggs. They have made felted balls, but they had not tackled a bag before. They were so excited.
So we found two tins and an old cassette case to use as resists, pulled out the wool tops and made our bags. First we wrapped the tins with three layers of wool, which completely covered it so no tin was showing. Each layer went a different direction to the one below it.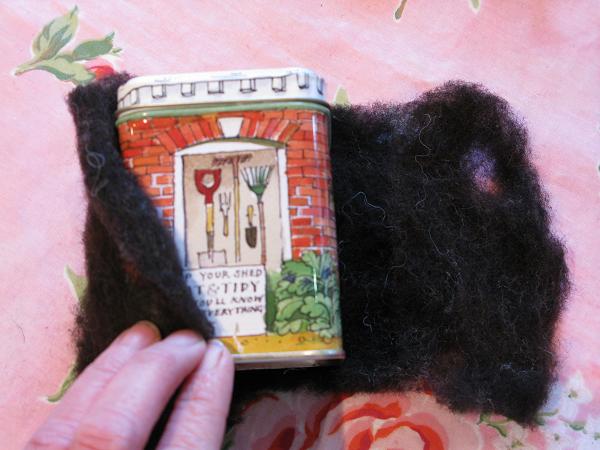 Next the girls made their pictures to go on the bags. They chose penguins because of the connection with snow. We are winter obsessed at the moment, especially snow.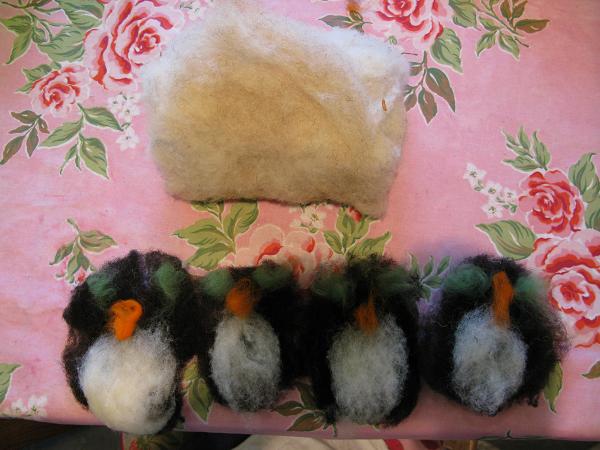 The next part was tricky for the girls and I did help them, as there is a lot of wool by this stage to handle. Each side was covered, in turn, with a piece of old netting and soaked with warm water. They gently rubbed each side with olive soap to start felting the wool. The girls knew to lift up the netting every now and again to reposition the penguin features. The odd eye moved, but was rescued.
Once everything was in place and starting to be fixed, we wrapped a piece of netting around the tins and squeezed each one into the end of an old pair of tights. I should have taken a photo at this stage as they looked like large black sweets with twists at each end. Then I threw them in the washing machine. I set it to a cycle that would shrink a jumper and with lots of spins.
We took them out just before supper and everyone was so pleased with them. One bag has a penguin on each side and as it has shrunk the penguins have moved closer. It reminds me of the part in The Penguin Who Wanted to Find Out
by Jill Tomlinson, when the penguins all huddle together in the snow blizzard.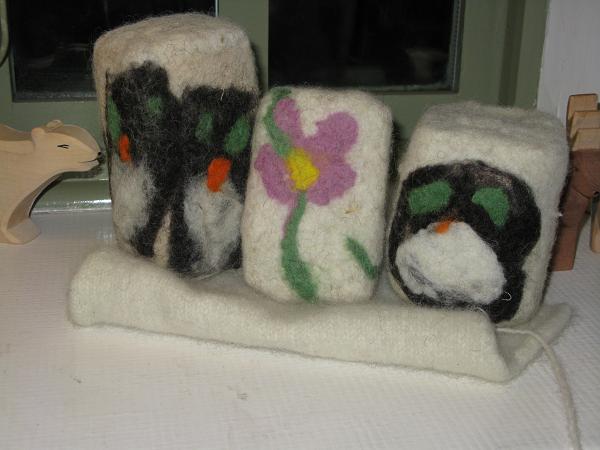 The bags will have to dry out overnight and then I will cut an opening in each. The girls have finger knitted shoulder straps which will also be felted and sewn on this week. They are keen to sew seed beads on each of the penguins' eyes. They are adorable and I am going to have to really control myself not to drop hints about Mother's day coming up. Oh, too late I did it!
edit: to take a look at the finished bags, click here