You can make ice cream too
OK. Here is my ice cream recipe post that I promised. It is just a basic one, but it is easy to add more to it.
I started making ice cream because of an egg glut. We have a lot of fresh fruit growing in the garden, during the summer. I thought it would be nice to make fruity ice cream and yogurt, rather than buying it. So I did my research.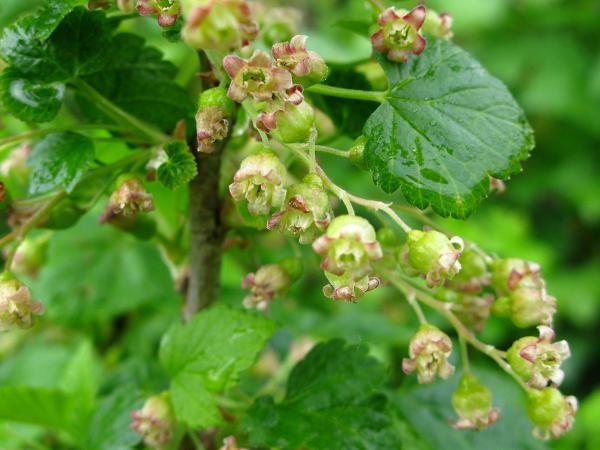 I started by reading the ingredients on the side of an ice cream tub that I bought at a supermarket. It was not pretty reading and I would have struggled to find the ingredients individually to buy. The rest of that ice cream sulked at the bottom of the freezer, until it went beyond its best before date.
I was pregnant at the time. Most recipes, I found, did not cook the eggs and I felt uncomfortable taking the risk of eating raw egg. I came across a recipe that involved making an egg custard. I have pretty much stuck to this one as a basic recipe ever since. I have experimented, but I always come back to this one. I always use the best ingredients that I can find. When I cost it out, I make ice cream for a lower price than if I bought one of the better tubs. Forget the real cheap ones.
Basic ice cream making steps in black, extra info in blue and pictures for reference.
Make the custard
Heat half a pint of milk until it is warm. Add 1 vanilla pod and put to the side.
Don't let it boil. The heat  infuses the vanilla. It needs to cool down enough that it won't curdle the eggs in the next stage. I use full fat or semi skimmed milk. Whichever I have most of in the fridge. For chocolate ice cream leave out the vanilla pod and put in 125g (4oz) of chocolate instead. Your choice but I use belgian cooking  chocolate chips which are 53% cocoa mass. I prefer dark choc with a high cocoa mass.

Separate three egg yolks into a bowl. Beat them with a fork.


Our egg yolks are very orangey-yellow. It all depends on the eggs you are using.

Use the egg whites for meringues or macaroons.



Add 3 oz (75g) of caster sugar and beat some more.(see above)
Poor the combined mixture back into the saucepan.
Return to a low heat and stir with a wooden spoon, until the mixture begins to coat the spoon.


(I know, it should be a wooden spoon.) I find it best to keep the mixture moving with the spoon.

Don't get distracted, as the custard will thicken and will catch the bottom of the saucepan if left alone.



Pour the mixture into a clean bowl. Cool, cover and refrigerate.


Leave it until it is thoroughly chilled. I tend to do this stage the day before, so I can leave the custard in the fridge over night.



Once really cool, add 250ml of double cream and mix thoroughly.

You don't want to leave any solid lumps of cream, as it will freeze as a white lump.
Transforming the custard into ice cream
The next stages will depend on whether you are using an ice cream machine or doing it by hand. I am no expert on the by-hand method, but I will give you the steps. I have done it, but I always get distracted and leave too much time between stirring. Two hours turns into a day.
Either By hand
Put mixture in a container with a close sealing lid.
Freeze for 2-3 hours, so its not frozen solid, but on its way.
Take it out of the freezer and mush it up with a fork. The idea is to break up the ice crystals, but not melt it. Return to the freezer.
Repeat step 2
Repeat step 3.
Leave for at least 3 hours to freeze completely. You now have your ice cream.
Or Using the ice cream machine
This will depend on your machine. I use a Philips HR 2303, which I bought 5- 6 years ago. The nearest I could find on Amazon is this one. I have never had any problems with my ice cream maker and I use it probably 40 times a year, if not more. Here are the steps I use:
Freeze the bowl in the freezer until it is solid. My model uses a bowl that is frozen in the freezer. Newer versions seem to just freeze a disk. I always allow at least a day for it to be frozen solid.


Turn the ice cream machine on so that the blade is going round and then pour your mixture in.

I've made the mistake of turning it on after pouring in the mixture. The blades find it very difficult to go round, as the mixture starts to freeze to the sides of the bowl.
About 30-40 mins later the ice cream will start to pull away from the side of the bowl. Your ice cream is ready. Turn it off and transfer ice cream to a suitable container for the freezer.

Its best to freeze it for at least a few hours before you serve. The ice cream is best used in the first week…..if it lasts that long.



From here you can experiment with other combinations of flavours. Once we have strawberries, I will share my way of making strawberry ice cream, which took many attempts to get right.
I hope it all makes sense, but if I've left anything out, I'll answer any questions left in the comments. Make and enjoy.
Long post, so I'll leave the last word to my two daughters: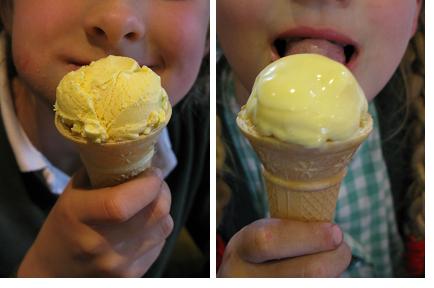 Joining in with #pintorials