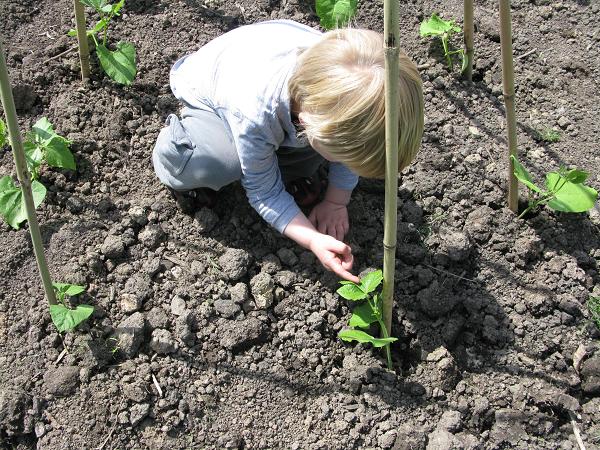 I've started to plant up the extended kitchen garden. First in were the runner beans. They have been growing quite nicely in the greenhouse.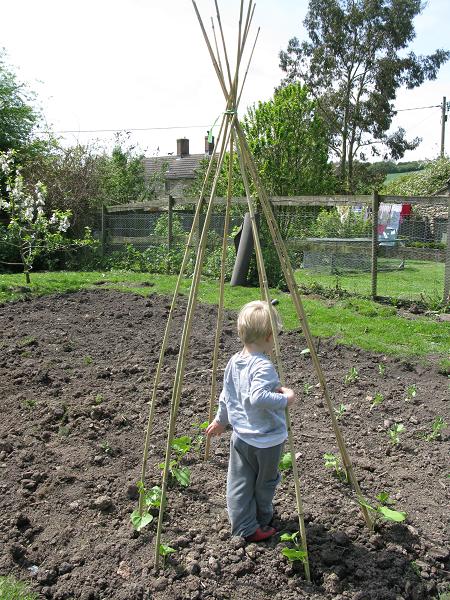 I like to reserve a few plants to make a runner bean house for the children. The idea is that as the runner beans grow their stems and leaves make the walls. Each plant has its own pole to climb up.  This has been so successful in the last two years. AJ got a real kick out of being sent out to fetch runner beans, last year.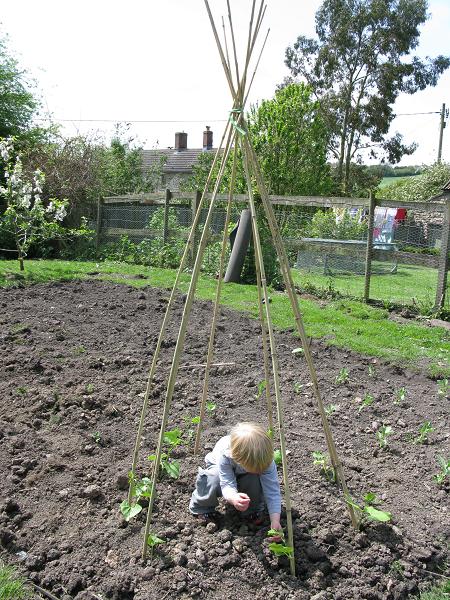 We've used hazel branches, that we cut from our trees, for the last two years. We've used the same ones for two years, but they did not survive the winter, so I bought some bean poles. I went down to the local farm shop, which is an Aladdins cave of a place. The sort of place that you can buy nails by the weight, along with the poultry food and chicken arks. The notice board is full of handwritten adverts for springer puppies, chickens, goats and ferrets, along with horse sharing. The bean poles are long. I had great fun squeezing them through a gap in the dog guard in my car, but I did it.
In retrospect, I might have made a bigger circle, and crossed the poles lower down. In the past I have found it best to arrange the poles and then plant. I just wanted to get the plants in. I've kept a few extra bean plants back, just in case these planted ones do not survive the local wildlife. I don't want huge gaping holes in the bean walls. I'm keeping my fingers crossed. And my toes. Maybe I'll plant a second runner bean house this year. It will give them a second camp to hide out it. Oh and more beans!
I love to read your comments. I really do. If you'd like to let me know that you like this idea, but have no time, just click on the thumbs up. I promise to post an update as the runner bean house grows, so check back.
I'm linking this post up to The Magic Onion's Friday Nature Table. For more nature inspiration, go and have a look at the other contributions. You never know, it might inspire you to try something different this weekend!