Apple tree blossom and flower impressions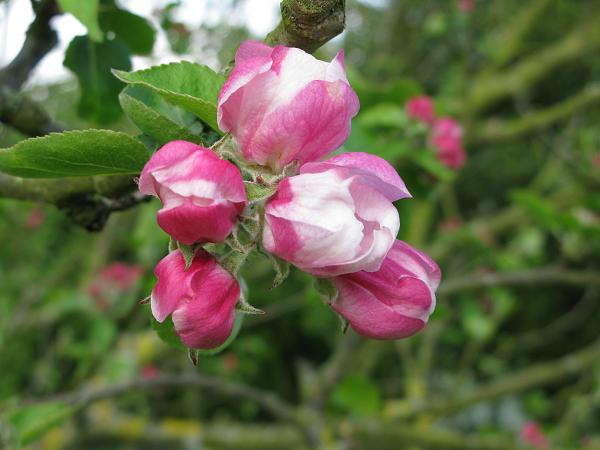 This is beautiful pink blossom from my most productive apple tree. It is a bramley. Every year it gives us basketfuls of beautiful apples. When I say baskets, I mean the big ones that could be used for collecting the washing from the line or transporting logs from the wood store. We must get at least three big baskets every year.
It's trunk is slightly leaning as a pair of visiting Great Danes slammed into it soon after it was planted. We tried to put it back, but apparently, it preferred to lean. The branches are pruned twice a year and we hang our wild weaving and other natural decorations in its branches. We do have other apple trees, but this one is the clear winner. If I had three more like this one, we would have enough apples to see us through from one season to the next. The bees will be busy on this tree very soon….
The girls were back at school today. It felt quite flat. I did have a go at An Invitation to the Butterfly Ball's tutorial for pounding flowers. I was fascinated when I first saw this idea. Part of me gasped at the idea of hitting a flower with a hammer. Seeing as I have, in the past, squashed flowers between heavy books, cut them down in their prime and drowned them in hot water, I didn't let this thought stop me for long. Sorry flower fairies. Will sowing more flowers this year help to even it out?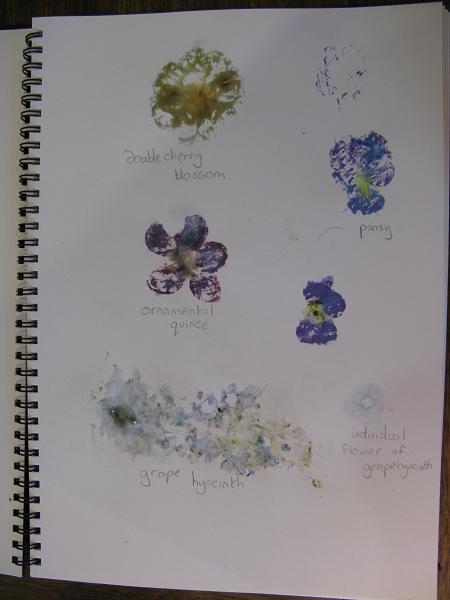 I tried out several flowers. I made a mistake with the grape hyacinth, as its stem was too juicy. Even separating out the individual flowers didn't work as they looked more like an ink blot. The pansy left the best impression on the paper. In the tutorial, they used the pansies to make a greeting card. It is beautiful. Like coloured pencil shading. Such an interesting technique that it is worth a go. (Sorry flower fairies)