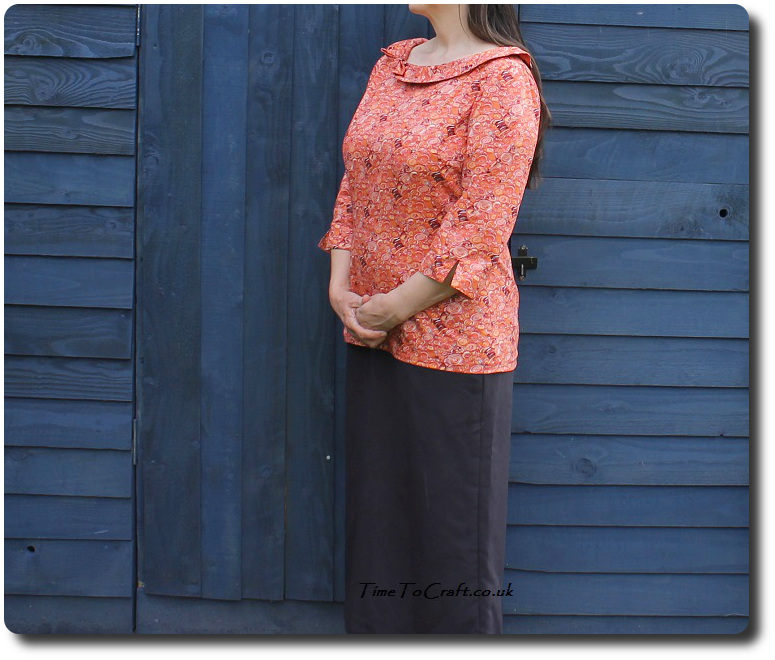 One orange tunic finished. For me. I can't remember if it was the pattern or the fabric that I fell in love with first. Not that it matters. Once I saw the neck detail, I knew I wanted to make the top. It has a bow. What's not to like?
The only hitch, was that the version with the bow had short sleeves and I was hankering for a long sleeve version. I checked on-line to see if anyone else had swapped the short sleeves for the long sleeve version, to no avail. I examined the pattern's outside cover as much as I could to see if either sleeve could be used. It looked hopeful, but you never can quite tell. I'd give it a go.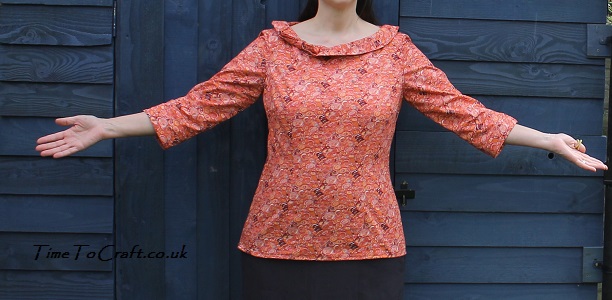 Turns out that the body of the pattern is the same piece for both versions, so it really wasn't a problem swapping the sleeves.
The pattern was simple to followuntil I became lost with the neck attaching stage. Probably explains why it doesn't sit as flat on the shoulders as it could do. I may fiddle with it more so that it stays in place. I'm putting it down to working late.
This is also the first time I have fitted a zip in the side of a blouse/tunic. It would have been fine. A piece of cake, except I chose to fit it while surrounded by children. I do not recommend this strategy at all. I tacked it in the wrong way round, upside down and, another time, out of line. Fourth time lucky, or should I say child free.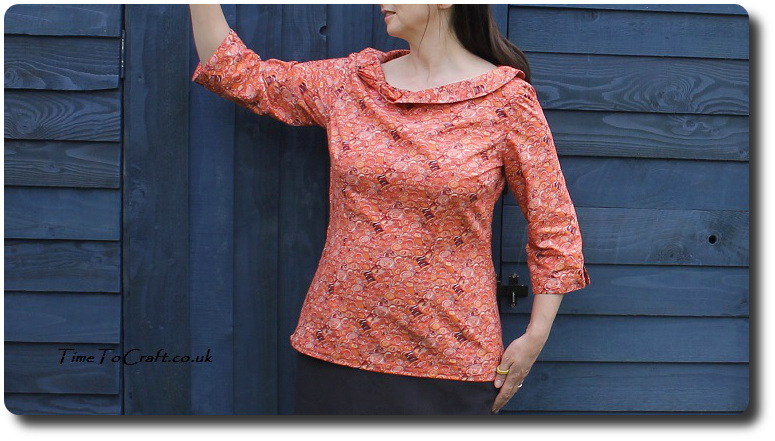 I haven't mentioned the fabric. It is a cotton poplin. Orange. Covered in some of my favourite things: bobbins, buttons and threaded needles.
It's a fun top. The print is not too obvious until you get close up. Otherwise it looks like an abstract orange pattern, which I like. I could wear this to work, picking up children or shopping, but not gardening. Too smart for gardening. Incidently, I made the skirt for work, a while back. It's such a useful skirt. I really should make another one. I'm pretty pleased that the two go together so well.
Details:
Pattern: New Look 6808
Fabric: Minerva crafts
Thank you to, Middle daughter for taking the photos and making me smile. My next sewing project happens to be for her, so hopefully, I'll be taking photos of her next time.