What do you wear in the kitchen garden?
My children are calling it my kangaroo apron. I like to think of it as my kitchen garden overall. Whichever it is, I've made it, which means it fits my needs perfectly.
It had three basic requirements:
1. Must cover my clothes. Imagine the scenario. Guests are due in 10 minutes. You've changed into something that makes you look less of a scruff than usual. You are ready and looking gorgeous, of course. You look out at the garden and spot some fennel and lettuce, which would be perfect in your salad. Or maybe a patch weeds that you could just remove before they arrive. Time to grab the kitchen garden overall and head outdoors.
It protects your clothes and if your guests arrive early, or you forget the time, it still looks like you've made an effort.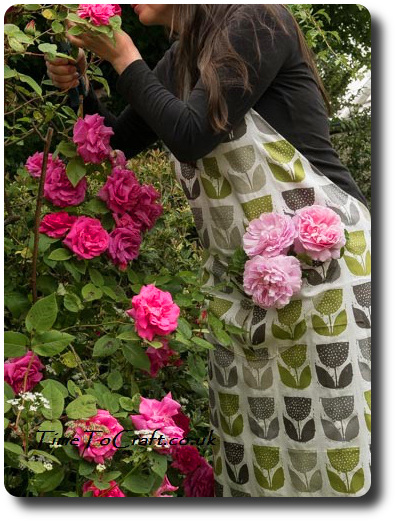 2. Must be able to carry kitchen garden produce. Sometimes I use my skirt or bottom of my top to carry tomatoes or apples from the garden to the kitchen. On occasions this has meant more of my tummy or legs on show than I'd like. With the kangaroo apron kitchen garden overall, there is a built in basket, or pocket. It folds flat when not in use, so I don't resemble an Australian marsupial. When I need the basket, I can flip the buttons and plenty of room to collect enough tomatoes for a family sized salad, or garden peas for the table.
3. Must leave both hands free to harvest. When I gather the blackcurrants or blackberries, its really useful to hold the branch with one hand and pull the fruit off with the other. The bowl tends to be left on the floor. Usually several yards away, if I've forgetten to move it with me. With the overall, I can put the bowl in the pouch basket, so no need to go backwards and forwards to it.
All objectives met. I'm really pleased at how it turned out. It's going to be exceedingly useful this summer.
How did I make it?
Basically, I had a square metre of fabric from Hillarys. I based it on the shape of a kitchen apron, but made it longer and wider, to cover up more of my clothes. This kind of fabric is designed to put up with daily use. It can cope with being pulled and sat on, so it is perfect for my kitchen garden forays. From past experience, I know it washes well too.
The pocket has a box pleat in the centre, which is fastened with buttons and cord. I've seen gathered pocket versions before. Fine if you have a flat tummy, but this way the pocket lies flat and is less obvious when not in use.  I used cord instead of elastic, as it needs to stay in place and not sag.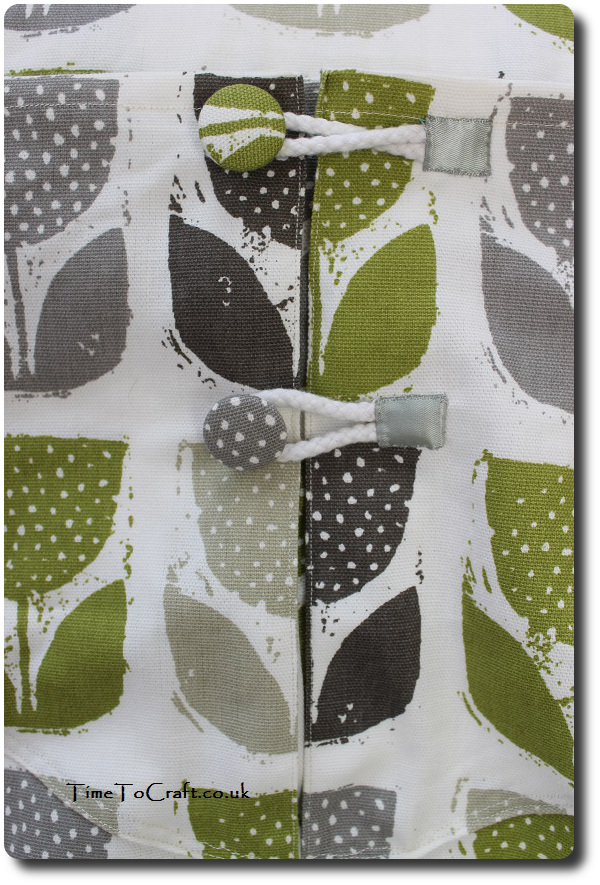 I got a bit of a kick out of redesigning the flower print on the pocket. The flowers in the centre are half and half. Still a flower, but not like any of the others on the rest on the apron. I used ribbon to cover the ends of the cord, giving it a neater finish and I covered four buttons with the fabric. I love using this type of fabric for covered buttons. They are so easy to make and give a great finish.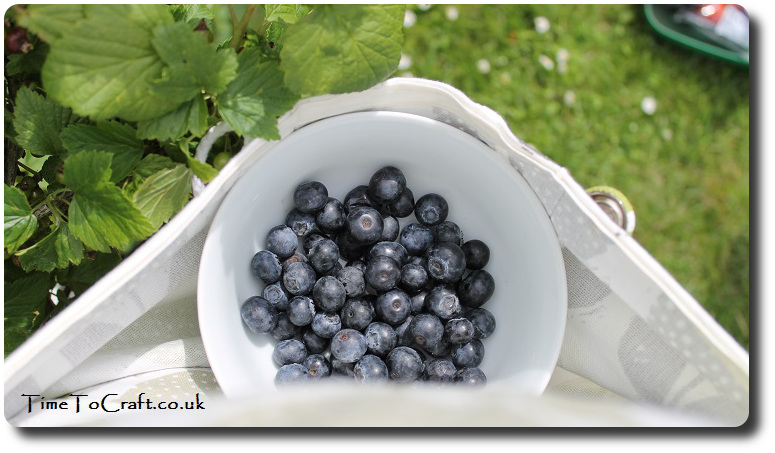 I now have an apron to help me with gathering food from the garden. I'm well ahead of the game, by making this now. There is little to harvest yet. (Yes, all the fruit used in the photos is shop bought!) But that will change. There will soon be plenty.
This is most definitely not for use when carrying eggs though. Anyone with children and hens will know how much fun it is to clean broken eggs out of pockets. Blah!
This is my entry for the Hillarys Craft Competition. They supplied a square metre of fabric and left the rest to my imagination. Check out their Pinterest board to see the other entries. Just amazing ideas from lots of creative people. All from one square metre of fabric!