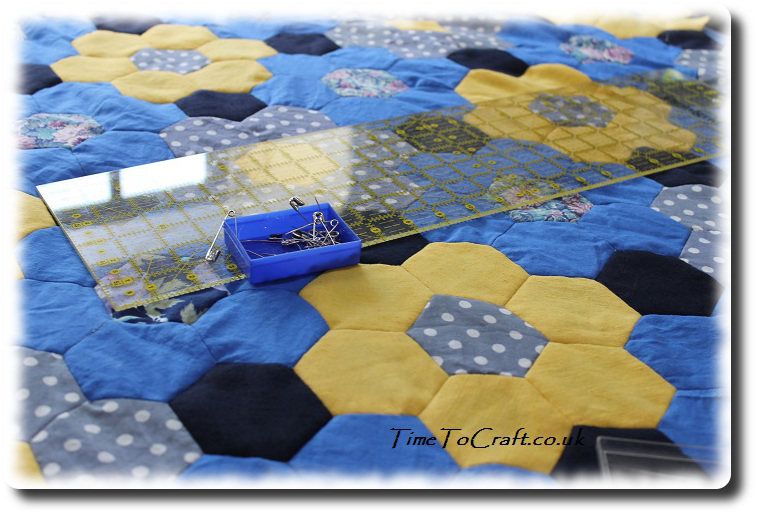 Not all my crafting ideas work. Many do but others are left un-photographed. Never to grace this space. Leaving only the successful projects to be offered up to the world for inspection.
Hmm. There is a little bit of imbalance. I show you my latest little red dragon needle felt, but you may never see the little owl I began. The latter left languishing with no way forward. And no photo. While the red dragon swans around the screen.
In the interest of  balance, I am sharing my latest failure. With each failure, I learn a little bit more. Exactly as it should be. I should share my lessons too. (notice the word failure has now been replaced by the word  lesson.)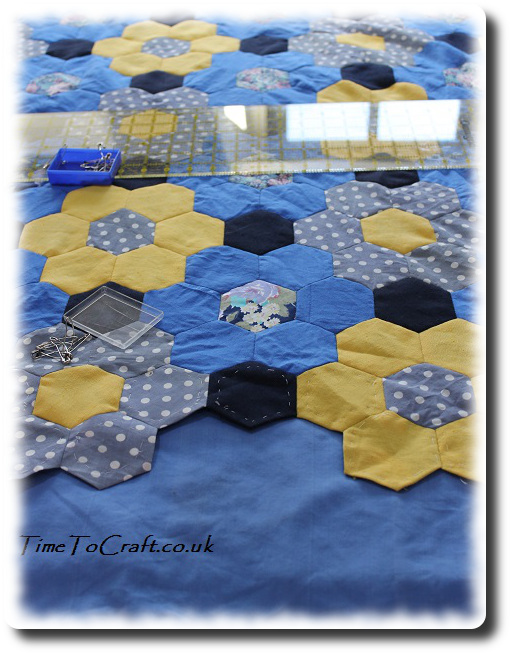 I present my latest lesson learnt. My blue and yellow hexagon quilt top. Last year's hand sewing project. All the little hexis time-consumingly sewn together. Next followed the usual pause while I worked out how to back it and bind it. The fabric used so far was either recycled or scraps left over. I wanted to continue the theme.
I found an old, blue duvet cover cowering in the airing cupboard, with holes in the wrong places for use on the bed, but not a problem when it comes to backing a quilt. Then an old, lilac blanket that was growing shabby at the edges and threadbare in other areas. I could use it as the wadding. Recycled box ticked.
A flurry of cutting and pinning ensued. All done and ready to hand quilt during the half term break.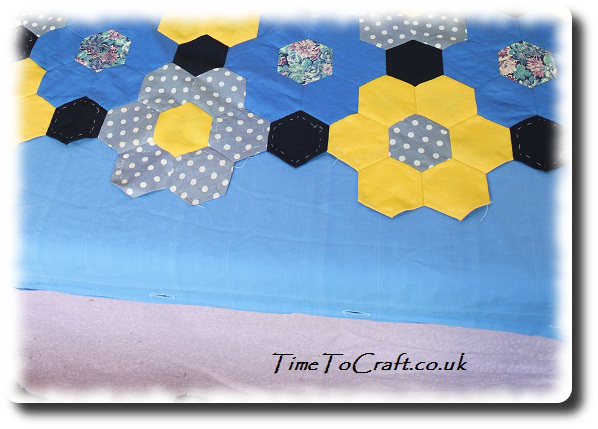 Except it was a bad idea. I tried to stitch through the layers but it just didn't work. Nor did it drape or feel light like my last quilt. I really wanted to keep this as a recycled project. Thrifty. Make do and mend. Sigh. Just not going to work.
Out came the safety pins, used to temporarily sandwich the layers together. Out came the blanket from inbetween the fabric. Out came the laptop to research the next best option for quilt wadding. The quilt will be made, just not with an old blanket.
Looking for the silver lining, the dogs now have new blankets for their beds. Tail wags from them, at least.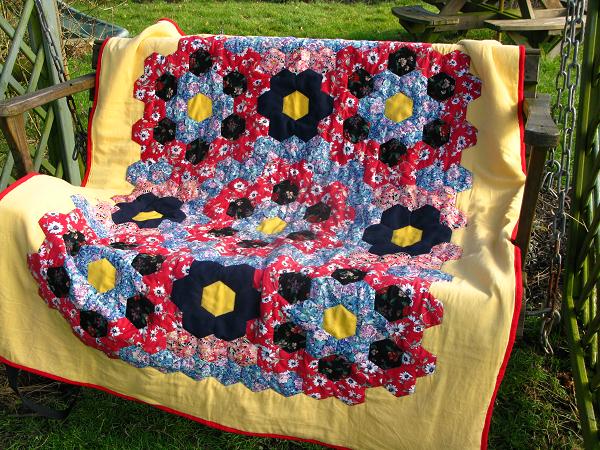 Lesson learnt. The feel of the end product is more important than trying to shine my eco halo. This will be my almost recycled quilt and I'm happy with that.
In the meantime, I leave you with the view of a success. My first hexagon quilt. Still loved and in regular use. Hopefully my new one will follow suit soon.