AlphabetPhoto: F is for
Always something very satisfying when I can combine healthy with thrifty. I had slipped into the habit of buying pre-prepared fruit for the children. It made packed lunches easy in the morning. They love melon, pineapples and grapes, so buying a pack of these was quick and made life easy.
The down side is that these packs don't last long.  Once packed lunches are sorted, I'd leave the rest of the container out for breakfast, as it would be past its best soon. The children love it and they eat lots of fruit, but buying fruit like this adds up.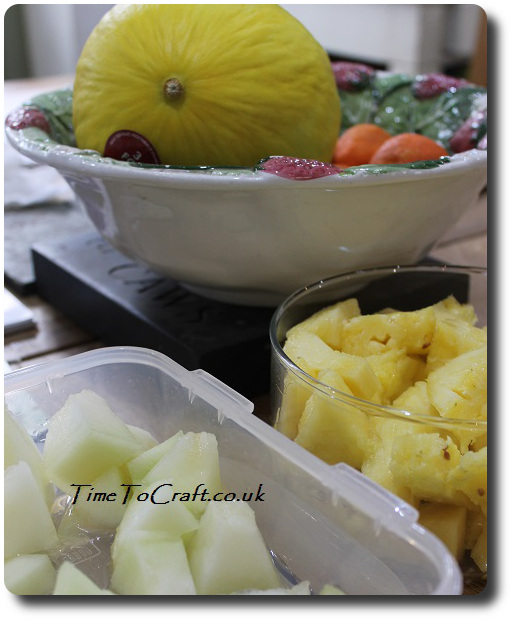 A couple of months ago, I altered my shopping list. Now I'm getting the whole fruit and cutting it up. I stagger the fruit cutting through the week to keep it fresh and store the cut up fruit in the fridge. The children can help themselves whenever they are hungry and they do!
This is saving me about £7 a week, plus we have more fruit. (I know, bizarre when you read it like that) Sounds simple and I wish every shopping change, I made, would save me £364 a year. (….just taking a moment to think what I would do with £364….) And still result in more. Plus it saves on packaging. Another step in my "becoming a greener me" project. I need to reassess my shopping buying habits more often. So easy to slip into lazy habits.
Linking up with Charley's inspiring #AlphabetPhoto Linky. My F is for fruit. Lots and lots of lovely, yummy fruit.
Also linking to #ThriftyThursday linky over at Cold Tea & Smelly Nappies Pop on over and check out some more money saving ideas.
PS. Thought I would just add that I still love these pre-prepared fruit from the shops. Perfect snack choice when out and about. Just not for packed lunches when I can be more prepared.
17 Responses to AlphabetPhoto: F is for
There have been cases when people lifted my photos and words, and used them without credit to me or asking permission first. Using them for their own commercial gain. I have now added a level of security to deter people from doing this. Apologies to people who do play nicely. If you would like to use any of my photos, please contact me.
All my words and photos are copyrighted to me. They cannot be used for commercial benefit by anyone else. If you would like to use any of them, then please ask me first and don't just take. Written permission only. Don't pass my words, photos or ideas off as your own. It's not nice.
Cookie Policy
Our web pages do not use cookies however this website uses Google Analytics, a web analytics service provided by Google, Inc. Google Analytics uses cookies to help us analyse how people use our site. The use of cookies by Google Analytics is subject to change.