When I look back to my childhood, among my happiest and strongest memories are time on the beach. Most importantly, in the sea. Long after everyone else had got out and headed home, hungry for their fish and chip dinners, I'd still be there. Every time. Playing. Jumping waves. The sun heading into the horizon. My increasingly despairing parents, holding towels by the water's edge, pleading for me to come out and dry. Yes, I was that child.
I was lucky, my grandparents lived by the sea. When we stayed with them, I could enjoy the sea morning, noon and night. Walking the dogs first thing on the beach is something I still love doing. I love the emptiness and room to think. Sometimes dodging the tractor dragging the sand back into place. Before the beach towels and bucket-n-spade invasion.
I like the alone time.
We moved house a lot. I can only remember one house, where we lived close to the sea. I was a teen by then. I still loved it. I could swim for hours, given half a chance. We had a pool, too. I learnt to dive there. Later I discovered the fun of surfing  and windsurfing. First time I'd encountered wet suits, which stretched my swimming year out by a few more precious months. Then when boards made room for children, in the car, I fell back to hunting fossils and sea glass. Paddling or body surfing. Never one to sit and sunbathe.
The sea is my happy place. In particular, where the sea meets land.
I really want the children to have fond memories of the sea, with us.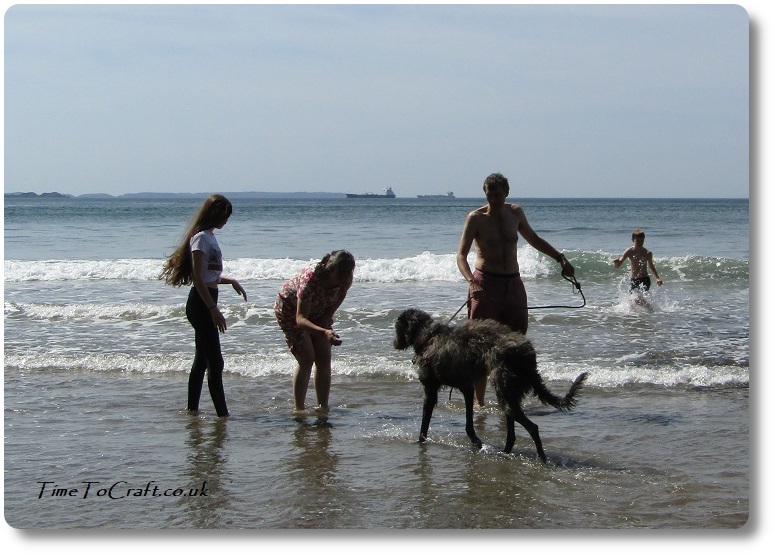 This holiday, we found a couple of beaches which were perfect. Coves all to ourselves. I could feel my body slipping back into the familiar. Being by the sea again. I forgot my swimming costume. It didn't matter. I could paddle and walk through the waves. I'd soon dry. Hero followed us into the water. Unphased, for the most, by the waves. Less forgiving of being submerging every now and again.
The children loved it.
I'm working on them to try surf lessons. Next time, I'm sure they'll let me book them in.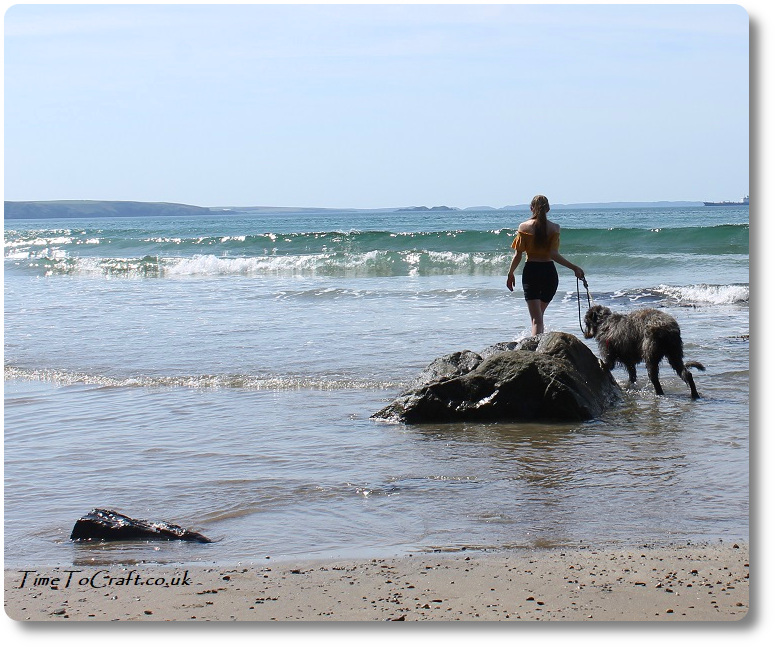 In the meantime, they enjoyed the welsh coastline.
Oh, and I got a taste of my own medicine. I have my very own "that child" now. I'm sure my parents would chuckle. Calling in Youngest when it was time to go. A deaf ear. Slipping back to the water, just as his towel was wet and he was dry. One last splash, or sea-surrounded rock to climb.
I don't mind. I understand. There is mer-people blood in our veins. This time was inevitable.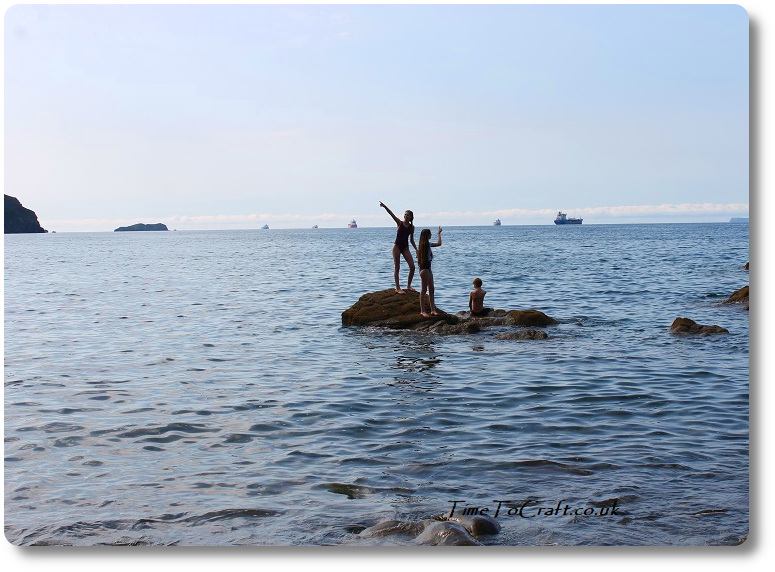 As I stood outside last night, with eldest teen, watching the bats swoop over our heads, before they headed off to the local fishing lake to feed, I couldn't help thinking about how often I've done this very thing with all the family.
(The standing outside part, I mean. Not the eating of bugs. I try to avoid that.)
The dogs join in watching the bats too. Our dogs have all sat and looked up whenever I say "bats". No-one has taught them. They just pick it up. Even the latest one.
But bats are not the only draw to standing outside for us once the sun goes down. When I stop and think, we spend a fair amount of evenings outside, especially in the warmer months. I feel very grateful that my family are keen to hang around outdoors, at the end of the day. Although I suspect it may be partly down to bedtime being potentially pushed back, but I could be wrong.
Now the nights are drawing in, the children don't need to stay up quite so late for it to be dark. Perfect for some evening adventures, without the inevitable super, tired children the next day.
So, I thought I'd share our five favourite types of outdoor evenings: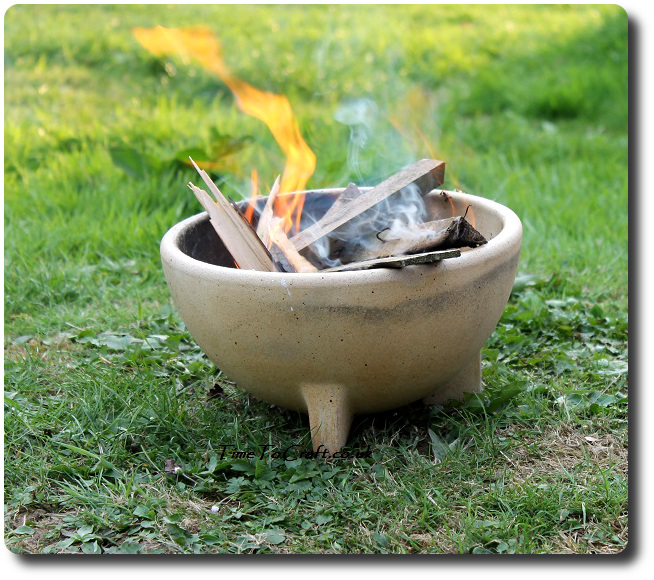 One: Cooking outside
Store cupboard essentials are marshmallows and bread flour. Apart from the – needless to say – barbeques, the children love toasting marshmallows and baking dampers on a stick out in the garden. I know that in years to come, it will be the cooking and eating food they've made, as the sun goes down, that will stick in their memories. Usually using the last heat of the smokey joe barbeque. Sometimes they raid the wood shed and use thinner seasoned branches to make a flame in the fire bowl.
A couple of them will be sent off to cut hazel branches and then everyone carefully, and with steady concentration, spirals bread dough around and along the end of the stick to make dampers, baking them over the flame.
We like to spread homemade quick jam on the bread. Whatever fruit is ready in the garden. Other evenings, we roast marshmallows, to make smores.
(Latest tip I have with smores is to use Nutella instead of squares of chocolates. Much easier to handle.)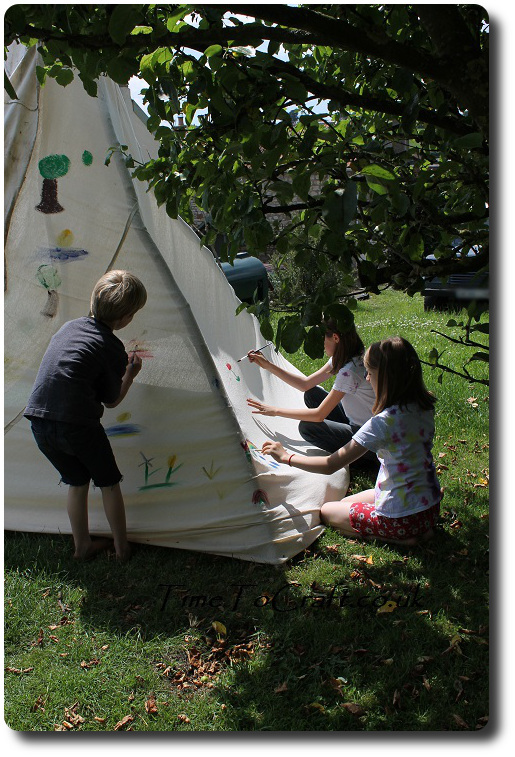 Two: Teepee
Every other year, we put together a teepee, using hazel sticks from our trees and an old decorator's sheet. When the children were younger, they would spend hours painting the outside and setting up a cosy den inside.
Then they would wait for the first dry evening and sleep out there. There is nothing like sleeping out in something that you've put together for yourself. Your own homemade shelter.
It meant one of us grown-ups being out there too…..which turned out to be me. Every time. Now they are older, I'm not needed. Time for them to have their own adventures, which is just as it should be.
Three: Light show
I think this has to be one of my favourites. We have a few 3d letters with a series of led lights in them. The children love to spell out words or shapes, much as they do on Bonfire night, moving them like sparklers. Using the lit up letters, they can do it safely and for longer. This activity can last a long time when they decide to do every letter of the alphabet, perfectly. Checking on my camera to see if they've managed it this time. Lots of giggles and team work.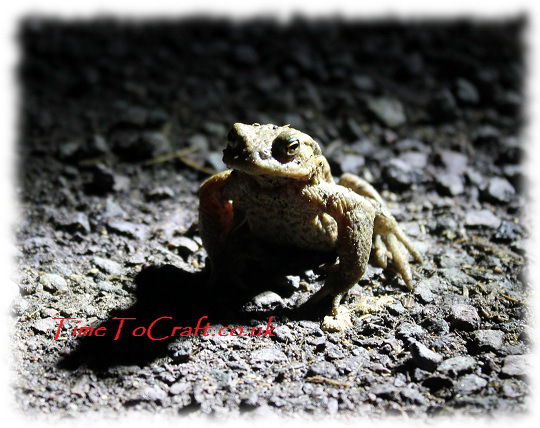 Four: Bat, owl and toad watch
Another favourite is to stand out in the garden at dusk and watch the bats. There are a couple of different types that fly over our garden. We're lucky to have a maternity roost that lives in our chimney in late spring, but bats are easy to spot skimming over water, such as rivers or ponds. Sometimes we're lucky and spot an owl too. Another favourite has to be moths. Following a moth or making a moth trap, has increased our knowledge of these night time flying creatures.
Our garden is on the migration path of toads, which means we're tripping over them for a week or two. The rest of the year, it just takes a downpour of rain and it's not difficult to find a toad waddling around in the evening. Taking the children out with a torch and waterproofs can feel like a safari.
Going further afield, each summer we visit woods on the Mendips for a night walk. The aim is to see more owls and also listen to the nightjar, which if you've never heard it, sounds like nothing else.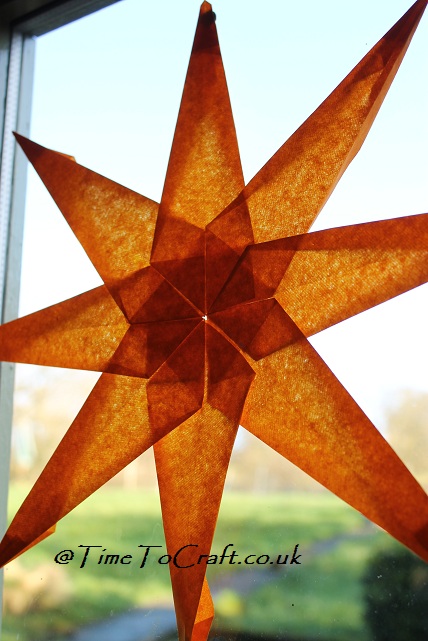 Five: Star gazing
Last but not least, a clear night is the perfect time to do some star watching. It doesn't take much to spot the big dipper or Orion. There are so many books and websites out there to get you started. We take out hot chocolates and the telescope. Time can fly. Spotting shooting stars or man-made satellites creeping across the night sky is fun. Certainly encourages lots of questions from the children. If we know that there is going to be something of cosmic interest on a particular night, we make sure that all the children are set up to come outside and watch.
If nothing else can be said, I hope my children are not scared to go out in the dark.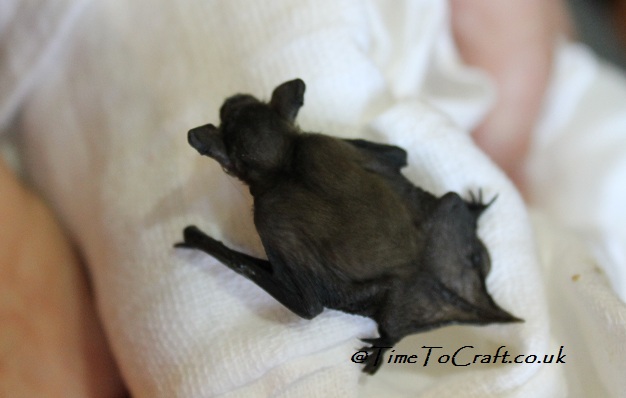 (a visiting bat from a previous year)
We have just about a week of the school holidays left. I hope we have a few more clear nights to get out and enjoy the outside world. So many interesting things happen after dark. Animals that only venture out under the cover of darkness, but also the adventures to have and memories to be made. I'd rather my children reminisced about the times we've dragged them out over fields after dark to watch the stars or listen to a night bird, than remembered how much TV they watched.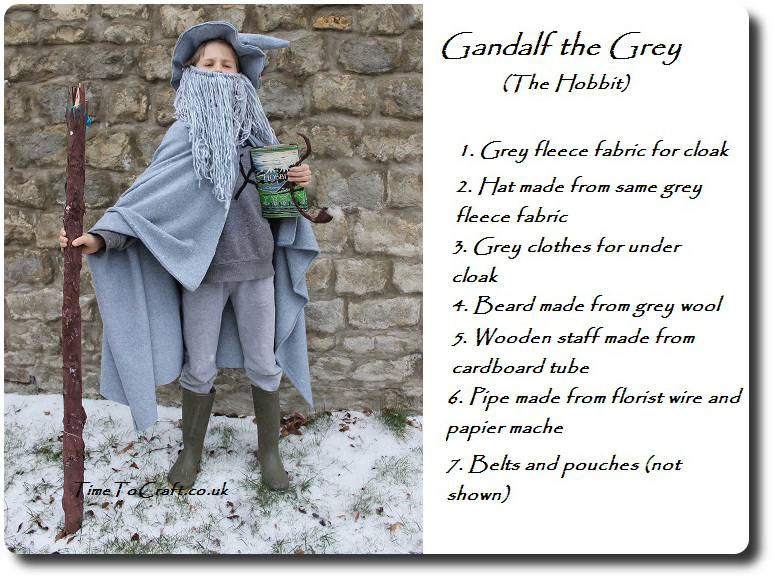 I know, I know, I've already shared the photos on this one, but I just can't resist a few more. It needs its very own post, with the added bonus of how I made it too. So forgive me. Here is the Gandalf costume again. For just one more time.
It will be of no surprise to regular readers that I love making costumes. Given the choice, I'd far rather throw together a dressing up day outfit, for one of the children, than anything else. I think it's the props that do it for me. Not much call for a papier mache smoking pipe when sewing an ordinary, everyday blouse. Well, not for me at least.
I am the parent that happily dances around the kitchen when presented with a note from school about their upcoming dressing up day.  Then spends the rest of the day googling images of characters, diving head first into my craft supplies and ignoring all household chores. Bliss.
World Book Day was last Thursday. Youngest was decisive and instantly declared he wanted to be The Hobbit's Gandalf. He liked the idea of Bilbo Baggins, but his friend had already called that one, so he'd ruled it out before even getting home. I did suggest Smaug the Dragon. Alas, it fell on deaf ears. I slid my design for impressive flapping wings under my pile of notes. They will have to wait for another day.
Instead, without further ado, this is how we made a Gandalf costume:
The Cloak
The cloak and hat are made out of grey, fleece fabric, after I discovered the blanket I was going to use, just fell to pieces as I cut it. Into tiny, little particles, which, with hindsight, I should have spotted as a possibility. There was a good chance of a health risk, so the blanket was abandoned. I couldn't find a suitable grey curtain in any of the second hand shops and ended up buying 2 metres of fabric.
I left the cloak as a rectangle, to be held together with a clip. The hat is made up of a cone and a ring doughnut cut out of the rest of the fabric. I lined it with stiff woven fabric and a second layer of fleece. This allowed it to be shaped and wrinkled, as I liked, rather than just flopping down as fleece has a tendancy to do. It was a bit of a rush job and has since been reshaped.
The Beard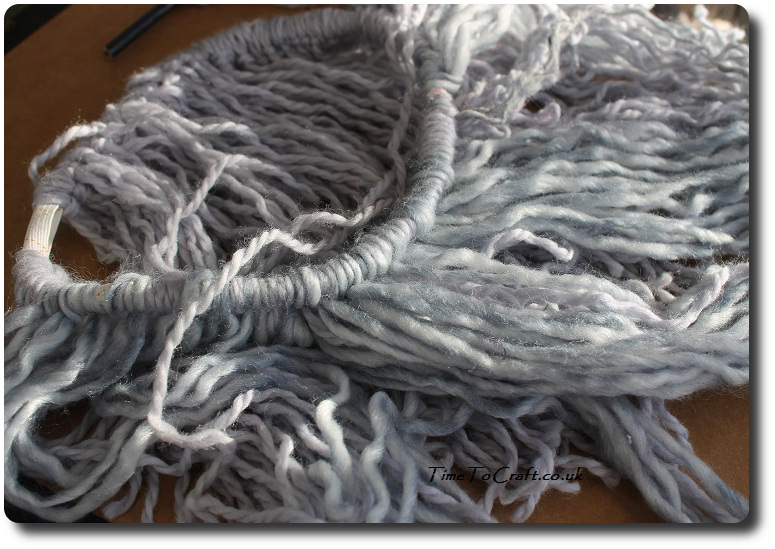 The foundation of the beard is a loop of medium thick elastic that goes under his bottom lip and up to the top of his head. We cut lengths of grey, non-itchy chunky wool, about 70-80cm long. I lost count of how many, but probably equivalent to a 75g-100g ball. Each strand was knotted on to the elastic, using the knot below.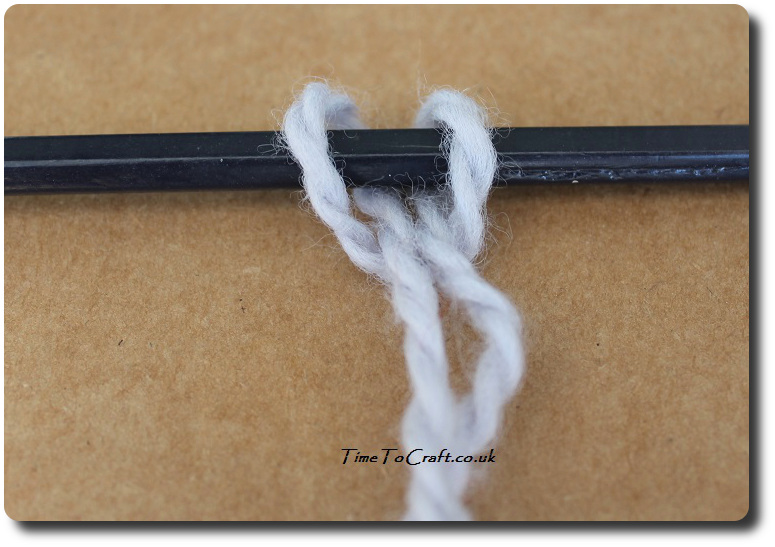 The pipe
No costume would be complete without a prop or two. It is often the defining feature. The way to rule out other possible characters and identify the intended one. Gandalf's pipe seemed a good one to add. This would make it clear that you were encountering Gandalf and not Dumbledore. I hoped. There is, of course, always one person….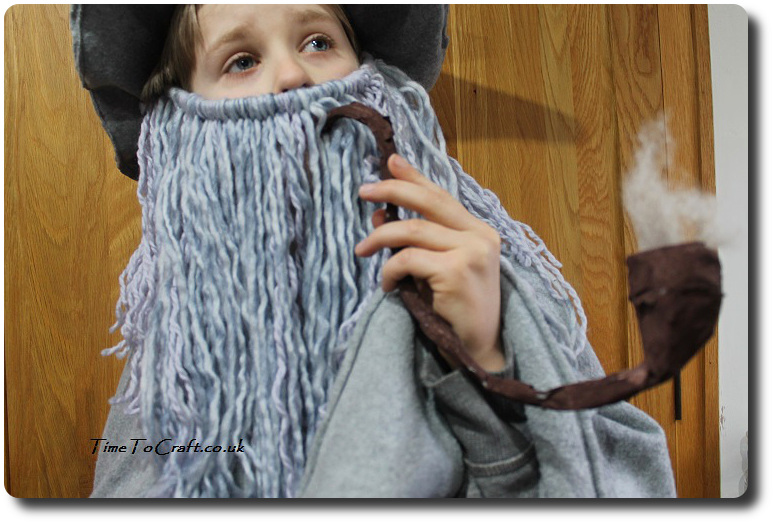 The pipe is made out of malleable aluminium floristry wire, covered in papier mache and painted brown. As a finishing touch, I added a bit of sheep's fleece from my spinning wool, to look like smoke. Cotton wool would be just as good.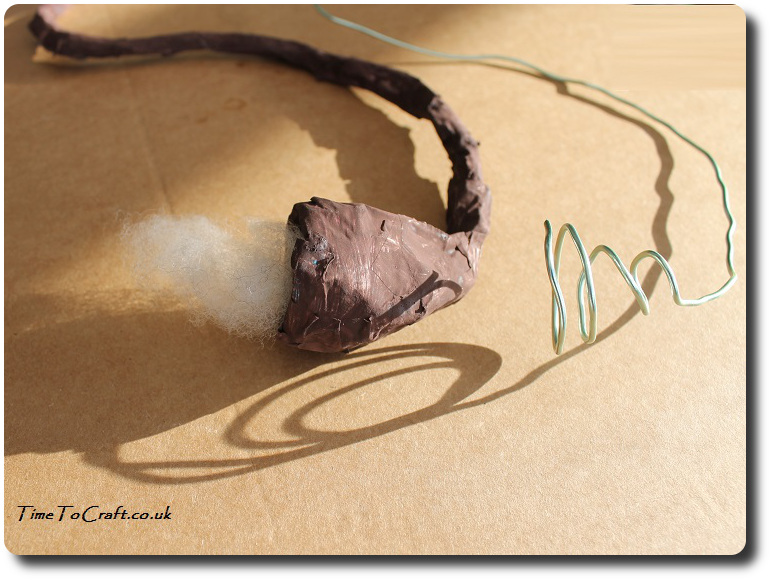 The floristry wire is easy to shape, providing a good frame to work with. Once the papier mache is added, the pipe keeps its shape, which is perfect for its day at school.
The staff
To seal the identity deal, we went for a second prop too. Gandalf's staff.  The one he uses to mark magical symbols on Bilbo's door, so the dwarves know which Hobbit hole door to knock on.
I'll admit, I wasn't keen to send a long, wooden stick, to school, as a staff. Images of it being used as a martial art weapon came to mind. Phone calls home. Difficult conversations. Months of avoiding irate parents in the playground. It would only have taken one other child, dressed as the goblin king or an orc, and battle would commence.
So instead, I found two long cardboard tubes. The sort that's found in the middle of a tube of wrapping paper. One fitted inside the other, and the overall length could be altered. We lengthened the tubes to the young Gandalf's height and sellotaped them in place.
Next the tube was pasted in glue and roughly covered with white tissue paper. Wrinkling it up to give texture to the staff. Once covered, it was painted brown. Long slits were cut in the top and a crumpled ball of blue tissue added.
Staff complete and chances of anyone being knocked out by it, reduced. Mission accomplished.
I ummed and ahhed about the gown underneath. Seeing as the cloak would cover it most of the time. In the end, we opted for grey tracksuit bottoms and a top, due to the weather. Also settled for welly boots, for the same reason. March is usually rainy. Except, this time, it turned out to be snowy.
We added a brown belt, and a drawstring pouch to hang from it.
The outfit
At this point you might be wondering how his day went. The twist to this particular tale is that it didn't. School was cancelled due to a snow day. Not something that would have stopped the real Bilbo Baggins and Gandalf, I'm sure. The good news is that they have rescheduled the dressing up day for another time. Gandalf will have his day.
This is our last World Book Day. (sob, sob) Next year, he'll move up to the next school where they don't dress up. He's our youngest. There are no more children waiting in the wings to be dressed up. So, this is it. I'm not sure what I will do next year. Maybe find fabric themed around a favourite book, and make a top for myself. What do you reckon? It might work.
(whispers:
and maybe a papier mache prop
to go with it……)
Costumes from previous years: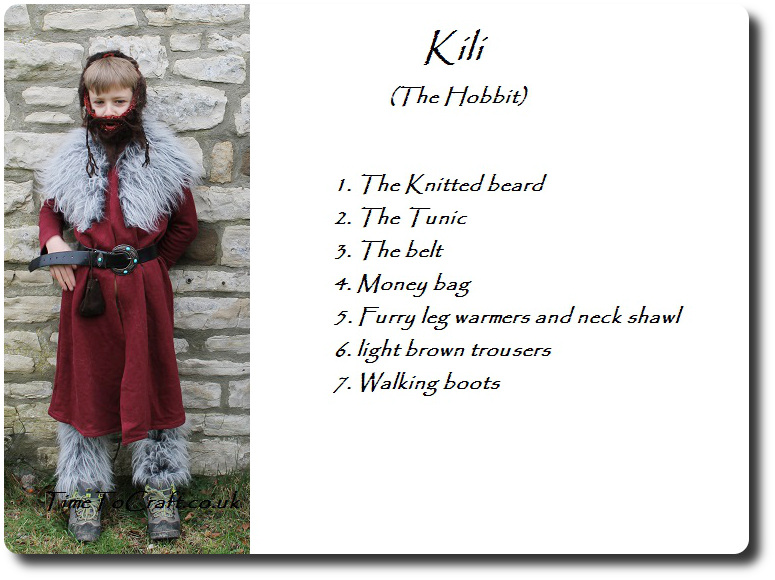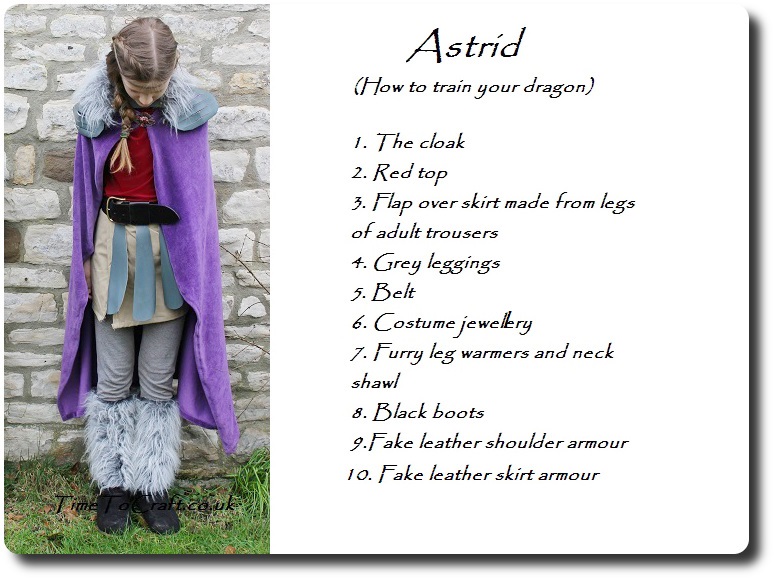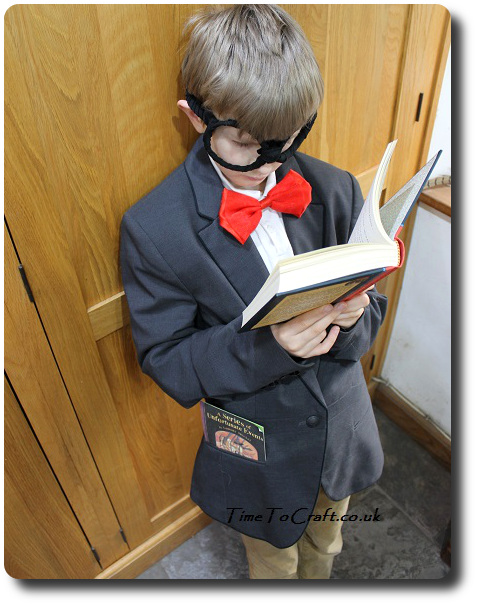 Photos
There have been cases when people lifted my photos and words, and used them without credit to me or asking permission first. Using them for their own commercial gain. I have now added a level of security to deter people from doing this. Apologies to people who do play nicely. If you would like to use any of my photos, please contact me.
Copyright notice:
All my words and photos are copyrighted to me. They cannot be used for commercial benefit by anyone else. If you would like to use any of them, then please ask me first and don't just take. Written permission only. Don't pass my words, photos or ideas off as your own. It's not nice.
Cookie Policy
Our web pages do not use cookies however this website uses Google Analytics, a web analytics service provided by Google, Inc. Google Analytics uses cookies to help us analyse how people use our site. The use of cookies by Google Analytics is subject to change.