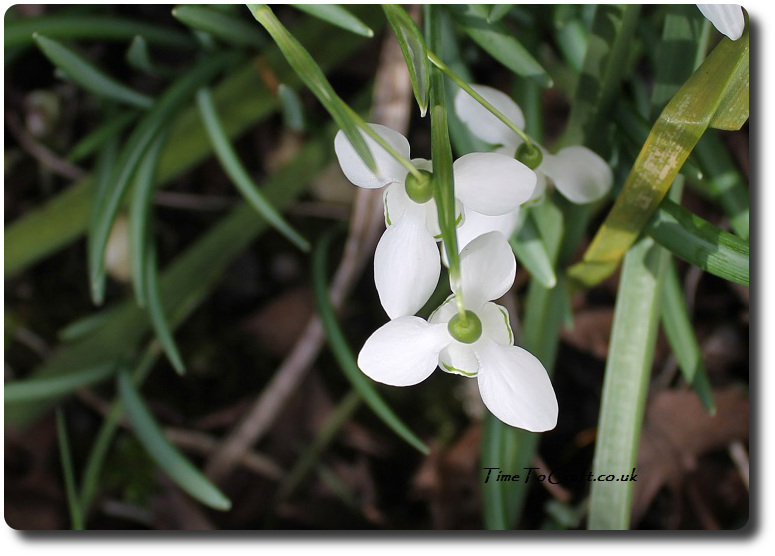 (snowdrops from above)
It's been a week of added extras. Little extras. Nothing major. Nothing bad. All planned ahead. Some we've chosen and some imposed by others, but never the less, embraced. When something breaks you out of your routine, it can go one of two ways.  You can either welcome it with a smile or dig your heels in deep. I try the former.
To start with, youngest was offered a day away from school, attending a course at one of our local universities. Only one of his classmates was going. No teachers. He was excited, but also apprehensive of something new. Butterflies the night before, but he hopped off happily when the time came. Probably the best part was having this new experience more than the course itself. Opening his 10 year old eyes to the possibility of going to university.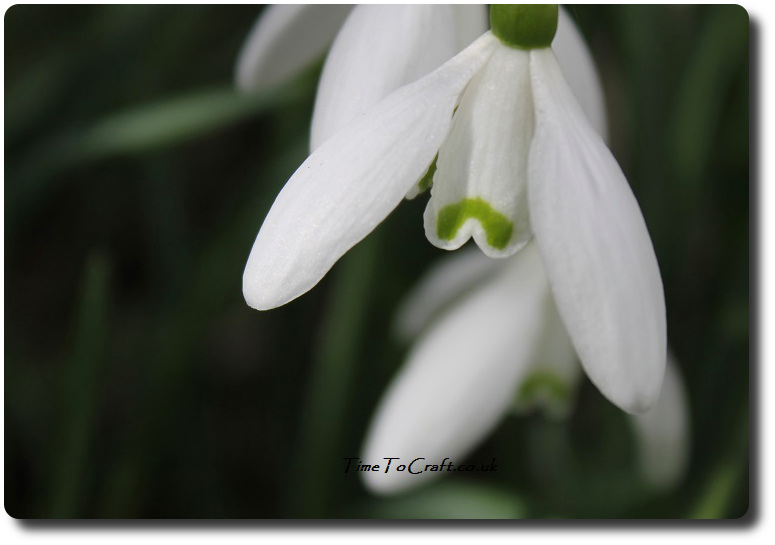 We also had a next steps meeting for Eldest at school. I'm pretty sure that most of this could have been accomplished by a questionnaire, but a few interesting points came out of it, so maybe it was worth missing an hour at work.
Everything is focused on her exams this summer. She seems upbeat and keen to do well. Even accepting going in to school over the Easter holidays for extra classes that are being laid on.
I've bought the Corbett Maths revision cards to give her additional help. She already has two other online practise sites, but this one supplies the equivalent to flash cards, that she can carry around with her. They seem a good way to tackle the subject in bite size revision portions. I hadn't realised they link to online practise questions (and answers and videos).  She's started using them and finds them really helpful.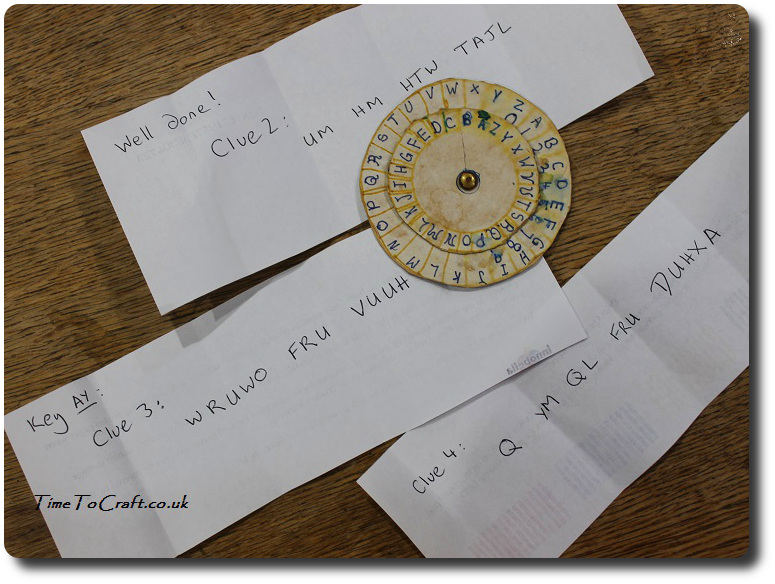 I love adding an activity for them all to do after school. Something that they probably wouldn't do at school. Used to be art or crafting mostly when they were younger, giving them the chance to paint something of their choice rather than the focus of the art class at school.
One of my favourite activities is riddle solving. I pin riddles to the fridge for them to find, but it's logic puzzles I love the most. I dug out one of my well thumbed code books from when I was their age and my old code wheel fell out.
After showing them how it could be used, I set up a series of clues. One clue leading to the next clue until they found their prize. The clues were written in code and the code changed in the middle of the trail, to keep them on their toes. I know they would have learnt it otherwise. They worked as a team to decipher the message.
They loved it and asked for more. Hope to get time this weekend to help them make their own code wheels so they can send messages between themselves. I'm also going to start showing them ways to crack simple codes, without a wheel next.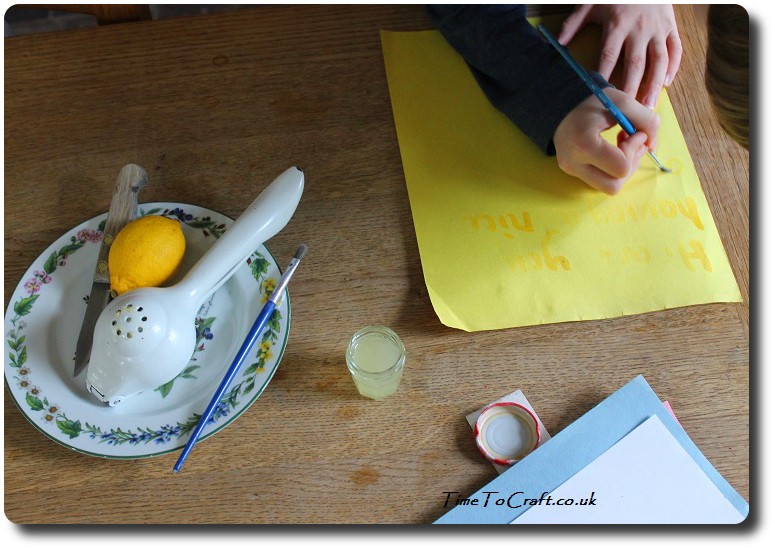 On the same theme, youngest and I had fun creating secret messages using lemon juice. This was fun, and I want to try some of the alternatives to lemon juice, with him.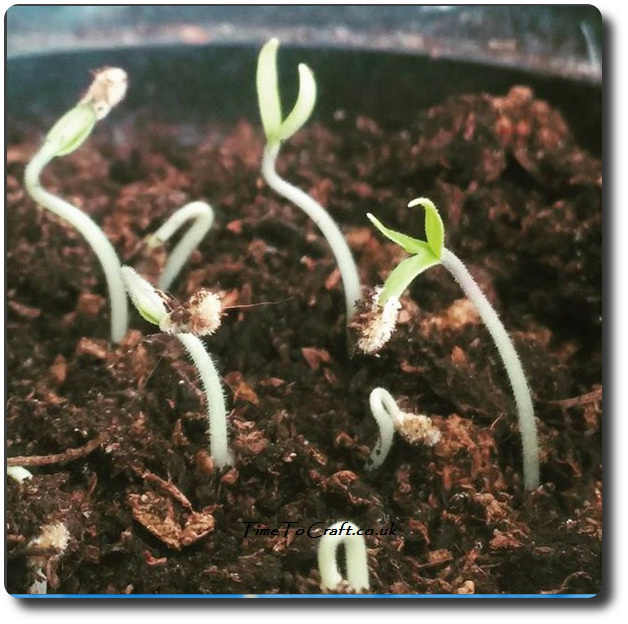 The best kind of additional at this time of year is when you plant seeds (read old seeds) and more than three come up. That is my kind of additional. Won't be long until after school activities will include helping me in the garden.
Hope you have a good weekend. Joining in with Jocelyn's #wotw. What word sums up your week?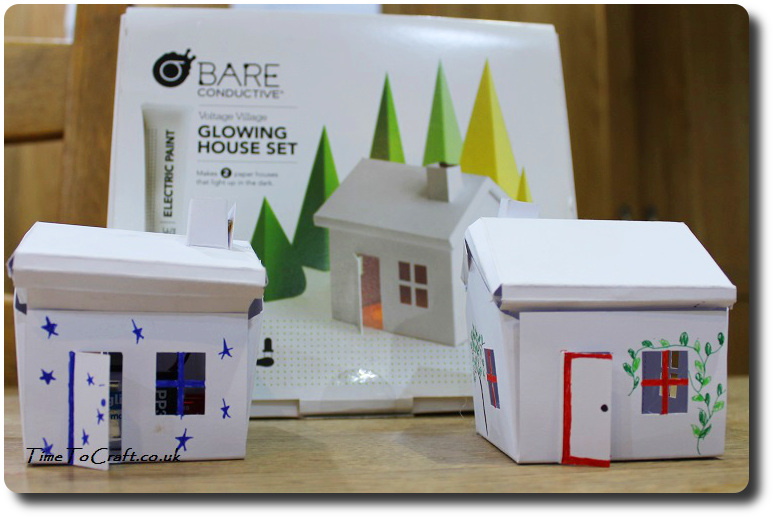 Last year, I bought a Glowing House Set for my Middle daughter. I wanted something that coupled her curiosity in science and her artistic nature. It was both a craft and engineering project.
Over the Christmas holiday, she sat down and made the houses. Putting the houses together, decorating them and creating the electronic circuit. All by herself.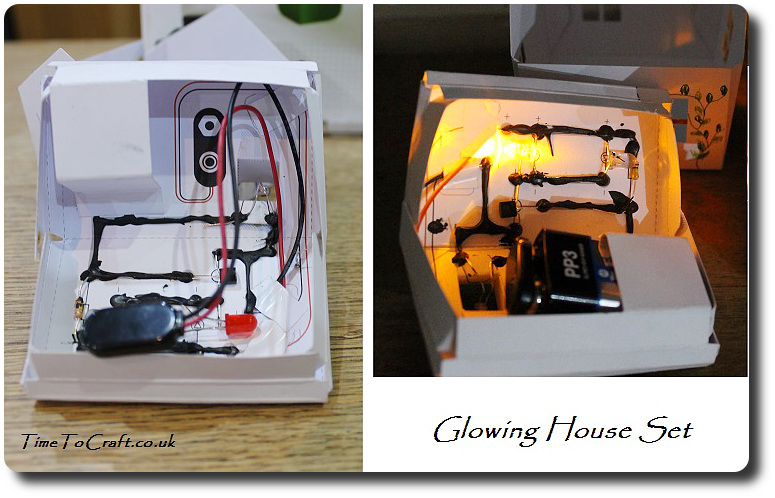 The electronics in the roof are the clever part of the kit. She used electric paint, (the black lines in the photo above) to make the circuit which linked the LEDs to the battery and the light sensor. It's called cold soldering. A great way for a child to make a circuit without risking burnt fingers.
It worked. The houses lit up when the light sensor was triggered in the evening. Very cool for an eleven year old. Only slight problem was that the blue LED was not lighting up. The rest were working. By then the electric paint was dry and would become brittle if broken. Not great for problem solving, as it would destroy the working part of the circuit, so she carefully removed the blue LED.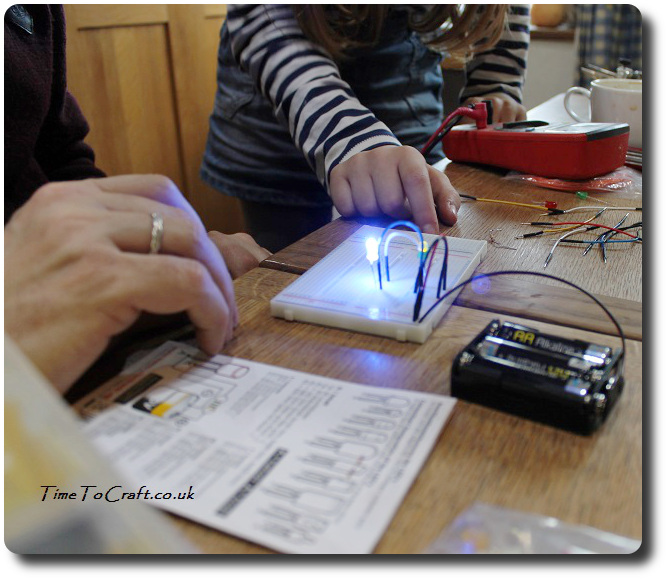 She took the problem to her father and he had a solution. (Aren't Dads great?) He found a breadboard (the white board above, not for slicing loaves) to test the blue LED. It didn't take long for all the children to join in. Pushing in the jumpers, resistors, transistors and lights. Making LEDs light up and the noise component to vibrate noisily.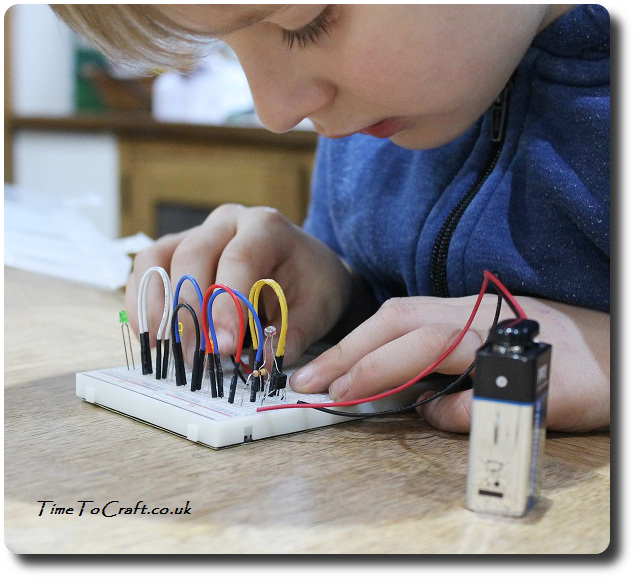 (little brother joining in)
They made mistakes. Some components died. I cannot lie, but they had even more successes and they learnt so much. Oh, those curious minds. The hands on experience, of putting the circuits together, was perfect. They were captivated.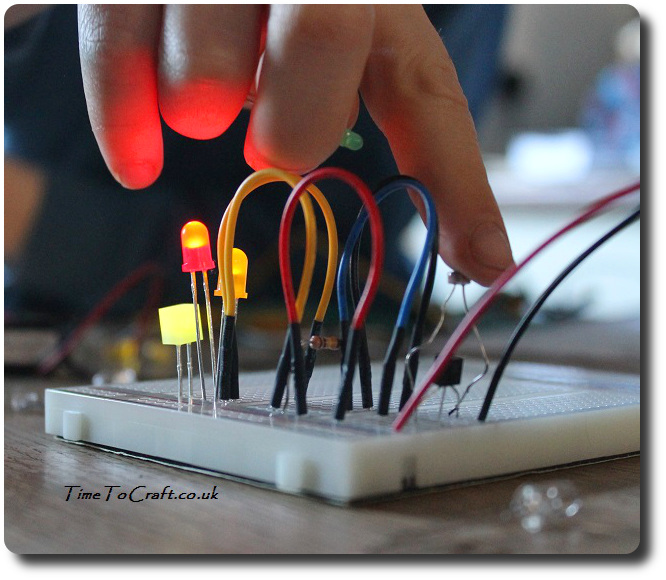 Oh, and what of the blue LED?
The original problem?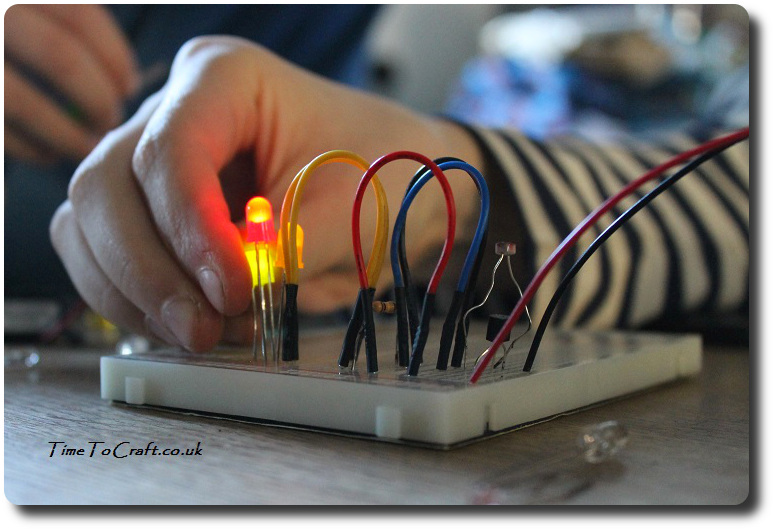 It was dead. It happens. Do you know what, I'm glad it didn't work? I would not have thought of buying her a breadboard to experiment with. If all the components had worked in the original kit, she would never have experienced the process of isolating the fault.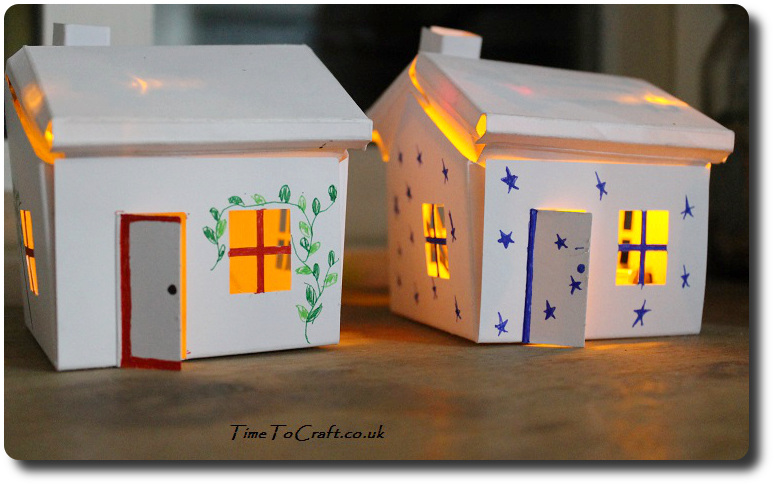 She loves both kits and has learnt so much. More importantly, she wants to do more.
Steps on to soap box: This is NOT a sponsored post, in any shape or form. I am fortunate to have an engineering father who saw no reason why his youngest daughter shouldn't become an engineer too, and provided encouragement. That was me, and I did. I'd like my children to see no barriers to pursuing careers in science or engineering, if they want to, especially my daughters. This kit is perfect for stretching her experience. I also love that it does not patronize her or seem to overtly attract her by being obviously for a "girl". No stereotypes.

(steps off soap box)
Photos
There have been cases when people lifted my photos and words, and used them without credit to me or asking permission first. Using them for their own commercial gain. I have now added a level of security to deter people from doing this. Apologies to people who do play nicely. If you would like to use any of my photos, please contact me.
Copyright notice:
All my words and photos are copyrighted to me. They cannot be used for commercial benefit by anyone else. If you would like to use any of them, then please ask me first and don't just take. Written permission only. Don't pass my words, photos or ideas off as your own. It's not nice.
Cookie Policy
Our web pages do not use cookies however this website uses Google Analytics, a web analytics service provided by Google, Inc. Google Analytics uses cookies to help us analyse how people use our site. The use of cookies by Google Analytics is subject to change.