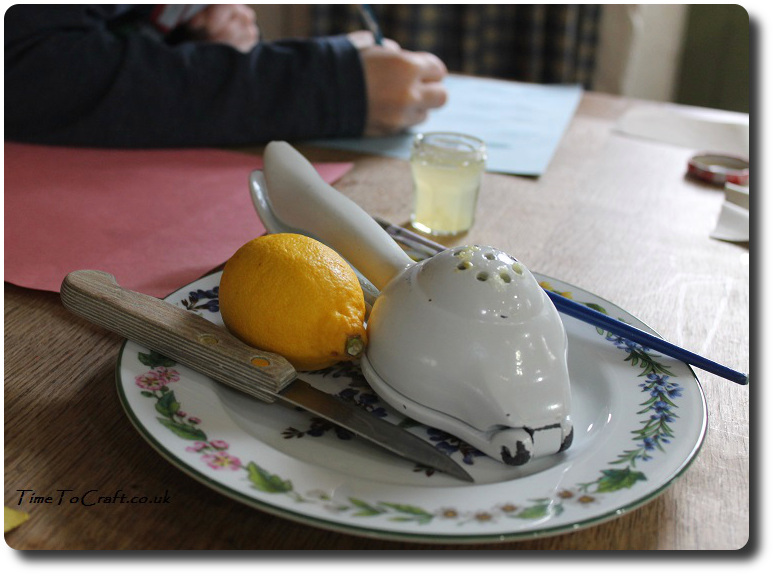 Over half term, we have relaxed. I put it down to less clock watching. More time taken. Even after almost 12 years of doing the school run, I still struggle to be fully productive in the hours between dropping off and picking up. It's not quite long enough for me. I check time. Estimate if I can squeeze one more task in. A feeling of constant interruption. It's a pattern for all areas of my life.
So half term is bliss.
We spent longer doing activities. I'm not constantly watching the time, to make sure meals are on time or people picked up. Taking over to speed proceedings up. I'm reminded of their time at a Montessori nursery, where an activity was complete once the child had tired of/finished it. Not cleared away, to start break time. The children controlled the end point. Not the clock.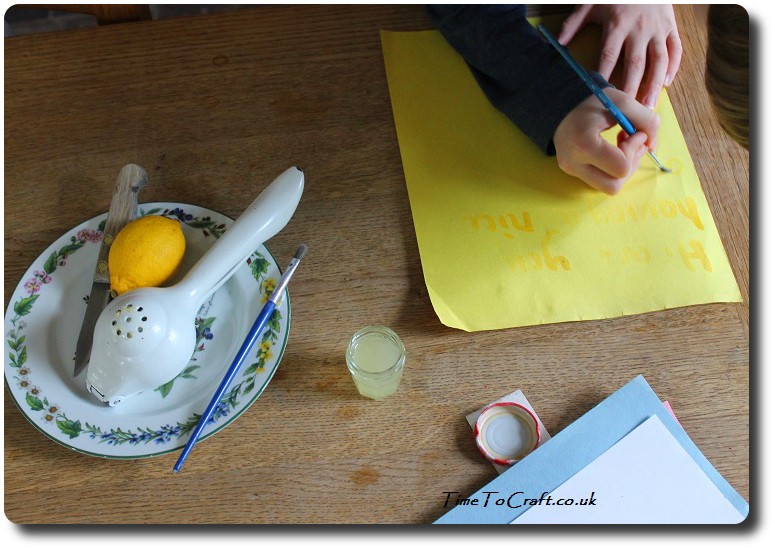 Over the weekend, I set up a science experiment. Secret writing with lemon, on different paper, with my youngest. It worked really well and lots of science was discussed.
While the paper dried, we used the rest of the lemon to make raspberry and lemon muffins. The muffin baking was my attempt to stop him wandering off and being caught up by another attraction. Screen or book. Either way, it would have resulted in a half an hour or more wait while he finished it. Plus I knew everyone would be pleased to see a tray of muffins.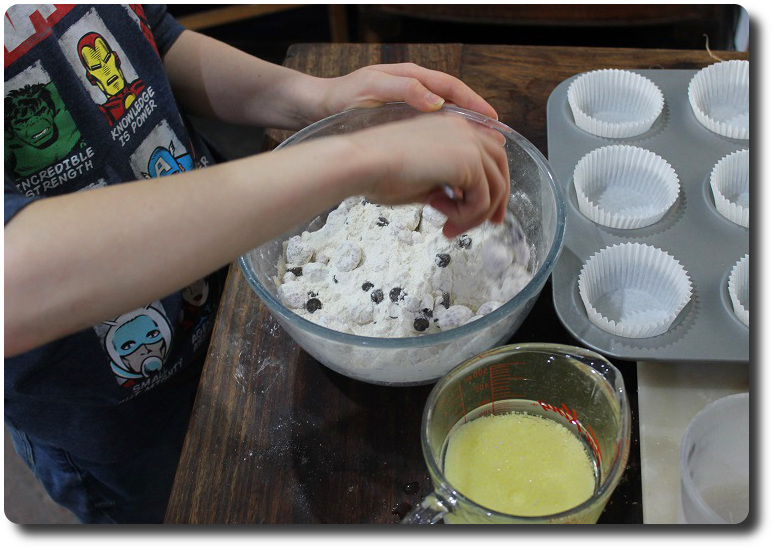 It worked. He loved the science, as I knew he would, but it was the baking that he enjoyed the most. Taking his time, with only a little help from me.
This is new. His sisters weren't elbowing him out of the way. They often over shadow him. I wasn't hurrying him along. It was his project. He was going to see it through. He chatted away happily.
And I stepped back and gave him time.
Once the muffins were in the oven, we used the heat from the Aga hotplates to reveal the secret messages on the now dry paper. He approached it with maturity. Assessing the dangers. Taking his time. Innovating different methods. The writing appeared perfectly and no fires required extinguishing.
He has grown. Again.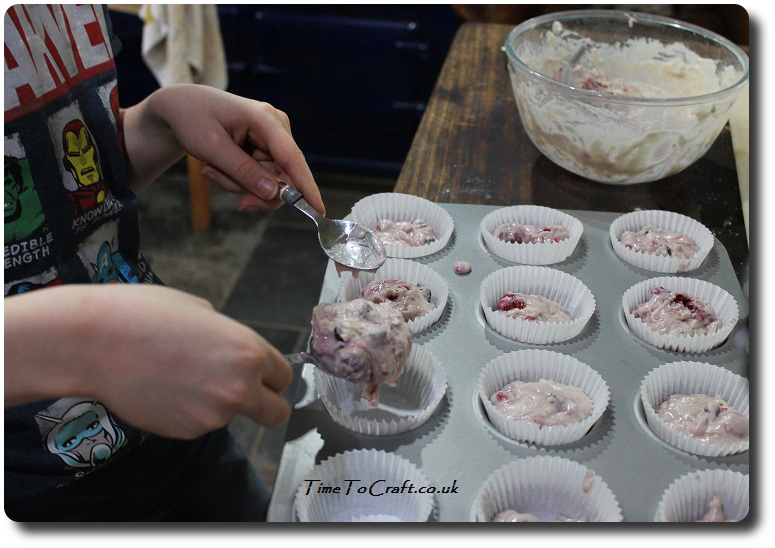 At that moment, I heard a familiar cog clunk into place. It started a slow rotation of many other interlinked cogs. All moving in perfect synchonism. A thing of beauty.
I've been here before.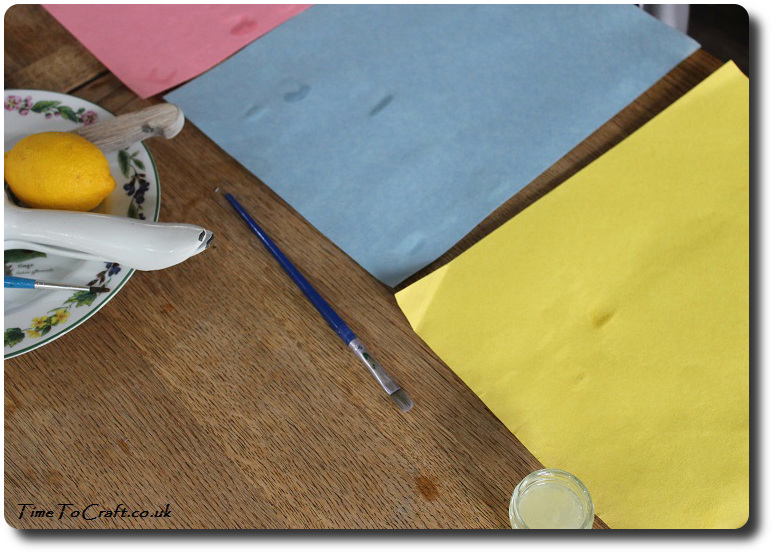 The process of realisation had begun. I couldn't carry on feeling like I need to do it all, to fit in with the clock. I need to let go a fracture more. I've helped him grow into the person he is. Now it's time to step back a little bit more and see what he can do.
In reality, most parents will tell you, that the growing up process happens all the time. The pendulum swinging from the adult leading to the child doing. Continuous. Hopefully effortlessly and with the smoothness of a well oiled machine. Just occasionally, you are present enough in the moment to experience a small jolt as they step up a gear. Changing the rhythm of growing up slightly.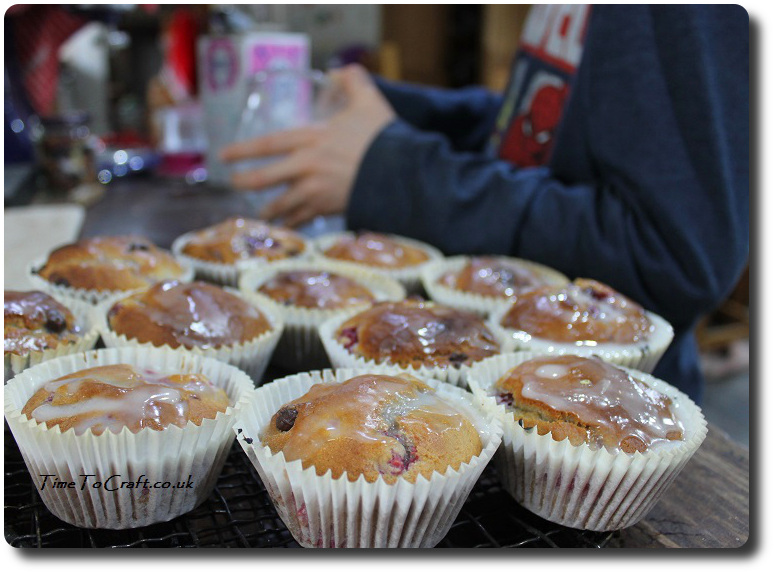 So there you are. Spotting that they've outgrown their trousers is a piece of cake. Seeing that they are ready to take more on? That's more sticky.
It will be interesting to see if my own production increases after September when there will be no more school runs. Will I give myself more time and see what I can do? Only time will tell.
In the meantime, anyone for cake?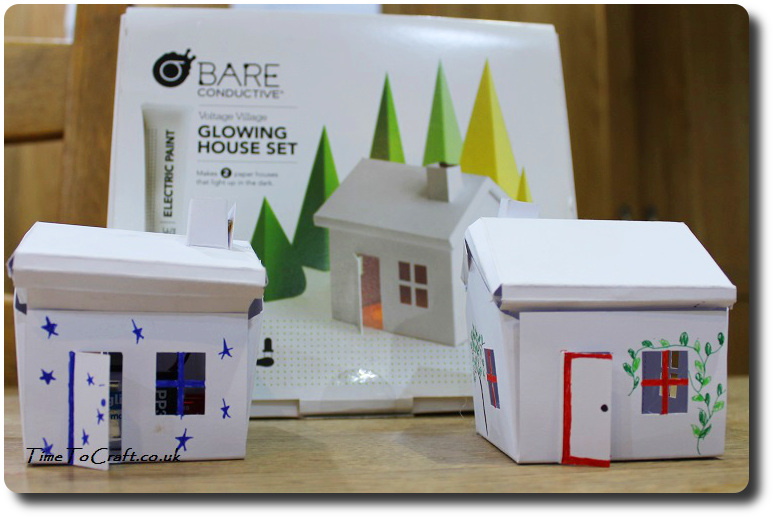 Last year, I bought a Glowing House Set for my Middle daughter. I wanted something that coupled her curiosity in science and her artistic nature. It was both a craft and engineering project.
Over the Christmas holiday, she sat down and made the houses. Putting the houses together, decorating them and creating the electronic circuit. All by herself.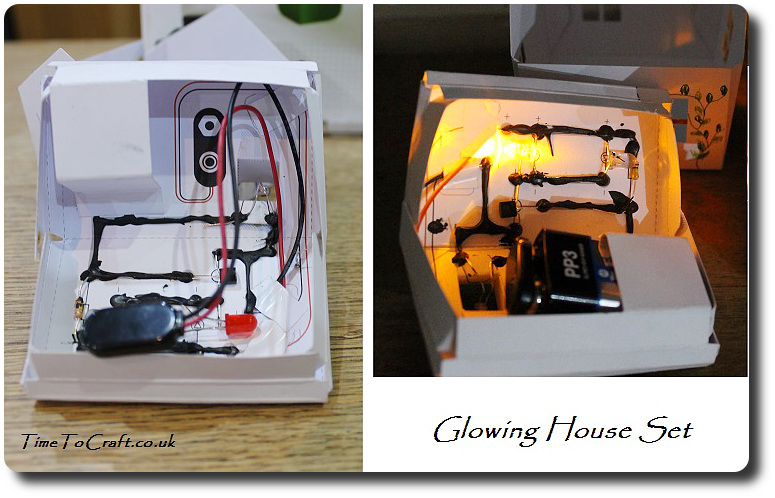 The electronics in the roof are the clever part of the kit. She used electric paint, (the black lines in the photo above) to make the circuit which linked the LEDs to the battery and the light sensor. It's called cold soldering. A great way for a child to make a circuit without risking burnt fingers.
It worked. The houses lit up when the light sensor was triggered in the evening. Very cool for an eleven year old. Only slight problem was that the blue LED was not lighting up. The rest were working. By then the electric paint was dry and would become brittle if broken. Not great for problem solving, as it would destroy the working part of the circuit, so she carefully removed the blue LED.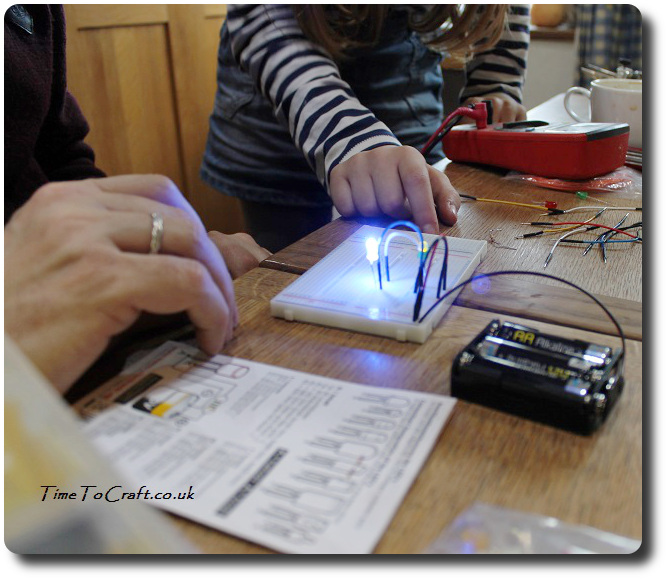 She took the problem to her father and he had a solution. (Aren't Dads great?) He found a breadboard (the white board above, not for slicing loaves) to test the blue LED. It didn't take long for all the children to join in. Pushing in the jumpers, resistors, transistors and lights. Making LEDs light up and the noise component to vibrate noisily.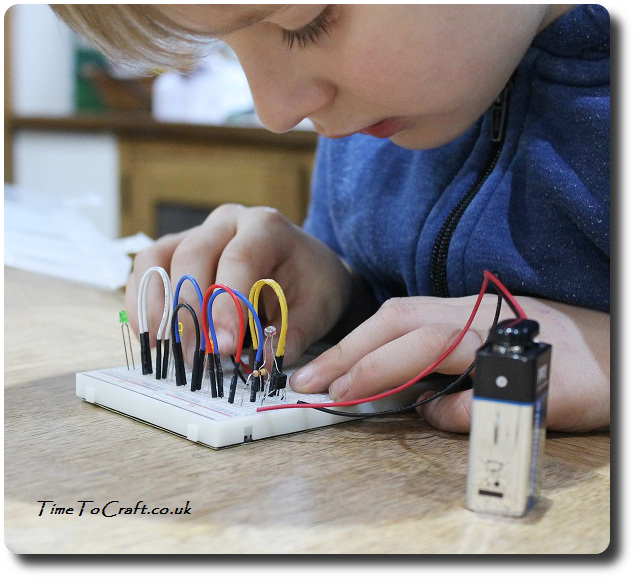 (little brother joining in)
They made mistakes. Some components died. I cannot lie, but they had even more successes and they learnt so much. Oh, those curious minds. The hands on experience, of putting the circuits together, was perfect. They were captivated.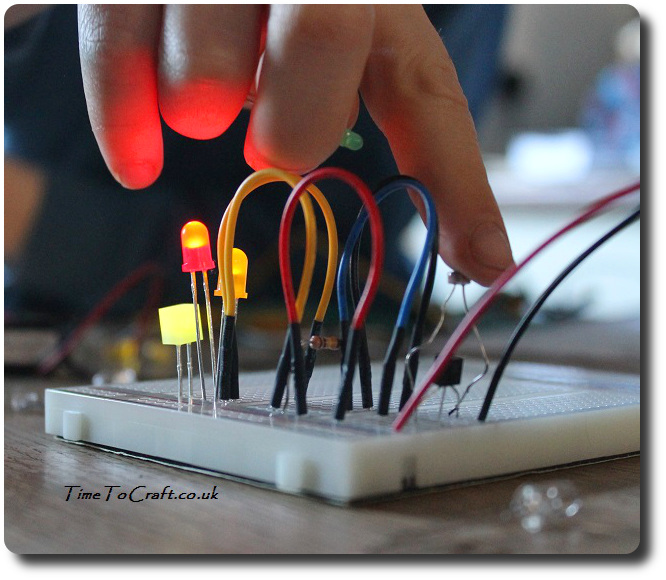 Oh, and what of the blue LED?
The original problem?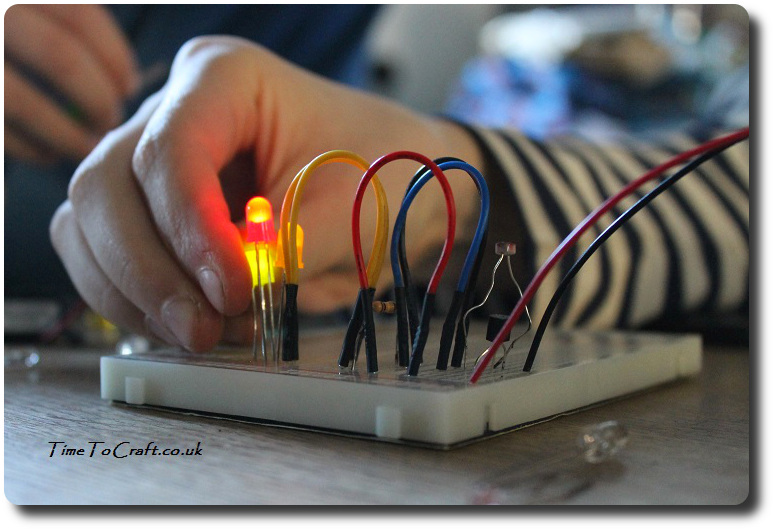 It was dead. It happens. Do you know what, I'm glad it didn't work? I would not have thought of buying her a breadboard to experiment with. If all the components had worked in the original kit, she would never have experienced the process of isolating the fault.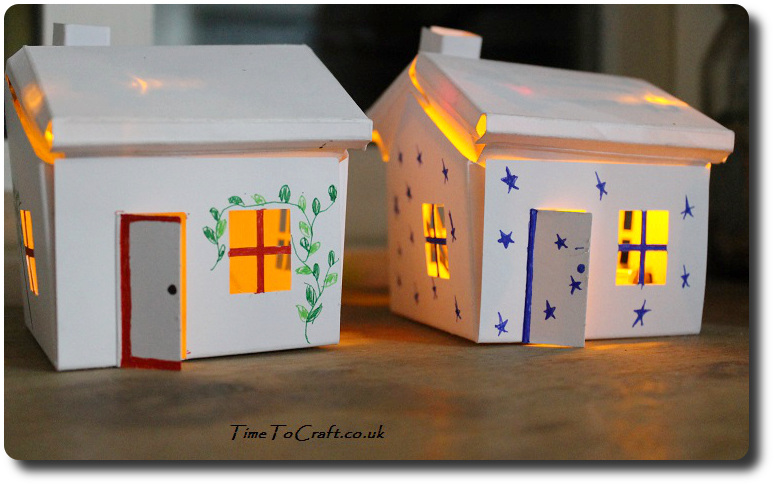 She loves both kits and has learnt so much. More importantly, she wants to do more.
Steps on to soap box: This is NOT a sponsored post, in any shape or form. I am fortunate to have an engineering father who saw no reason why his youngest daughter shouldn't become an engineer too, and provided encouragement. That was me, and I did. I'd like my children to see no barriers to pursuing careers in science or engineering, if they want to, especially my daughters. This kit is perfect for stretching her experience. I also love that it does not patronize her or seem to overtly attract her by being obviously for a "girl". No stereotypes.

(steps off soap box)
Photos
There have been cases when people lifted my photos and words, and used them without credit to me or asking permission first. Using them for their own commercial gain. I have now added a level of security to deter people from doing this. Apologies to people who do play nicely. If you would like to use any of my photos, please contact me.
Copyright notice:
All my words and photos are copyrighted to me. They cannot be used for commercial benefit by anyone else. If you would like to use any of them, then please ask me first and don't just take. Written permission only. Don't pass my words, photos or ideas off as your own. It's not nice.
Cookie Policy
Our web pages do not use cookies however this website uses Google Analytics, a web analytics service provided by Google, Inc. Google Analytics uses cookies to help us analyse how people use our site. The use of cookies by Google Analytics is subject to change.