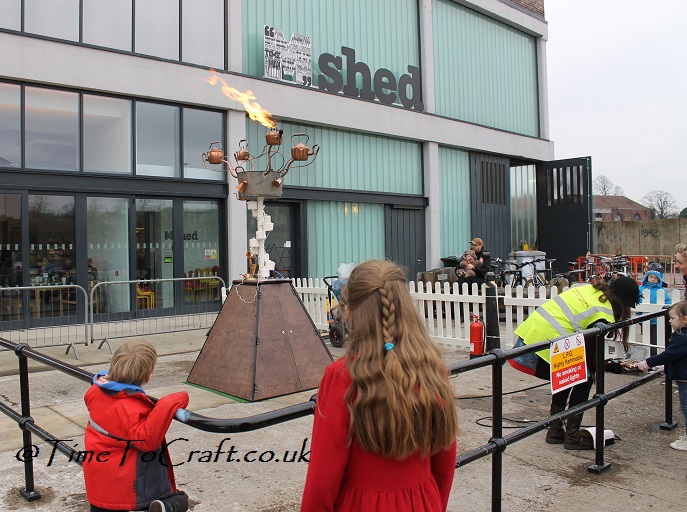 If there was an event that was made for our family, it was the Mini Makers Faire in Bristol today. Science, technology, crafting and a good dose of recycling thrown in. Even a little bit of history, but most importantly, there were buckets and buckets of creativity.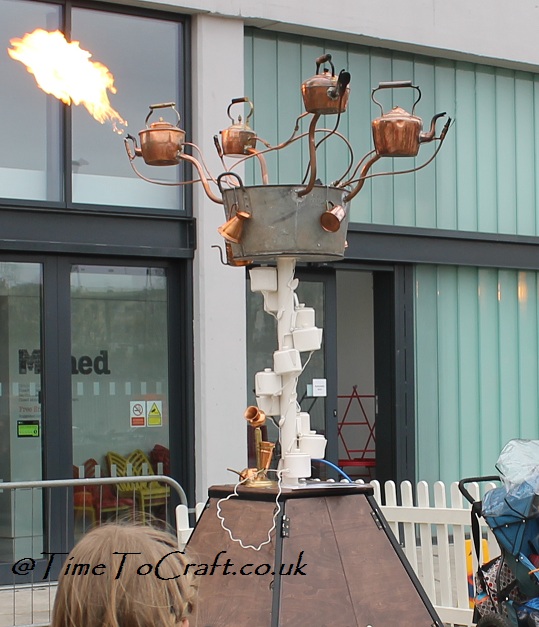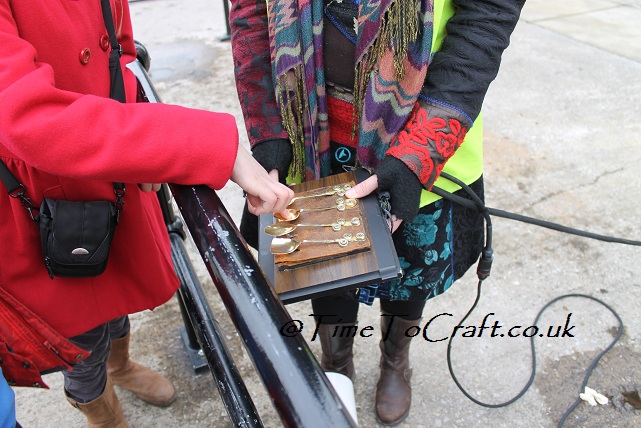 Each exhibit, we stopped at, strengthened the children's knowledge in a fun and exciting way. In this outside exhibit, each copper spoon completed the electric circuit to send flames out of a different kettle. Nothing like a dramatic display to sear information into memory.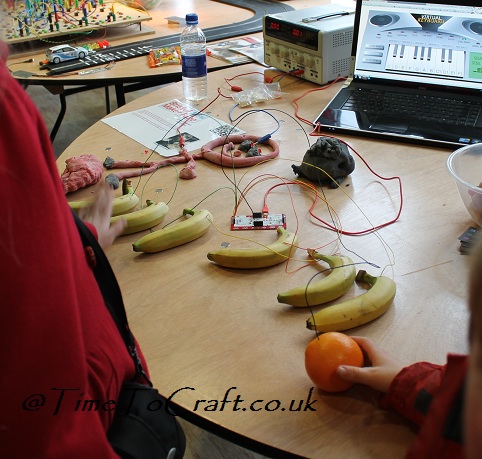 Inside the faire, the children were fascinated by the banana keyboard. While one tapped each of the bananas in turn to produce a different note, the children joined hands and held the orange to complete the electric circuit. The laptop screen showed them which note was being pressed. If only my school science lessons had been so much fun.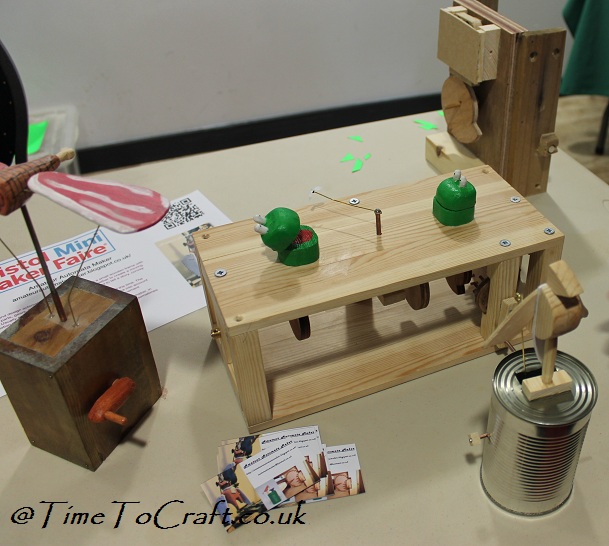 The wooden automatas really captured their imaginations. The frogs took turns trying to catch the fly and I loved the flying ham to the left. (Wish I had taken a better photo). First time I've seen a tin can being used as a base for the mechanisms. Very neat.
The children are really keen to have a go making an automata or two.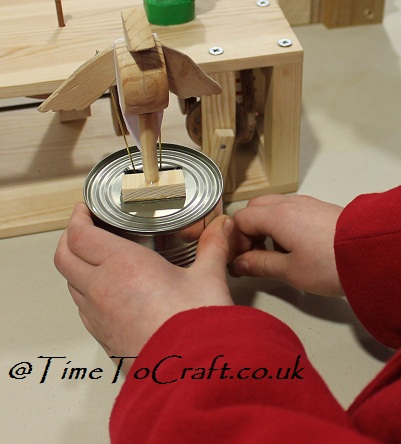 There was so much there. We stopped to talk to the people with the wasp display and the archaeology finds from the nearby dig. There was a very effective display of vortex current using a dustbin. Among all the modern technology, there were spinners and weavers, and a lady crocheting yarn made from strips of crisp packets. It really was the most perfect event for us.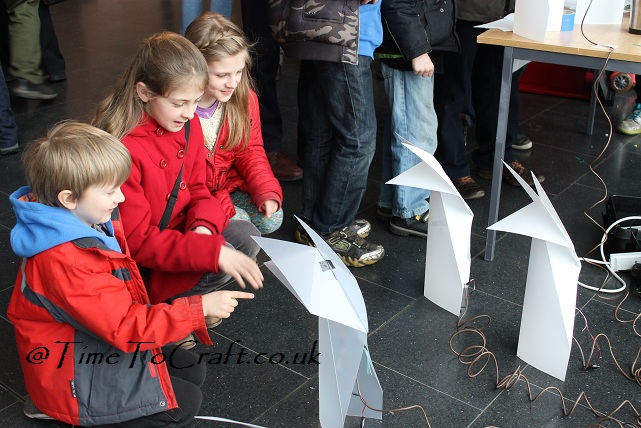 These roborigami foxes were a hit. The children tell me that they responded when hands were put close to them. They also made an endearing, almost yapping sound.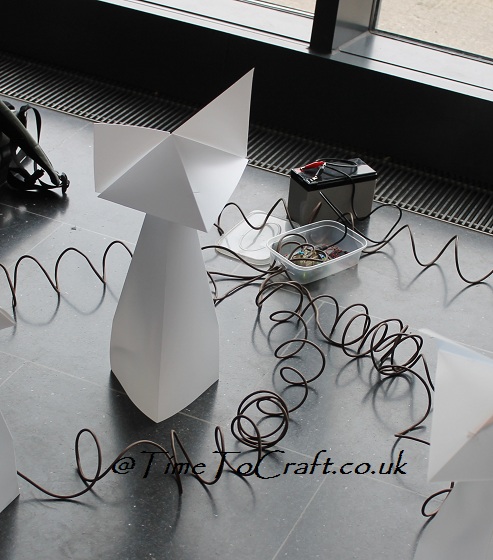 What's not to like when someone can combine origami with electronics. Did I mention the 3-d printer and the toothbrush head that vibrated across the table?
All in all, the faire was inspiring and fun. I'm sure they'll be talking about it for some time to come. Not a bad start to the Easter holidays. Oh, and we came home with a little science and crafting project. I think I know what we'll be doing tomorrow.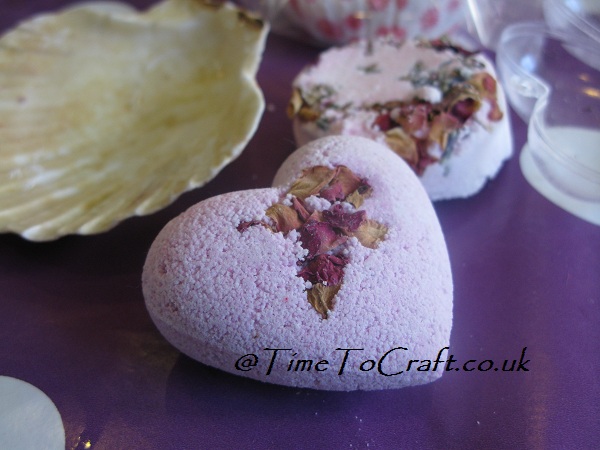 This is for Fiona and anyone else who would like to do a bath bomb party. This has to be the most popular activity I run. So easy.
There are many tutorials out there showing how to make bath bombs, but I'm going to share how I run this as an activity for children. I've done this activity with groups of children around the kitchen table and, after last weekend, I can now add the experience of doing it with a larger group. Just not all at the same time! A max of 6 to 8 children at a time, is perfect.
I've tried to write this tutorial and add photos that will help you through the process, as if I was there to show you. I'm happy to answer any questions, if I've missed something in the process. If you follow the process, then you should get perfect bath bombs each and every time.
Children enjoy making bath bombs. It fizzes. It smells. They can choose combinations and they really can do the making part. It also stimulates their senses and, if I can, I talk about the science*.  Most just want to make.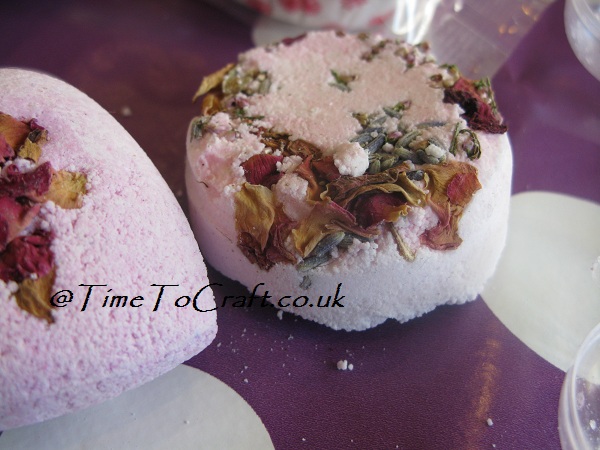 It is one of those activities that is most often requested when we have children visiting.
For any doubters out there:
It's not very messy. Children are far more careful making bath bombs than they may be with glitter or baking. I think it's the novelty factor and the awareness that I am trusting them.
Some of the ingredients are great household cleaners, which unfortunately cannot be claimed of glitter or self-raising flour. It will even help to clean your bath.
Apart from the ingredients, all the kit you need will probably already be in your kitchen.
If you can bake a cake, then you have the skills to make bath bombs.
If you can make a good sand castle, then the skill is transferable to making a bath bomb.
It will not cost you an arm and a leg to buy the ingredients. Buy a kit, by all means, but shop around for the ingredients and you may be able to do it for cheaper. The size of the bath bomb, the number you want to make and the bulk you can buy it in, will effect the price. It has never costed me more than 50p (less than a dollar) a bath bomb to make, when getting ready for a group. Usually a lot less. Admittedly, I buy more than I need, which is used next time round.
This is a craft activity that most children (or grown-ups) can do, so long as they can stir carefully and spoon mixtures into a cup. My children started making bath bombs when they were about 3 years old.
Children will be counting the hours until bedtime. They will be very keen to have a bath.
Bath bombs make great gifts for teachers, grandparents and anyone that the children want to make a gift for. As well as being used as a fund-raiser.
For a final tenth reason – they are fun!
Photos
There have been cases when people lifted my photos and words, and used them without credit to me or asking permission first. Using them for their own commercial gain. I have now added a level of security to deter people from doing this. Apologies to people who do play nicely. If you would like to use any of my photos, please contact me.
Copyright notice:
All my words and photos are copyrighted to me. They cannot be used for commercial benefit by anyone else. If you would like to use any of them, then please ask me first and don't just take. Written permission only. Don't pass my words, photos or ideas off as your own. It's not nice.
Cookie Policy
Our web pages do not use cookies however this website uses Google Analytics, a web analytics service provided by Google, Inc. Google Analytics uses cookies to help us analyse how people use our site. The use of cookies by Google Analytics is subject to change.