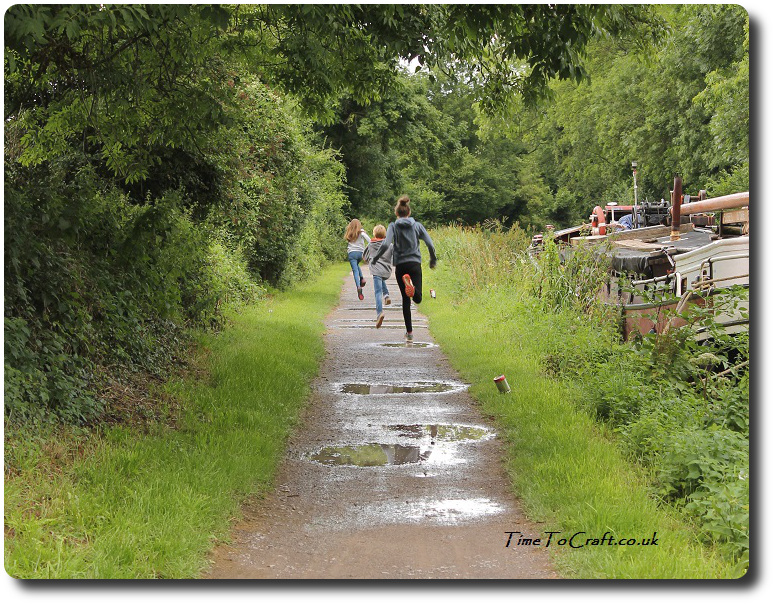 As the children grow up, I'm often struck by moments we've left behind. The ones that silently disappeared. No fanfare. They were part of our family life one moment, then slipped away with no one noticing.
Puddle jumping is one. The art of jumping into the centre of a puddle and making the biggest splash possible.
It seems like only yesterday I was buying wellies that gave the maximum leg coverage, to cope with the inevitable high water splashes of successful puddle jumping. Most parents of toddlers, when approaching a puddle, give a sideways look at their child to double check how they are dressed that day. A split second decision about whether a wet toddler fits in with your day or is a game changer. Still time for evasive action.
When did that change for us? I didn't notice, but it has long since gone.
Certainly, puddle-meters and ladybird boots no longer feature in our lives.
(Banded demoiselle)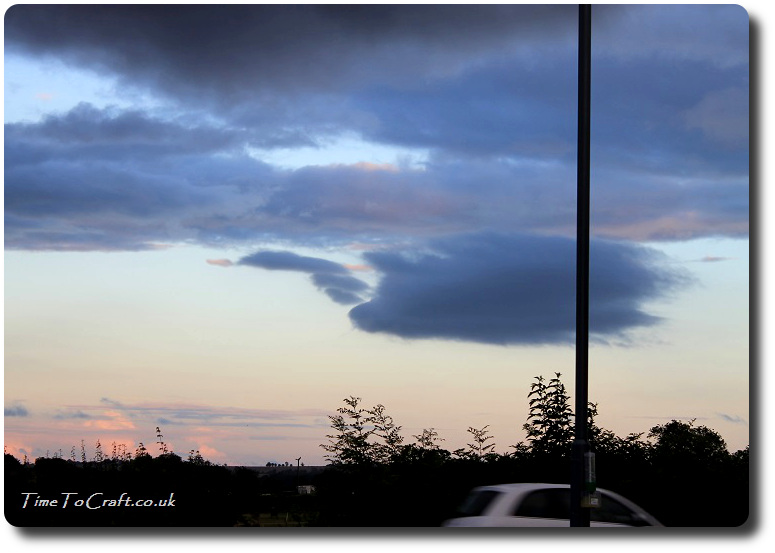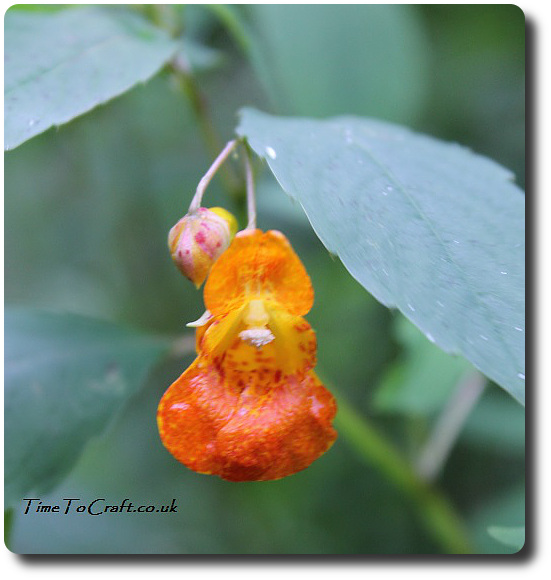 (orange balsalm)
Strangely, puddle jumping has not vanished. Or should that be evaporated? Whichever it is, it still goes on, but in a different form. With different footwear. As I watched the children jump over a never ending series of puddles down the canal path, I saw the transformation. The objective has changed. No longer is it about the biggest splash. Now it is about the lack of contact. Clearing the puddle completely, in one, long leap.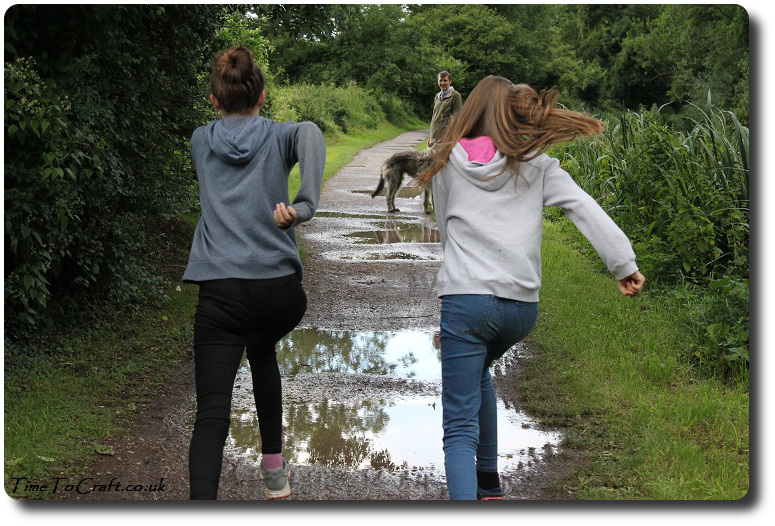 We were impressed by their synchronised movements. (Hope you can see it in the animated photos above.) An Olympic sport of the future…..maybe. Points awarded for style, uniformity and challenging tricks. A point deducted for each mud splattering spot on their legs.
Did they stay dry? No. We were walking beside a canal in the rain. No chance. I had their waterproofs in my bag, but no one wanted to stop the fun and put them on.
Did they fall in the puddles? No. As if! This is the senior version of puddle jumping after all.
I'd say that is a plus.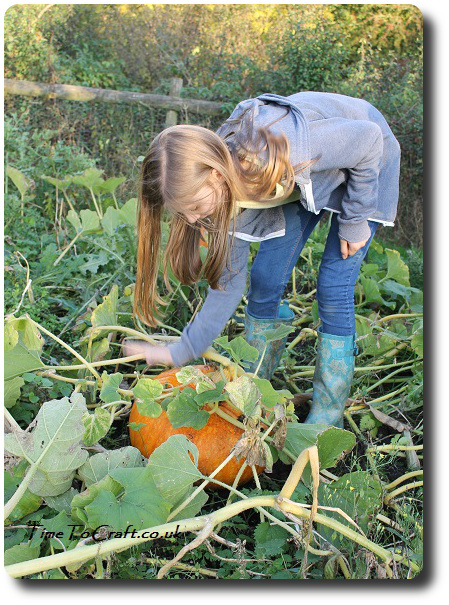 Last Sunday, we had a homestead day. We started by clearing the kitchen garden, ready for the winter.
We have been unbelievably successful in this area. A couple of years ago, the children helped me move numerous wheelbarrows of manure, until the whole plot was covered in about a foot of the brown stuff or more. Continue reading →
We make a summer bucket list each year. Not everything is ticked off before we find ourselves clambering around for sports bags and school shoes which I swore I had stowed in a sensible place this time. Some items on the list are old favourites. Flying kites and crazy golf are always there. Without fail.
This year, I think we have found another favourite. Messing around on the river.
In all fairness, we did hire a rowing boat last year, up in the Lake District, so maybe the tradition started last year.
This year, we hired a boat to go along the Kennet and Avon canal.
A very relaxing way to explore the canal. We took a picnic and headed along the canal from Limpey Stoke over to Bradford-upon-Avon. There are canal boats moored along the way.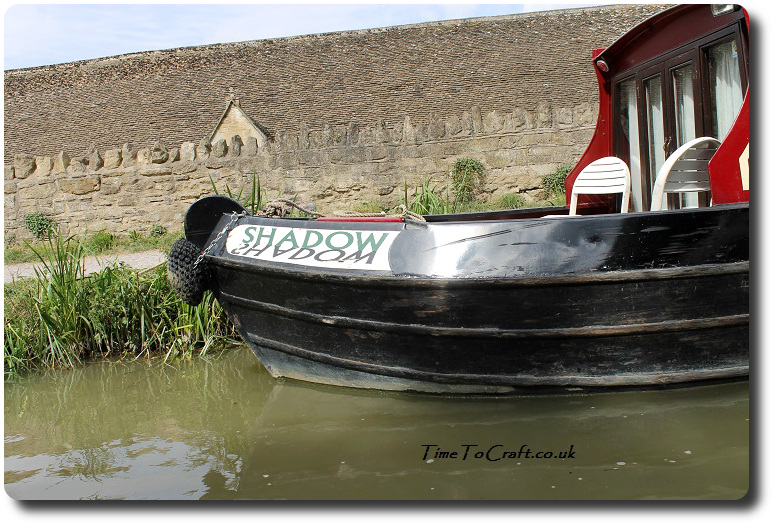 The children didn't grow bored of looking at each one and enjoying the names of the boats. They were intrigued at the idea that some people lived full time on the boats. Even spotted cats curled up in the sun on the boats. Some boats had the most amazing container gardens, providing them with fresh food.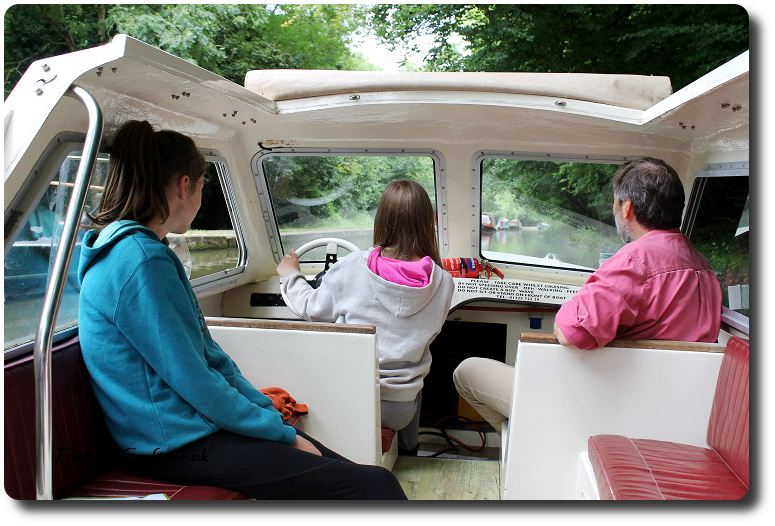 Each of the children had a go at steering the boat. Eldest became quite proficient at it. This is not a speed boat. We were advised to stick to walking speed which suited me. It was perfect for wildlife spotting.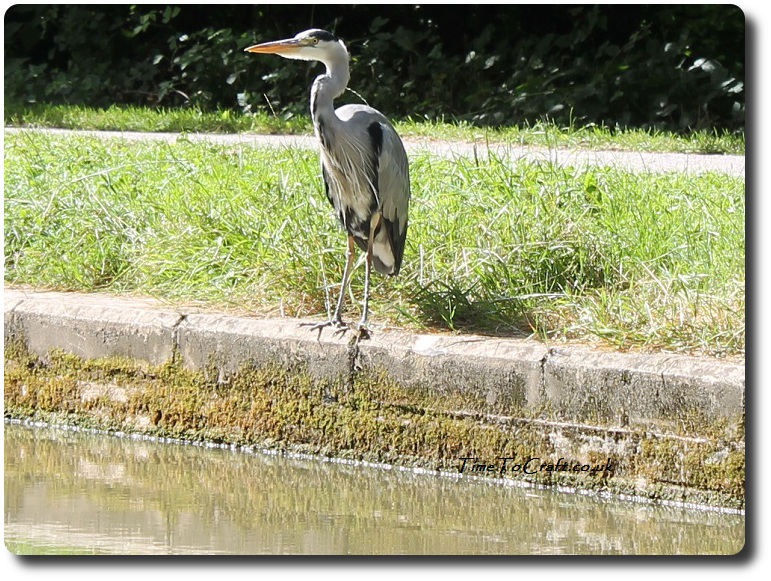 There were several herons along the banks. They obviously had the measure of the crazy humans in boats and realised that they were pretty safe, as they chose not to fly away, but to watch us. We spotted a lady shoo one out of her canal side garden, and it was most reluctant to leave. On our return trip, I noticed it was in another part of the same garden. A determined bird, who knew an easy meal, I think.
We also caught a glimpse of a kingfisher. There were a few little holes in the muddy banks, but no sign of their residents.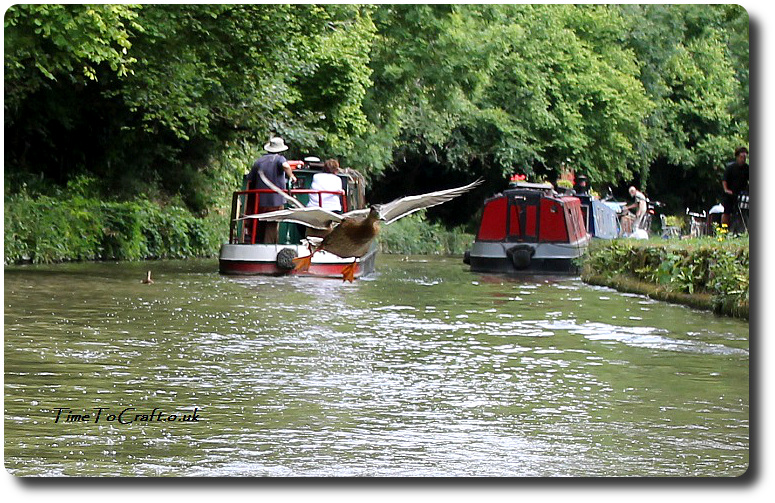 There were plenty of ducks that flocked as soon as they saw boats, in the hope of being fed.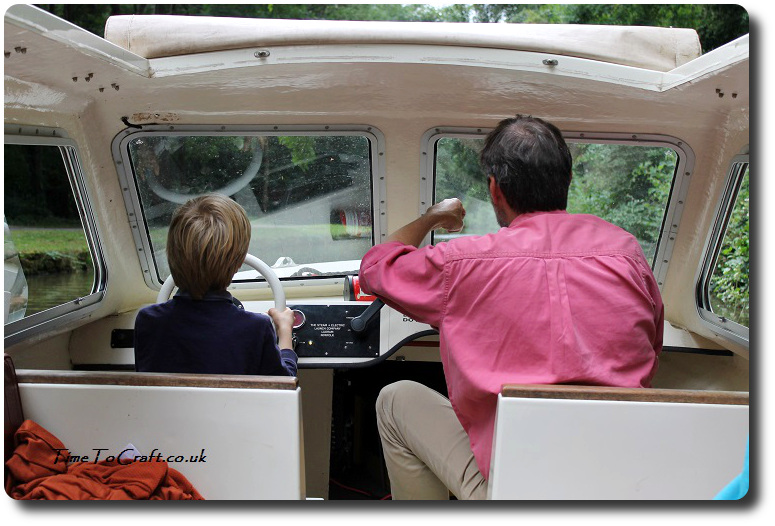 Our route took us over an aquaduct which goes over the river Avon. It is quite a sight. Not easy to appreciate when you are on a boat, as the walls block the view. We have walked over it before.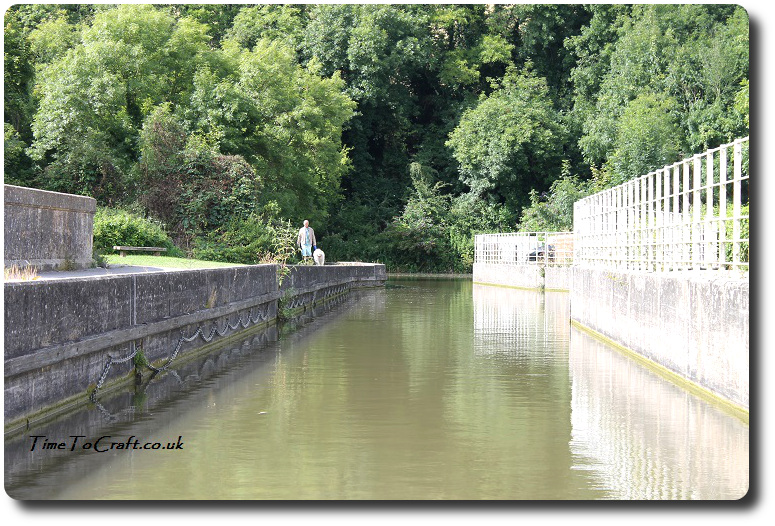 We passed plenty of other people, enjoying the canal. There were canoes, paddle boards and narrow boats, of course. Lots of people obviously holidaying in narrow boats. Must be lovely to wake up in the morning, when it is quiet, and see the wildlife.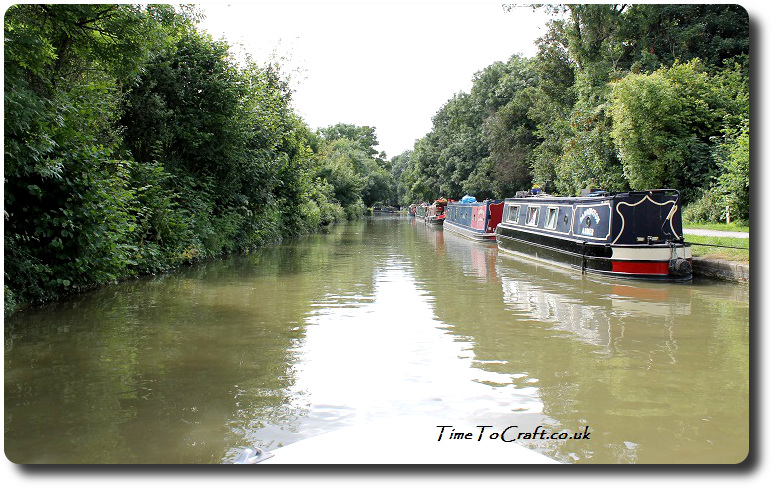 It was a fabulous afternoon. We really loved messing around on the river. We are hoping to get some canoes sometime soon. So maybe this family tradition will carry on.
Linking up bit later than usual to Fiona's inspirational #CountryKids linky.
*I really should add that it wasn't until we were half way to Bradford, that we realised that the children didn't have life jackets on. Oops! The canal is relatively shallow and the children are all confident swimmers. Next time, I'll make sure they are properly attired from the start. Despite the title of this blog post, they were very sensible and there was no messing around.

Photos
There have been cases when people lifted my photos and words, and used them without credit to me or asking permission first. Using them for their own commercial gain. I have now added a level of security to deter people from doing this. Apologies to people who do play nicely. If you would like to use any of my photos, please contact me.
Copyright notice:
All my words and photos are copyrighted to me. They cannot be used for commercial benefit by anyone else. If you would like to use any of them, then please ask me first and don't just take. Written permission only. Don't pass my words, photos or ideas off as your own. It's not nice.
Cookie Policy
Our web pages do not use cookies however this website uses Google Analytics, a web analytics service provided by Google, Inc. Google Analytics uses cookies to help us analyse how people use our site. The use of cookies by Google Analytics is subject to change.