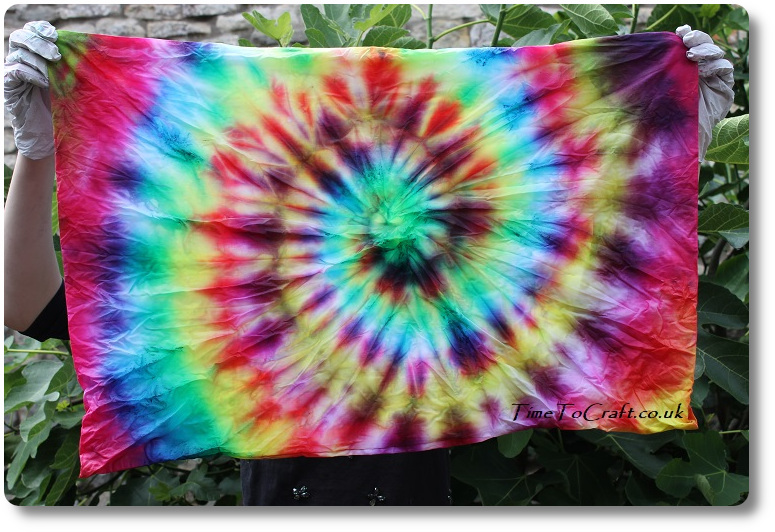 There comes a stage, when children can do a craft without help. They've been taught how to handle craft material. They know the techniques. They've probably lost count of projects completed, or half completed. Now, it's their turn.
Up to this point, they've learnt to copy the example provided. Be it a painting or a model, they've attempted to emulate it.  A carbon copy. The focus has been on following the leader, which is great as they gain confidence in their abilities, but at some point it changes. They take a leap.
No longer do they need to copy. They can take the skills, and be creative in their own right. The image they are copying may only be visible to their own mind's eye. They can fly. Anything is possible.
Also, everything can go wrong. Darn. Why does every coin have to have two sides?
If it doesn't work, then the hiccup can put them off. Confidence in themselves lost. It's easy to see why sitting in front of a screen becomes more attractive, whilst declaring that they are useless at making anything.
They are not.
As a parent of two teens and an almost teen, I don't want them to give up. It is a time to pick themselves up and dust themselves down. Find another route, maybe, but do try again. Resilience doesn't always come naturally.
What do I do? First up, my mantra is that there is no right or wrong way when craft projects are concerned. I start every project saying it. So it may not end up as you first imagined, but you have gained. Maybe it is better. Maybe a new way has been found. Maybe a personal style is growing. There is no such thing as a mistake.
The summer holiday is a great time to set up craft materials and let them flex their creative muscle. Away from the time restrictions of school, the judgement of peers and the fear of their grades being dented.
Here are my five favourite crafts for teens to do outside, because they can make as much mess as they like. I supply the materials and act as the support team.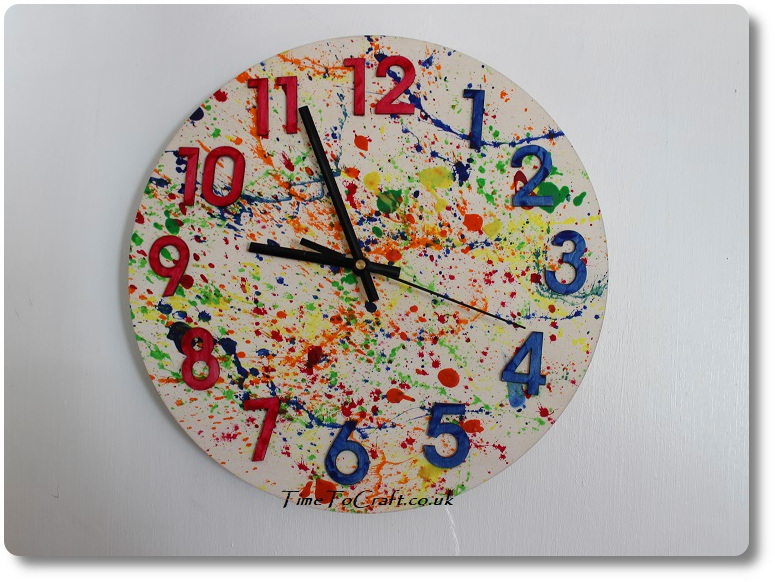 1 Object to decorate.
One year, I bought a blank wooden clock. Anything goes. Splatter paint was perfect. No two splatter clocks are ever going to look the same. No right or wrong. This project was perfect for building a wilting confidence. There is a skill in knowing when to stop. It still proudly hangs in his bedroom.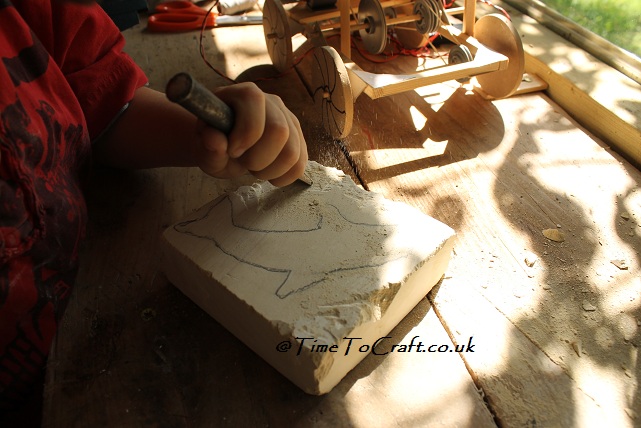 2 Carving.
We went to a country fair, where they learnt the basic skills of carving. Ended up lugging three stone blanks home, which if you know our home, is really quite hilarious, but that's not the point. The stones were theirs. That summer, they chiselled away at the stones and produced pictures they were happy with. I loved popping out into the garden and hearing the tap-tap sounds coming from the shed.
The next year. Same fair. Picked up another three stones for them. Over the years since, every now and again, they have taken themselves off to carve a little bit more. There is no hurry in this project. They are doing their own thing.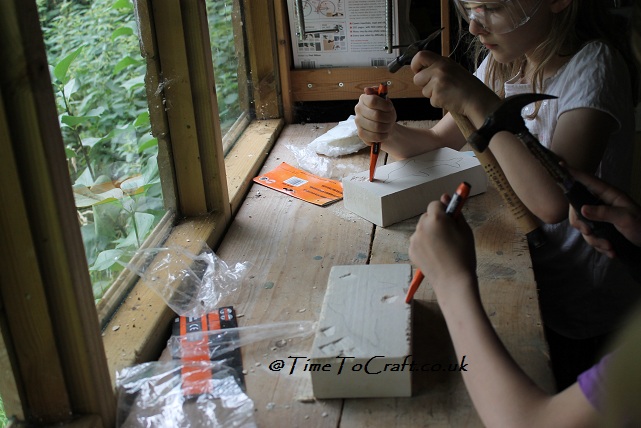 3 Tie dye.
Straight up, I do like crafts that are practical. Something that they make and then use. When they were younger, most of our projects were about making toys they could play with. Now they are older, it's more about something they can use. The tie dyed duvet and pillowcases project, last summer, is a really good example.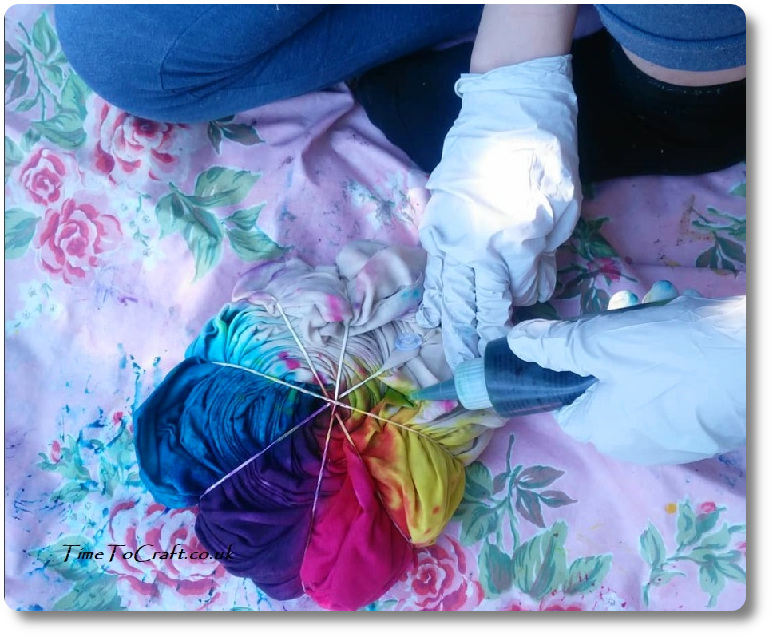 This was a real hit and something they want to do again this summer. It is messy. A project for outside, and with the added bonus of rainbow grass until the next downpour washes it away.
Each piece was different. It's difficult to attempt a carbon copy with this project. Experiment is the key. There was no right or wrong. They went back and added more dye to some of the pieces, until they were happy with it.  The duvet covers and pillowcases are on their beds now and they still love them, which, to me, spells success. We've also dyed t-shirts.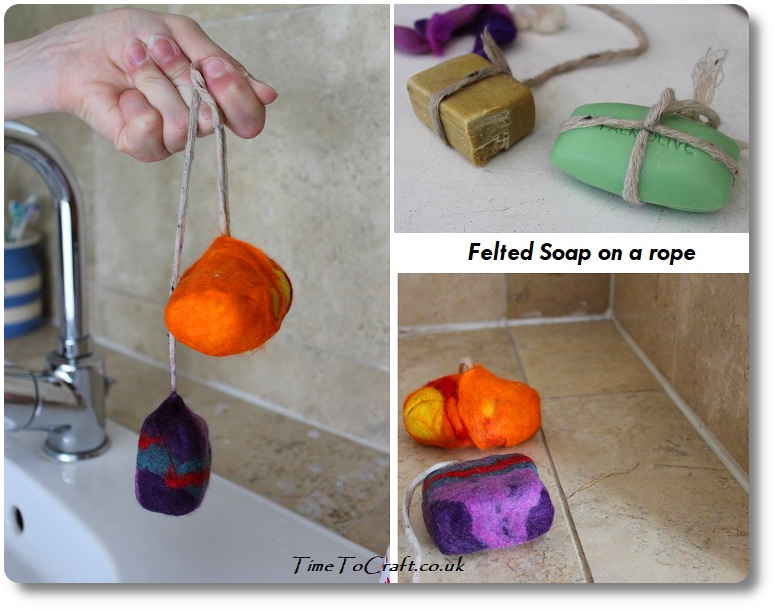 4 This is another practical craft. Felted soap.
We added a rope to hang it up with, but it is good without too. I love wet felting projects. It is very hands on, colourful and they all come out differently. It is a great project for blending colours. There is no standard felted soap, so creativity is wide open.
Here again, the felted soaps are in regular use and, I can assure you, work a dream. Especially on bare feet that have been outside all day.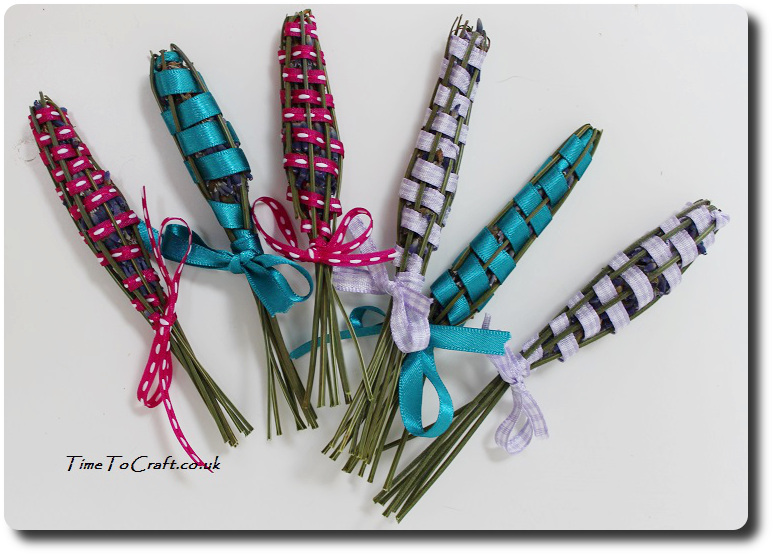 5 Wasn't sure if I should include this one, as there is a set way of doing them, but it does cover another aspect of crafting. Lavender wands.
Nimble fingers and concentration are needed to weave. The satisfaction of containing the lavender, into a natural cage, is worth the time. Working with nature can be unpredictable. No fighting it sometimes, but finding the rhythm helps, and it's a skill everyone should have to help appreciate the natural world.
It is also a wonderful project for a group to sit in the garden and craft together. Surrounded by nature. By the end, they have a sweet scented wand to put in their cupboards.
6. Last one, and an experience this time, although captured forever on film. A night light show.
The children each have their first initial shaped in wood with led lights decorating it. Looks great in their rooms lit up, but even more fun if you add a camera, with a slow setting, and a dark evening into the mix. They created letters, shapes and pictures. They worked together to make bigger more complicated displays. Until they saw the captured image on the camera, they had no idea how it would turn out.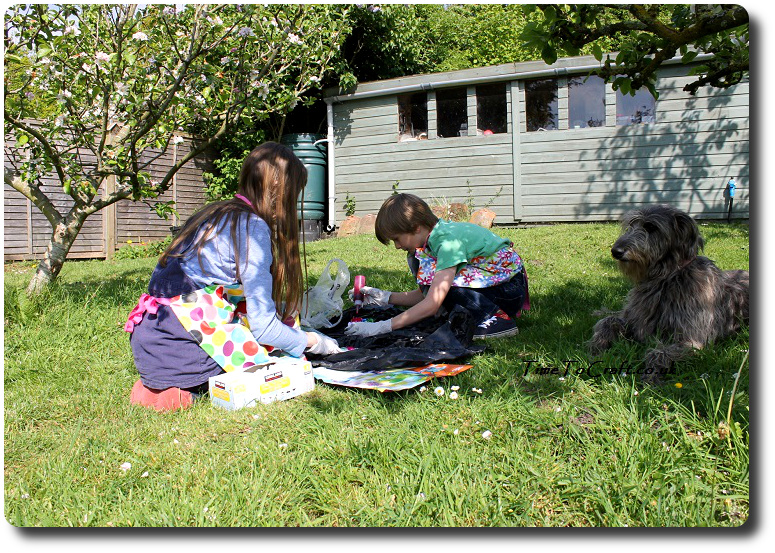 This summer, we have more craft projects lined up. I've already organized the materials, but I'm all ears to ideas as they come up with them. I love seeing where their creativity takes them. With open ended projects, like these, I'm never quite sure what will come next. Another interesting summer, I think. I'll be reminding them that there is no right or wrong way of doing it. They just need to follow their ideas.
Have you got a favourite teen craft?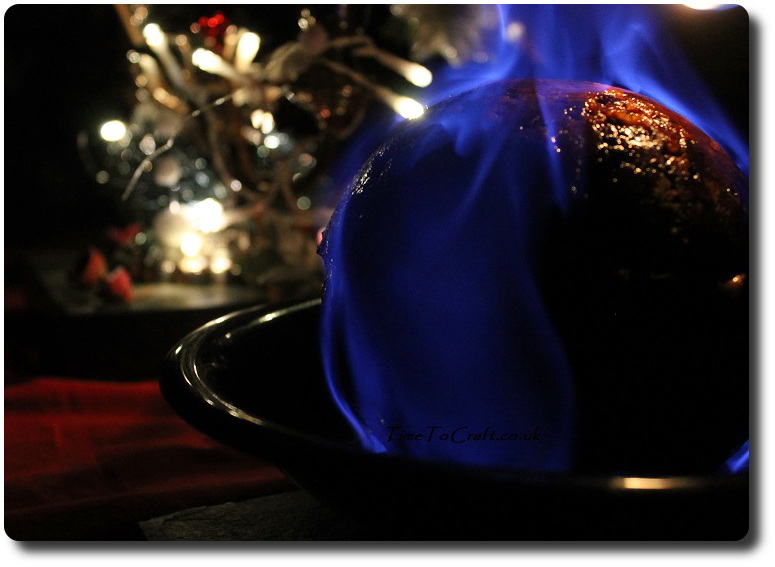 I have to admit that when one of my children announced, at the table last night, that it was five weeks until Christmas, it caught me out. Really? Woah. That was quick. What happened to November? Oh hang on, it is November, isn't it? Yes, five weeks.
She was excited. Too right. The thought of no school. Days filled with festive spirit. Presents. Yummy treats. What's not to like? For a moment, I was swept up in her excitement. I briefly caught the magic. I could almost smell the orange and cloves in the warm air. I caught wisps of music and laughter. Hints of the sparkly lights and tinsel. I remembered. I felt it again. It is such a lovely time of the year.
Then reality eased it's ample self into a seat beside me. Sigh. I know. Five weeks. Time to buckle up and make this magic happen. That's my role. Quite frankly, it's not always easy.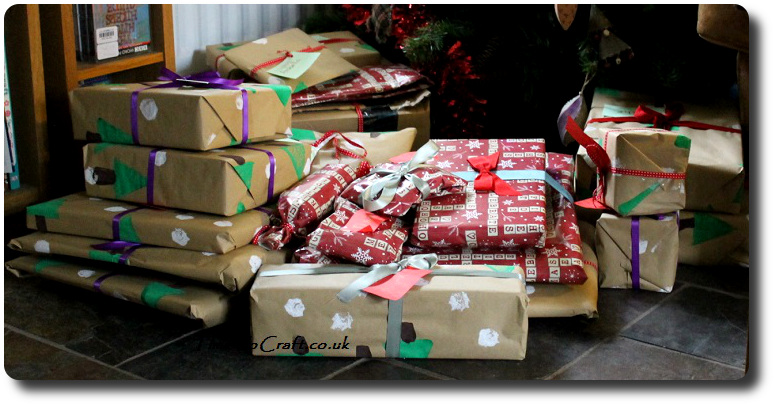 One of my aims this year is to simplify the holidays. Festive without the stress. More time with the family. Less time juggling. A different type of indulge, but no less magical. I guess it helps that as my children grow from small children to teenagers (16, 14 and 11 years old), their expectations have changed. No longer hoping for a conveyor belt of presents to entertain them, but appreciating the thought that went into choosing the gift that shows we know them.
One area I really want to simplify is the gift giving. I love the idea of giving five gifts each to the children: something to read, something to wear, something to do, something to eat and something you need. Then…stop. None of those just-because gifts that creep in as the days run out. I'd like to be done and dusted by the end of November, so I can enjoy the festive spirit in December too.
So the list begins.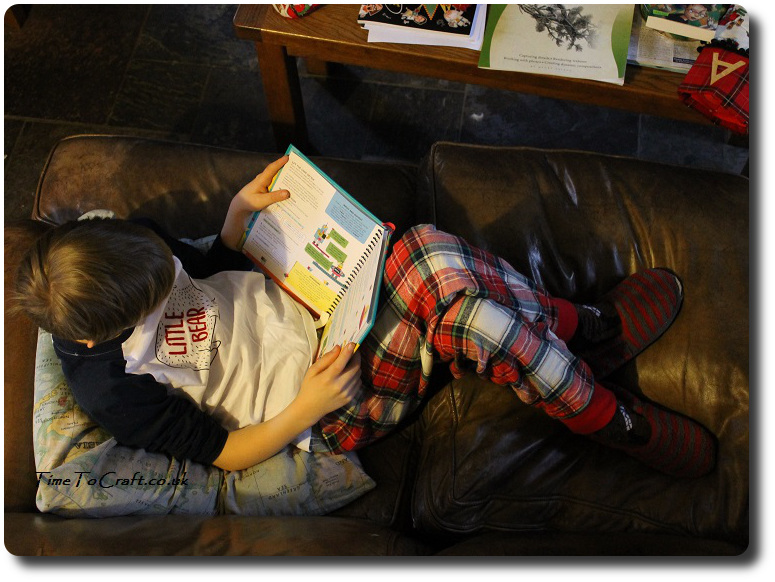 (Christmas Eve 2017)
Now, we have a tradition that everyone receives a book on Christmas Eve. An activity book or short stories, with facts, that will stimulate and entertain at the same time. Something to dive into on Christmas Eve or during those slower moments over the festive season and beyond. A pick-up and put-down type of book, where sections are read out and shared.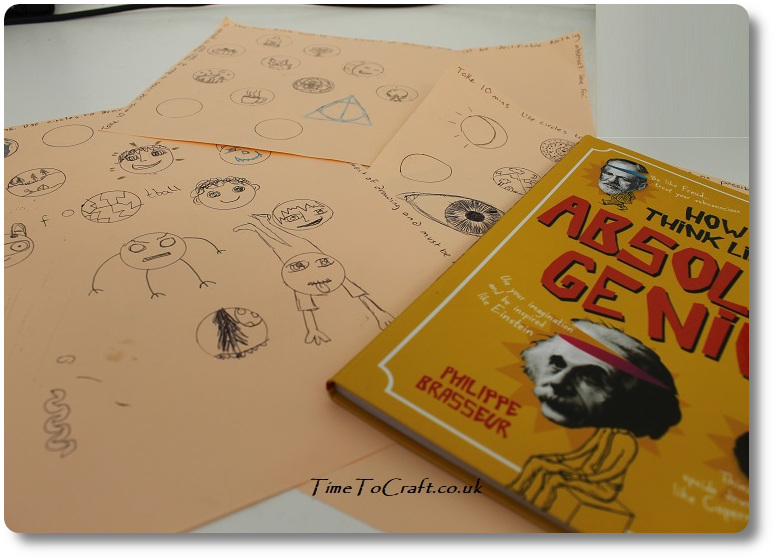 I've started my search for this year's books. As luck would have it, I was sent a book recently that fits the bill perfectly.  How to think like an Absolute Genius. (affiliated link) Over the weekend, we tried out some of the exercises and shared fun facts.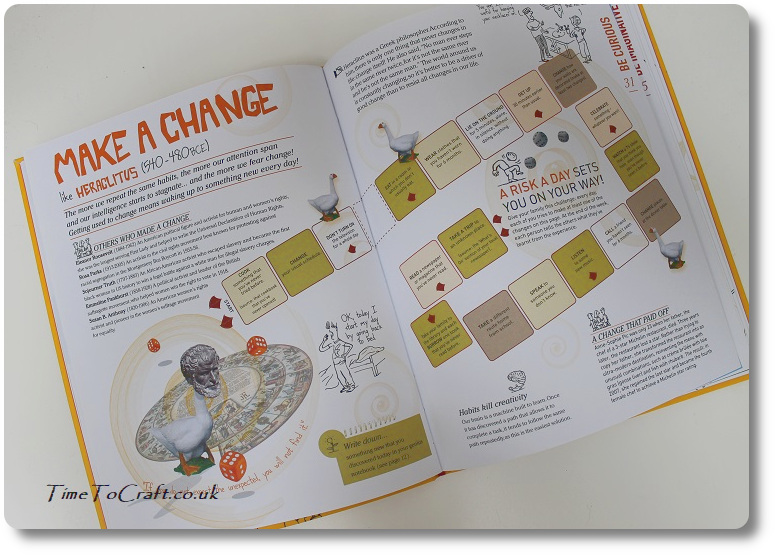 Format is perfect. All three children love reading the snippets of facts and giggling at the cartoons. Me too. I freely admit, I do enjoy a book, aimed at children, which I find packed with easy to digest facts that interest me too.
I love the exercises in this one. They are different to ones I've found before. If you like out of the box thinking, then this is the book for you. I mean, your children. Although, I do think this book will be a success in our house as I want to join in too. As a parent, I can bring a book or toy to life that might otherwise be overlooked. This only happens if it appeals to me, as well as the younger members of the family.
Creativity and a different way of thinking, is a good way to start the day. Any day. For all of us.
We tried Ellis Paul Torrance's creativity test. Ten minutes to draw anything, so long as the main component was the circle. It was interesting to see that they all came out with different approaches.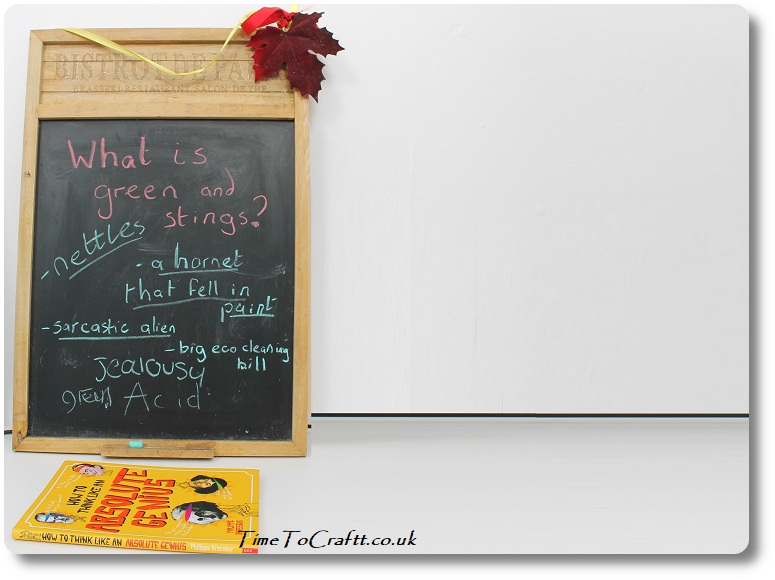 I also posted up a serious of questions on paper and chalk boards, for them to provide multiple answers. We did this together for a couple of questions, so that they got the idea. I wrote down everything they suggested. No wrong answers. Although there was one amusing moment when I misheard Gucci socks as goat cheese socks (What is expensive and smells very bad?), and didn't realise until the end. (Maybe you had to be there.)
Reality shuffles slightly in its chair. Almost imperceivable, muffled cough. Just five weeks. I hear you.
My search continues for our Christmas Eve books, for this year. This one is sitting on our coffee table and filling in a few moments before the festive period swings into full force. I'll take it along when we visit family and friends over the holidays, with a pad of paper. I'm pretty sure the grandparents will join in too.
Disclaimer: I was gifted a copy of "How to think like an Absolute Genius" from the publisher in exchange for an honest review. I always give my true opinion of the product in reviews.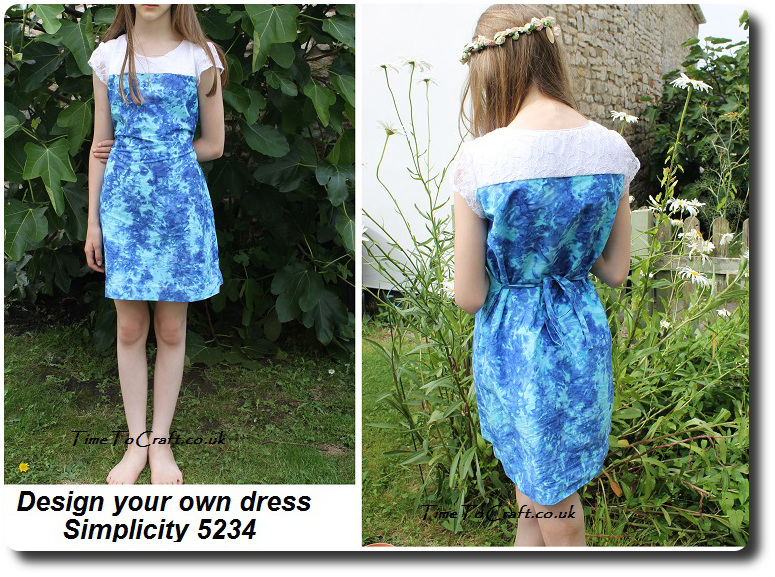 We sat on her bed, looking at the contents of her wardrobe. After flicking through the rail, I finally agreed with her. All her dresses were not suitable for a near-teen. It didn't help that since last summer she has stretched. I mean really stretched. Dresses were now tunics and the rest were too young.
More dresses were definitely required. (Music to a mother's ears, who likes to sew.)
It was a Saturday morning. The fabric shop would be open. Heading downstairs, I selecting a few possible patterns from my collection and let her choose.
Being a near-teen, she has clear ideas about what she likes. It is a fearless state of mind. She doesn't seem to compromise and worry about what her friends will think. She knows what she likes and what suits her. I hope she never loses that clarity.
The making of the dress
She opted for Simplicity 5234. A simple dress, that gave a variety of combinations. Different options for the neckline, yoke fabric and sleeves, while the dress stayed the same, simple shape. She could design her own dress. How good is that? She was decisive and went for view B. She wanted a lace overlay, with cap sleeves.
Fearless, I tell you.
Next stop, the fabric shop.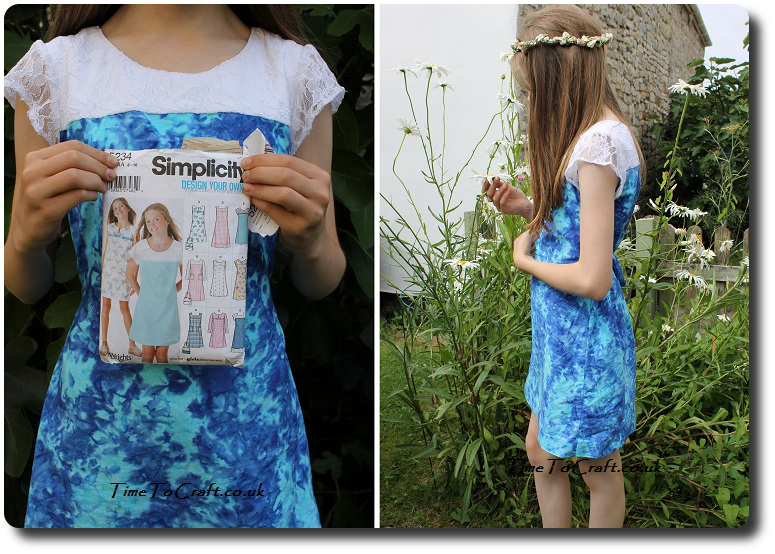 It didn't take her long to spot the perfect watery-blue. We looked at several laces and background fabrics, finally settling for a white, soft lace against white fabric.
Secretly, I was pleased she chose this dress pattern. I knew it would be quick to make and perfect for a wedding we were all going to this weekend. The dress is a pullover. No zips or buttons. A simple shape with a tie at the back.
I've not worked with lace before. The sleeves needed gathering at the top to ease them into the armhole. I found the combination of lace and gathering fiddly, but got there in the end.
Originally, she wanted the long version of the dress, but once fitted, she realised that the hem would work better for her as the short version. I cut off a couple of inches. If she changes her mind, I can easily add it back on.
The pattern was quick to make and no advanced tailoring. A great choice if you're starting out on your dressmaking journey. The instructions are straightforward. If I was to make it again, I think it would take me an afternoon.
Why it matters that she designed it
She loves her new dress. The dress she designed. She's not one to ask for lots of things, but when I prompted her, she did say she'd love another using the same pattern. I think I can manage that.
I'm glad we took this route. Yes. I could have let her loose in any number of clothes shops, with a purse full of money. I daresay, she would have found an outfit she liked. Maybe it would have been a compromised choice as closing time neared. This dress should last her a while (especially if I add the length back on). Unlike a shop bought outfit, it will not look easily dated. Eventually she will grow out of it, but it's not destined to be thrown away in a matter of weeks/months as so much of our fashion goods are in this country. As the fashion passes.
It may seem like a small thing, but I love that I was able to give her control of the design.
I try to bring my children up not to be sheep. Following others blindly, without a thought. They may roll their eyes, but they're also the first to point out when they see others following for the sake of following. I can also see in their actions that they understand. My daughter loves to draw. She loves to design. Doing it this way meant she could take her skill and transfer it to something she could wear. She led rather than being led by others. She designed it. She did it. Confidence boosted a notch or two more.
She wore her dress to the wedding and had a great time. She said it was an easy dress to wear.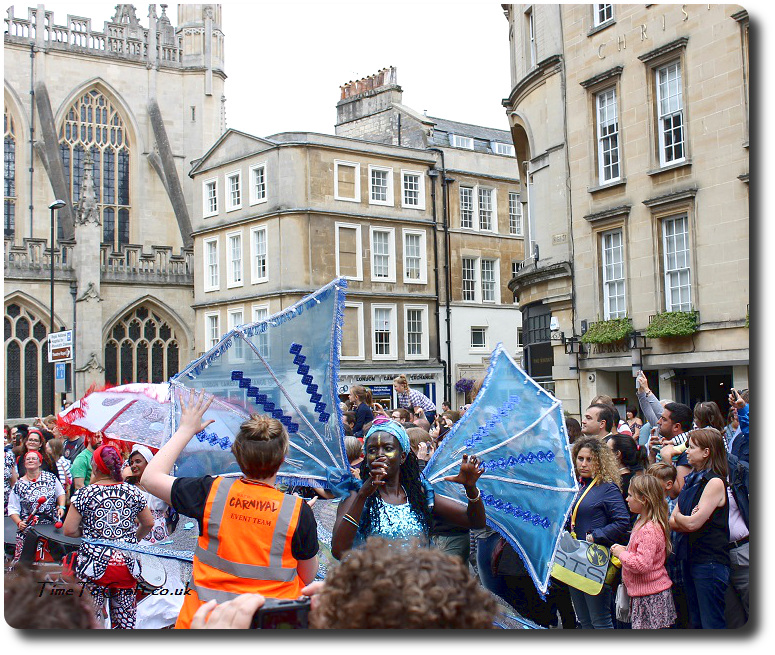 Bizarrely, after the wedding, in a way that no one could ever have co-ordinated the timing so perfectly, we stepped out on to the pavement, and straight into the Bath carnival.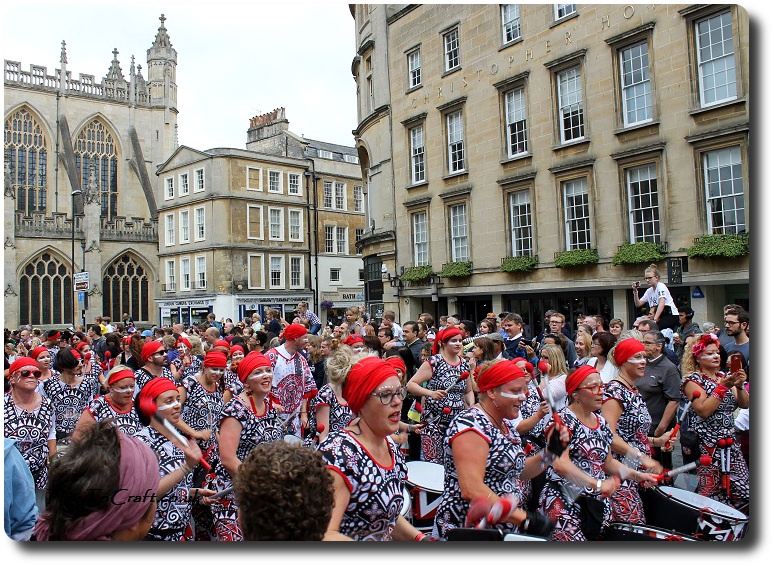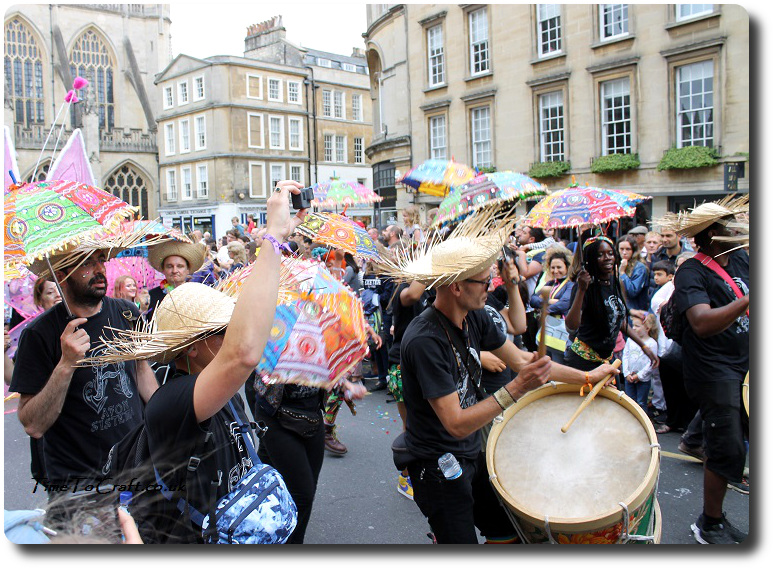 The music and dancing swept us all away. I had wondered if my dress (and this blue one) might be too bright for a wedding. Apparently not this wedding. Not with a carnival to finish off the proceedings.
Linking up with Crafting On and …
Photos
There have been cases when people lifted my photos and words, and used them without credit to me or asking permission first. Using them for their own commercial gain. I have now added a level of security to deter people from doing this. Apologies to people who do play nicely. If you would like to use any of my photos, please contact me.
Copyright notice:
All my words and photos are copyrighted to me. They cannot be used for commercial benefit by anyone else. If you would like to use any of them, then please ask me first and don't just take. Written permission only. Don't pass my words, photos or ideas off as your own. It's not nice.
Cookie Policy
Our web pages do not use cookies however this website uses Google Analytics, a web analytics service provided by Google, Inc. Google Analytics uses cookies to help us analyse how people use our site. The use of cookies by Google Analytics is subject to change.