I've been sewing again. Tra la la! Little dance of joy. Sewing definitely makes me happy. Escaping for even a short time to play with my creative ideas, is good time. On my own. It means later I can take a back seat while encouraging others to be creative. Resisting the temptation to wade in, with my sleeves stylishly rolled up, and take over their projects. It's OK. I've already had my own creative time. Instead I can nudge them to think deeper and out of the box, without spelling out how I would do it.
May is the best time for me to feel a fresh burst of creativity. I find I'm inspired by the increasing number of different flowers appearing in the local hedgerows and our garden. Oh, the colours. Not just the colour, but also the scent promises wonderful times to be had outside, in the coming months. Even the different shades of foliage add to it all. So beautiful. It's probably no coincidence that my handmade wardrobe offers up more spring outfits than any other season. The burst of colour sends me dashing to rifle through my fabric stash for just the shade to complement it all. Again.
This year is no different. I opted for a blouse made out of green fabric with beetles on it.
Regular readers of my blog probably won't be surprised by my choice of a beetle fabric. Way back when, before career apps were even a twinkle in their programmer's eye, I was researching my next steps in the dismal, back room at school, that passed for our career office, I wish someone had pulled out the paper brochure for entomologist. I suspect it wouldn't have had a well worn spine, with bent edges, as some of the other brochures (I'm looking at you, accountancy and law), but it would have opened my eyes to another possibility. I might have been put off by the forecast salary, but at least I'd have known it existed.
As it happens, I had to wait until my first born came home from primary school with a mini-beast project, before I even came across the word "entomology" and the concept that you could study and earn money by being one.
All's well that ends well, as they say, as I can still indulge my amateur interest in all things bug like.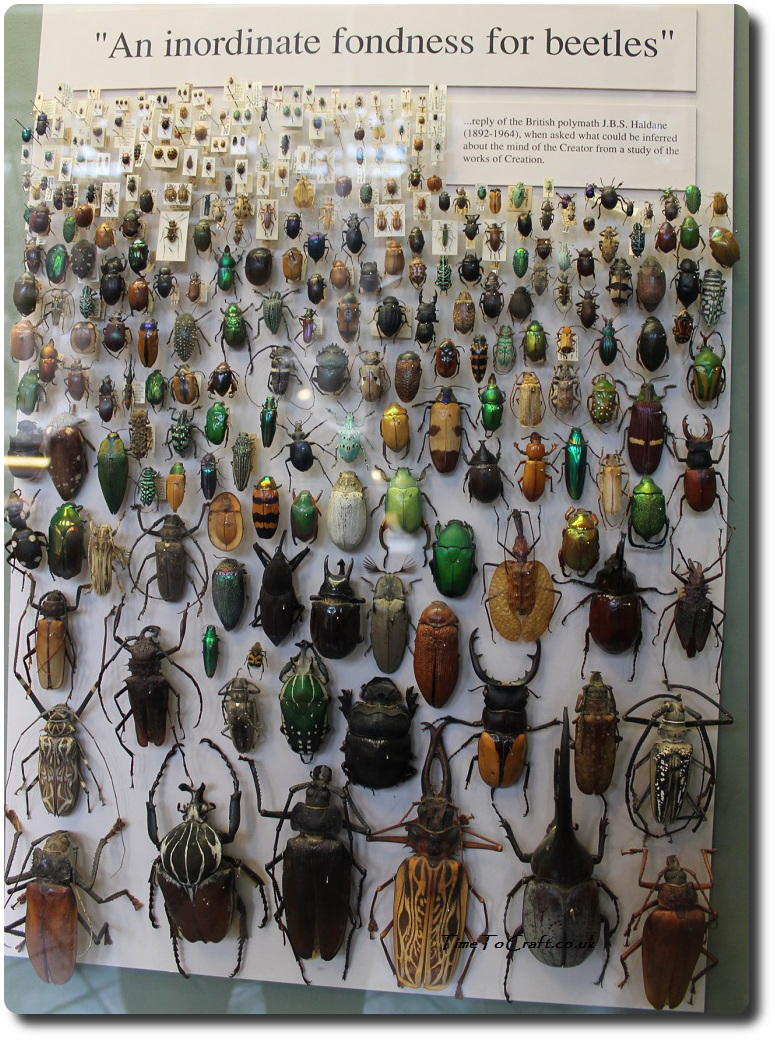 I like bugs. Especially beetles as there is such a variety. Vast majority have not been categorized and have no name. Just imagine. We know so little.
Back to spring time sewing. I pulled out New Look 6598 from my pattern collection. It's one I've used before (here and here) and find this style of blouse works well for me. This time I went for view D and left out the sleeve cuff, to cut down on the unnecessary bulk.
One of the reasons I love making my own clothes is that I can add creative details to it. Making it mine. This time, the fabric on its own seemed too plain, which I know sounds odd, seeing as it's covered in beetles, but believe me, it did. It was calling out for something extra. Digging through my trimmings collection, I unearthed a length of white daisy flowers. Still in theme with the beetles and added a much needed contrast.
At first I was just going to add it to the sleeves, to draw the eye. Then I looked at adding it to the neck edge only. In the end, I threw caution to the wind and went for both. As they say, go big or go home, and it is my top.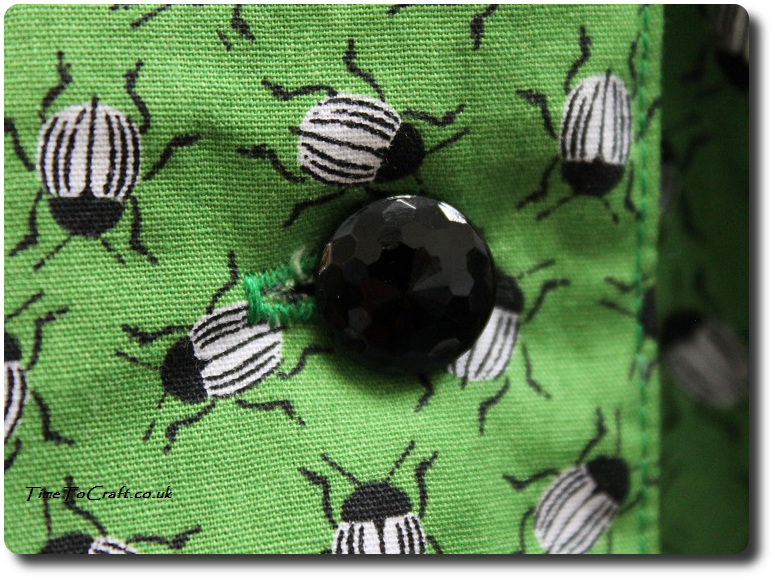 The buttons were a lucky find. One night, I searched in my button tin and couldn't find four matching green buttons. Unwilling to wait till the morning for the fabric shop to throw open its doors, I started looking for any four matching buttons, the right size. I'm not sure I'd have considered the black ones otherwise, but the more I looked at them, the more sense they made.
Do you see the many surfaces? They remind me of an insect's eye. Perfect. I have no idea where they came from but they must have been waiting for this project.
Blouse done. I can see this one being worn on a regular basis. The green is vibrant and the little beetles cute. I suspect some people might be eeked out by the idea of beetles, but I am one happy person.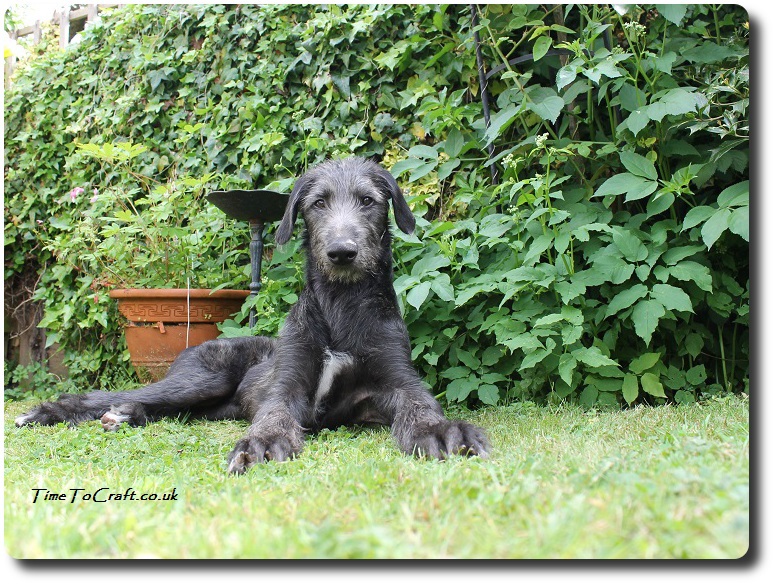 Thank you to Youngest, who took the photos and to Hero who opted to stay out of the photos, unlike previous hounds. A cool spot directing, from behind the camera, is more his style, it seems.
I've done it. I made something for me. Little dance of joy. It has been a while. This is my Cleo and I love it, but it almost didn't happen.
I wanted to sew something that was straightforward and easy to wear. Something I could wear on an ordinary day, which, let's face it, is most of my days. It had to be quick to make without posing any potential hurdles like fancy fastenings and fittings. My tendancy to procrastinate steps in too easily. The Cleo seemed to fit the bill.
To start with, I had my doubts. I wasn't sure if a pinafore, with a bib and buckles, would be the right choice for someone cruising crazily towards…  ahem … her half century. Was it too young a look? Would I look like I should be serving tea in a tea tent? Could I expect flashbacks to the 70s?
Hmm…
As you can see, I totally ignored the nagging voice in my head and went for it. I'm old enough to care less what others think. So if I was OK with it, not much else mattered.
It was the first time I've used a pattern from an independent pattern designer. I loved the thickness of the paper, which meant I could use it as a template to chalk around, instead of pinning and cutting along the fragile tissue paper edges of my usual patterns. A definite improvement. The instructions were clear with photos showing the stages.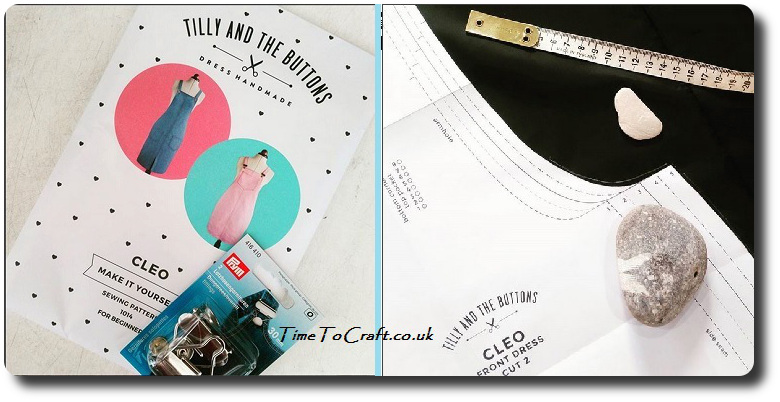 I did add a few changes. Instead of spending time pattern matching the fabric's swirly embroidered twirls on the front, I avoided a centre seam altogether and cut the front on the fold. Overlapping the paper by the same amount as the seam allowance, to avoid making the front too wide.
Instead of the split in the front hem, I added it to the back. I also added a lining to the dress, as the corduroy clung to my legs when I walked. With the lining, it hangs better too. I lengthened the knee length version by 4 inches, which suits me more.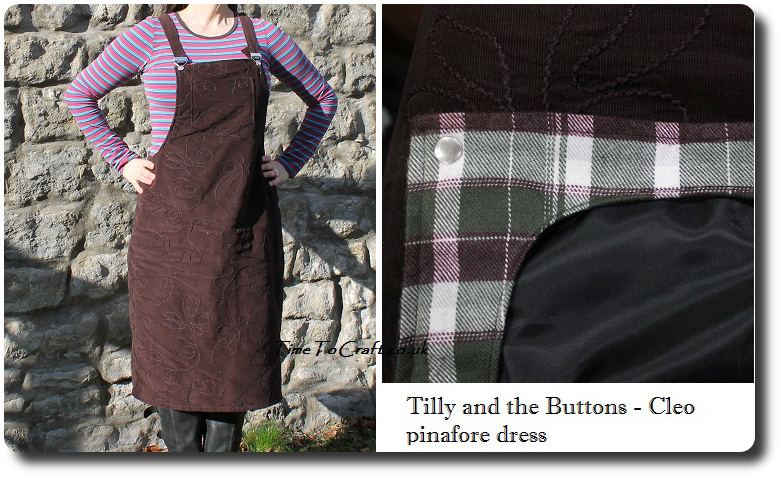 For the facing, at the top of the bib, I used an off cut from a pair of pyjamas I made a while back. Wasn't until I stepped back and looked at it that the brown cord and the plaid facing combination that I realised that it shouted Barbour waxed jacket. I guess it fits in fine for country living, not that the green chequers show.
(The split does hang straight. A moment when I could have done with someone else taking the photos rather than me.)
I'm going to have fun working out the best tops to wear under this pinafore. Don't be fooled by the sunlight on the wall behind me in the photos. Today was cold, so it was layers and boots. I'm sure I'll find some terrible combinations too. So long as it looks right to me.
I am so glad I made this dress. It is so comfortable. Easy to walk. Sit down. Dance in. The fabric has been in my stash for a couple of years. I think it cost me £1.99 per metre from Minerva Crafts, but has probably all gone by now. The pattern is Cleo by Tilly and the Buttons. At £12.50 it is more than I usually spend on a pattern, but I know I will use this again and may even make teen versions for my two teens. I've already picked out denim fabric from my stash to make another one for me.
My first make of 2018 for me. I used my old Singer sewing machine. As my youngest pointed out, it meant that I used no electricity to make this dress.
"You're right", I said as I stepped in front of my iron to block his view, "not a lot of electricity used."
I wasn't going to ruin a good observation.
(edited: I made another Cleo. This time for my teen. More info here, if you're interested.)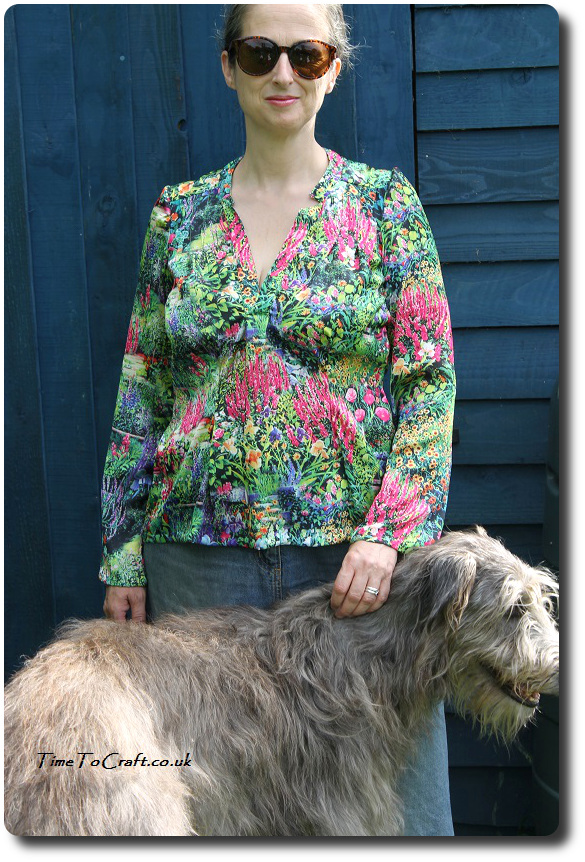 I've finished my latest sewing project. A blouse, this time.
After sewing so many dresses this summer, I needed a new challenge. Also, I needed a blouse. I can easily get stuck in a rut, if I'm not careful. Dresses may be one thing but, I tend to opt for sewing with cotton, especially poplin. It behaves and is easy to sew, but it doesn't drape effortlessly and it needs ironing. I'm not an ironer.
Yes, a bit of a rut. In need of a change.
To shake it up, the solution was to try a different fabric. One that I have never used, as far as I can remember. I decided on a silky satin fabric, which drapes like a dream, in the most amazing, vibrant print. I can only describe it as an English cottage garden. The kind that I dream of growing in front of our cottage. I'm working on the garden, but in the meantime, I could wear it, right?
The dress pattern took longer to settle on. I read up on working with slippy fabric and decided I'd be best going for something not too complicated for my first attempt. Nothing fiddly. No cuffs or complex collars. Loose, free flowing and no fastenings. McCalls M7094 seemed to fit the bill. Designed to be shrugged on.
The pattern came with Love Sewing magazine. They had a few pages, in the magazine, dedicated to made up versions and useful tips. I also searched for other bloggers who had made it. First tip seemed to be, make it smaller than you imagine. The ease on this top is about 10″. I know. That is a lot.
So I made it in the medium size.
Even so, once made up, I still found it a bit ….tent like. I'm curvy. The drape went from the top part of me to my hips, missing my waist completely. The result was rectangular, rather than the subtle draping effect I was after.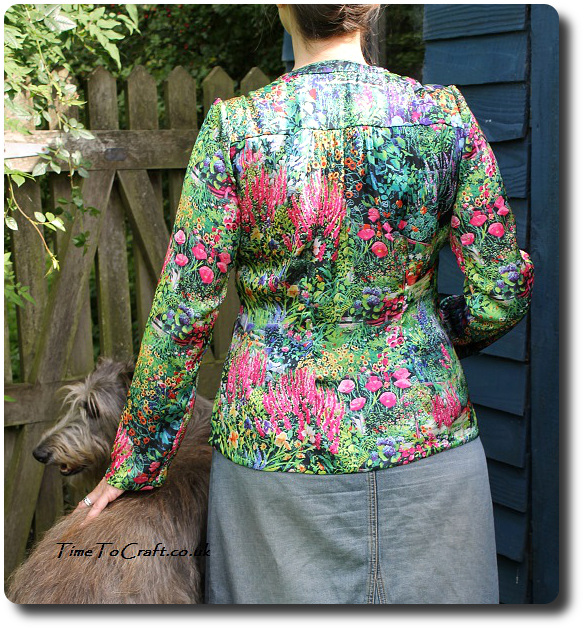 So, I added darts front and back, and took it in at the side seams. I sewed the front top pleats down about 3 inches to tame the billowy effect. Despite all my messing around alterations, the ease is still enough to slip it on without even a remote struggle, which is perfect. The difference between a blouse I could wear and one…that never sees the light of day. This one will see daylight. Plus it no longer skips my waist. I have shape again.
Next time I make the blouse, I would be tempted to add a tie at the back to reduce the bagginess around the tummy area. Or abandon the front darts and sew down the front pleat. It would be worth it as I like the neck opening and the top part of this blouse. Not the bottom half. Doesn't work for me.
Here I am pretending I'm in the South of France beside a sunflower field. I'm not. I'm no further than my own patch of sunflowers in the garden.
Somewhere along the journey, I came to a conclusion. I wasn't ready for free flowing. Not a wild child, after all. Either that or I'm deluded when it comes to my size and I am a lot smaller than I think. Or both. Probably both.
Not that any of that matters. I'm really pleased with my new blouse. I would make it again. I love the fabric. It's not see through. It is soft and yummy to wear. The children love giving me extra hugs when I'm wearing it. A recommendation in its own right.
I now have a blouse that I don't need to iron and drapes the way I wanted it to.
Mission accomplished.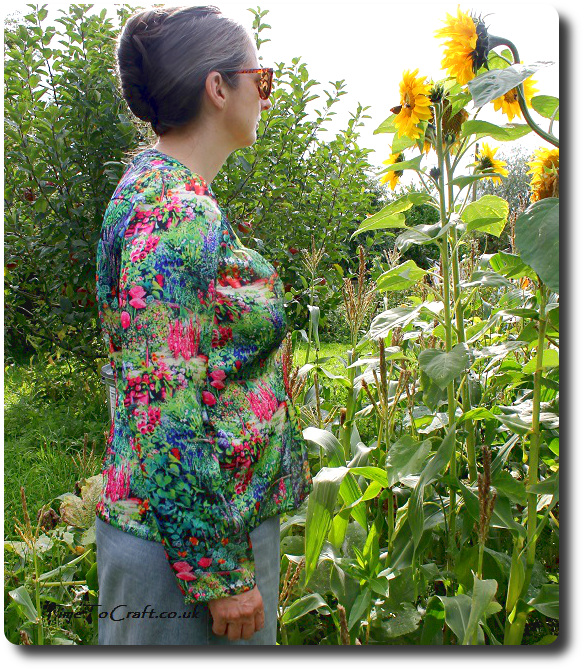 I thought it might be a good idea to note down a few tips I picked up for sewing with slippy fabric, before I forget. It might help someone else, but I know I'll find it useful next time.
– New project, new needle. No skimping
– Use a fine machine needle size (10) and sewing needle
– use lots of pins
– apply stay stitching to stop necklines, etc from stretching
– pin beginning and end, then the middle, then the middle of middle, etc
– cut notches to stick out to help prevent fraying near the seam line
– change foot tension
– don't use very small stitches
– neaten seams as you go along, to prevent fraying
Big thank you to Middle daughter for taking the photos this time, to the Boy for directing (and creating humorous outtakes), and Blue the Hound for being a far keener model than me. Again.
Photos
There have been cases when people lifted my photos and words, and used them without credit to me or asking permission first. Using them for their own commercial gain. I have now added a level of security to deter people from doing this. Apologies to people who do play nicely. If you would like to use any of my photos, please contact me.
Copyright notice:
All my words and photos are copyrighted to me. They cannot be used for commercial benefit by anyone else. If you would like to use any of them, then please ask me first and don't just take. Written permission only. Don't pass my words, photos or ideas off as your own. It's not nice.
Cookie Policy
Our web pages do not use cookies however this website uses Google Analytics, a web analytics service provided by Google, Inc. Google Analytics uses cookies to help us analyse how people use our site. The use of cookies by Google Analytics is subject to change.