Dear Daughter,
Another quilt block and letter for your Dear Daughter quilt. I've had this one sewn up and ready for awhile, but mislaid it. Along with all the other finished blocks. I turned my craft room upside down looking for it. Finally found the pack between two cookery books. Not my best filing decision.
I'm not the most organized person, as I'm sure you know. More spontaneous. I have moments of pure whirlwind efficiency, which keeps everything ticking along fairly smoothly, but most of the time I tend towards chaos. Organized chaos, as I can usually find whatever is needed. It's not something I rattle on about on-line, partly as I don't think people would turn up to read about it.
Far better to write about finished dressmaking projects, rather than the mound of washing that has so far been ignored. Take photos of the places we've been, than the areas of the garden yet to be weeded. The dust bunnies multiplying under the table. Seriously, does anyone want to read about the more disorganized side of my reality? Do they really need to be burdened by a photo of my quilt blocks hiding between Mary Berry and Nigella? More to the point, do I want to write and take the photos of it? Heck. No. Continue reading →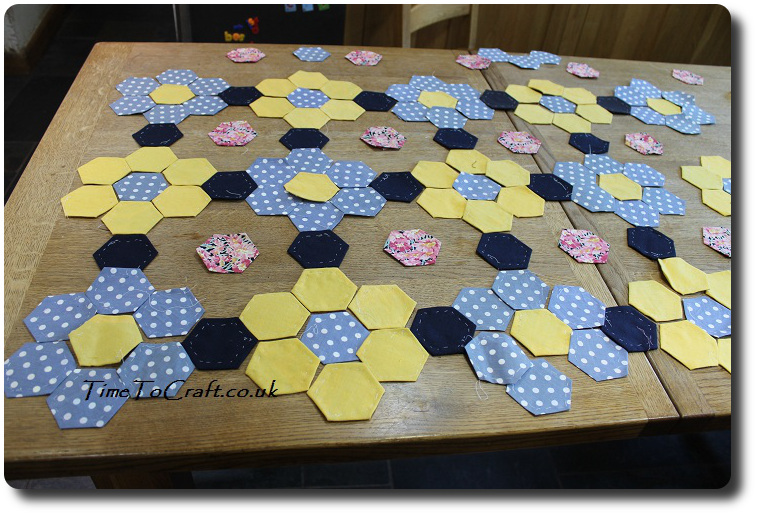 I have a bag of patchwork hexagons left over from my last quilt. I have umm-ed and ah-ed about how to use them. They are an assortment of about 12 different fabrics. Every now and again, I get them out, clear the kitchen table and make patterns with them. Each time, I put them away, no further forward.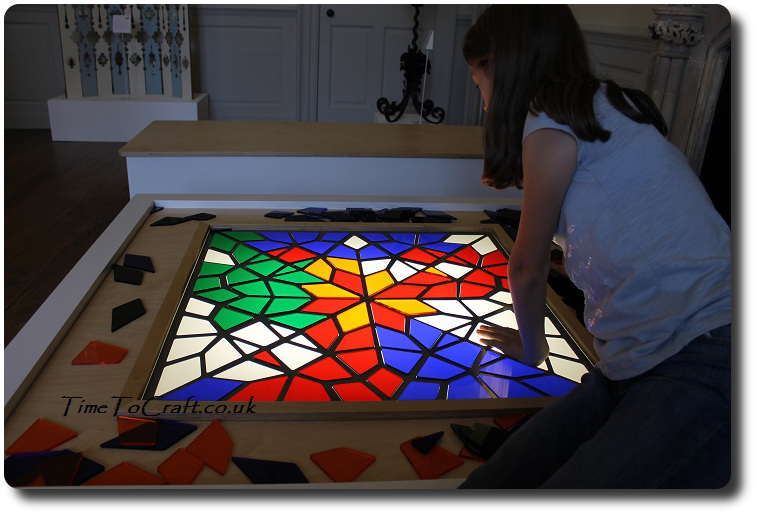 Last week, we went to Bishop's Palace, Wells, where we saw the Created in Somerset exhibition. The children were particularly taken by the stained glass arranging activity over a light box. It must have captivated them for a good 15 minutes. Impressive, as there were plenty of interesting exhibits around them, also to see.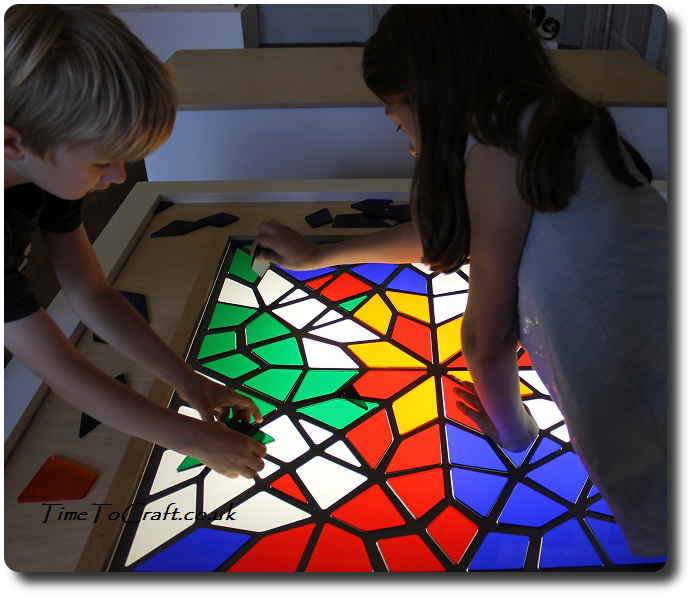 I watched as they worked as a team. They tried a few different approaches. They discovered that they might have coloured tiles, but leaving gaps meant that they had white too. It was still limited, but enough to make interesting patterns.
As I watched, the penny dropped. I was trying to put all the fabrics in my hexagon quilt. I had some fabrics that really did not want to go together. That's why it wasn't working. I was trying too hard.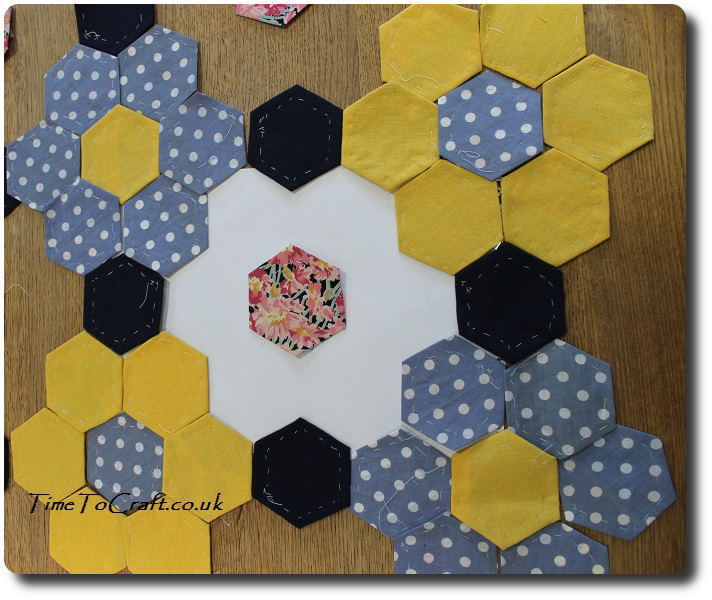 Today, I cleared the kitchen table, pulled out my bag of hexis and made a pattern. A simpler pattern. Turns out I needed to stop overdoing it and leave some gaps too. (A lesson in life. Who knew that designing a quilt, could reflect life so well.) It might mean I need to add a few more hexis, but that's OK.
Needless to say, I've started sewing. I'll need to crack on, as inspiration struck twice, while at the Bishop's Palace. I suddenly figured out what to do with all my suffolk puffs too. So obvious, now I think of it. It should look amazing, but that will have to wait for another time.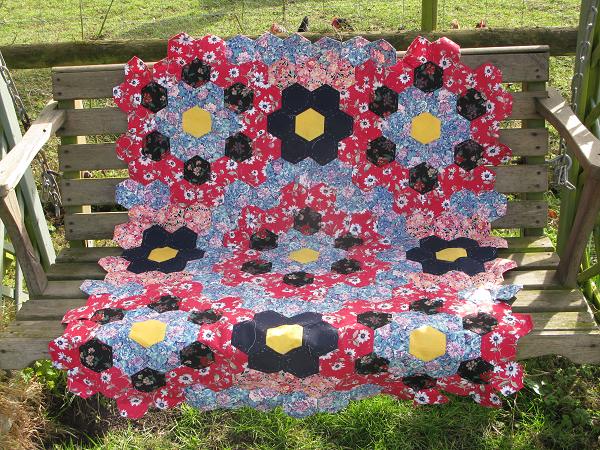 Ok. So all the hexagons are in place. I have a few sides, around the edges to finish, but all those lovely hexagons are where they should be. Yeh! No more leaving a trail of hexagons behind me as I walk!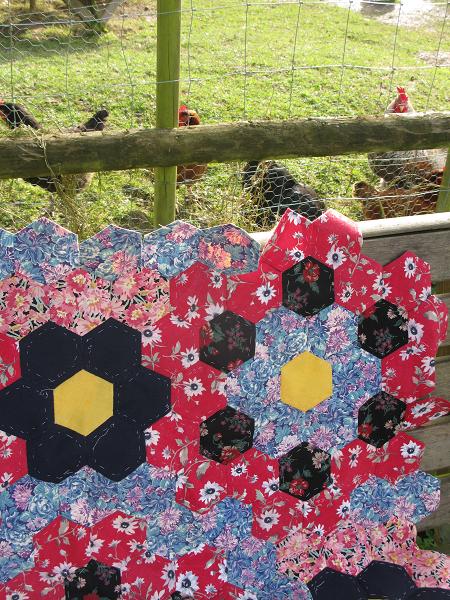 Even the chickens are taking an interest.
I'm ready to stop. Move on to another project. Before I do, I need to add the back and the edging. I'm not sure if there is a similar term in quilting for the second sock syndrome, but I don't want to leave this quilt in my work in progress pile for long. I plan to hand sew the quilting part. I'm so looking forward to seeing this quilt finished and on the bed. This is the largest project I have done for a while. My fingers are itching to get going on another crafty what-not.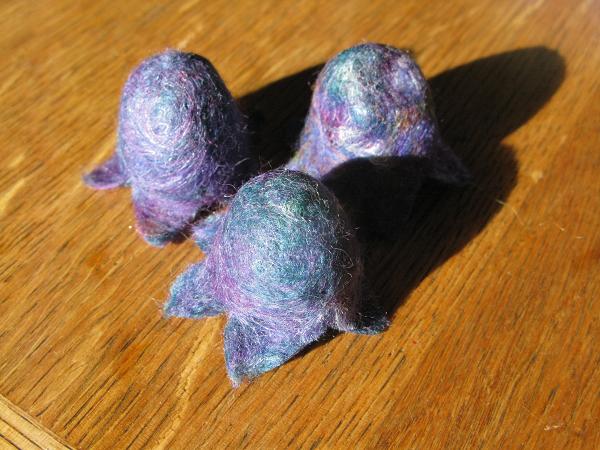 I do fancy doing another project.  Not that the quilt is the only crafty activity occupying my fingers and mind. More on these felting wonders in a few days time. I love wet felting.
Oh, I also went to the craft shop yesterday. This is for about 5 different projects that I have in mind. TF chose the Camelot inspired fabric. It is gorgeous. Local landmarks are included. Too adorable!
Stepping back to my hexagon quilt. I'm going to give it a fairly wide border, with the jagged edge of the hexagon edge showing. I'm going to look around for just the right colour. After so many hours, hand piecing and hand sewing this quilt, I don't want to rush this stage.
So what do you think? Any inspirational suggestions? Should the border be plain or patterned? What colour should I go for?
Do go and have a look at the other hexagons at One Crafty Mumma. Who knows, it may inspire you to add a hexagon project on to your to-do list.
Photos
There have been cases when people lifted my photos and words, and used them without credit to me or asking permission first. Using them for their own commercial gain. I have now added a level of security to deter people from doing this. Apologies to people who do play nicely. If you would like to use any of my photos, please contact me.
Copyright notice:
All my words and photos are copyrighted to me. They cannot be used for commercial benefit by anyone else. If you would like to use any of them, then please ask me first and don't just take. Written permission only. Don't pass my words, photos or ideas off as your own. It's not nice.
Cookie Policy
Our web pages do not use cookies however this website uses Google Analytics, a web analytics service provided by Google, Inc. Google Analytics uses cookies to help us analyse how people use our site. The use of cookies by Google Analytics is subject to change.