How can it be the start of seed planting time again? Admittedly, January is more about planning than committing seeds to soil. Unless it's a tomato seed, then, let's face it, that's fair game.
I love gardening. It's something I'm passionate about handing on to my children. When they leave home, I want them to have the skills to grow their own food. It is a life skill
Good news is, that after 17 years of gardening with my children, I think I've picked up a few tricks to ignite their enthusiasm and keep them coming back for more each year. Both teenagers and my tween will join in.
Here are my tips:
 Start now
It doesn't matter how old or young they are, or the season, jump on in and start gardening, with your children. There is always something you can grow or prepare. No garden, no problem. Contact your local council and apply for an allotment. Or else, use containers. It doesn't have to be expensive either. They could be tins or pots out of your recycling bin. A packet of seeds from the supermarket. Given the right conditions, seeds will grow. Start small and build it up.
Make a list
Make a list of the vegetables, salads and fruit you like to eat and flowers to enjoy. Cross out the ones which are not practical. Each January, we sit round the table together and make our list. I also bring out a few cookery books for inspiration. This was an absolute game changer. Courgettes, once banned, are now (almost) top of the list, thanks to a favourite recipe we found.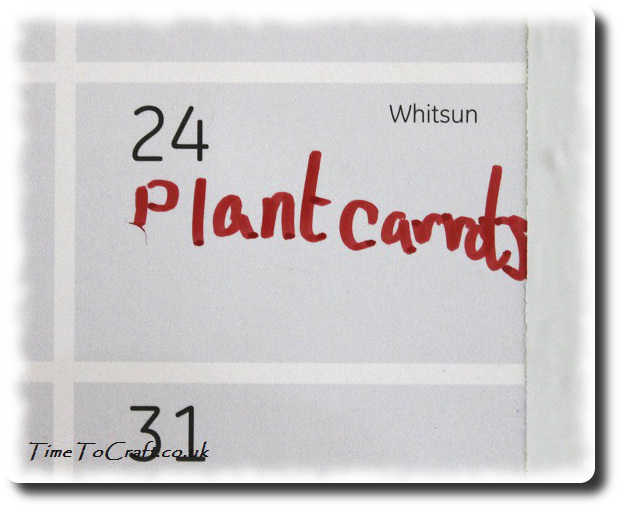 Make your annual plan
We found that a garden journal works for us. Double page spread for each month. First page includes all the jobs for that month, including what to sow. Second page is for notes. Children love turning over the new page, each month.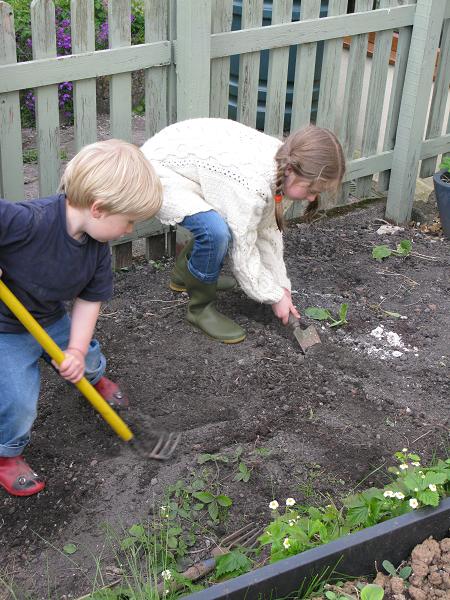 Take photos
This one is a winner. My children love seeing photos of themselves. Sharing photos of them gardening in the previous years, helps to inspire them. They remember the fun. They remember the rewards.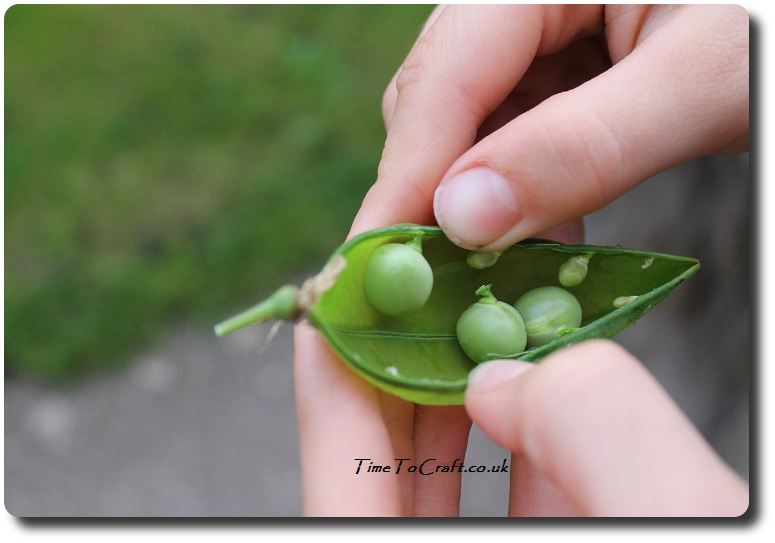 Give them their own patch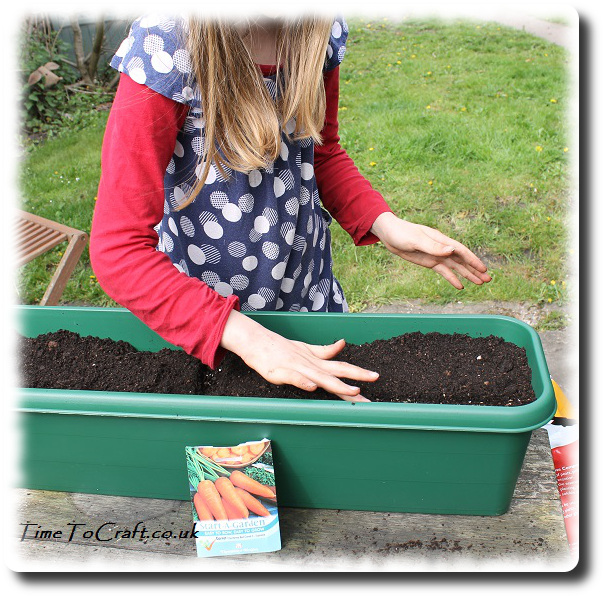 As soon as they start asking for a patch of their own, make it happen. One year, they each had a long trough that they could plant whatever they liked. It was a big success. The next year, I gave them a bigger area. There is nothing like sitting round the lunch table knowing everyone is eating the carrots you grew.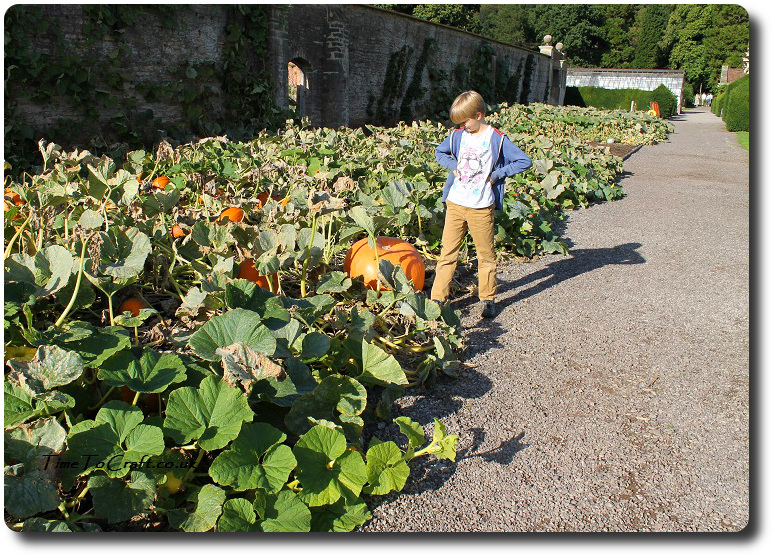 Visit other kitchen gardens
I'll admit, this one surprised me. I thought I was dragging them around the gardens, but turns out, they were picking up ideas too. Lots of "we can do this", as we weaved our way through the neatly laid out patches of veg. They have fallen in love with flowers and different varieties of vegetables on these visits, as well as clever ideas.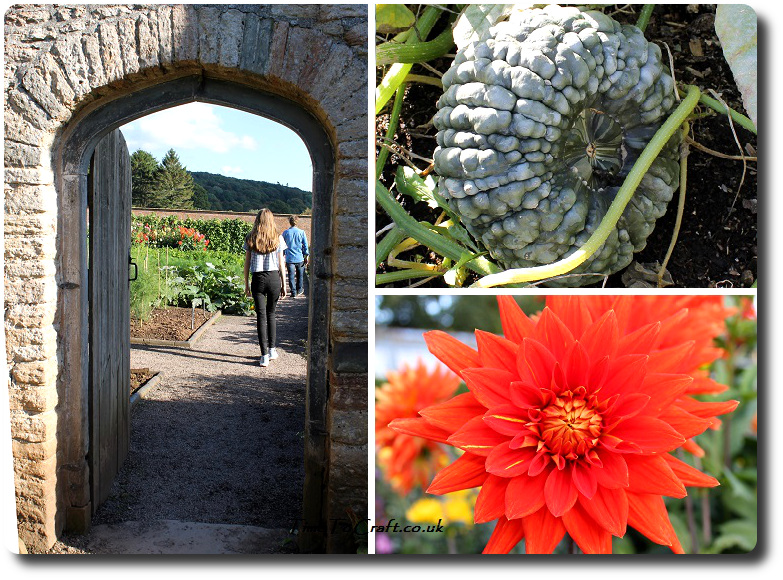 Fun projects
There are so many fun projects to ignite their interest in gardening. We've grown seeds in little bags and jars, built runner bean houses and had our own pumpkin competition. They've named seeds and cared for them. As they've grown older, they've searched our varieties they like and enjoyed cooking with them. So many project ideas out there to suit all ages.
Praise
Let them know that you appreciate their efforts and gardening with you. It sounds simple, but it's as good as an invite to join you next time. There will be failures, but that's how all gardeners learn. That's how we all learn.
Time to talk
This isn't so much a tip, but an observation. Just as teens are more likely to open up when you are driving them somewhere or on a walk, I find that they often choose to join me as I'm weeding the sweetcorn. I learn more about their day at school, than if I'd sat them down and fired questions relentlessly, as soon as they walk through the door. It is often one to one time, where the gardening acts as a safe spot to share a problem.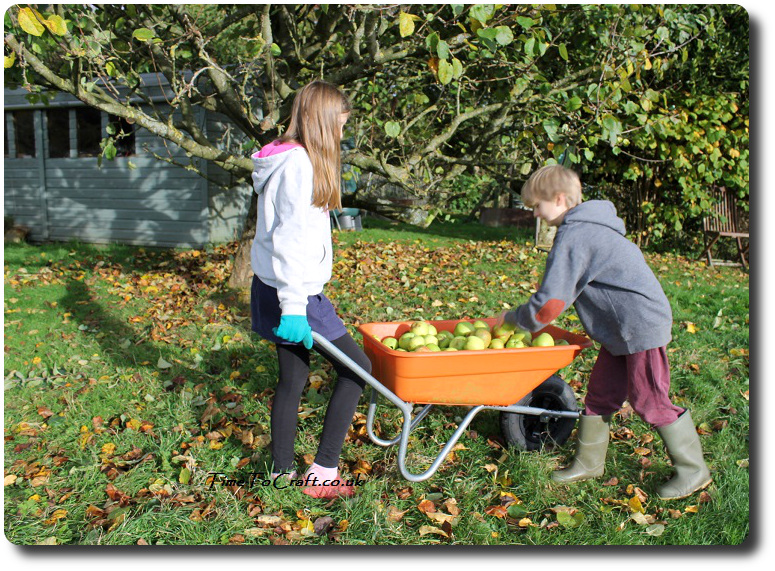 Another benefit is that they learn to love and appreciate the natural world, and also understand the worth of the food we eat. We have very little food waste or fussy eating. I put that down partly to learning how to garden.
Last tip…
Garden together
Gifting gardening themed presents is wonderful, but it can also be daunting for a beginner. Take time to help them get started and keep them interested as it grows. I still remind my youngest, every now and again, to water his rainforest plants that we gave him in the summer for his birthday. They are surviving and he is proud of them.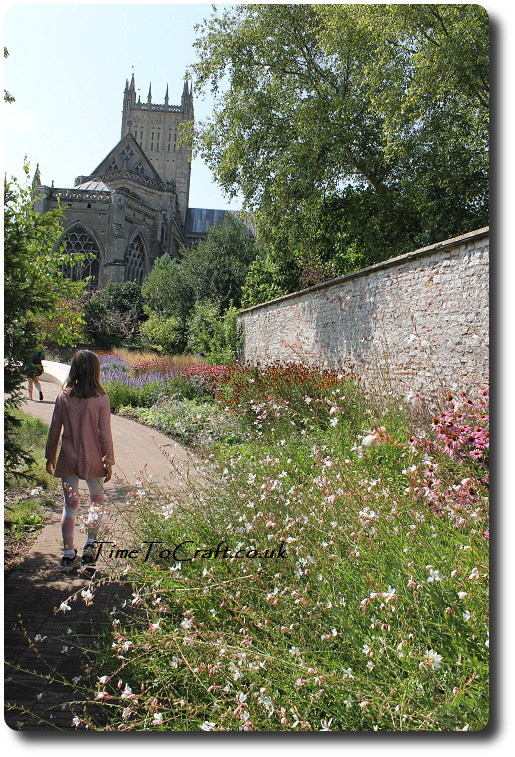 So there you are. Difficult to imagine gardening at the moment, as the rain is tipping down, but it will change. If you're in the Northern Hemisphere, then this is a good time to start planning and preparing. If you are in the Southern side, then start sowing your winter and spring crops. There is no time like the present. Your future self will thank you.
I cannot tell you how much I've enjoyed gardening with my children over the years. Sometimes, their enthusiasm has carried me along. Other times, I've been glad that I had a few tricks up my sleeve to encourage them. I can only hope that every child will have the joy of seeing a seed burst through the soil, as it germinates. Or eating something that they grew. It is so good for them. Whatever age they happen to be.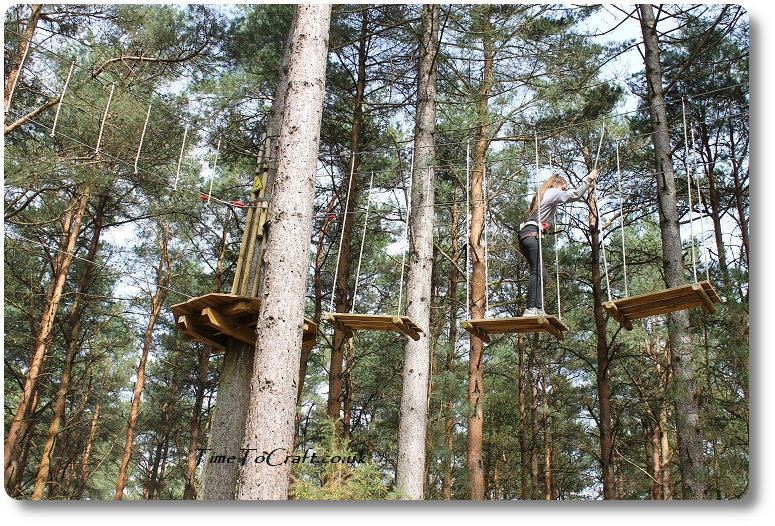 I was caught in the moment. Stood, looking up at my daughter crossing ropes and swinging platforms, strung between the trees, metres above my head, when I heard an insistent voice behind me.
"I want to do that. I want to do that now."
A pre-schooler skipping along the path I was on, had spotted my eldest teen up in the trees. It would be several years before the little girl would be big enough to do the Go Ape course, there is a minimum height and age, but something told me that she was going to be fearless and scale the heights with no problem.
It took me back. In my mind's eye, I could see my big girl at that age. Once she decided to do something, nothing would stop her. Something that's not changed over the years. I knew she wouldn't flinch at the challenge of this tree top course. In fact, I knew none of my three would have a problem. They have climbed trees and hillsides since they could walk. They love rock climbing, and climb mountains like billy goats.
Go Ape is something that's been on our list for a while. We headed down this week to Dorset for the Moors Valley centre. At 11, 14 and 16 they are the perfect age to start. Safety is taken seriously. They were ready for the challenge. My husband went with them, while I took photos and held on to the hound.
The course took about three hours. When they finally made it down to earth again, they were several inches taller and buzzing.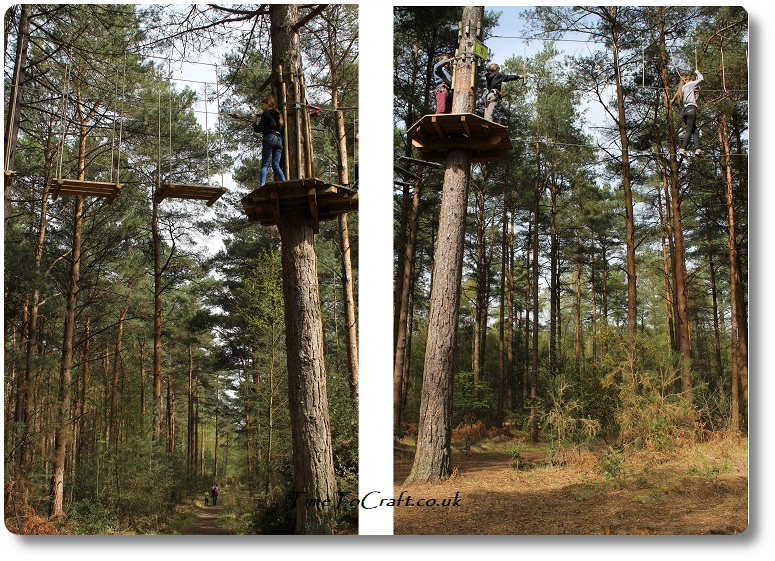 It has been a week of low tech and outdoors. This week we've challenged ourselves to one hour of no electricity each day, which tended to turn into more than an hour. Sounds simple, but thought had to be put into it. We also tried to do activities that furthered our green lifestyle. Greenhouse is now clear and ready for planting. Old school exercise books, about 60, have been recycled. Good paper rescued. Items have been decluttered and passed on thoughtfully.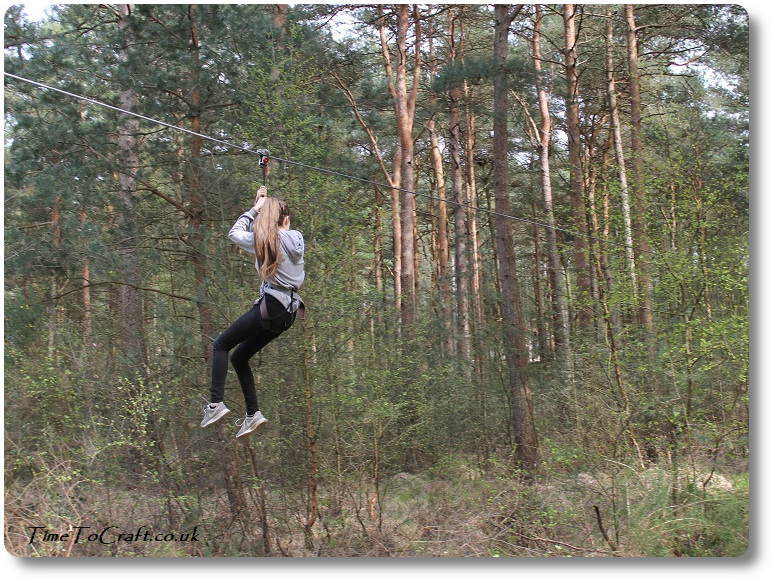 We've had lots of conversations about how we can improve the way we live and avoid impacting the natural resources. I love their passion and determination to make a difference.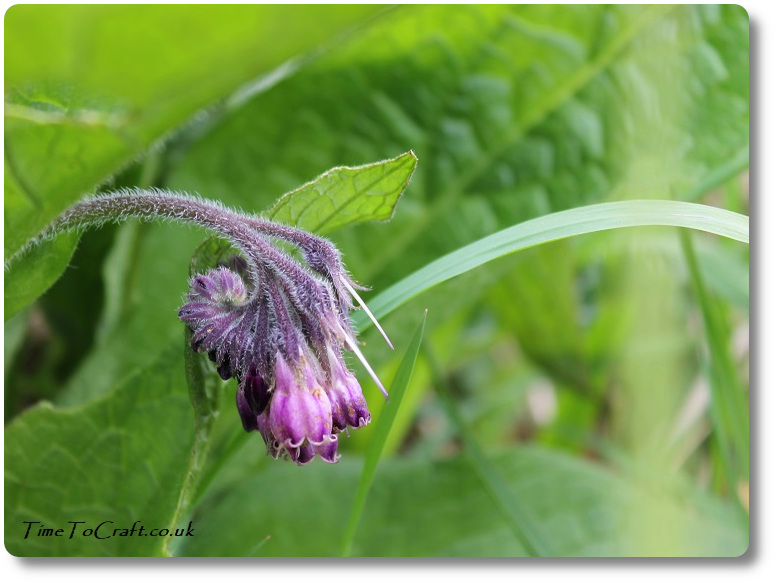 What else has happened this week? We had a trip to the Somerset Levels. Took a slightly different path. There is so much to explore and see how it changes with the seasons.
I also finished my jumper. I said it would be ready for the warm weather and the very next day, the temperature rose. I'm sure I'll have a chance to wear it before long.
The long Easter weekend is rolling out in front of us. Entertaining and family days out may have morphed since they were pre-schoolers, but I welcome the change. Taking them on organized Easter egg hunts is definitely a thing of the past. The Zog trail we saw, barely got a comment. Not that they are against the idea of an Easter egg hunt completely. Apparently they still want one on Sunday in our garden. Chocolate is chocolate after all. They are not daft!
Joining in with Anne's Word of the week. Seeing as we've spent so much time outside, it seems to sum up our week.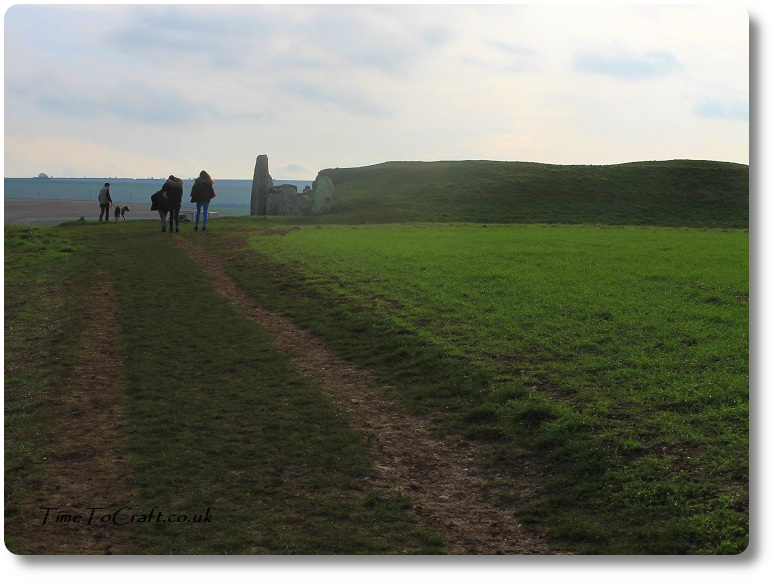 Three things I've discovered yesterday. First. I like to torture my children with exactly the same walks as I was tortured with as a teenager, and I don't feel sorry. Two. I don't care if someone calls a day the saddest day of the week, it makes no sense. Nor is it a helpful exercise. Third. I may start following film crews around to make the most of their amazing lighting system that literally throws a new light on dark places I thought I knew well.
But…I'm jumping ahead.
Yesterday, we headed out for a walk to the West Kennet long barrow. A Neolithic chambered tomb, dating back over 5500 years.  Despite the usual complaints, as we loaded the car with teens and near teen, I think they enjoyed the trip really. Deep down.
I used to live near by. It's a place that I visited often, as a teen, when visitors came to stay. Each time, I thought the half mile walk would be shorter. I'd forget one particular section. Strangely this time it felt shorter.  Not sure what this says about me. My teen self would have liked it though.
Anyway, yesterday it was biting cold and breezy. No rain.  I thought we would have the burial site to ourselves. So, presumably, did the camera crew that was already there.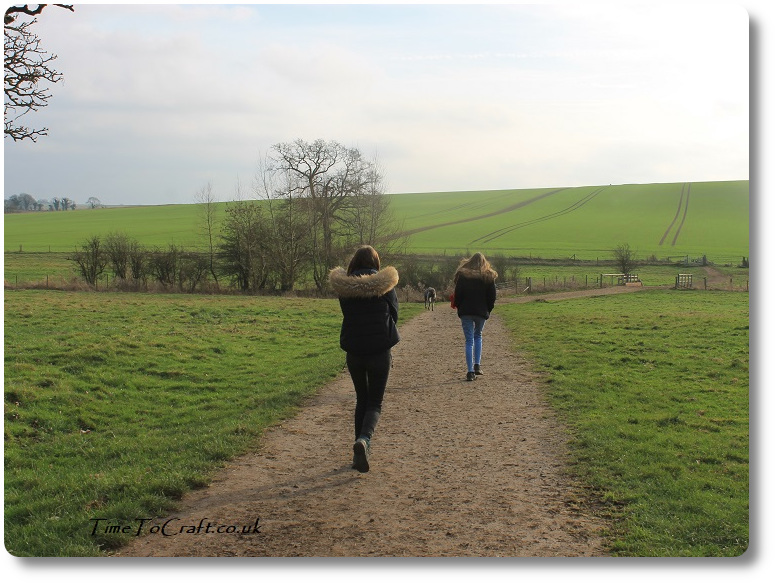 The mound is 100m long and open at one end. You can walk in without bending down. The roof of the further end of the barrow has collapsed in. You can go about 13 metres into it and see burial chambers on each side. Empty now.
In the past, only two tiny sky lights lit the way. It was dark. Especially if you forgot a torch. This time, the film crew had set up as series of big lights inside. They suggested I took a photo looking down the length of it, to make the most of the set up. I quickly snapped two photos, with Hero there, as I didn't want to hold them up. I should have adjusted my camera settings. Even so, hopefully I did capture more of the inside than I have before.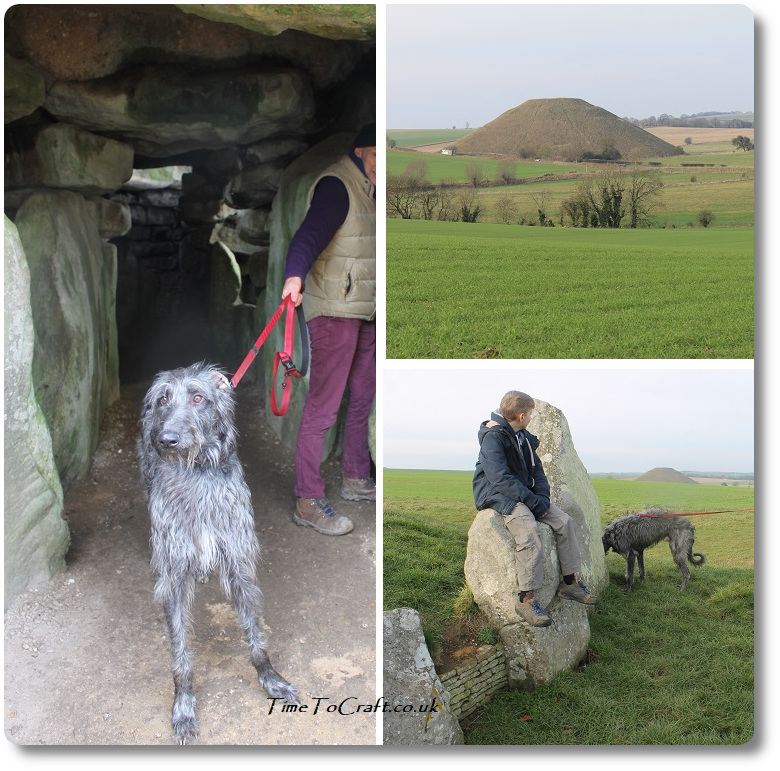 Only two photos? Yes. It would have been one, but for the fact that the TV presenter, who was with them, pointed out that we should turn Hero's ear the right way round for his photo. (Just realised that I've included the first photo) The two teens, for some reason, found this funny on the journey home. Along with the fact that Hero tried to check the crew's bags for sandwiches. Honestly we can't take them anywhere.
As we left, walking down the slope of the wide, open field, towards Silbury Hill, with the wind whipping around us, we could hear a bodhran drum being played in the barrow. The sound carries. Now we were out of the way, they were back to work filming. Certainly added to the atmosphere.
Photos
There have been cases when people lifted my photos and words, and used them without credit to me or asking permission first. Using them for their own commercial gain. I have now added a level of security to deter people from doing this. Apologies to people who do play nicely. If you would like to use any of my photos, please contact me.
Copyright notice:
All my words and photos are copyrighted to me. They cannot be used for commercial benefit by anyone else. If you would like to use any of them, then please ask me first and don't just take. Written permission only. Don't pass my words, photos or ideas off as your own. It's not nice.
Cookie Policy
Our web pages do not use cookies however this website uses Google Analytics, a web analytics service provided by Google, Inc. Google Analytics uses cookies to help us analyse how people use our site. The use of cookies by Google Analytics is subject to change.