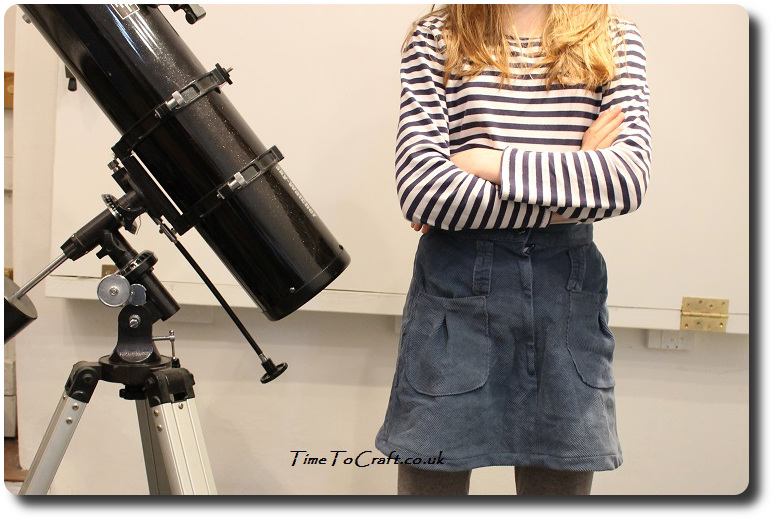 I've had a corduroy skirt put aside for a while to work on. I think it used to belong to one of my big sisters and then handed on to me for dressing up. Once I was past that stage, I left it in a box. Using it to protect the contents of the box, during the many house moves that followed. I'm not sure I meant to keep it. I can't remember feeling particularly fond of it. The skirt must date back to the 70s.
The label is faded, so I can't tell which shop it originally came from. Or what size it is. Or even the washing instructions, if I wanted to. The skirt has seen better days.
(I took this photo last week, but somehow it still looks like its the 70s)
This week, I offered it to my stargazing Middle Daughter. It fitted her perfectly, but she didn't want it. Don't be fooled by the happy photo just above. She said that there was no way she would wear it. For a moment I wondered if the skirt was about to return to it's former role as cushioning in boxes.
Ok. I understand. It was not her style. It was longer than this Tween would wear and decidedly dated. As she modelled the skirt I couldn't help thinking that if I added a bonnet, she could rock a "Little House on the Praire" look. Sweet but most definitely not her.
Her style is shorter. She loves to wear shorter skirts over leggings. Jeans are not comfortable for my gymnast, so she opts for leggings. If she wears tunics, then it looks great, but with shorter tops the leggings transform into pyjamas. As if she's just rolled out of bed. By wearing skirts over the top, it helps to show that she's sporting leggings not pjs and also adds an element of modesty.
So I offered to shorten the skirt.
I cut it down to size, which transformed it and she said she would wear it, but only at home. Not outside. Hmm. Not really a win then.
She didn't like the buckle. It wasn't adding much to function of the skirt and had left rust marks on the fabric. It seemed to be more for decoration. I agreed to remove it and add a different button. We had fun going through the button tin, selecting the perfect button. The joy of a button box. She chose an enamel style flower button which is more contemporary. It always amazes me how changing a button can transform an outfit. The same way that new handles on a cupboard can change the look completely. Taking decades off it.
Back to the skirt. The pockets now looked huge on the shorter skirt. Completely out of proportion. I removed them, which left an obvious line on the skirt where the pockets had been attached. There wasn't an easy way to remedy the marks, as they were too deeply ingrained after so many years of washing and storing. The only choice was to cover them. Using some of the fabric cut off the length, I made new patch pockets. Smaller and rounder. I suggested a bit of colour too. I also used the buckle fabric, minus the rusting buckle, to cover up the obvious line where the pocket had been connected up to the waist band.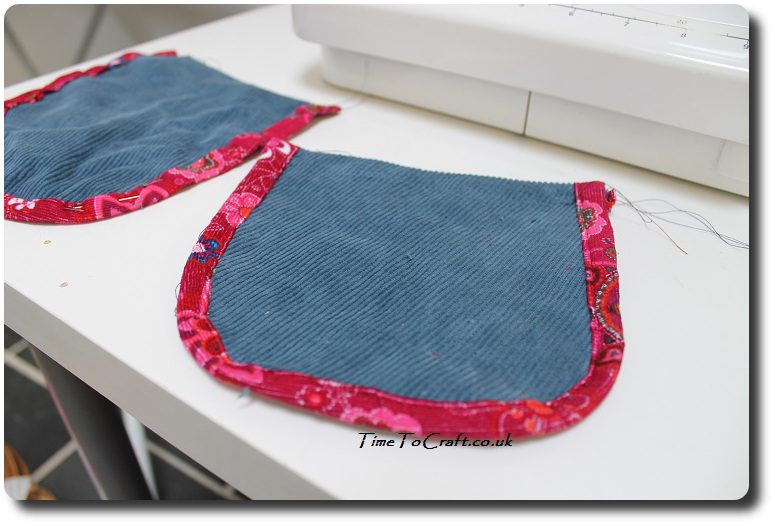 She liked the idea, but once the pockets were in place, they stood out more than the original pockets. They had to go.
I removed the colourful edging and pinched the top of the pockets to change the shape again. Then positioned them back on the skirt, covering up as much of the old stitch lines.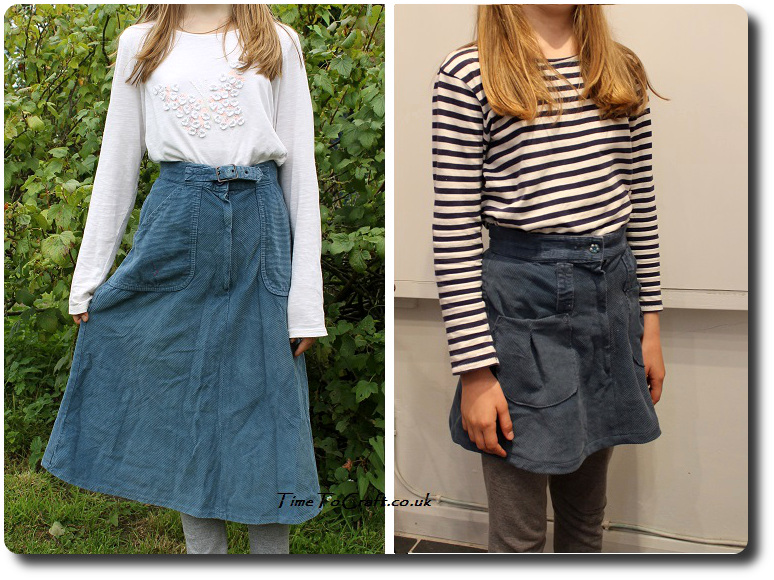 As an upcycle project goes this was fairly straightforward. A bit of extreme scissor work reminds me of my ugly jumper upcycle. It helps that the skirt was well made to start with. Threads had started to undo but apart from that it was perfectly wearable. I suspect there may be a few people that think I should have left it as it was, but then no one would have worn it. I could still improve it by playing with the position of the button and giving it a good ironing, but I may need to sneak it away from her.
She loves the new improved skirt. Apparently it is very comfortable. It does fit her in all the right places. I guess we'll have to wait to see if she wears it anywhere than home.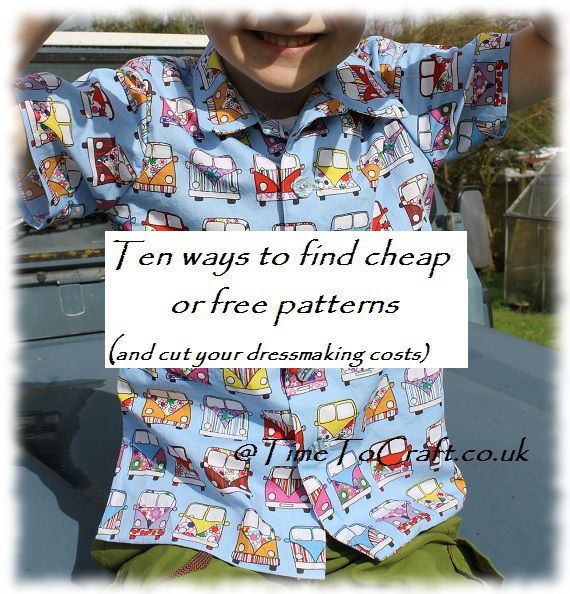 When it comes to sewing patterns, there are three basic routes:
a ready-made pattern,
make-your-own or
wing it (not so much a pattern).
Following on from my last post about fabric, if you are going to make an item of clothing, some kind of plan has to be followed. I'm going to talk about the ready-made patterns today. Hopefully, next time I can show you how to make a few basic ones of your own.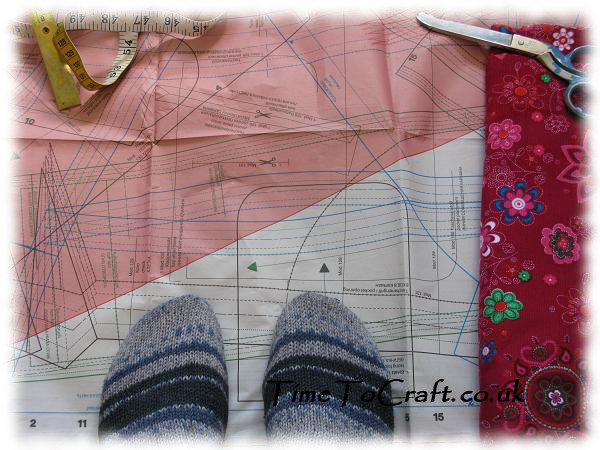 When you start out sewing, most people would recommend following a ready-made pattern. Either from a big design company like Simplicity or Burda, or an independent designer like Oliver + S, or Amy Butler. Some beginners swear by the independent designers as they tend to spell out each stage in more detail. A big helping hand. The bigger names assume that you know which is the best type of seam to use where and how to neaten edges. They may not be explicit. I learnt using this kind of pattern and find them more flexible to use.
Which type of pattern  to use, is up to you. Once you've tried a few, you may find you prefer one designer to another. I would suggest that you have a go with both types, as the choice of patterns is obviously greater. There tends to be lots of finished projects posted up on the internet, where people have used independent designer patterns. Usually with tips and hints. Also true of the big names.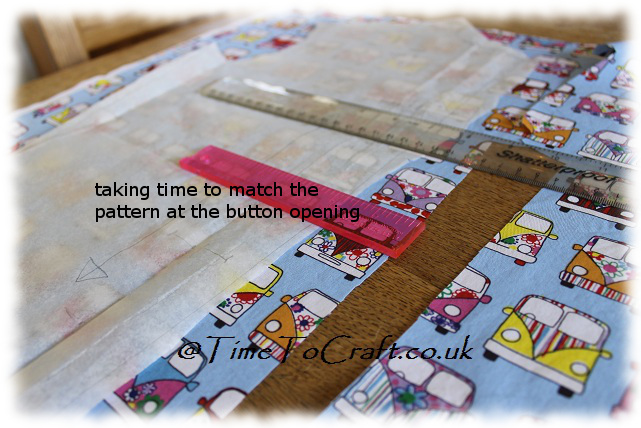 When you buy patterns, the cost can really mount up. I'm going to give you ten tips on how you can make the most of your bought patterns and keep the cost down.
1. The big names often have a few weeks each year, where they will reduce the price of their patterns. They can be half the price. This can be a great way to add to your collection. Keep an eye on their official sites and twitter feeds.
2. Most fabric shops will have a collection of discontinued patterns. My local shop has a couple of old ice cream tubs on the top of a cupboard, full of old, unused patterns.
The price is dropped to just a couple of pounds at most. It's worth flicking through these to see if there is anything that you could use.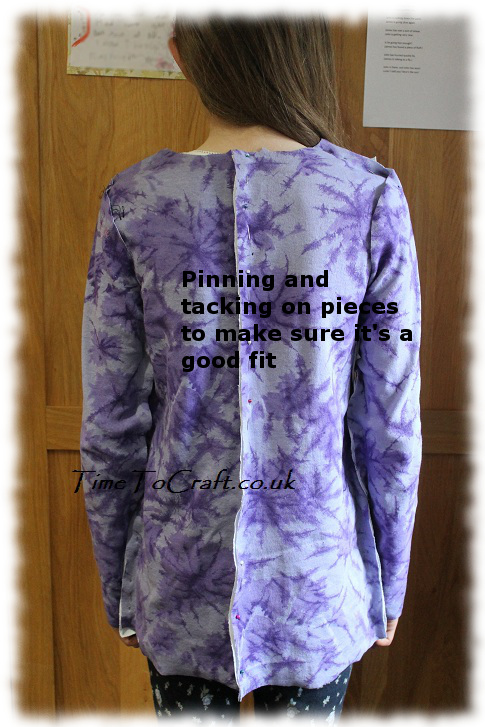 (current sewing project)
3. Some patterns, will include several different clothing items. I have children's patterns that have shorts, skirts, tops and jackets all in one pattern.
I love this kind of collection, because I can make a whole wardrobe from the one pattern. It costs more initially, but still cheaper than buying them individually. Admittedly, you need to like all the items, otherwise, its not such a good deal.
4. Check out charity shops and car boot sales. I've found some fabulous vintage patterns. Make sure the pattern is complete and no one has started cutting it up. It would have to be an amazing pattern for me to buy one that's already been used. Missing bits and bigger sizes may be cut away.
(Check out Simple Simon & Company's "Ugly Duckling" Pattern challenge. They could make it into a coffee table book. It is fab, especially if you love vintage)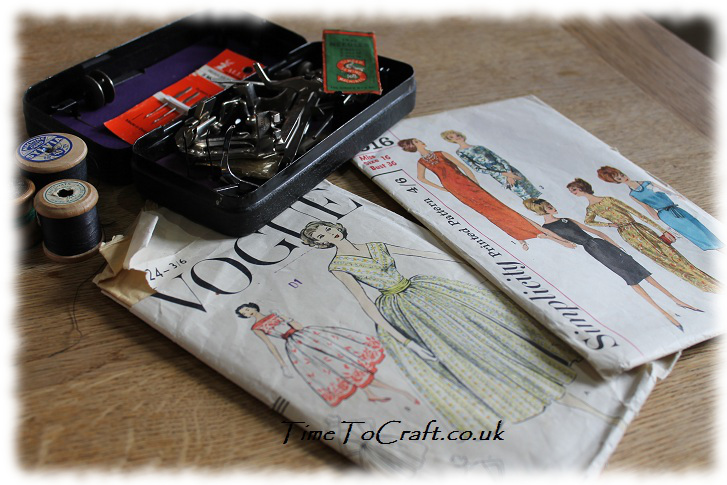 5. Pick and mix which features you like in a pattern. Alter the length of the sleeves. Change the neckline. Add the embellishments that you want. Put the dress bodice of one dress with the skirt of another. Why not? Especially true of vintage patterns, where basic shape may be fine, but the huge puffed sleeves are not desired.
6. If you are unsure, use some disposable fabric, like an old sheet, to cut out the pattern and tack together. Try it on, or use a dressmaker's mannequin, to see if the fit is right. Before you cut into the more pricey fabric.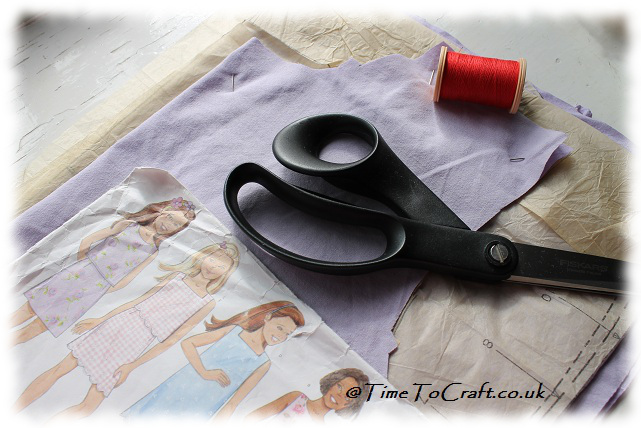 (old sheet cut out to check fit)
7. I always use pattern tracing paper to copy the paper pattern. Especially when making children's clothes. This way if I'm making a size 8 then I don't cut away and lose the size 10 of the printed pattern. I can make any alterations, such as length or neck line. Also the tracing paper survives repeated pinning so much better than the thin tissue paper. I use some patterns over and over again. They need all the help they can get, to survive!
8. Ask around. Friends and family may be a good source of unused patterns. (Keep it a secret, but we all buy patterns, that we don't end up using. Shh!)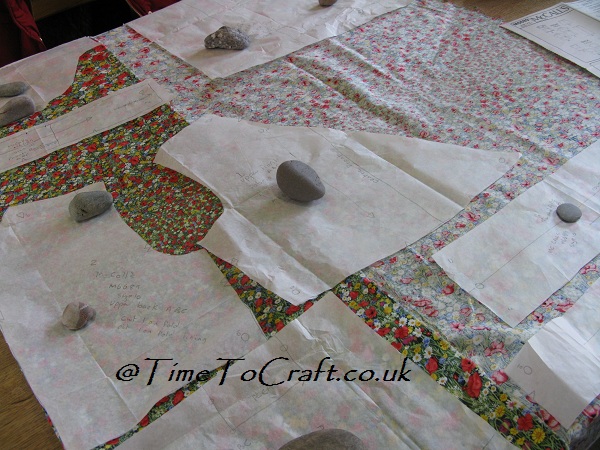 9. Take a serious look at the patterns you already have. Just how many straight skirt patterns does one girl really need? (Not looking at anyone in particular!) You really do not need a huge collection of patterns.
10. Check out magazines. Some craft/sewing magazines will have pull out patterns. I made a lot of my work clothes, when I first started working, using magazine patterns. Including a suit! Also worth searching for free sewing patterns on the internet. You'll need to print out and tape sheets of paper together.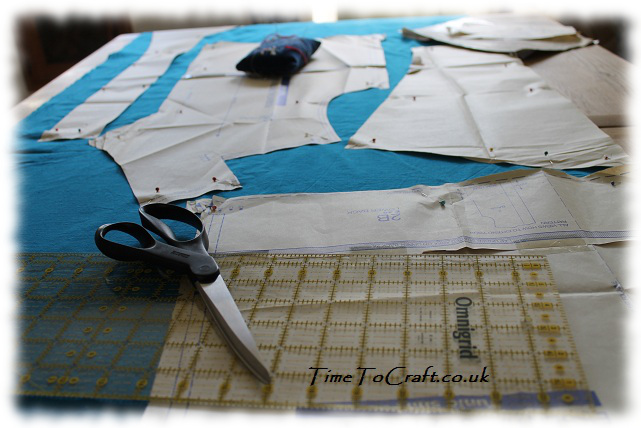 And one for luck:
11. All pattern sizes vary. My girls are tall and skinny. I find I use a much smaller size than the age suggested on the pattern and then add length. The actual measurements given on the back of the envelopes are usually a good guide. I check their measurements before I go shopping. Ask to look at the envelope before you buy.
So there you are. If you buy wisely and use patterns over and over again, then the initial outlay per outfit made from the pattern, will be reduced. I'm going to include a couple of easy ways to make your own patterns next.
Anyone else got some good tips on buying cheap patterns or finding free ones?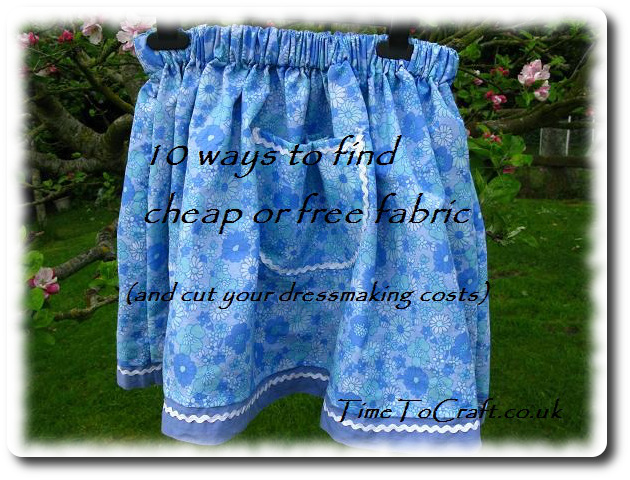 If you've read my last post, then you'll know I'm busy sewing a few additions for my children's Spring/Summer wardrobes. Drawers are thinned of outgrown clothes and I'm starting to sew.
I love to sew. I love making something unique. It's my chance to be creative. I do get a bit of a kick from making something wonderful, that would cost much more to buy. I am a self professed fabric and fibre fanatic. Given the chance, I will leave fabric shops with bags of fabric and my head full of good intentions. It is easy to let the costs build up. Like any hobby.
One question I get asked a lot by friends is, whether sewing clothes is really cheaper. Not so much phrased as a question. More of a statement. It's true. It can be expensive, but it doesn't have to be. The price of fabric varies. You can pay £30+ per metre for some fabric, but also £1.50 for others. You can get it free, or for next-to-nothing. The key is to keep your mind open to options.
How much it will cost, depends on what you are making and what you want to use. Like everything, designer fabric is pricey, but there are plenty of cheaper options too. For instance, I picked up a Ralph Lauren curtain fabric for £2 at a charity shop. Two years on I still think it looks fabulous in my bathroom. I was at the right place at the right time and saw the opportunity.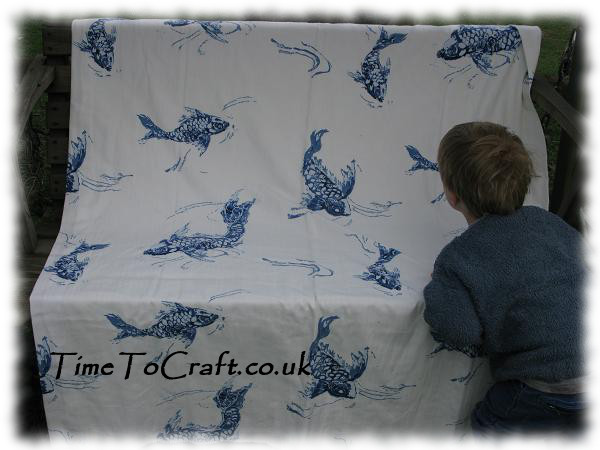 So here are some tips on how to keep your fabric costs down:
Buying
1. Think about your choice of fabric. Last year I bought fabric for a dress. I needed 3 metres. I fell in love with a floral cotton fabric for £5.75 per metre. Further along the aisle, there was a plain cotton version for £2 per metre. One version of the dress would cost me £ 17.25 in fabric. The other version just £6.
2. Check the bargain buckets in fabric shops. Remanants are usually priced at less than they would be, per metre, on the roll. You may not find enough fabric to do a whole outfit, but if you put thought into a clever cutting out layout, you can eek it out. Where you don't have enough, then by adding other fabric, you can achieve the look you're after. Maybe by using the other fabric for sleeves, the hem, or bodice.
3. I like buying online. Firstly, I'm less likely to impulse buy. Secondly they often have end of rolls or discontinued range for cut down prices. Usually a metre or two, which is enough for most projects.
4. Go to car boot sales. Not always guaranteed of success, but its amazing what bargains you can find. Ferret through linen boxes too. I've found some wonderful tablecloths in the past that can be upcycled. Big boxes of buttons for only a pound or two. Collections of reels of threads that are started, but not finished.  As ever with car boot sales, it is the luck on the day.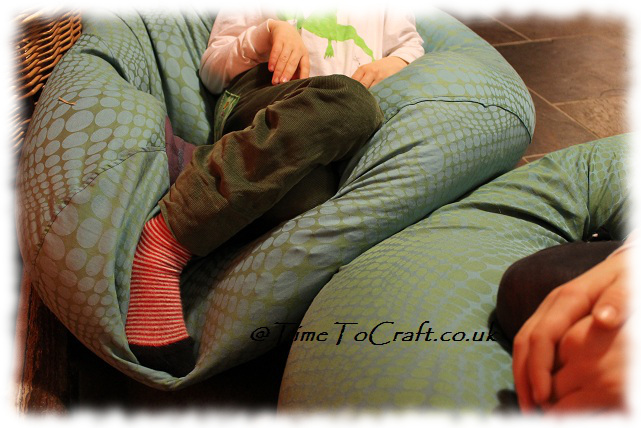 (duvet covers upcycled to bean bag covers)
5. Visit charity shops. Look for fabric you like, rather than the whole garment. There is a lot of reusable fabric in an extra large skirt or dress. Double check clothes that were originally cheap as sometimes they are not cut on the grain properly. Leads to less usable fabric.
Also dive into the rails to find garments with interesting trimmings. A lacey border on a terrible top, can be cut off and used to add interest to your  sewing project. Don't forget to look at the bedlinen section. I bought two duvet covers and made covers for the children's beanbags, one Christmas.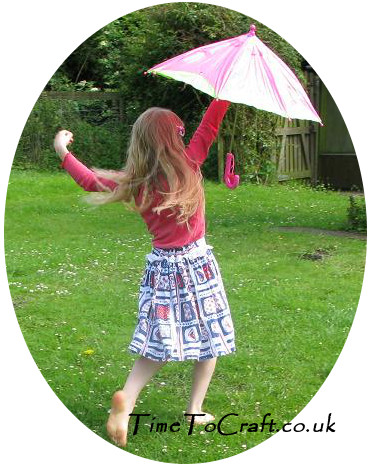 (Toddler dress becomes girl's skirt)
For free
6. Ask relations and friends. Get known as the person who sews. My mother hands on a lot of fabric, in one form or another, for me to craft. Often people are only too willing to declutter something from their collection that they will never use. If you talk about sewing, people will think of you next time they have surplus-to-needs fabric.
7. Join your local Freegle. In amongst the dead lawn mowers and oversized shrubs for rehoming, you sometimes find craft fabrics, if you are patient. Also worth putting in a Wanted notice asking for fabric. It is free, but be prepared to pick it up.
Someone, in our local one, put a repeated request for a caravan, for what seemed like a year. I really thought she was on a lost cause. Then one day she got one. Free! A towable caravan in need of a little TLC. Inspiring.
8. Check out your own fabric stash. If you are new to dressmaking, you probably don't have one of these, yet, but most fabric addicts eventually build up a useful collection of odd bits of fabric. Ranging from several metres to the odd scrap of favourite fabric. Before you go out and buy purple fabric for a skirt, make sure you haven't already got some in your stash.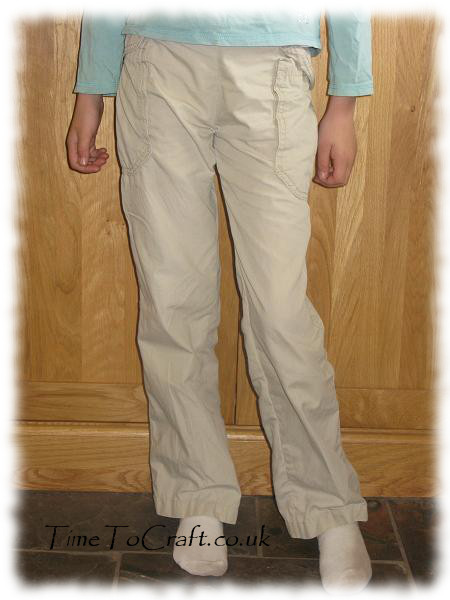 (Old trousers of husband become exploring trousers for eldest daughter)
9. Use existing clothes that you no longer need. This is a favourite of mine. If it's in the recycling bin, its fair game, as far as I'm concerned. I've used many of my husband's old trousers to cut down and make trousers for children. I have dyed old dresses to give them fresh lives. I've appliqued tshirts to make them wearable again. My children have all got puffins appliqued on tshirts when I went through a phase two years ago.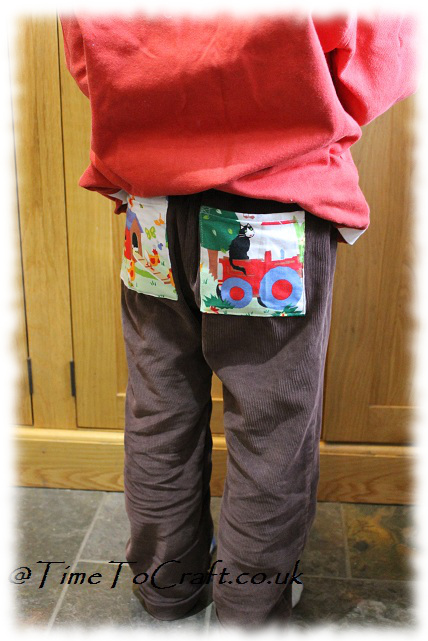 (Old trousers of husband become fun trousers for youngest son)

10. Have a swap party. If you have a group of dressmaking friends. Get together and swap the fabrics you no longer want. Everyone has something in their fabric stash that they no longer want. Maybe their children will no longer wear that teddy fabric, but would gladly swap it for a neon orange fleece that your children hate. It's worth a try.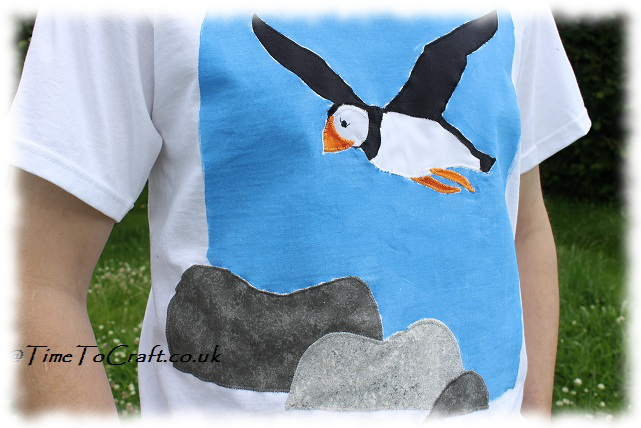 (Not just for children. This tshirt is husband's upcycled tshirt)
  Next time, I'll share some ways to source ready made patterns without costing an arm or a leg.
Last note on second hand fabric. If fabric has been stored for some time, there is a chance that some unwelcome visitors may be cadging a lift. Sometimes these bugs will love your home, multiple and refuse to leave. Before I bring older fabric into the house, I isolate it and air it outside if I can. If that's not possible, then wrap it in a plastic bag and put it in the freezer for a few days. All fabric is then washed. I add white vinegar and either teatree or rosemary essential oil. Maybe its over kill, but I'd rather be safe than sorry. Freshens it up as well.
Over to you. Anyone got any other tips for buying fabric? I'd love to hear.
Joining in with Thrifty Thursday.
Photos
There have been cases when people lifted my photos and words, and used them without credit to me or asking permission first. Using them for their own commercial gain. I have now added a level of security to deter people from doing this. Apologies to people who do play nicely. If you would like to use any of my photos, please contact me.
Copyright notice:
All my words and photos are copyrighted to me. They cannot be used for commercial benefit by anyone else. If you would like to use any of them, then please ask me first and don't just take. Written permission only. Don't pass my words, photos or ideas off as your own. It's not nice.
Cookie Policy
Our web pages do not use cookies however this website uses Google Analytics, a web analytics service provided by Google, Inc. Google Analytics uses cookies to help us analyse how people use our site. The use of cookies by Google Analytics is subject to change.