Anyone else trying to cut back on their single use plastics? It's an ongoing process for me, but #PlasticFreeJuly is this month and it's encouraging me. I'm under no illusions that I can eliminate all the single use overnight. It will take longer. One item at a time.
Today, I checked reusable produce bags off my list. Instead of using the plastic or paper bags when I buy fruit and veg, I can use my produce bag. A drawstring bag, made from light weight fabric. It's not transparent, but see through enough for a shop's checkout staff to see how many peaches are in the bag.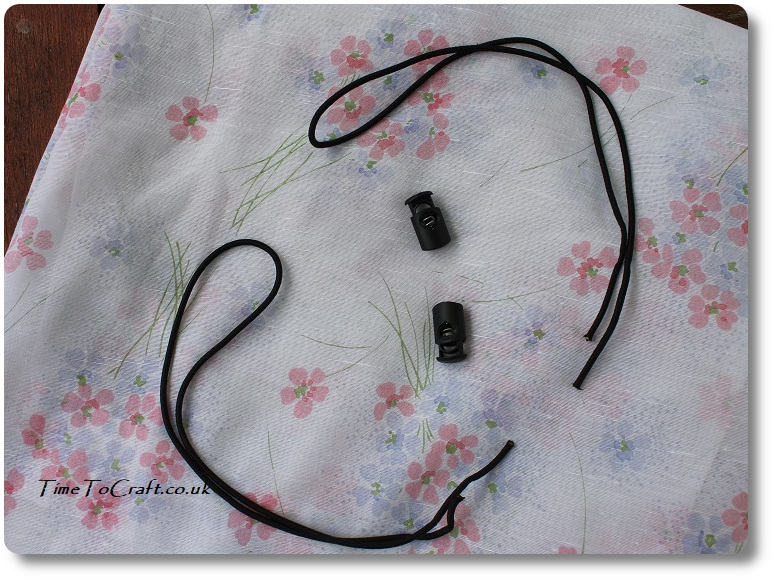 I used a toggle and elastic rescued from a small bag that held one of the children's waterproof coats. The fabric is a net curtain from when we lived in Italy, when I was a child. I call them net curtains, but they were more cosmetic. All the windows had fixed mosquito nets and heavy metal roller venetian blinds, blocking the view. These nets used to hang at the side to soften the look, especially in the bedrooms. Thinking back, I'm not sure it worked.
(One summer, I remember a swarm of bees taking up residence in the box casing for the blinds, in one of the bedrooms, making it unusable. The bees rather objected to their hive being invaded by a clanking metal structure, every morning. If memory serves me right, that bedroom was out of action for a while. No-one went in there. I don't remember what happened in the end.)
Anyway. Not your classic British net curtains. The fabric is more lightweight chiffon. Like a scarf.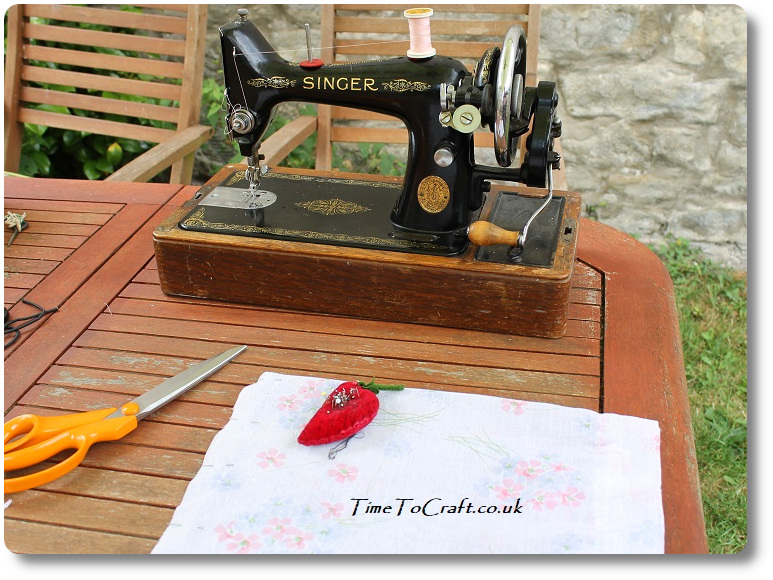 The curtains had a channel at the top for the pole or elastic that it used to hang from. I re used that part for the drawstring. Fortunately, the elastic I had, was just a little bit shorter than the width of the curtain, giving the final bag a bunched opening, which doesn't flop. I cut the fabric to make a square bag and sewed around, leaving the top open.
It was lovely weather, this weekend, and I took my hand cranked Singer machine outside to sew. I used French seams. The fabric tends to fray and is see through, so I wanted to hide the edges. I also think it makes the join stronger and less likely to break. An advantage to making your own. I know it will hold a good number of apples and not split as I put it in my basket. Chasing renegade apples, making a break for freedom around a market floor, is not top of my list of things to do.
The bag was quick to make. Works a dream for the peaches I tried it out with. I have enough fabric left to make several bags. I plan to make one for a baguette too, rather than the long plastic bags that they use in shops. When did they stop wrapping them with a small square of paper for handling purposes? (Showing my age?)
This bag is on a mission today. Youngest is making fruit crumble in food tech at school. The fruit is measured out and, in the bag, waiting to be taken in. No single use bags. After that, I'll roll it up and keep it in my bag, so I don't forget it when I'm shopping. Added bonus, it will be easy to wash.
This is not the only single use plastic I've swapped this month, but the list can wait to a later time. I'm pleased with my home made bags. I've recycled fabric and fixings that could easily have been thrown out as their original use had long since gone. They are pretty too. A win-win all round!
The proof will be the eating of the pudding, as they say. Do you use re-usable produce bags?
——–
Joining in with Rosie's Going Green linky.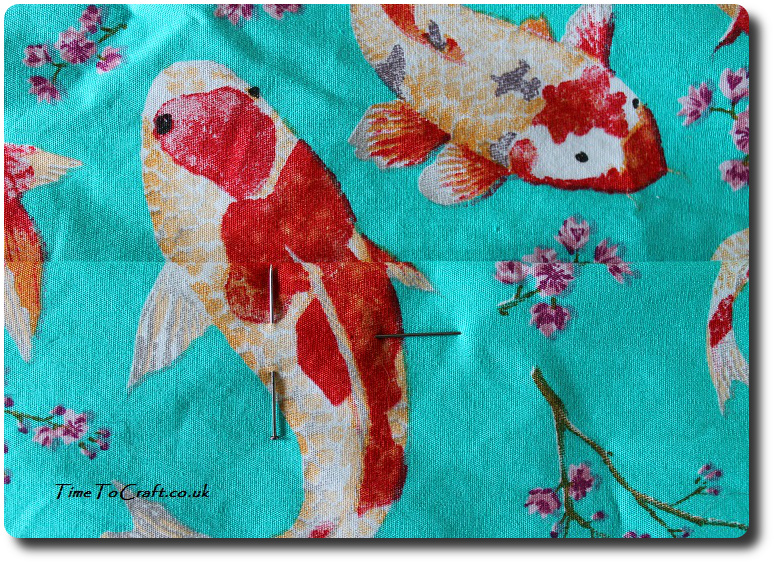 I've cut out a new dress today. I fell for the colours. They remind me of summer days in my teens. The turquoise/cyan in particular. I remember my sister making a skirt and top in the same colour, one year.
I bought the fabric with a different dress in mind, but when the moment came to prepare the fabric for cutting, I knew it wouldn't work. Plan B. A different dress pattern.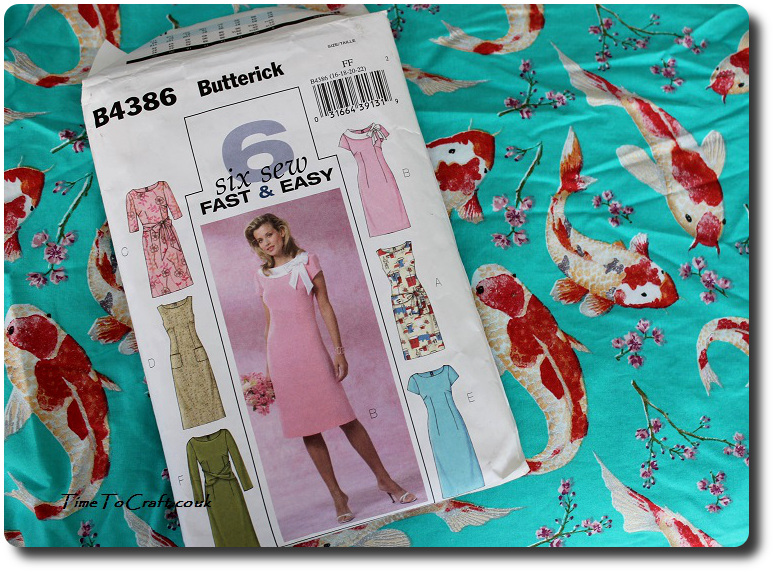 This often happens to me. I buy fabric for one project and then have second thoughts once I get home. Realisation hits that it would work better in a different style. Then starts the challenge. Is there enough fabric for the alternative dress pattern?
This time it needed less fabric. Me being me, still rolled up my sleeves to make something out of very little. I had the chance to eek out enough for a second sewing project. Two for the price of one. My kind of bargain.
So how do I squeeze more out of my fabrics? No. It's not a question of persuading the children to play tug of war with it, although I'm pretty sure that it wouldn't take much persuading for them to give it a go. Nor do I go on a crash diet, or breathe in the whole time I'm wearing the outfit.
Want to know how I do it? These are dressmaking tips you won't find in the pattern instructions.
Steps to saving fabric
Step 1: Don't follow the cutting plan.
Every dressmaking pattern comes with diagrams, showing you how to position the paper patterns on your fabric. Ignore it.
To be honest, I seldom cut fabric out as the instructions suggest. As long as I line up the grainline (that big double headed arrow, in case you're wondering) and respect the direction of the print (I need the fishes swimming in the same direction, right?), anything else is up for interpretation.
For instance, in this latest fabric cutting, I changed the foldline of the fabric when I cut out the front of the dress. It left me with a big rectangle of fabric that I could cut the sleeves from. Feels like free fabric.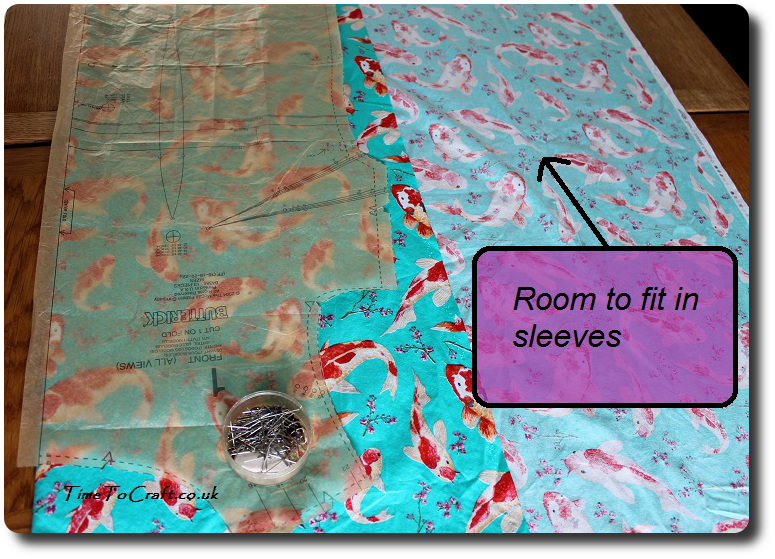 If I'd followed the instructions and lined up the selvedges, as suggested, the front of the dress would have been cut out of the middle of the fabric, leaving two thin rectangles of fabric on each side. No use to man or beast. On the printed plan this was mostly left as waste fabric. Madness when you stop to think about it.
Be creative. Find a way to free up large areas of the fabric, rather than being left with lots of small pieces.
Warning: Don't cut anything out until all the pattern pieces have been positioned on the fabric.
Step 2: Use contrasting fabrics for yokes, hems, etc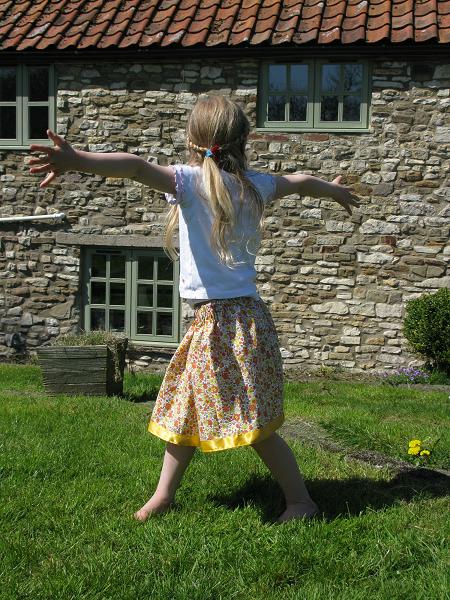 Most patterns assume you are going to use the same fabric throughout the project. Some allow a contrast for one part, like the collar, but not all. There is nothing to say you have to stick to one fabric for all the other parts. Yokes, sleeves, pockets, hems – they can be different.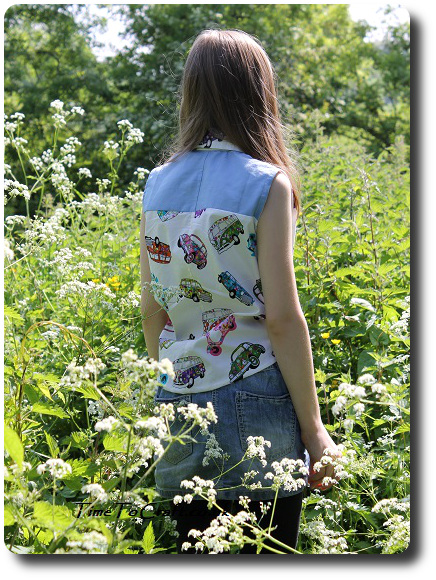 A confession story best illustrates this one. Last year I bought fabric to make a blouse for my daughter. Such cute fabric she had selected. In my excitement, I completely forgot that I needed more fabric to match up the cars at the front of the blouse. My bad. It looked like I couldn't avoid slicing cars in half at the button-up front, if I wanted to make the blouse out of this fabric.
Humph!
If I'm going to spend time hand making a garment, I want it to look good at the end. No half cars, please.
I put my thinking cap on. After pattern matching the front of the blouse, there was no fabric left for the back yoke, so I used a coordinating blue fabric for it, that I found in my scrap bag.
Result: a fun blouse that looked better than I had originally imagined. I still used the fabulous fabric to good effect, but the blue made it pop out even more.
Step 3: Patchwork fabric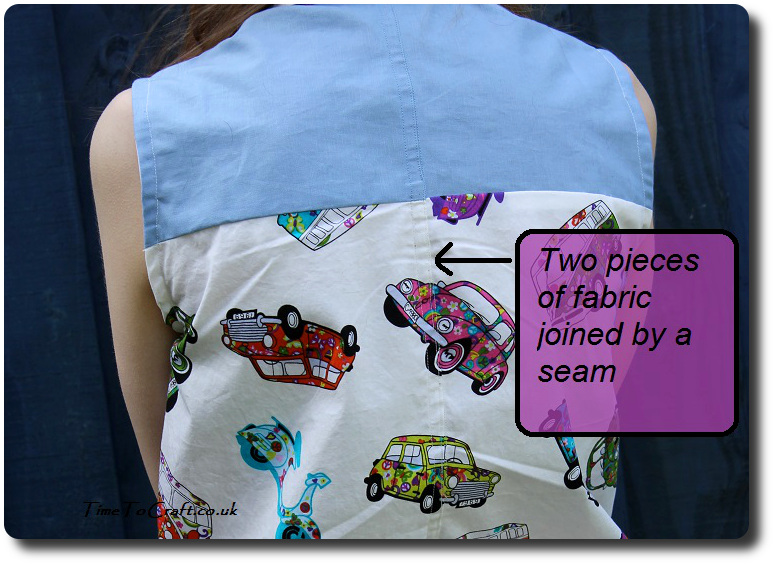 Carrying on with the same blouse, I didn't have enough fabric for the back either. Crazy, I know. Anyone wondering why I didn't give up on this project? I am.
So, what did I do? I got creative with my cutting. I sliced the back paper piece in two and positioned the halves on the fabric, allowing for a small seam allowance, so that the car patterns would match. Once it was sewn up, from a distance, it looks like one piece of fabric. Mission accomplished.
There is nothing in the rule book to say fabric cannot be patched together. In fact, I've read of haute couture houses cutting up stripes to make the perfect zigzag fabric, when needed.
Step 4: Use different fabric for facings that don't show.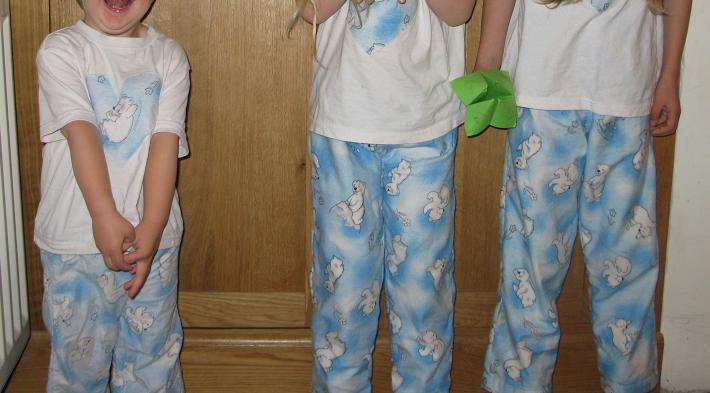 If the fabric isn't going to show, then use a different one. Pockets tucked in the seams will not show. Save fabric by using a similar fabric. I made four polar bear pyjamas. Each pair has pockets made from different brushed cotton fabric from previous projects.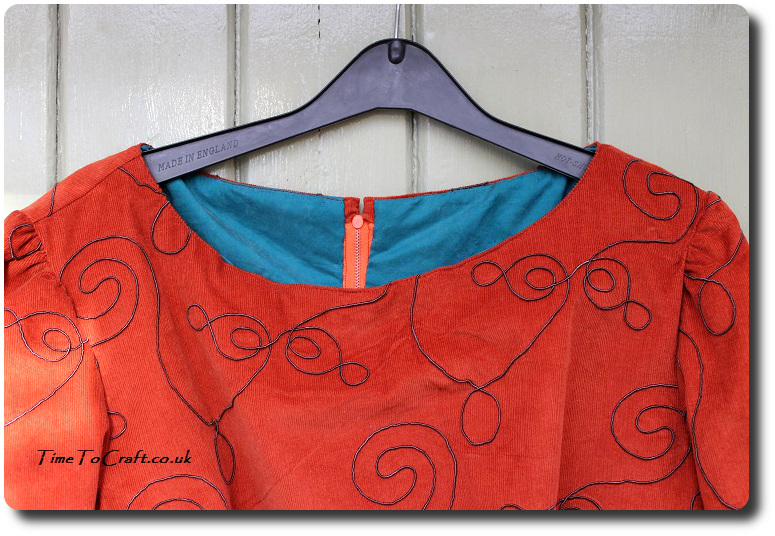 This is my brown, cord dress. (Eek! I still haven't shared photos of this dress here.) In the instructions, it listed the neck facing to be cut from the same fabric as the rest of the dress. I had lots of fabric, but I'm always looking to save it. Also I didn't much fancy the black cord rubbing against my neck.
So I dived into my recycling pile and pulled out a silk shirt of my husband. I loved that shirt, but he didn't. I cut it up and used it as the neck facing. It gave the structure required, but with the added silky, softness, and I have enough brown fabric left for a skirt.
Step 5: Change lengths or shape
My rose dress used a lot of fabric. It is a fit and flare. I didn't really have quite enough fabric. I overlapped the pattern slightly on seams and hem allowance.  I shortened the sleeve length slightly. These little tweaks made all the difference.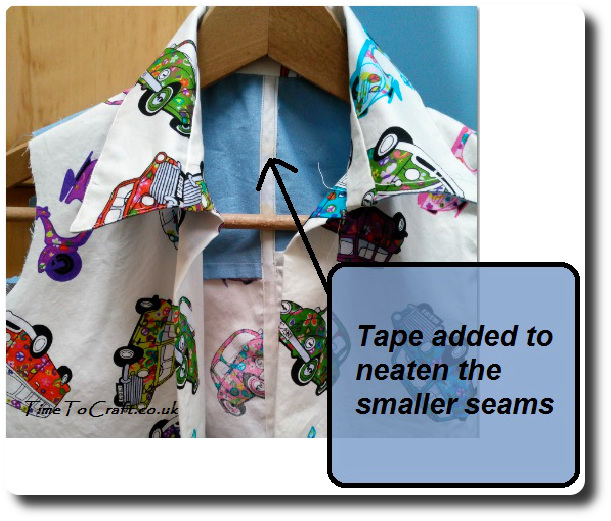 On one or two garments, I've reduced the seam allowance. I always neaten seams. I want my garments to look good on the inside too. Using fabric tape, I can still ensure the fabric won't fray and unravel when there's less fabric.
Break the rules
I'm using the term "rules" in a very loose way. There are no design police who turn up and put you straight if you ignore the instructions.
I know the handmade projects that have caused the most problems, have turned out to be my favourites, because I've not been able to follow the rules. My daughter's blouse certainly gave me a few head scratching moments, and I love the touch of green in my brown dress.
I've not used any indie design patterns. I have no idea how prescriptive their instructions tend to be or how easy they can be modified. I do love using sewing patterns from the so-called Big Four (Simplicity, Vogue, McCalls, Butterick) but I like to make them my own. Using the instructions as suggestions rather than anything else.
By mixing and matching, I think it makes a handmade garment that little bit more special. More of a designed feel. Saving fabric at the same time. Not something to be sniffed at.
Have you any tips to make your fabric go that little bit further?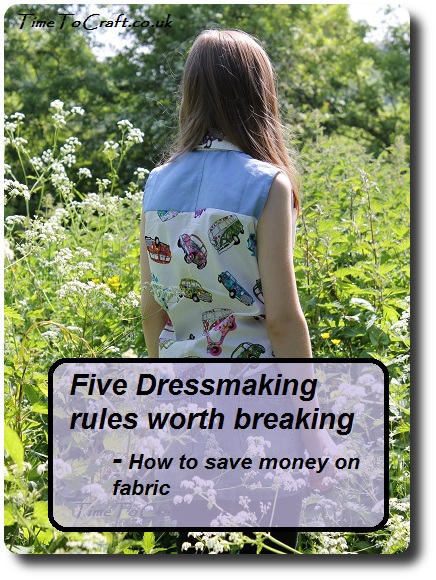 Other frugal dressmaking tips:
And I'm sewing again. All thanks to a bit of machine oil, my vintage Singer sewing machine is singing again.
This machine has been sitting in the attic. Budged up there by the purchase of a modern electric sewing machine, a few years back. No point the old girl taking up room, when the new one could do everything I needed. But I didn't get rid of it. I couldn't.
For a start, this machine used to belong to my Great Grandma and was handed down. It was made in 1940 in Scotland. I know this from the serial number and a quick internet search. I also found out that the Singer factory was commandeered to make guns, at that time, for the war effort. At slower times, they carried on making sewing machines. Including this one. Continue reading →
Photos
There have been cases when people lifted my photos and words, and used them without credit to me or asking permission first. Using them for their own commercial gain. I have now added a level of security to deter people from doing this. Apologies to people who do play nicely. If you would like to use any of my photos, please contact me.
Copyright notice:
All my words and photos are copyrighted to me. They cannot be used for commercial benefit by anyone else. If you would like to use any of them, then please ask me first and don't just take. Written permission only. Don't pass my words, photos or ideas off as your own. It's not nice.
Cookie Policy
Our web pages do not use cookies however this website uses Google Analytics, a web analytics service provided by Google, Inc. Google Analytics uses cookies to help us analyse how people use our site. The use of cookies by Google Analytics is subject to change.