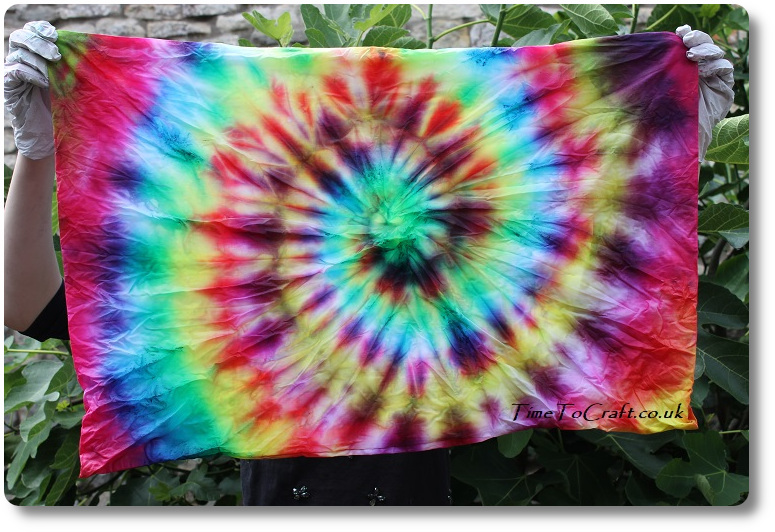 There comes a stage, when children can do a craft without help. They've been taught how to handle craft material. They know the techniques. They've probably lost count of projects completed, or half completed. Now, it's their turn.
Up to this point, they've learnt to copy the example provided. Be it a painting or a model, they've attempted to emulate it.  A carbon copy. The focus has been on following the leader, which is great as they gain confidence in their abilities, but at some point it changes. They take a leap.
No longer do they need to copy. They can take the skills, and be creative in their own right. The image they are copying may only be visible to their own mind's eye. They can fly. Anything is possible.
Also, everything can go wrong. Darn. Why does every coin have to have two sides?
If it doesn't work, then the hiccup can put them off. Confidence in themselves lost. It's easy to see why sitting in front of a screen becomes more attractive, whilst declaring that they are useless at making anything.
They are not.
As a parent of two teens and an almost teen, I don't want them to give up. It is a time to pick themselves up and dust themselves down. Find another route, maybe, but do try again. Resilience doesn't always come naturally.
What do I do? First up, my mantra is that there is no right or wrong way when craft projects are concerned. I start every project saying it. So it may not end up as you first imagined, but you have gained. Maybe it is better. Maybe a new way has been found. Maybe a personal style is growing. There is no such thing as a mistake.
The summer holiday is a great time to set up craft materials and let them flex their creative muscle. Away from the time restrictions of school, the judgement of peers and the fear of their grades being dented.
Here are my five favourite crafts for teens to do outside, because they can make as much mess as they like. I supply the materials and act as the support team.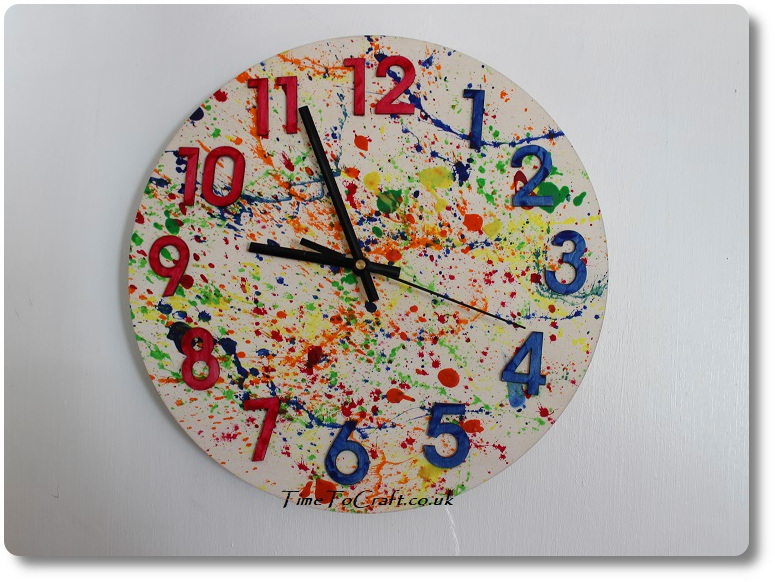 1 Object to decorate.
One year, I bought a blank wooden clock. Anything goes. Splatter paint was perfect. No two splatter clocks are ever going to look the same. No right or wrong. This project was perfect for building a wilting confidence. There is a skill in knowing when to stop. It still proudly hangs in his bedroom.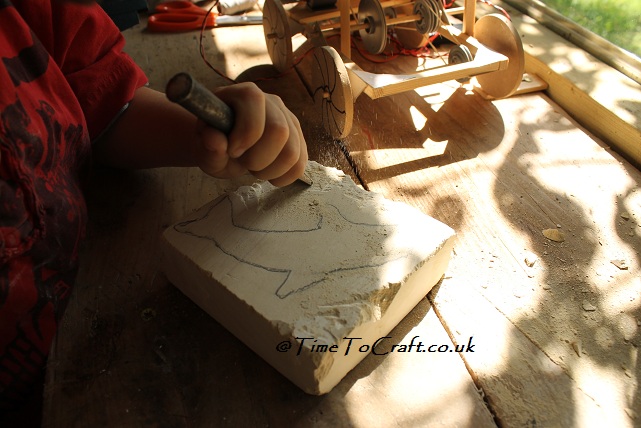 2 Carving.
We went to a country fair, where they learnt the basic skills of carving. Ended up lugging three stone blanks home, which if you know our home, is really quite hilarious, but that's not the point. The stones were theirs. That summer, they chiselled away at the stones and produced pictures they were happy with. I loved popping out into the garden and hearing the tap-tap sounds coming from the shed.
The next year. Same fair. Picked up another three stones for them. Over the years since, every now and again, they have taken themselves off to carve a little bit more. There is no hurry in this project. They are doing their own thing.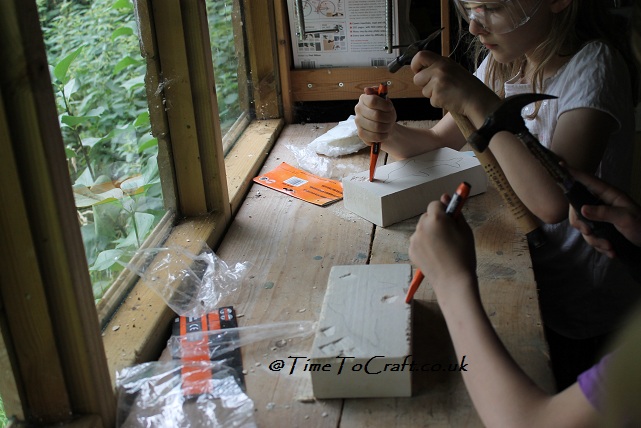 3 Tie dye.
Straight up, I do like crafts that are practical. Something that they make and then use. When they were younger, most of our projects were about making toys they could play with. Now they are older, it's more about something they can use. The tie dyed duvet and pillowcases project, last summer, is a really good example.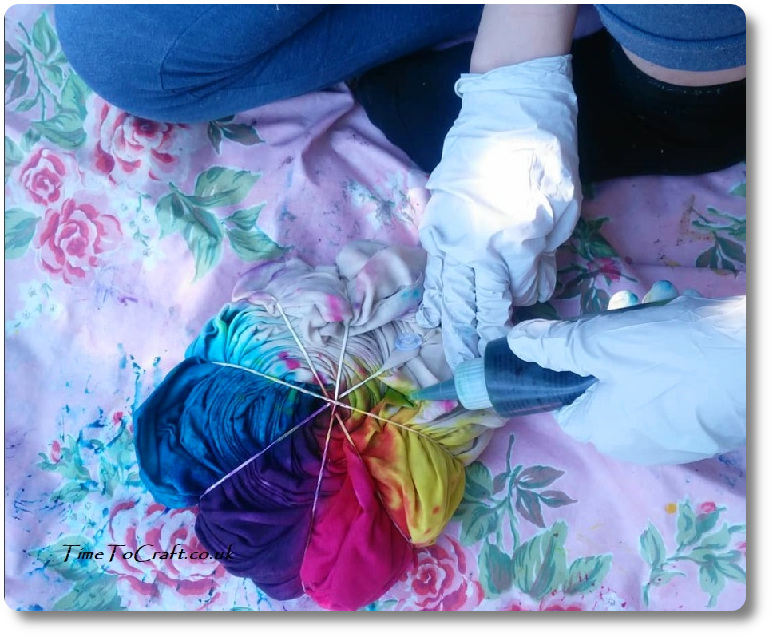 This was a real hit and something they want to do again this summer. It is messy. A project for outside, and with the added bonus of rainbow grass until the next downpour washes it away.
Each piece was different. It's difficult to attempt a carbon copy with this project. Experiment is the key. There was no right or wrong. They went back and added more dye to some of the pieces, until they were happy with it.  The duvet covers and pillowcases are on their beds now and they still love them, which, to me, spells success. We've also dyed t-shirts.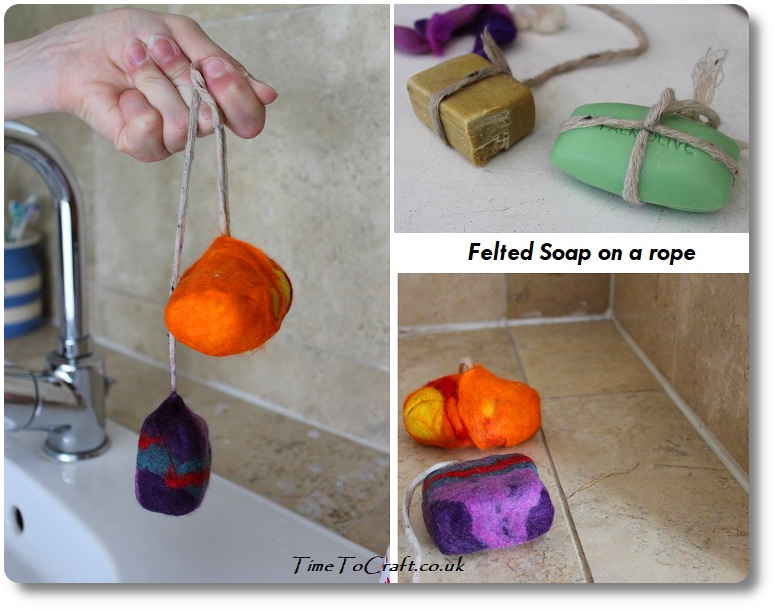 4 This is another practical craft. Felted soap.
We added a rope to hang it up with, but it is good without too. I love wet felting projects. It is very hands on, colourful and they all come out differently. It is a great project for blending colours. There is no standard felted soap, so creativity is wide open.
Here again, the felted soaps are in regular use and, I can assure you, work a dream. Especially on bare feet that have been outside all day.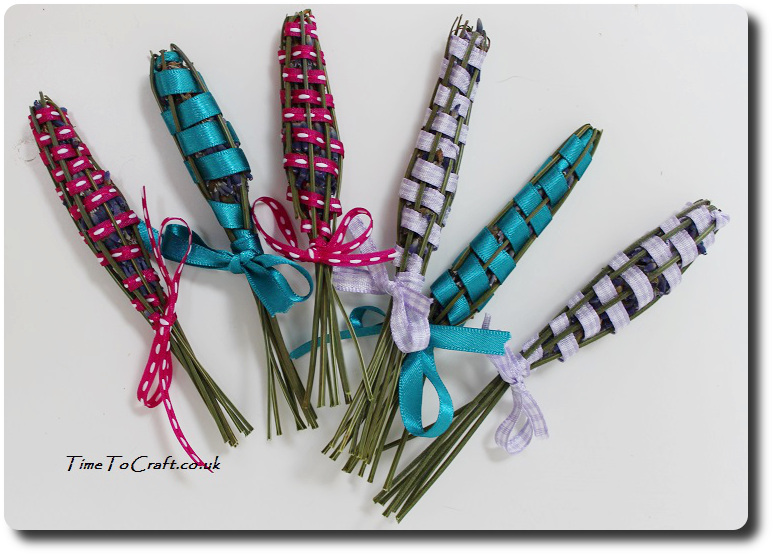 5 Wasn't sure if I should include this one, as there is a set way of doing them, but it does cover another aspect of crafting. Lavender wands.
Nimble fingers and concentration are needed to weave. The satisfaction of containing the lavender, into a natural cage, is worth the time. Working with nature can be unpredictable. No fighting it sometimes, but finding the rhythm helps, and it's a skill everyone should have to help appreciate the natural world.
It is also a wonderful project for a group to sit in the garden and craft together. Surrounded by nature. By the end, they have a sweet scented wand to put in their cupboards.
6. Last one, and an experience this time, although captured forever on film. A night light show.
The children each have their first initial shaped in wood with led lights decorating it. Looks great in their rooms lit up, but even more fun if you add a camera, with a slow setting, and a dark evening into the mix. They created letters, shapes and pictures. They worked together to make bigger more complicated displays. Until they saw the captured image on the camera, they had no idea how it would turn out.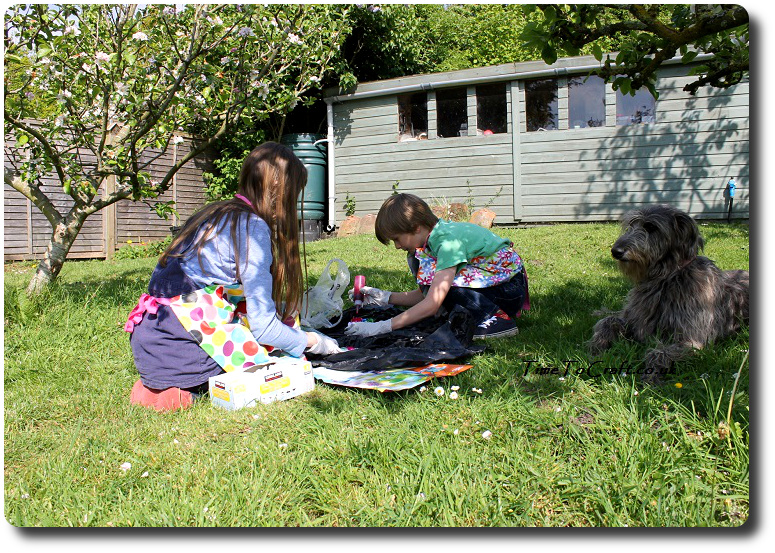 This summer, we have more craft projects lined up. I've already organized the materials, but I'm all ears to ideas as they come up with them. I love seeing where their creativity takes them. With open ended projects, like these, I'm never quite sure what will come next. Another interesting summer, I think. I'll be reminding them that there is no right or wrong way of doing it. They just need to follow their ideas.
Have you got a favourite teen craft?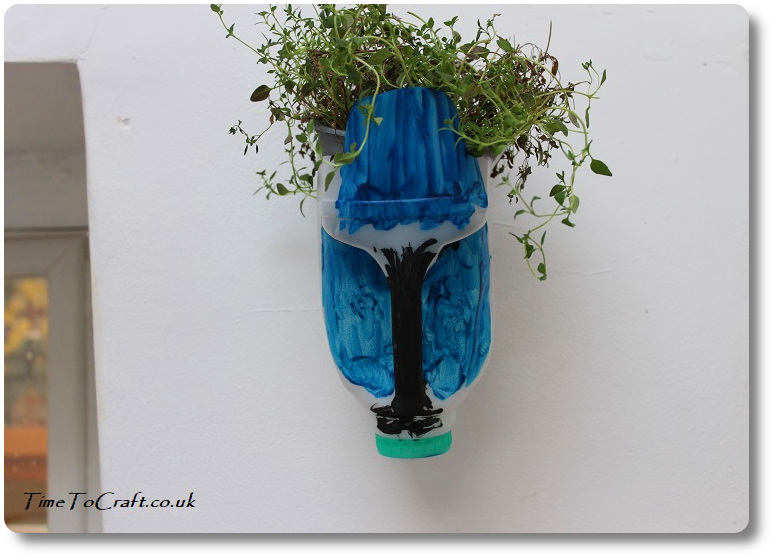 As the children grow older, I'm finding it tougher to find craft projects that they want to join in on. I'm sure I'm not alone. I'm always on the look out for enticing, new craft projects that will tempt them away from screen time, in particular. They also begin to suffer from the "what if it is not perfect" syndrome. I still believe that, as teens and tweens, they need the hands-on creative time. Just as much as younger children do. Projects that have no right or wrong way of doing them.
When I was contacted by Penguin Random House about a new book called Quick Crafts, my ears definitely pricked up. A book that encourages  the "just have a go" approach and the joy of creating rather than expecting perfection. The cherry on the top was that the craft projects are designed to be played with after they are made. Make your own toys, in other words. I feel the author Emma Scott-Child and I would be best friends. She has the same approach to creativity as I do, judging by this book.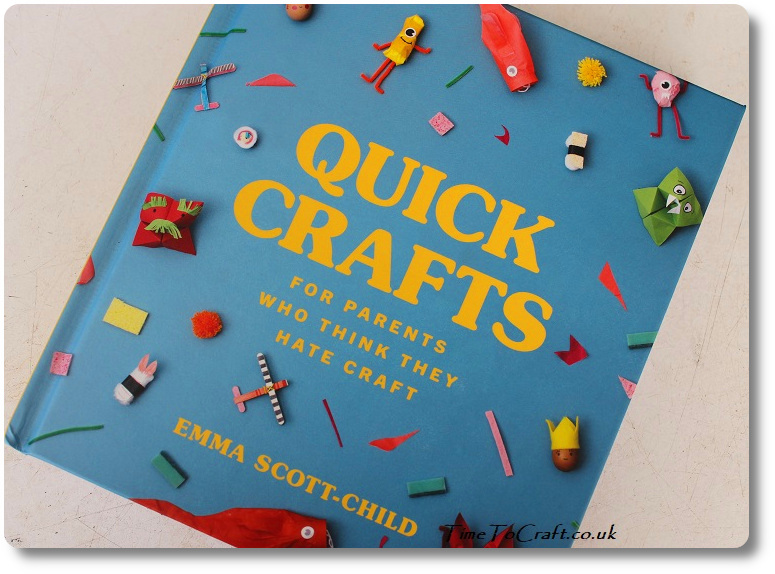 For those of you who are not so keen on crafting, then this book is aimed at you. Maybe children who prefer not to get overly sticky hands (and hair!) This book needs no special crafting materials or skills. Quick projects using stuff you have around the house. Mostly the items that are destined for the recycling bin. What is not to like?
The craft projects are ones that tweens and younger should have no problem doing, although there are so many good ideas that I can imagine older siblings muscling in on the action, and adding their own creative twist.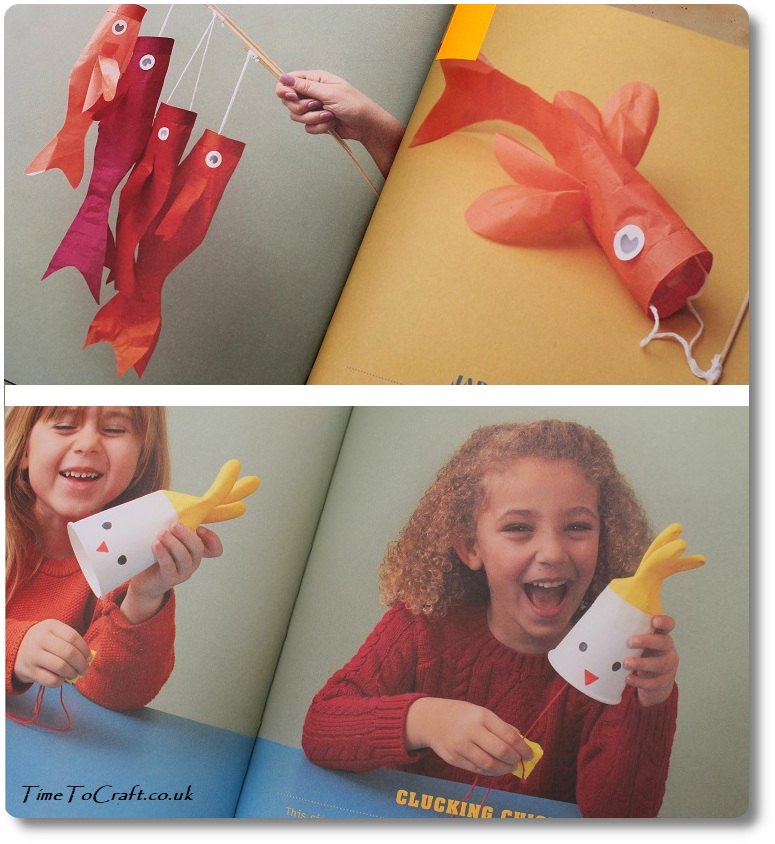 I do think this book is chocka block full of good ideas. I went through my copy, marking lots of projects with orange stick-it notes. Nice twists like the rattle snake, that rattles, and the stink thief which we will definitely be making for their stinky sports trainers over the holidays.
To start with, we chose one project.
I love the idea of recycling a milk carton. I literally had to rummage through our recycling bin. We don't have many of these now. The project called for permanent pen, but we used acrylics paints instead.
I set the materials up outside on the table. Less mess to clear up and lots of fresh air, to boot. The project is a milk bottle baboon. It is a plant holder and uses a grassy plant as the hair. We went for a thyme plant instead, as I had one. Any trailing, bushy plant would work.
The photos in the book made me think of the Pitt Rivers museum in Oxford.  A very theatrical look to them.
Youngest enjoyed making his baboon. We chatted away as he made it. It didn't take him long. A quick craft project that is hung up on the wall now and doing a grand job of holding our herb plant. Most importantly, it reminded him of his creative side and the fun of making something.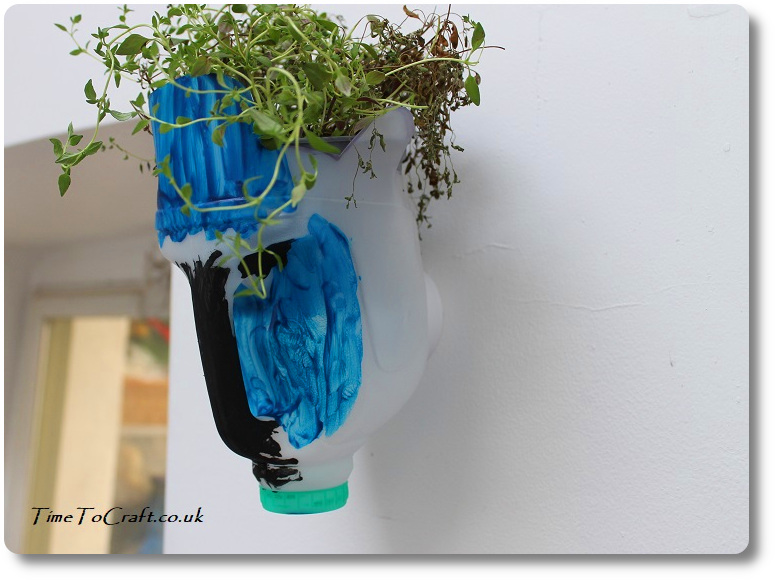 I already have ambitions to add more and make a baboon herb garden, hanging by the kitchen door. Can you imagine? A whole troop. It would be cool.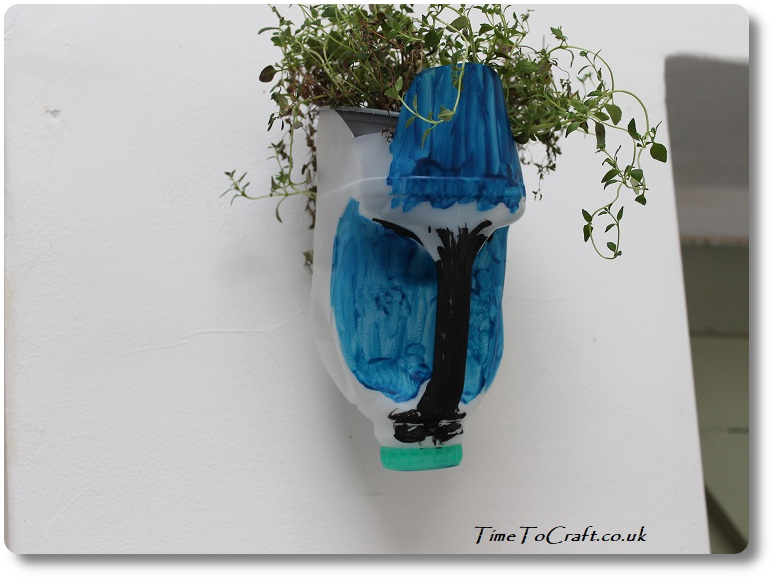 Quick Crafts is out in August. I know I'll be dipping into my copy over the summer holidays, for inexpensive, fun projects to fill the odd half an hour. Recycling as we go.
---
Quick Crafts is out on 8th August. RRP £12.99. Hardback. It has 40 projects, that require no messy painting (unless you want to), no sewing, no special equipment and no glitter.
Disclaimer: I was sent a review copy of Quick Crafts. All views are honest and my own. This post contains an affiliate link, which may generate a payment to me, at no extra cost for you.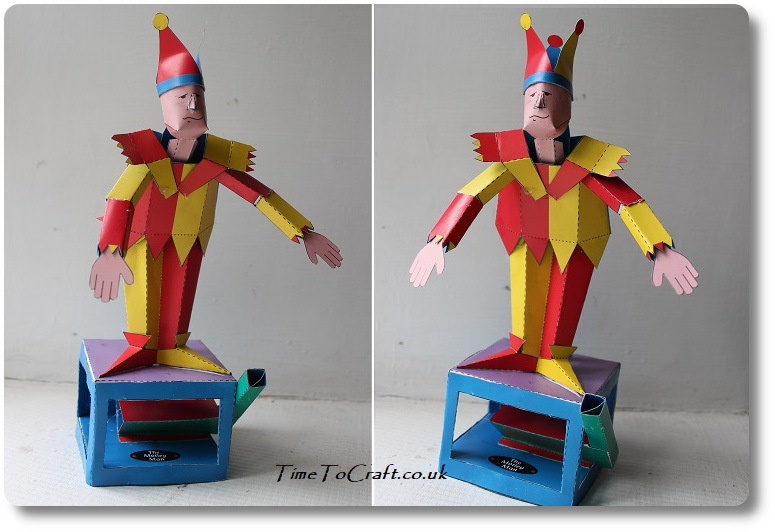 (The Motley Man)
I watched my daughter making a paper automata, yesterday. Taking a handful of flat, printed sheets and turning them into a moving statue. I saw how much patience, determination and focus it took. The ability to follow the instructions too. The dedication to see the project right through to the end.
It might seem like a simple project. Cut it out and stick it together. Yes, I can see how this can be seen as simple. After all, we are used to seeing the walls of playgroups and primary schools walls plastered with cut out paper stuck to other paper.
In a world where children are growing up using programs that design and build an image on screen, that are manipulated to perform movement, it is easy to see this as a simple, basic project. Imagine what our great, great grandparents would have made of the digital images. How far we have come. Paper, scissors and glue replaced by pixels.
The thing is I don't see one replacing the other. I see them both as skills complementing each other. Building on each other. I love to see my children creating new worlds on the computer. Their creativity is power boosted, as they storm through turning the image in their heads into a pixel representation, in next to no time. It's good.
It is restricted though. Creativity cannot go beyond the confines of the program. A limit is eventually hit, however good the software. Yes, it might inspire them to create/program a new or add-on online experience that will allow them to follow their idea, but that takes time. Very few will take up the challenge and push the boundaries as it doesn't give the instant reward they are used to.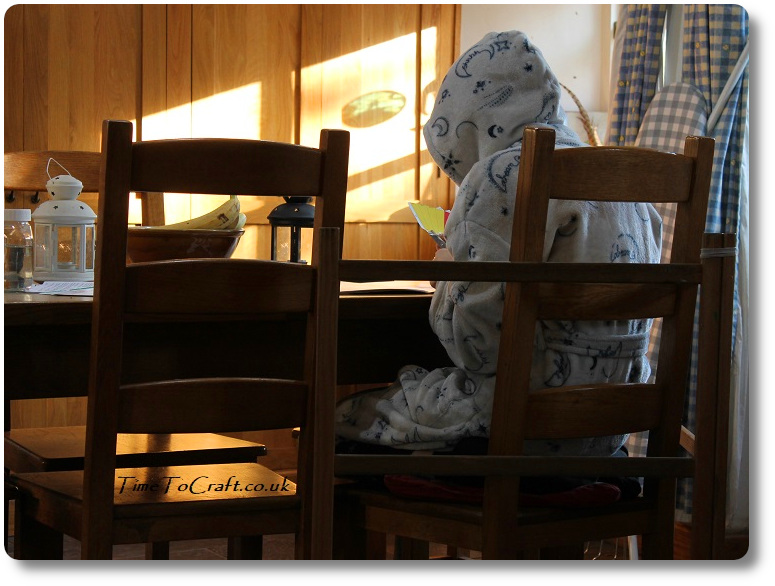 (Crafting before breakfast)
So back to the paper automata. As she worked on this project, I saw the care she took to cut it out. It had to be precise, otherwise the different elements wouldn't fit together. Movement would be inhibited by jagged edges. The glued edges sometimes held and other times flicked apart. It was frustrating, but she was inventive using pegs, weights, folds and eventually my glue gun. She improved the original design to make the arms move in the way she wanted.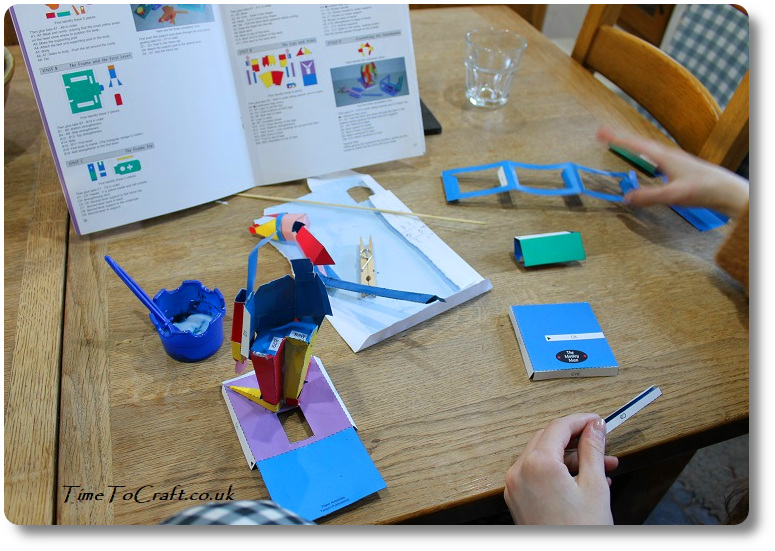 It took hours. We ate lunch around her project. No instant reward with this project. It was frustrating, but she kept going. There was not going to be an abandoned, half-finished project.
This is the 14 year old who produces the most amazing drawings on her tablet. She can spend hours drawing on the computer, but can also focus on a glue-on-fingers project too. I'd actually go as far to say the patience she has gained drawing on her computer has boosted her ability to focus longer on other projects. Paper projects included, but also to concentrate on her studies. Almost like patience, concentration and determination are muscles that can be trained to perform and take on any marathon. Whatever form it takes.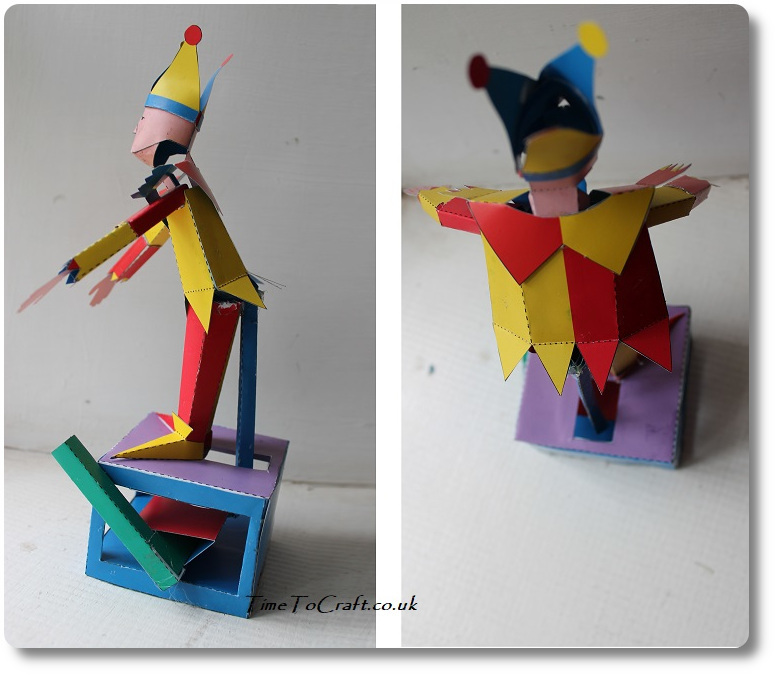 And the icing on the cake. As I was chatting to her, she talked about a science test she took that week. She said she was aware that she was able to concentrate fully on it. Didn't daydream half way through, as she is apt to do. Completed it to her satisfaction. Be interesting to see how she does.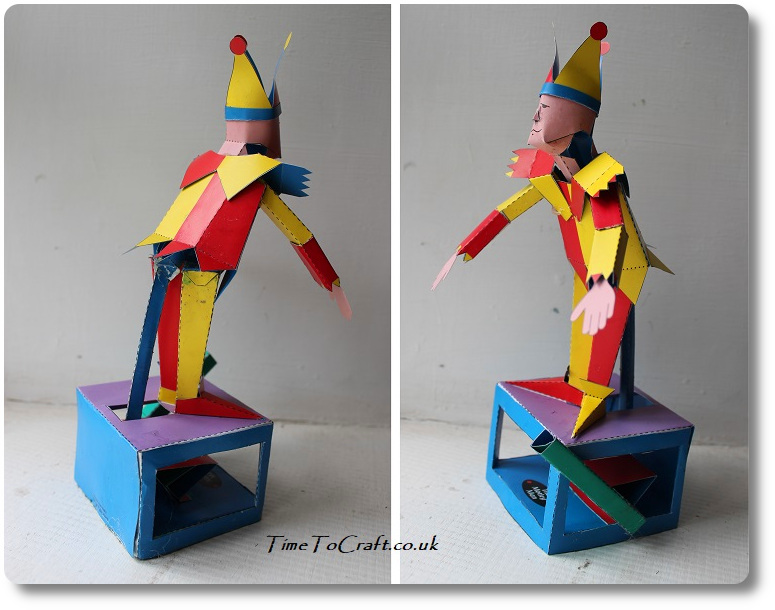 So what do I take away from all this. Maybe I shouldn't worry that the children are spending too long on the computer (Unless Fortnite is concerned. Don't get me started.). Maybe instead of passively lugging home the junk modelling from preschool, that was helpfully lovingly described as a robot, I should have revelled in her achievement. It's not so much about what they do, but how they do it.
(not an ad, but is an affiliated link: If you are interested the Motley Man came out of the book Paper Automata by Rob Ives)
Photos
There have been cases when people lifted my photos and words, and used them without credit to me or asking permission first. Using them for their own commercial gain. I have now added a level of security to deter people from doing this. Apologies to people who do play nicely. If you would like to use any of my photos, please contact me.
Copyright notice:
All my words and photos are copyrighted to me. They cannot be used for commercial benefit by anyone else. If you would like to use any of them, then please ask me first and don't just take. Written permission only. Don't pass my words, photos or ideas off as your own. It's not nice.
Cookie Policy
Our web pages do not use cookies however this website uses Google Analytics, a web analytics service provided by Google, Inc. Google Analytics uses cookies to help us analyse how people use our site. The use of cookies by Google Analytics is subject to change.