Anyone else trying to cut back on their single use plastics? It's an ongoing process for me, but #PlasticFreeJuly is this month and it's encouraging me. I'm under no illusions that I can eliminate all the single use overnight. It will take longer. One item at a time.
Today, I checked reusable produce bags off my list. Instead of using the plastic or paper bags when I buy fruit and veg, I can use my produce bag. A drawstring bag, made from light weight fabric. It's not transparent, but see through enough for a shop's checkout staff to see how many peaches are in the bag.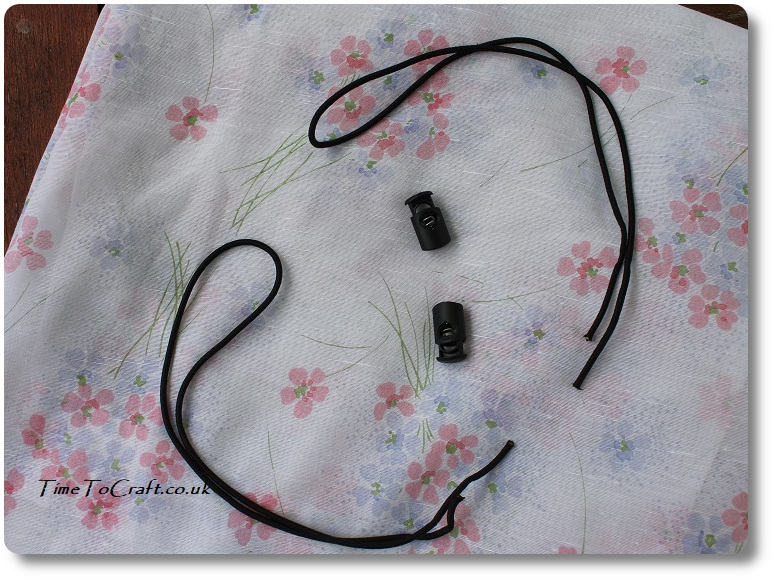 I used a toggle and elastic rescued from a small bag that held one of the children's waterproof coats. The fabric is a net curtain from when we lived in Italy, when I was a child. I call them net curtains, but they were more cosmetic. All the windows had fixed mosquito nets and heavy metal roller venetian blinds, blocking the view. These nets used to hang at the side to soften the look, especially in the bedrooms. Thinking back, I'm not sure it worked.
(One summer, I remember a swarm of bees taking up residence in the box casing for the blinds, in one of the bedrooms, making it unusable. The bees rather objected to their hive being invaded by a clanking metal structure, every morning. If memory serves me right, that bedroom was out of action for a while. No-one went in there. I don't remember what happened in the end.)
Anyway. Not your classic British net curtains. The fabric is more lightweight chiffon. Like a scarf.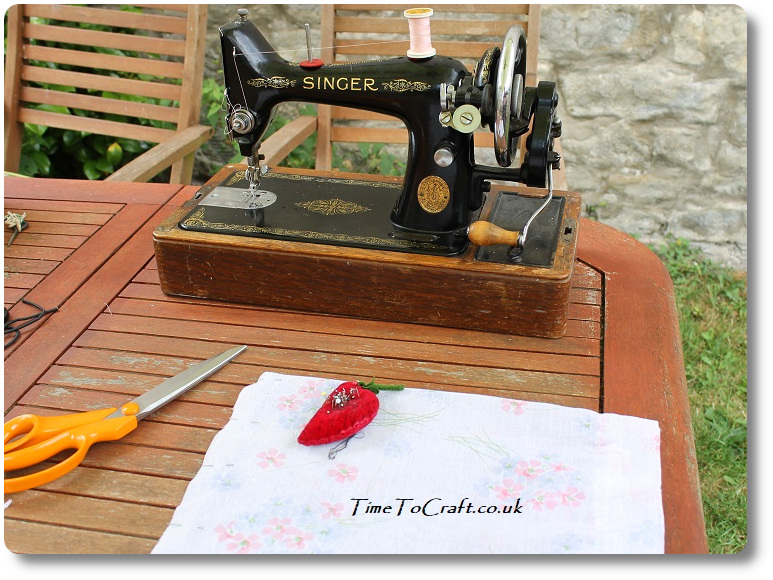 The curtains had a channel at the top for the pole or elastic that it used to hang from. I re used that part for the drawstring. Fortunately, the elastic I had, was just a little bit shorter than the width of the curtain, giving the final bag a bunched opening, which doesn't flop. I cut the fabric to make a square bag and sewed around, leaving the top open.
It was lovely weather, this weekend, and I took my hand cranked Singer machine outside to sew. I used French seams. The fabric tends to fray and is see through, so I wanted to hide the edges. I also think it makes the join stronger and less likely to break. An advantage to making your own. I know it will hold a good number of apples and not split as I put it in my basket. Chasing renegade apples, making a break for freedom around a market floor, is not top of my list of things to do.
The bag was quick to make. Works a dream for the peaches I tried it out with. I have enough fabric left to make several bags. I plan to make one for a baguette too, rather than the long plastic bags that they use in shops. When did they stop wrapping them with a small square of paper for handling purposes? (Showing my age?)
This bag is on a mission today. Youngest is making fruit crumble in food tech at school. The fruit is measured out and, in the bag, waiting to be taken in. No single use bags. After that, I'll roll it up and keep it in my bag, so I don't forget it when I'm shopping. Added bonus, it will be easy to wash.
This is not the only single use plastic I've swapped this month, but the list can wait to a later time. I'm pleased with my home made bags. I've recycled fabric and fixings that could easily have been thrown out as their original use had long since gone. They are pretty too. A win-win all round!
The proof will be the eating of the pudding, as they say. Do you use re-usable produce bags?
——–
Joining in with Rosie's Going Green linky.
I'm very much still on my eco friendly living journey. Little changes where I can, with my eye on the bigger ones I can make at some point. Every now and again, I give myself a review, to see how it's going and what I can do. A nudge.
One area that I know I need to look at closer is my crafting area. I've cut out buying any more man-made materials. Partly to cut down on the micro fibres I might be adding to the environment. With other natural textiles, I use what I have, before I buy anything new.  I source second hand. Sustainable when I can. Even then, I know I could do better. I worry about the production of the materials I use. Polluting dyes, toxic fumes, pesticides and water grabbing practises.
It's not pretty.
Giving up?
Crafting is my therapy. The repetitive act of small sewing stitches, knitting rows or spinning fibres, grounds me. Concentration overriding all. I'm sure my breathing must change and chemicals are released. Wrongs are righted. In my head at least. I can cope. The world is a better place when I craft.
I will not be giving up crafting, anytime soon. So, that is not an option.
Source
I'd like to delve more into its source.
For instance, I love when I buy wool and the name of the sheep is printed on the label. I have a fleece, at the moment, waiting to be spun, grown by a sheep called Nicola from Hampshire. I like that. I imagine her skipping off after being shorn, feeling lighter and ready to munch more grass. No dye involved.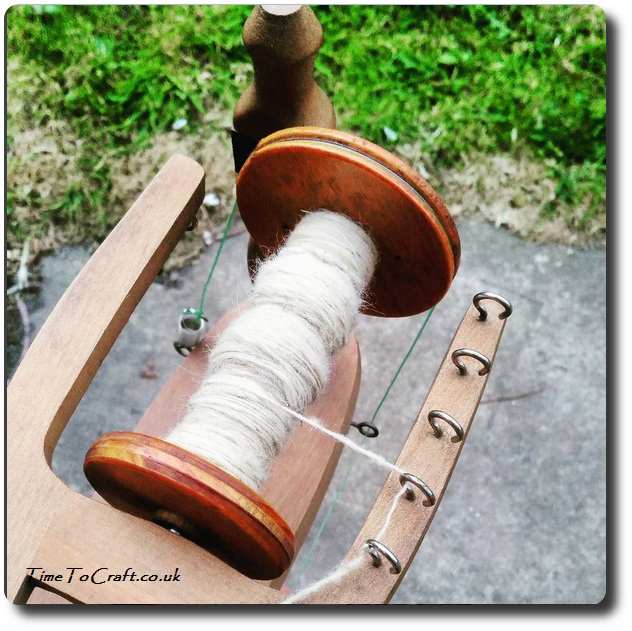 Packaging
Another area that I have been looking at is the packaging. It is cheaper and less polluting if I buy on line. I like to buy in real shops or straight from the producer, but I don't often get the chance, living in the country (unless it is a sheep's fleece, of course). Plus, searching for the right yarn or material could lead me to several shops which are usually in different towns. If I buy on line, the postman brings it, cutting out any journey I would make. He was delivering my letters anyway. I can shop around for the best price too.
The only downside is that my house is inundated with packaging. Most yarn or fabric is sent in a plastic bag. I understand. I get it. Who wants to receive potentially wet or otherwise damaged fabric through the post? I re-use the bags as I can, but I'd prefer not to. I'd prefer not to receive them.
The thing is, I remember parcels before they were sent in plastic bags. Brown paper, knotted string and sealing wax. Hugely exciting, as a child, when a parcel like that was waiting for you after school. With your name on it! Yes, some did get damaged, but my childhood was not blighted by the memory, so I'm guessing it didn't happen often.
What's more, Amazon seem to be managing quite fine to send books and so on, in cardboard. They send out millions of boxes and doing quite well for themselves. So, why can't others?
I've started to check the delivery details on line, before I order. How it will be packaged. This is not an ad, but a heads up for anyone else who buys yarn on line. I've had two deliveries now from The Knitting Network. Each time they have arrived in a cardboard box (shown in first and last photo), with brown paper inside to pad it out. No damage. No plastic. Yarn is perfect.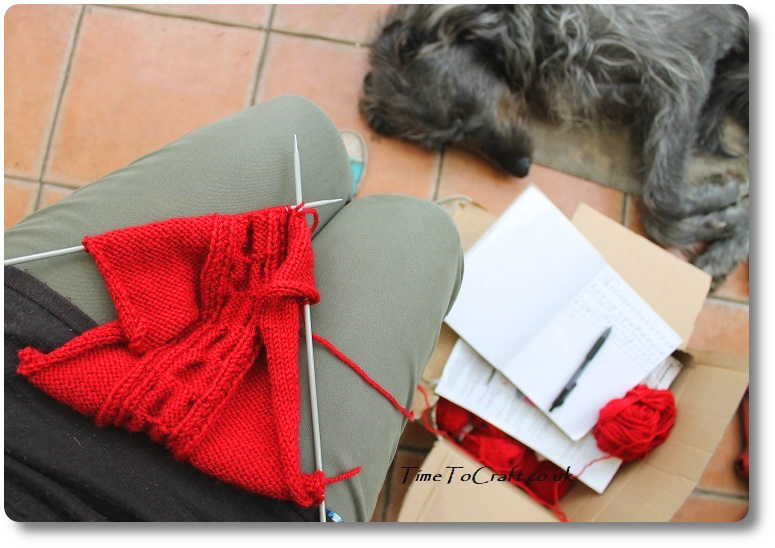 Question now is, which other companies are doing the same? Please let me know if you've had any craft materials delivered in eco friendly packaging. Also, have you any other eco friendly crafting tips? I'd really love to know.
Photos
There have been cases when people lifted my photos and words, and used them without credit to me or asking permission first. Using them for their own commercial gain. I have now added a level of security to deter people from doing this. Apologies to people who do play nicely. If you would like to use any of my photos, please contact me.
Copyright notice:
All my words and photos are copyrighted to me. They cannot be used for commercial benefit by anyone else. If you would like to use any of them, then please ask me first and don't just take. Written permission only. Don't pass my words, photos or ideas off as your own. It's not nice.
Cookie Policy
Our web pages do not use cookies however this website uses Google Analytics, a web analytics service provided by Google, Inc. Google Analytics uses cookies to help us analyse how people use our site. The use of cookies by Google Analytics is subject to change.