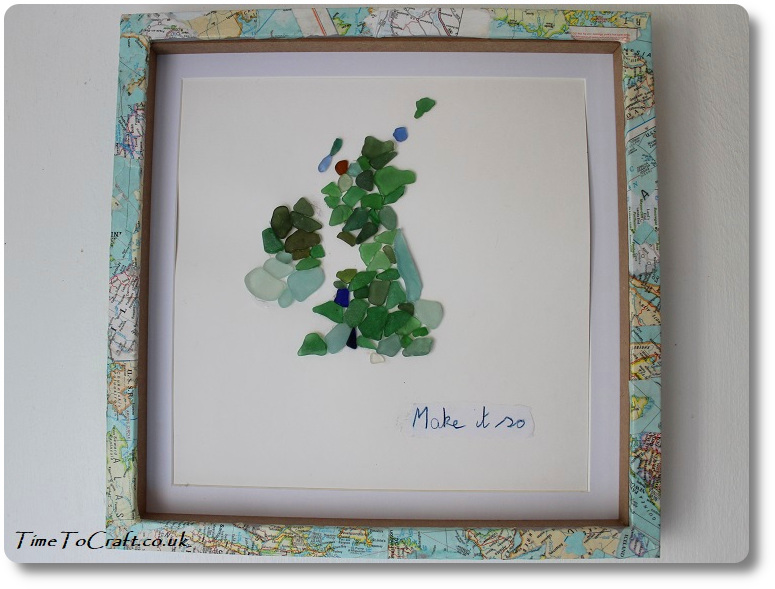 Two of my favourite things. Maps and sea glass. I mainly craft with textiles, but I could give it all up for this kind of crafting. This project was such fun and there was an unexpected twist to it too, but I'm jumping ahead as usual.
At the beginning of the holiday, I took the children down to Hobby Craft and bought a few projects to do over the holiday. It was so much fun shopping with them. OK. A few ideas I vetoed, but on the whole they chose well. Then the inevitable happened, I spotted something not on my list. I'd been so good up to that point. Anyway, there it was. A grey shadow box in the half price bin. Perfect for covering the frame with sea glass, because grey is major boring. I could add an inspirational quote in the middle.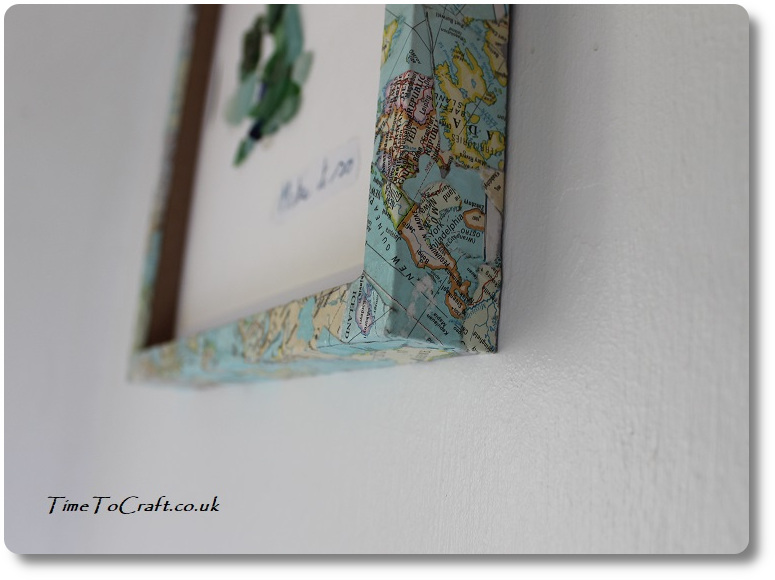 Once I got home, I realised the sea glass did not work, but world maps were the way to go. Still inspired by the map man we saw in Hay-on-Wye. Fortunately, on my list had been a large bottle of decoupage glue. I spent a happy afternoon gluing. Rather regret not wearing gloves, as I was peeling glue off  my fingers for ever. Youngest had his own sticky project (more about that another time), so we worked happily together. I love crafting with the children when they really get their teeth into a project. They chatter happily away, making them excellent company.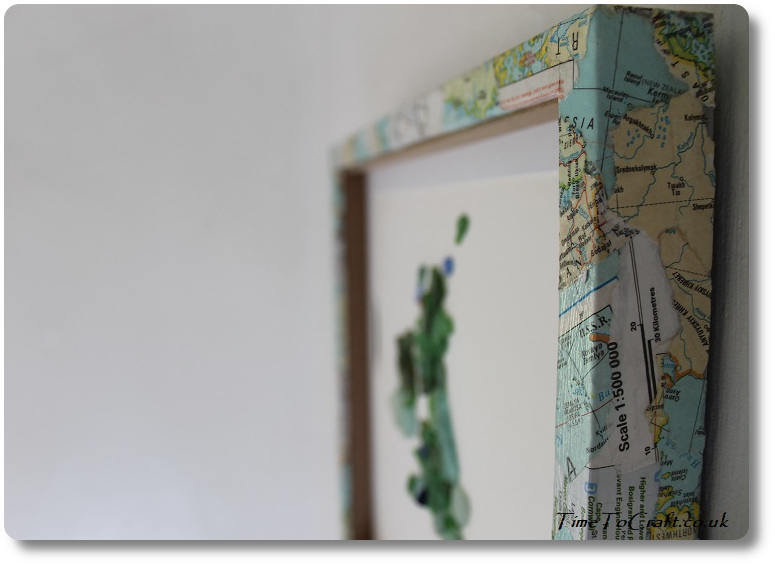 The old map was perfect. I went for the tear and stick method. A mish mash of images. Reworking the world atlas in an afternoon. Imagining how world politics would change if Syria was positioned next to Brazil, or Mexico was overlapping Canada and Germany, and so on.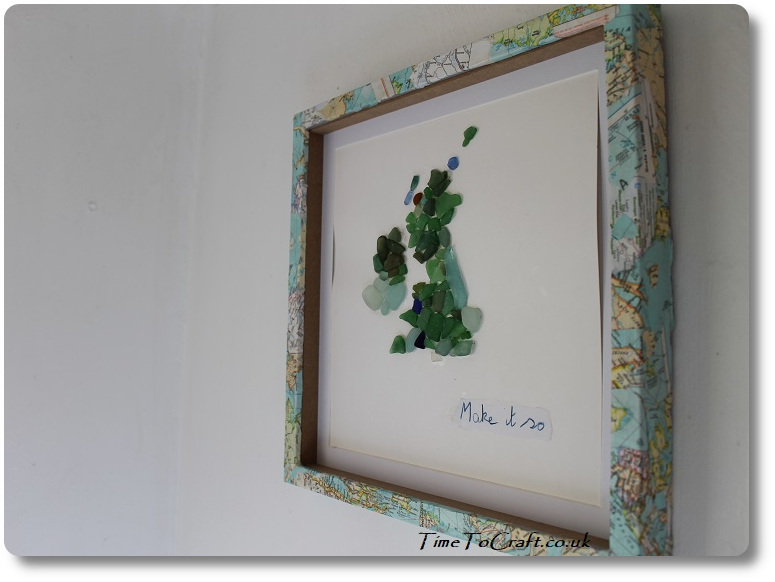 Next up, the picture. Seems a tad back to front way to do it, I'll admit. The frame before the picture, but that's how it goes. I popped the empty frame up on the wall for a few days, hoping that inspiration would hit me. I contemplated different quotes, single bird feathers and even a lone ticket. The family were beginning to wonder if I would ever put something in it. Then one breakfast, I was playing with a jar of sea glass when it hit me. A picture of the UK. Yes! Well that was it. I couldn't stop once the idea took hold. I traced the outline of Britain and Ireland (because Northern Ireland looks lonely without Southern Ireland there) and started arranging the sea glass. I kept coming back to it and moving pieces around.
Using PVA glue, I stuck the sea glass on the card stock. Even then, I removed some of the then sticky glass and swapped them around.
Once dry, I added the frame and hung it up in the downstairs loo. I added a note "Make it so", which is a reference to Star Trek and hopefully will inspire the children. Although, they don't know the connection to the Sci-fi series/film, unless they are reading this. (In which case, surprise!) My aim is to make them think.
I've finished it. No more fiddling with the position of green sea glass. Final act is to stick the picture to the backing, to eliminate the slight bulging edges of the card stock.
Now for the twist. As I prepared the photos to add to this blog post, I spotted something unexpected. Had to check it out with the real picture, to make sure it wasn't just a trick of the lens, and it isn't. Not sure why I hadn't noticed before. In fact, I seem to have positioned the glass bits as if I had done it on purpose. Apparently, my subconscious was working on a whole different project.
Take another look. Can you see it?
It's a dragon. Puffing smoke rings up into the sky. (Apologies to those who are not familiar with places in the UK, but I hope you get the gist of it.) The top of Scotland is the snout, with the Skye and Inverness/Aviemore making the eyes. Ireland is the wings and Wales are the spikes along the back. Cornwall and Devon are the tail. I could not have positioned the long thin light blue glass, to make a dragon's belly, better. Can you see it? It's a dragon, but the UK at the same time. I may never be able to look at the map again, without seeing the dragon too.
Double reason to be happy with my picture. Maybe I should try another country and see what my subconscious makes of it. Sea glass is so much fun to work with. Fun to collect too. A good excuse to head for the coast, me thinks.
What do you think? Dragon or the UK?
Hope you are having a good weekend. Till next time.
Picture the scene. It's about 9 o'clock in the morning and I'm sorting the recycling into the right bins. It's usually easy. There's glass, paper, textiles, plastic, etc in one bin, food waste in another and cardboard goes in the blue sack. We also have the compost bin. The very last resort, of course, is the black bin, which goes to the landfill. Best avoided. Sorting on the whole, is straightforward, except this time I'm pausing. Unsure and frozen by indecision. Which bin am I expected to put this plastic pouch into? Continue reading →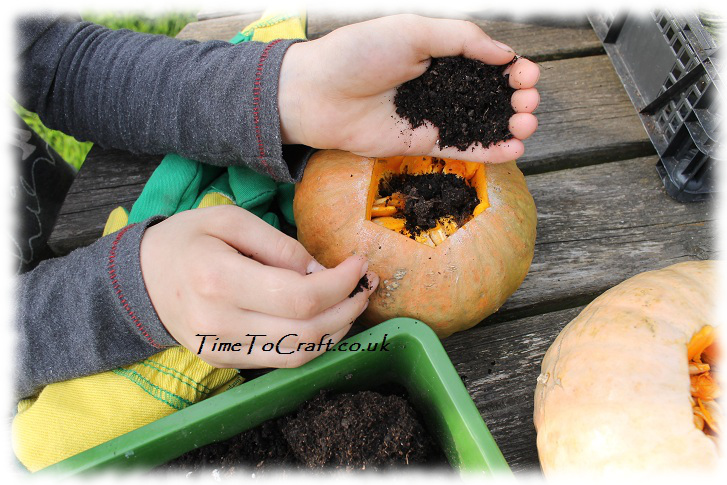 "What are we going to plant in the squash?"
"Squash"
"Where are the seeds?"
"In the squash."
"In the squash?"
"Yes in the squash. Look."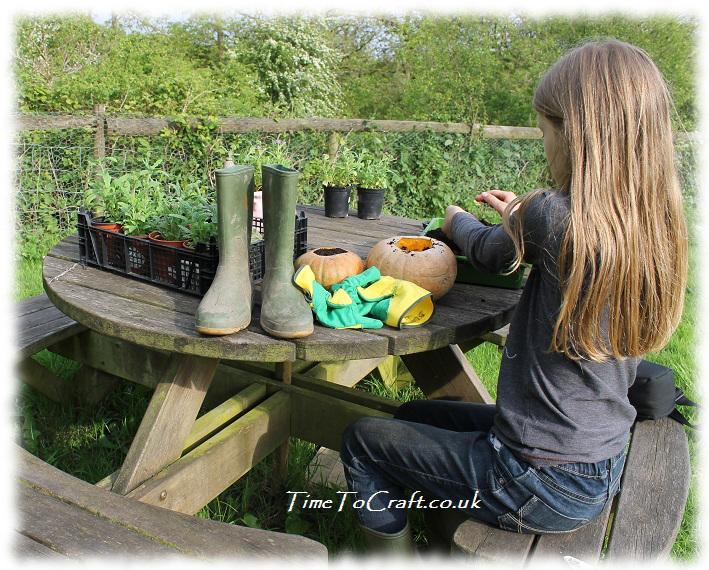 Penny drops.
I bought 3 squashes last Halloween. I cut into one, with great difficulty. I baked it but it was very dry. So dry that I couldn't serve it. I began to doubt whether it was a squash. The other two squashes, sat on the side, while I decided what to do.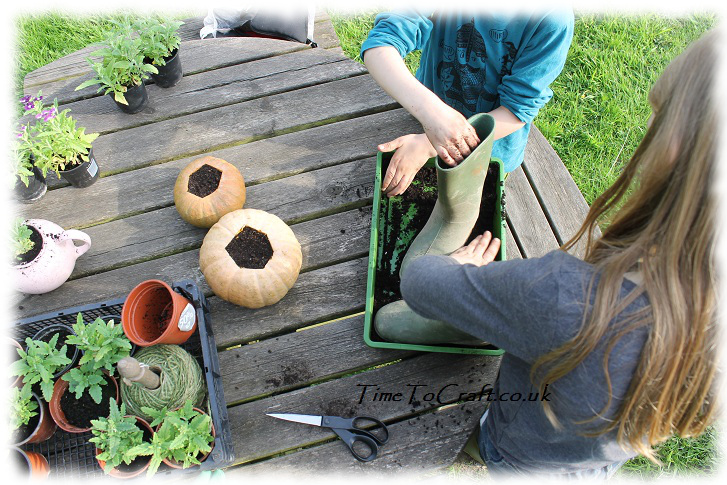 Today seemed the perfect day to use them. Not for baking but for growing. I cut off the tops, to expose the seeds. The children added soil on top of the seeds and watered. The idea is that the seeds will grow. We'll see. We'll also see if it produces any edible squashes. A proof of concept, I hope.
Next up, a pair of old wellies. Using the points of the scissors, I made holes just above the soles. The children enjoyed filling them with soil. Then BL added a couple of verbenas that she has been nurturing in the greenhouse. While the others ran off and played football.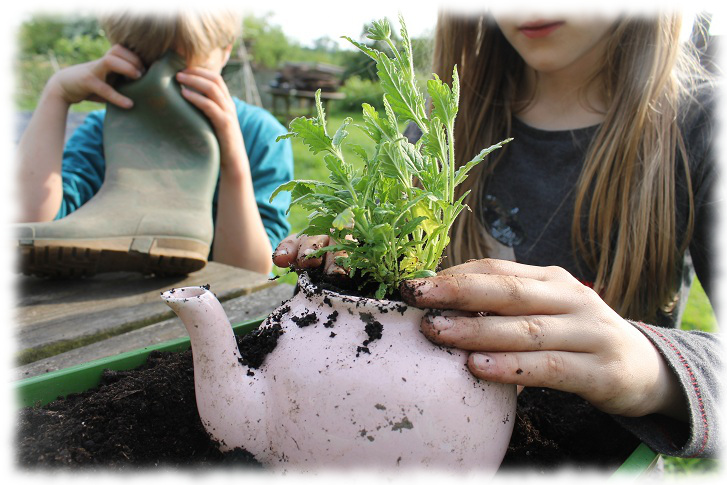 I brought out an old teapot from my rustic potting shed. (Second brood of robin chicks are doing well. Very cute with their fluffy black heads. Sometimes they open their mouths, hearing me and thinking a parent has returned)
BL added a stone to block the teapot spout. Just big enough to allow a trickle of water out and not leave it water logged.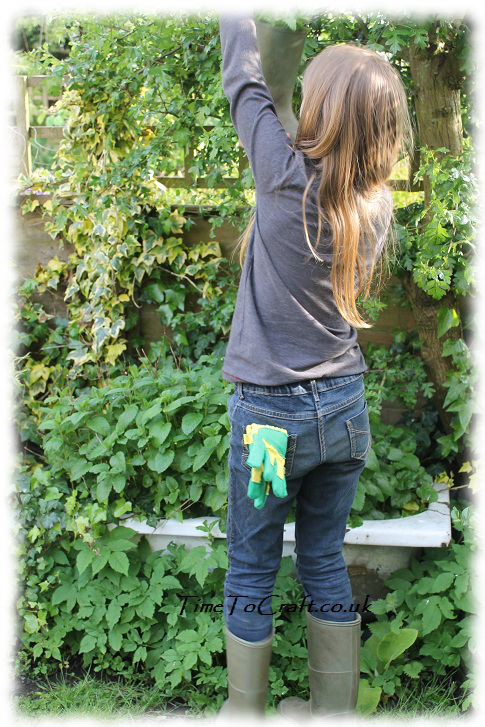 Then my keen gardener, hung the wellies and the teapot up in our hawthorn tree.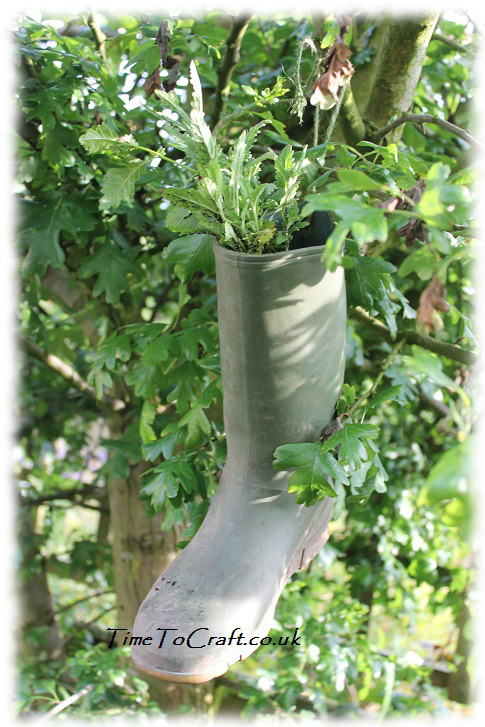 Reminded me of a Christmas stocking, being hung up.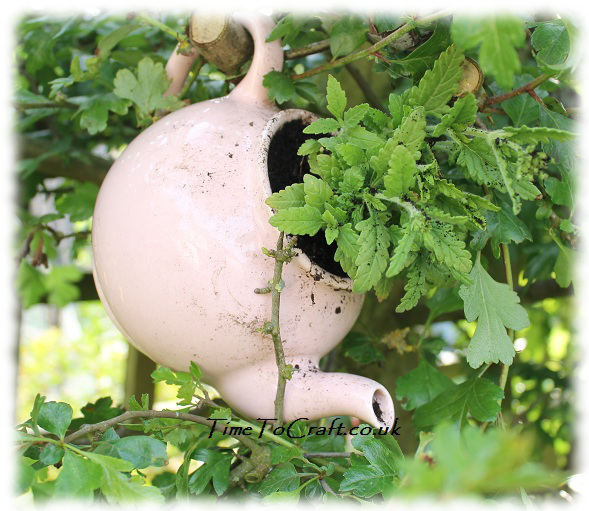 It should do well there. If we've got it right, this verbena is a trailing variety. This corner needs a bit of colour.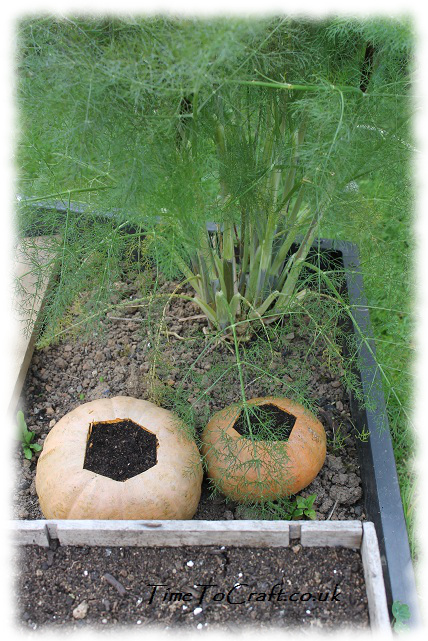 The squashes are now on a raised bed, next to my very much loved fennel plant. Good luck, little squashes.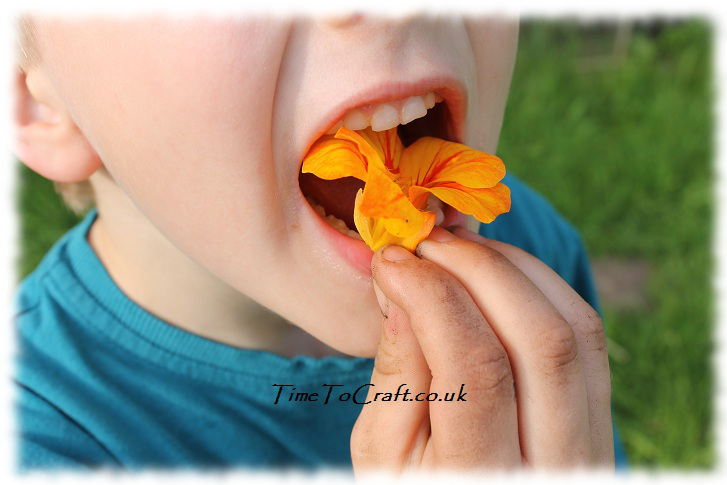 This little chap cannot resist asking me for a nasturtium flower every time he finds me in the greenhouse. They all love the peppery taste. Some flowers even make it into our salads.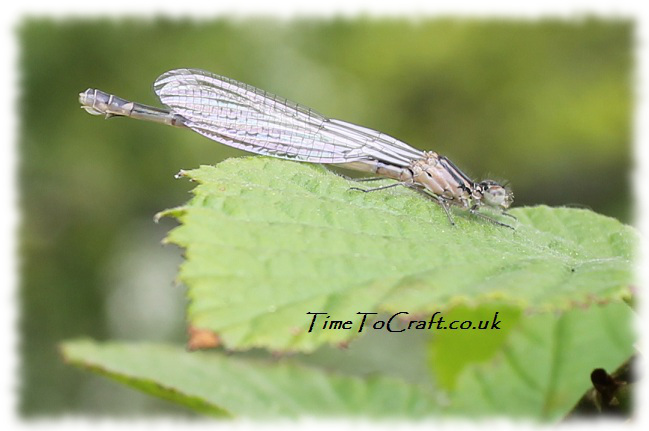 Also in the garden, we found a damsel fly. Dragonflies will be along soon. *happy dance* On our walk home from school we found a cardinal beetle, a big fat larvae and a yellowish fly. BL and TF were so excited about their finds. Be still my beating heart. Mini entomologists in the making. Photos were taken, to help us identify them.
The children enjoyed using unusual containers to plant. I must keep my eye out for some more. Have you had success using a novel recycled container? I'd love to know.
Joining up with the inspirational Fiona over at Coombe Mill. Along with all the other fun #CountryKids.
Joining in with the inventive, frugal community over at #ThriftyThursday on #ThriftyThursday ColdTeaAndSmellyNappies. *waves*
Photos
There have been cases when people lifted my photos and words, and used them without credit to me or asking permission first. Using them for their own commercial gain. I have now added a level of security to deter people from doing this. Apologies to people who do play nicely. If you would like to use any of my photos, please contact me.
Copyright notice:
All my words and photos are copyrighted to me. They cannot be used for commercial benefit by anyone else. If you would like to use any of them, then please ask me first and don't just take. Written permission only. Don't pass my words, photos or ideas off as your own. It's not nice.
Cookie Policy
Our web pages do not use cookies however this website uses Google Analytics, a web analytics service provided by Google, Inc. Google Analytics uses cookies to help us analyse how people use our site. The use of cookies by Google Analytics is subject to change.