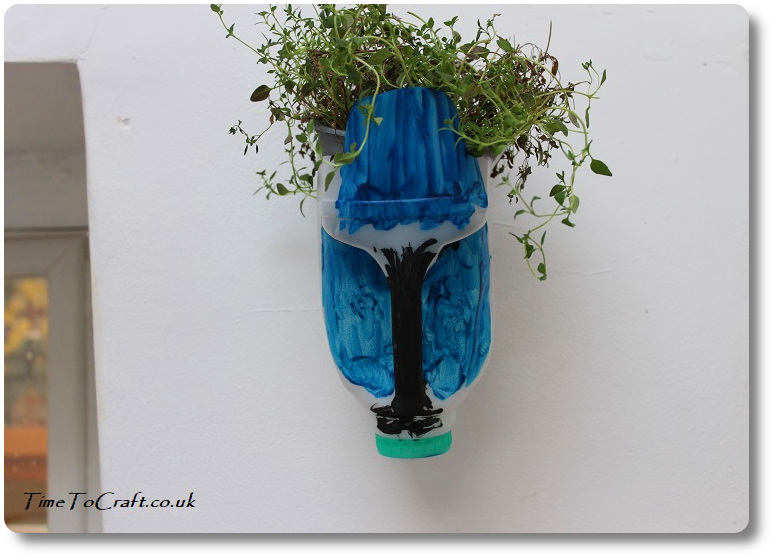 As the children grow older, I'm finding it tougher to find craft projects that they want to join in on. I'm sure I'm not alone. I'm always on the look out for enticing, new craft projects that will tempt them away from screen time, in particular. They also begin to suffer from the "what if it is not perfect" syndrome. I still believe that, as teens and tweens, they need the hands-on creative time. Just as much as younger children do. Projects that have no right or wrong way of doing them.
When I was contacted by Penguin Random House about a new book called Quick Crafts, my ears definitely pricked up. A book that encourages  the "just have a go" approach and the joy of creating rather than expecting perfection. The cherry on the top was that the craft projects are designed to be played with after they are made. Make your own toys, in other words. I feel the author Emma Scott-Child and I would be best friends. She has the same approach to creativity as I do, judging by this book.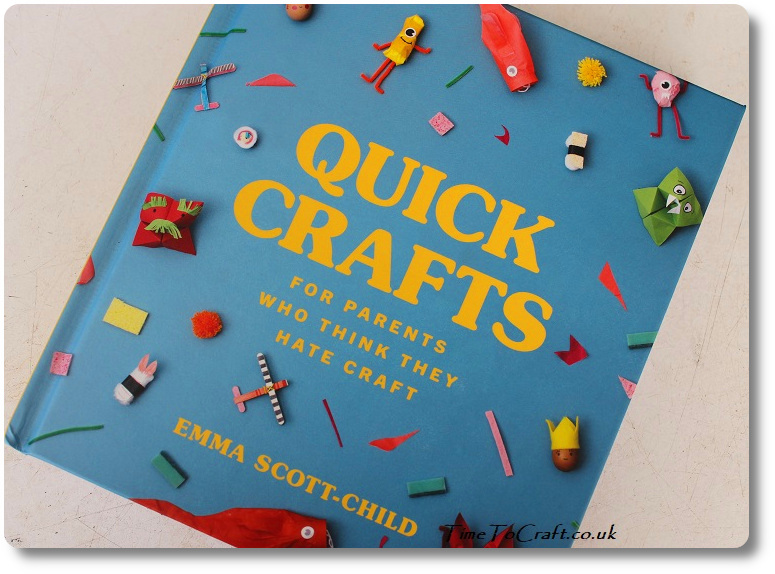 For those of you who are not so keen on crafting, then this book is aimed at you. Maybe children who prefer not to get overly sticky hands (and hair!) This book needs no special crafting materials or skills. Quick projects using stuff you have around the house. Mostly the items that are destined for the recycling bin. What is not to like?
The craft projects are ones that tweens and younger should have no problem doing, although there are so many good ideas that I can imagine older siblings muscling in on the action, and adding their own creative twist.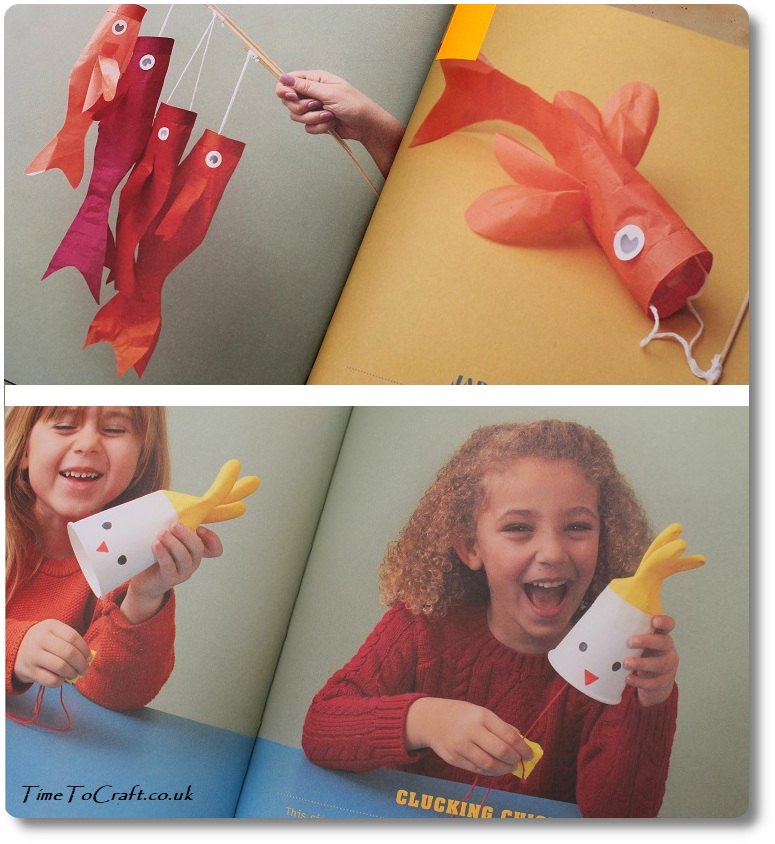 I do think this book is chocka block full of good ideas. I went through my copy, marking lots of projects with orange stick-it notes. Nice twists like the rattle snake, that rattles, and the stink thief which we will definitely be making for their stinky sports trainers over the holidays.
To start with, we chose one project.
I love the idea of recycling a milk carton. I literally had to rummage through our recycling bin. We don't have many of these now. The project called for permanent pen, but we used acrylics paints instead.
I set the materials up outside on the table. Less mess to clear up and lots of fresh air, to boot. The project is a milk bottle baboon. It is a plant holder and uses a grassy plant as the hair. We went for a thyme plant instead, as I had one. Any trailing, bushy plant would work.
The photos in the book made me think of the Pitt Rivers museum in Oxford.  A very theatrical look to them.
Youngest enjoyed making his baboon. We chatted away as he made it. It didn't take him long. A quick craft project that is hung up on the wall now and doing a grand job of holding our herb plant. Most importantly, it reminded him of his creative side and the fun of making something.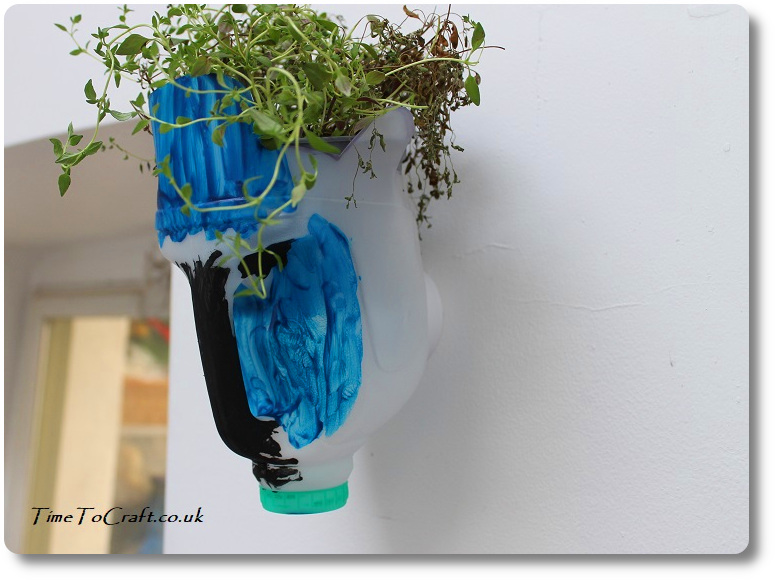 I already have ambitions to add more and make a baboon herb garden, hanging by the kitchen door. Can you imagine? A whole troop. It would be cool.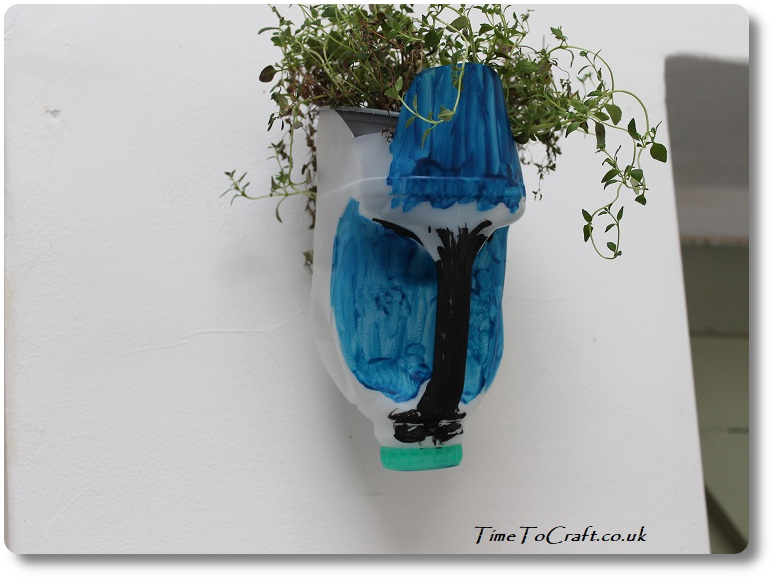 Quick Crafts is out in August. I know I'll be dipping into my copy over the summer holidays, for inexpensive, fun projects to fill the odd half an hour. Recycling as we go.
---
Quick Crafts is out on 8th August. RRP £12.99. Hardback. It has 40 projects, that require no messy painting (unless you want to), no sewing, no special equipment and no glitter.
Disclaimer: I was sent a review copy of Quick Crafts. All views are honest and my own. This post contains an affiliate link, which may generate a payment to me, at no extra cost for you.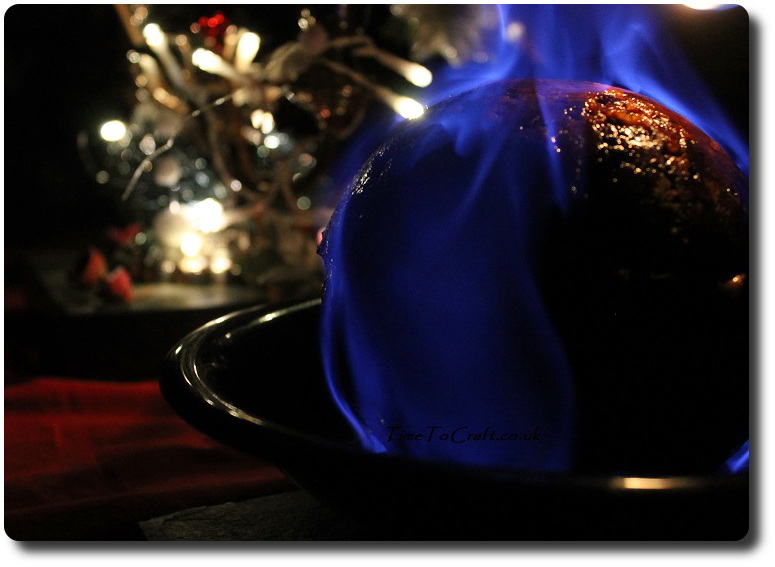 I have to admit that when one of my children announced, at the table last night, that it was five weeks until Christmas, it caught me out. Really? Woah. That was quick. What happened to November? Oh hang on, it is November, isn't it? Yes, five weeks.
She was excited. Too right. The thought of no school. Days filled with festive spirit. Presents. Yummy treats. What's not to like? For a moment, I was swept up in her excitement. I briefly caught the magic. I could almost smell the orange and cloves in the warm air. I caught wisps of music and laughter. Hints of the sparkly lights and tinsel. I remembered. I felt it again. It is such a lovely time of the year.
Then reality eased it's ample self into a seat beside me. Sigh. I know. Five weeks. Time to buckle up and make this magic happen. That's my role. Quite frankly, it's not always easy.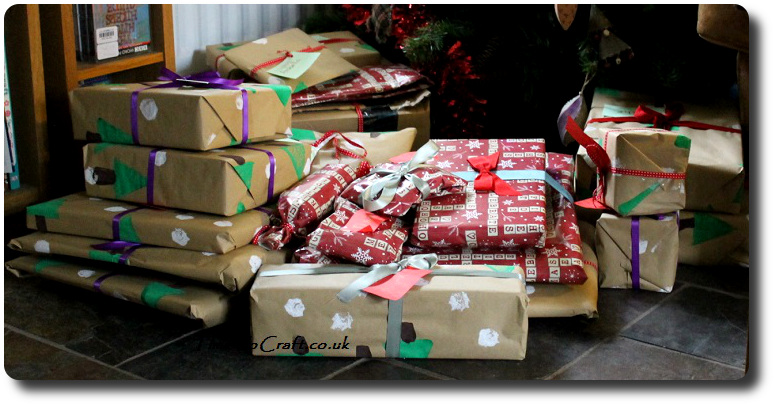 One of my aims this year is to simplify the holidays. Festive without the stress. More time with the family. Less time juggling. A different type of indulge, but no less magical. I guess it helps that as my children grow from small children to teenagers (16, 14 and 11 years old), their expectations have changed. No longer hoping for a conveyor belt of presents to entertain them, but appreciating the thought that went into choosing the gift that shows we know them.
One area I really want to simplify is the gift giving. I love the idea of giving five gifts each to the children: something to read, something to wear, something to do, something to eat and something you need. Then…stop. None of those just-because gifts that creep in as the days run out. I'd like to be done and dusted by the end of November, so I can enjoy the festive spirit in December too.
So the list begins.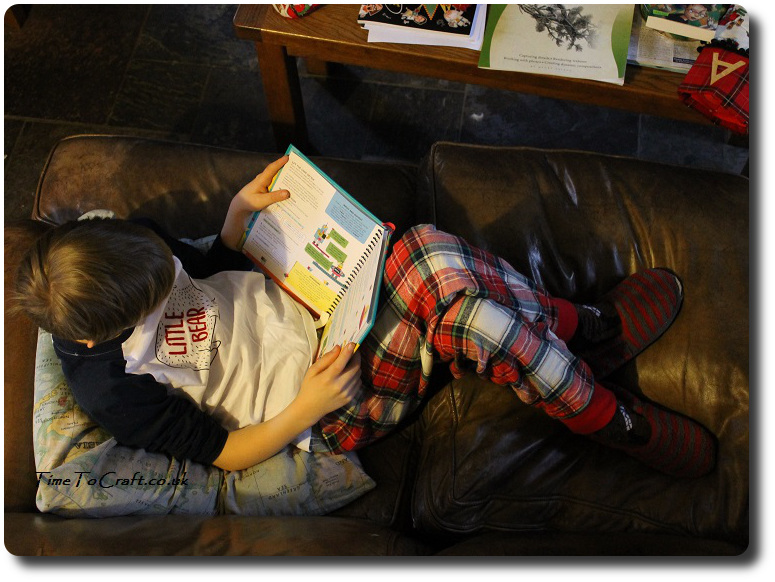 (Christmas Eve 2017)
Now, we have a tradition that everyone receives a book on Christmas Eve. An activity book or short stories, with facts, that will stimulate and entertain at the same time. Something to dive into on Christmas Eve or during those slower moments over the festive season and beyond. A pick-up and put-down type of book, where sections are read out and shared.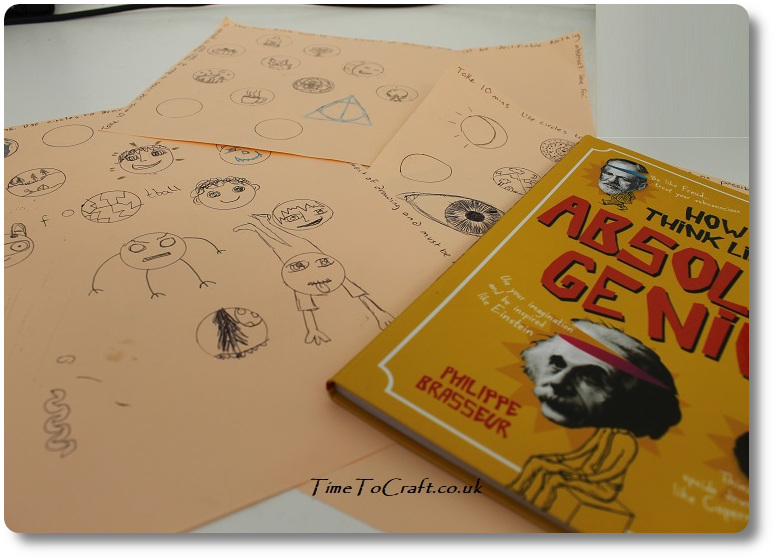 I've started my search for this year's books. As luck would have it, I was sent a book recently that fits the bill perfectly.  How to think like an Absolute Genius. (affiliated link) Over the weekend, we tried out some of the exercises and shared fun facts.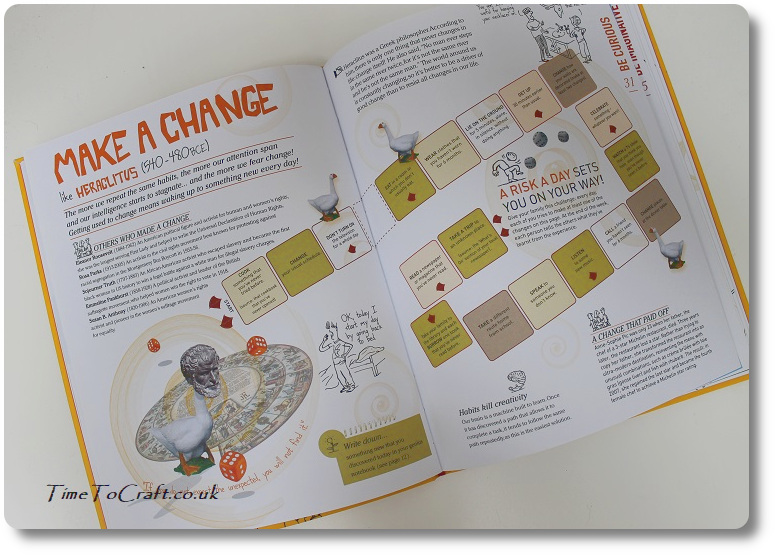 Format is perfect. All three children love reading the snippets of facts and giggling at the cartoons. Me too. I freely admit, I do enjoy a book, aimed at children, which I find packed with easy to digest facts that interest me too.
I love the exercises in this one. They are different to ones I've found before. If you like out of the box thinking, then this is the book for you. I mean, your children. Although, I do think this book will be a success in our house as I want to join in too. As a parent, I can bring a book or toy to life that might otherwise be overlooked. This only happens if it appeals to me, as well as the younger members of the family.
Creativity and a different way of thinking, is a good way to start the day. Any day. For all of us.
We tried Ellis Paul Torrance's creativity test. Ten minutes to draw anything, so long as the main component was the circle. It was interesting to see that they all came out with different approaches.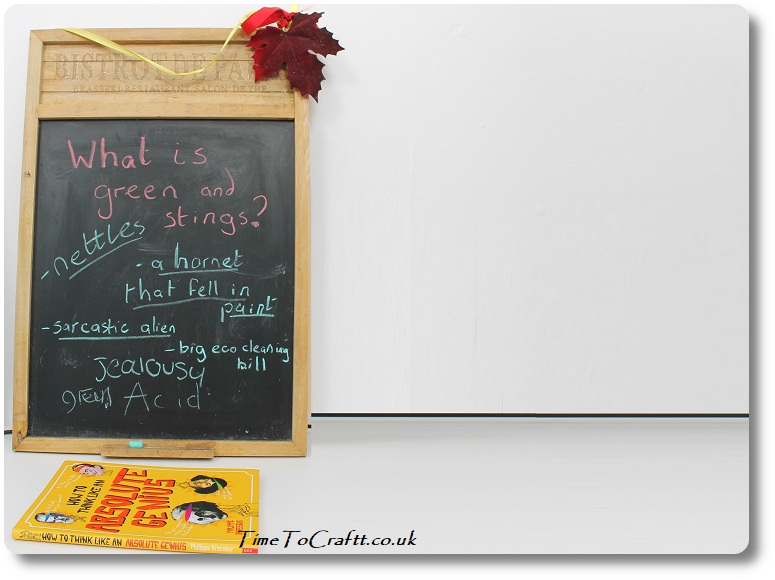 I also posted up a serious of questions on paper and chalk boards, for them to provide multiple answers. We did this together for a couple of questions, so that they got the idea. I wrote down everything they suggested. No wrong answers. Although there was one amusing moment when I misheard Gucci socks as goat cheese socks (What is expensive and smells very bad?), and didn't realise until the end. (Maybe you had to be there.)
Reality shuffles slightly in its chair. Almost imperceivable, muffled cough. Just five weeks. I hear you.
My search continues for our Christmas Eve books, for this year. This one is sitting on our coffee table and filling in a few moments before the festive period swings into full force. I'll take it along when we visit family and friends over the holidays, with a pad of paper. I'm pretty sure the grandparents will join in too.
Disclaimer: I was gifted a copy of "How to think like an Absolute Genius" from the publisher in exchange for an honest review. I always give my true opinion of the product in reviews.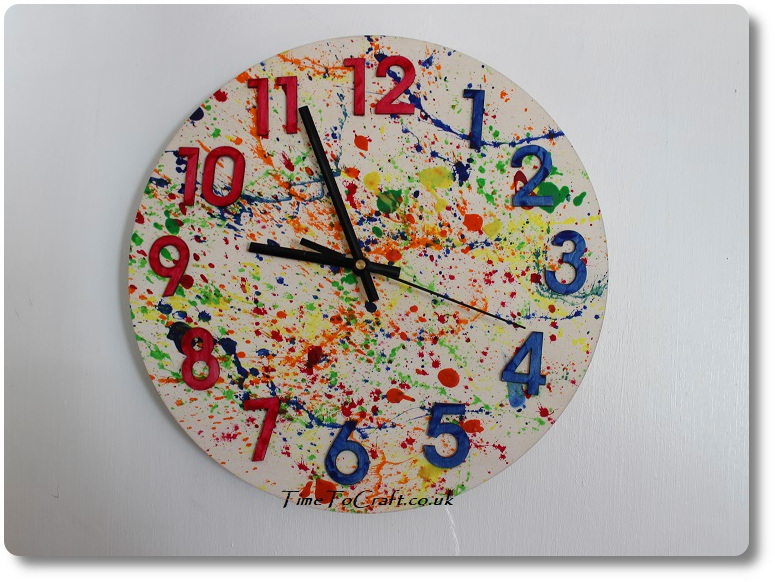 "Comparison is the thief of joy"
If you have a table of children crafting side by side, one of two things is likely to happen. Either they will inspire each other or it falls to bits, with one child slipping from their chair and declaring they "can't do it".
Cue crumpled up paper falling to floor.
It can all change in a split second. One moment they are chattering. Encouraging each other. Next pencils are downed. A glance at the work next to them, may be all it takes. The power of comparison is tangible.
Not an unfamiliar event for the youngest of the family. Sigh.
Being a youngest child, I can empathise with my last born. Somehow you forget that older siblings have several years more practise. Even then, everyone's journey is different. The older ones probably chose and lead the project. With less years under your belt, you also probably don't fully appreciate that we are all individuals and have our own style.
It can be tough.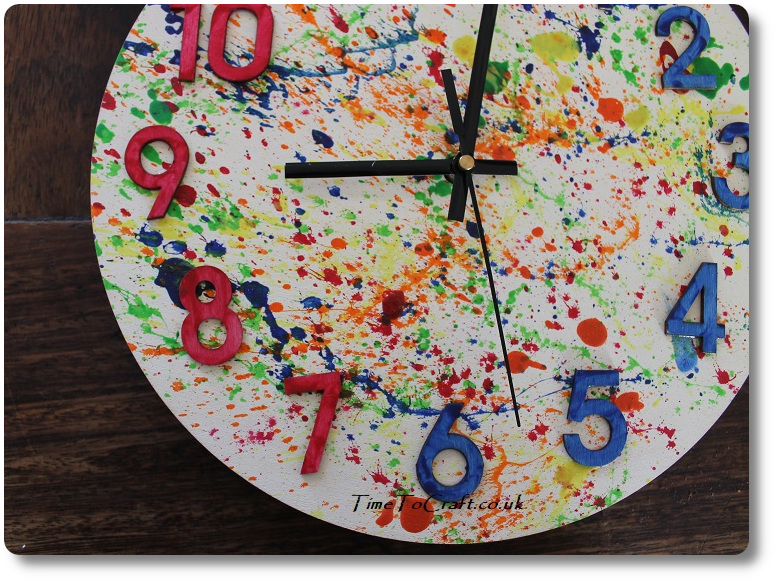 This summer, I've set up a few art and craft projects that give him a chance to succeed. No right or wrong. No comparisons. Working on his own style.
He's had the clock movement for a couple of years, but couldn't settle on a clock face. We found a basic wooden one in Hobby Craft. He loves street art and comic style. I suggested keeping it simple would keep it on the wall for longer. He pointed out that he could always change it later. I like his way of thinking.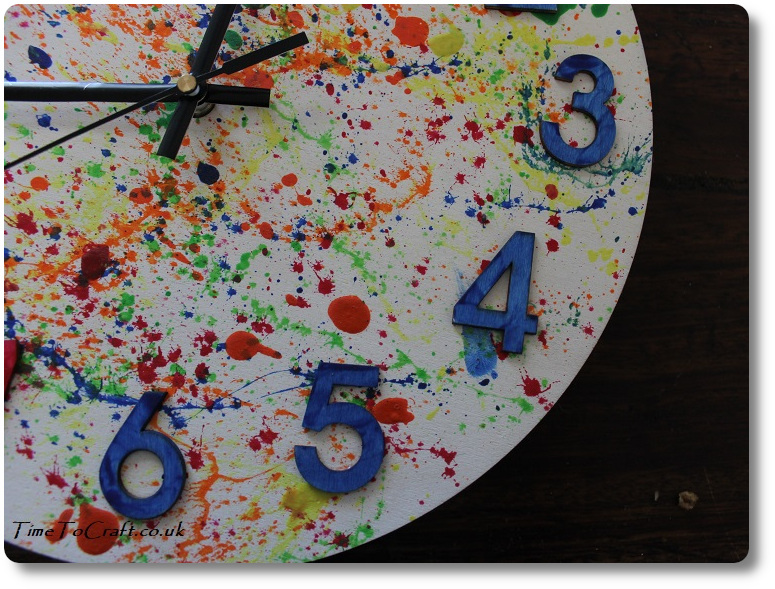 So he went for splatter paint. Boy, did he have fun. Our front path was speckled with colourful paints for days after he finished.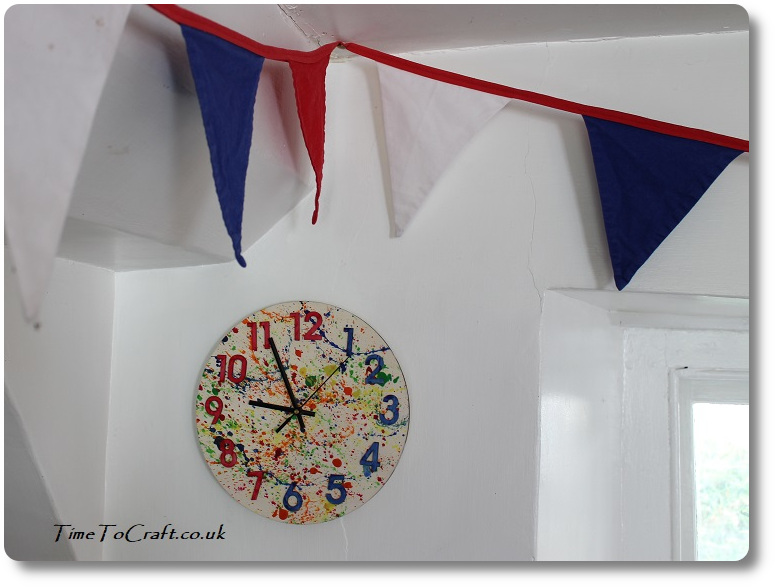 Is he happy with the results? You bet he is. He did his own thing and succeeded. His clock will hang on his bedroom wall for all to admire, and the ticks of the second hand will be a constant reminder to be himself.
Am I happy? Yes. The project was finished. That on its own is a major success. He's pleased to display it too. Not a crumpled paper moment. My heart sings. For one moment at least, I'm riding the parenting wave.
(Cue Beach Boy sound track, and sunset)
Photos
There have been cases when people lifted my photos and words, and used them without credit to me or asking permission first. Using them for their own commercial gain. I have now added a level of security to deter people from doing this. Apologies to people who do play nicely. If you would like to use any of my photos, please contact me.
Copyright notice:
All my words and photos are copyrighted to me. They cannot be used for commercial benefit by anyone else. If you would like to use any of them, then please ask me first and don't just take. Written permission only. Don't pass my words, photos or ideas off as your own. It's not nice.
Cookie Policy
Our web pages do not use cookies however this website uses Google Analytics, a web analytics service provided by Google, Inc. Google Analytics uses cookies to help us analyse how people use our site. The use of cookies by Google Analytics is subject to change.