Yarn Along : Knitting and Weeding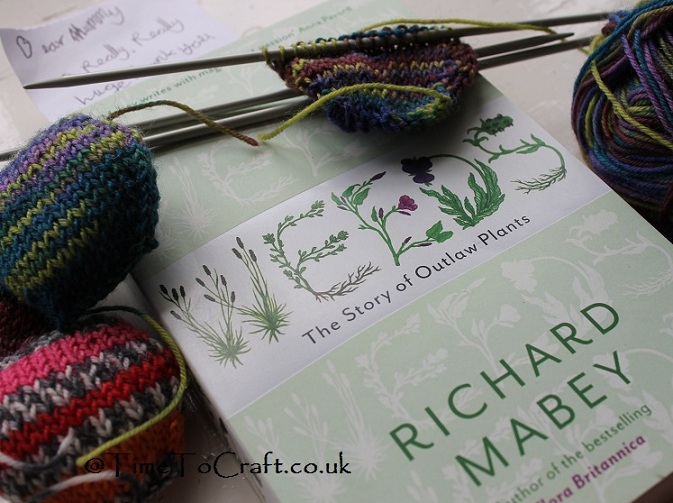 I am celebrating. This post marks the half way point of my hexi puffs project. That's half way through my Beekeeper Quilt. The knitting part at least. I am conveniently not counting the time it will take to sew all the hexi puffs together.
It wasn't till I tipped out the bag to photograph the hexis and then count them back in again, that I realised I was over half way through. Somehow four little puffs had not been added to the tally.
So half way through the project and  I've stuck to most of the rules that I set myself:
A hexi puff a day – some days I've knitted three and other days none, but I'm still ahead on this rule
Recycle and reuse – hmm, that one has pretty much gone by the wayside. I started off well and still buy in bulk.
High % pure wool – still keeping to this one.
Variegated wool – still keeping to this one too.
Here's to the next half.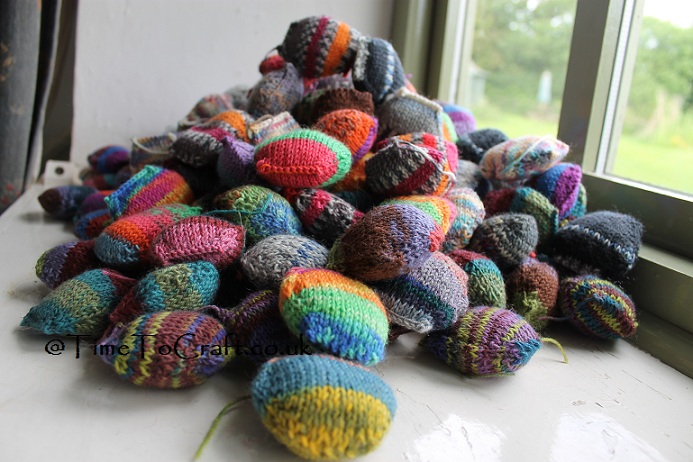 I'm joining in with Ginny's Yarn Along today, which gives me a chance to include my current book Weeds. A strange choice, perhaps, for someone who is still clearing areas of the garden to plant out her sweetcorn and other seedlings which are desperate to leave the confines of their pots. At the same time, we are developing our meadow areas again, so I am finding the book fascinating.
I have a fresh respect for weeds. They are determined little plants which have evolved to survive. Some can lie dormant for years and still germinate. The book describes one quarry site where the top soil was stored for 50 years with the idea of reinstating it one day, once the quarry had been filled in again. The soil was pre weed killer and they hoped would contain some viable seeds. The quarry was turned into a nature reserve and the top soil added to one part of it.
"The following spring the field burst unto bloom, with an explosion of weeds that had not been seen in the area for decades. Blue cornflowers, purple corncockle, yellow corn buttercup. The long, comb-like seed pods of shepherd's -needle. The purple and yellow pagodas of field  cow-wheat."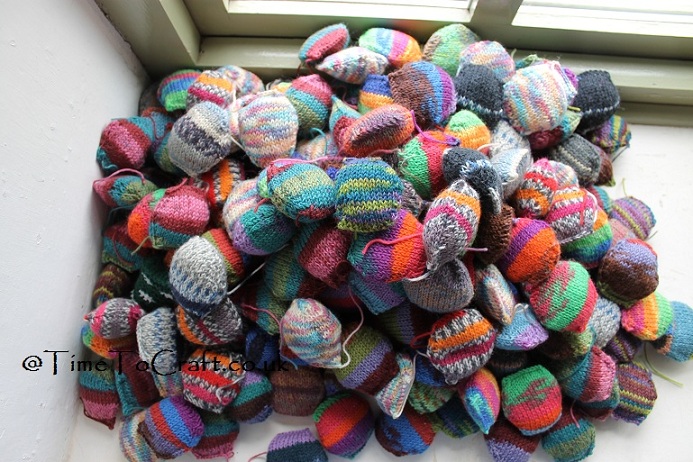 I've only read two chapters so far, but already I find myself rooting for the weeds (pun unintended – although I can't help looking at the hexis and thinking about the 1000 seeds held in each poppy head and fifty heads per plant….). This may not be entirely good. I have about fifty teasels to pull out before the pumpkins and squash can be planted out, so I'm hoping not to read anything in the meantime to change my purpose.
I love a good read that makes me think and maybe see something from a different angle. What are you reading and knitting, at the moment?