The beginning of the thread
This is the start of the sewing story, which should have preceded the middle and, well I guess, this middle, too. The story really starts on a cold night when I realised that I needed, to put it bluntly, to upgrade my nightwear.  As I looked through my motley and eclectic collection of sleep wear, it occurred to me that if I ever had to stay unexpectantly in hospital, I would have to ask my husband to stop at the shops before visiting me and pick me up a couple of night time outfits. And hope his good taste held out.
It's funny how an idea takes hold. When talking about my latest dressmaking project, not one person I talked to, declared themselves sorted in this part of their wardrobe. (One person also said that they didn't know who they'd ask to stop at the shops for them.)
Probably if I had friends expecting babies, they would be prepared. And that is the crux. I've only added one nightie to my collection since my last baby was born, while the children have grown out of numerous pairs of pyjamas and nighties. Why had it not occurred to me before?
It's my turn.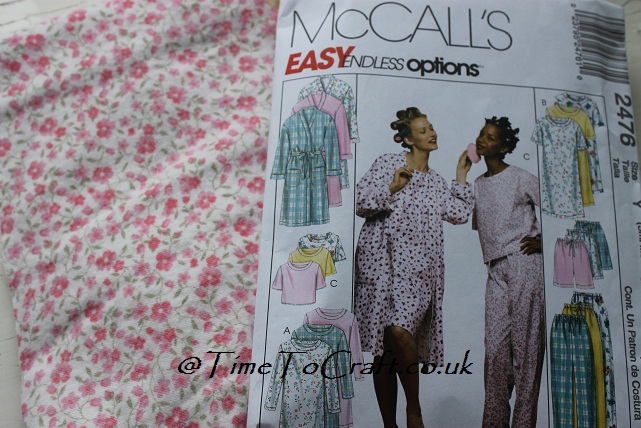 I needed a simple pattern that could be done quickly and make more than one.  Nothing worse than getting bogged down with a complex sewing project, when a second lot of fabric is still waiting to be cut out. A nightgown in brushed cotton seemed to tick all the boxes.
I selected McCall 2476, which gives an easy nightgown pattern, plus pyjama tops and trousers. Even a dressing gown, if I have time. It's a pull on, with no fastenings, making it an easy pattern. I love that the sleeves need no gathers, making them straight forward and quick to attach. It is a pull-on with no fastenings and it is not fitted, so the construction is really easy. The down side of this is that the nightgown is big and roomy. (Now you see why I've not included any photos of me wearing it!) Where it lacks in flattering your shape, it makes up for in comfort.
I'm a stickler for neatening all the seams using flat or french seams. I don't like the raw edges tickling. It takes a bit more time, but the first basic nightie was probably all together within a few hours.
One down, one to go and it feels like complete luxury to wear. I'm sure I'm getting a better night's sleep as well. I've already picked out fabric for the next nightgown.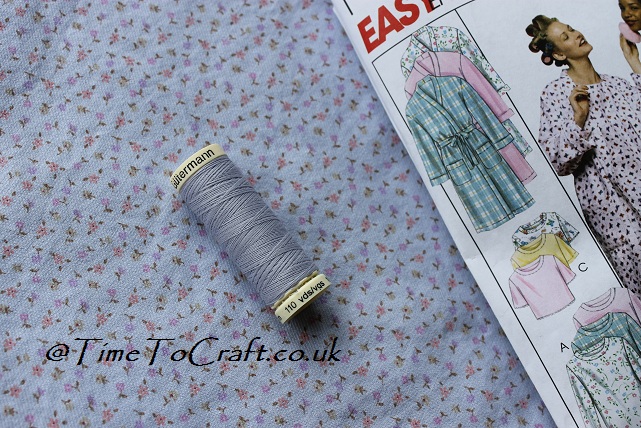 In the meantime, the two girls have made their own versions (here and here) and, not to be left out, I made TF a pair of dinosaur pyjamas.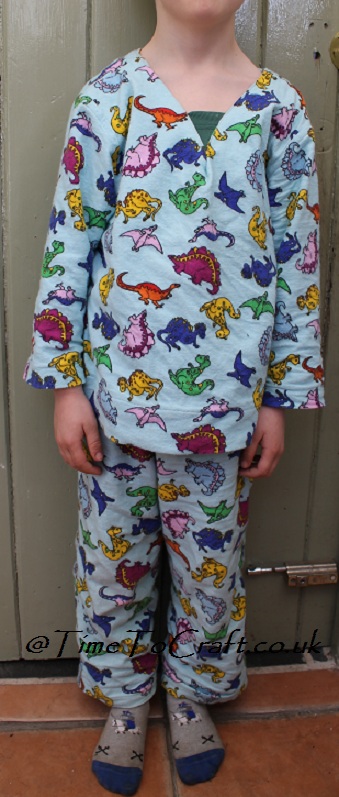 I used the same pattern for TF as the girls had used. I sized it down as the smallest size is age 7, but I forgot the neckline. With a little bit of higgedy- ziggedy, I pulled the neckline in with some green jersey fabric (cleverly recycled from outgoing pyjamas). It fits and he loves them. He did find it highly suspicious that I was requesting him to change into pyjamas during the day. Shoulders dropped.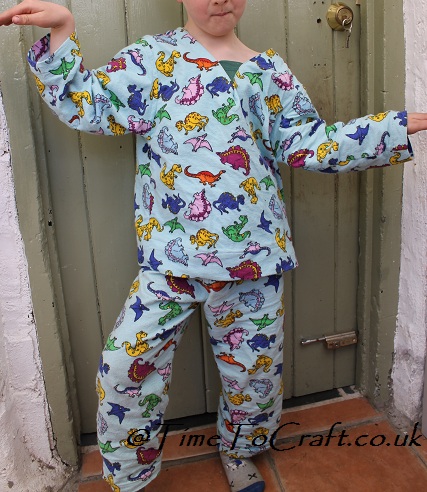 Until the camera appeared. Time to ham it up.
So there you are. The beginning and the end of the sewing story. With the middle elsewhere!