I am fascinated by bugs and I love knitting, so it was only going to be a matter of time before the two came together. Back when I knitted my patchwork blanket, I knew that I wanted to use the mini-beast pattern again. Last week, I exchanged emails with Vicky, a lovely lady who was trying to decipher my knitting notes. (All sorted now)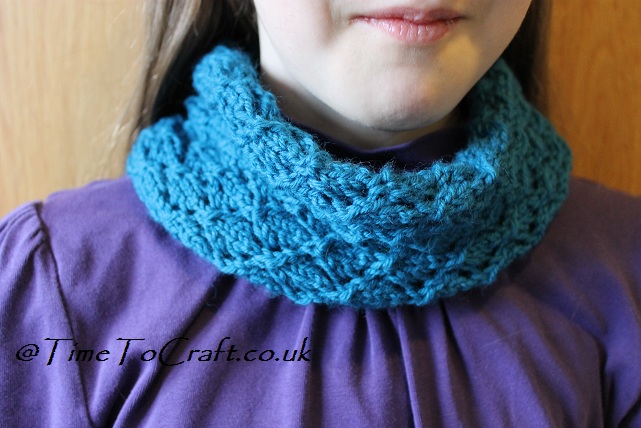 It's so long since I knitted the original square that I couldn't advise on the pattern without refreshing my memory. Knitting needles to the ready. I used the left over yarn from the blanket's border to make a sample. Then I just carried on, until there was no more wool left. Fortunately, it was enough for a cowl to keep my neck warm.
The stitches needed my undivided attention. Not a project to take to a knit and natter. It took until I had completed three-quarters of the cowl, before I had memorized the stitches.
The colour is more dark turquoise and maybe, if I had known it was going to be a cowl, I might have knitted the wee beetles running up, rather than around, but I'm probably the only one who will notice. Except if I bump into one of you readers. Be kind, please.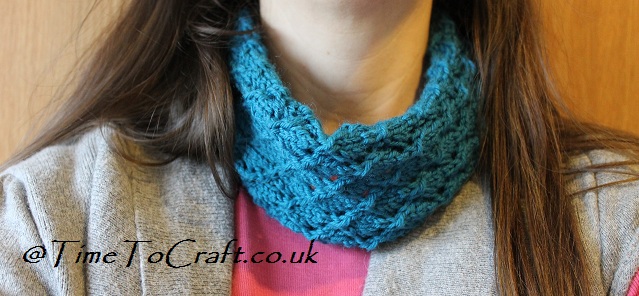 AJ kindly modelled the first two photos. I tried my hand at a self-portrait. Probably not a good idea. I'll stick with a willing model and save you all from the sight of my wind-swept hair.
I do love this pattern and I love, love wearing a cowl. I'm really tempted to knit another, in a different colour, but first I need to catch up with the hexi-puffs.
{Entomology – the study of insects}
Linking up with Frontier Dreams: KCCO