A quick festive hair slide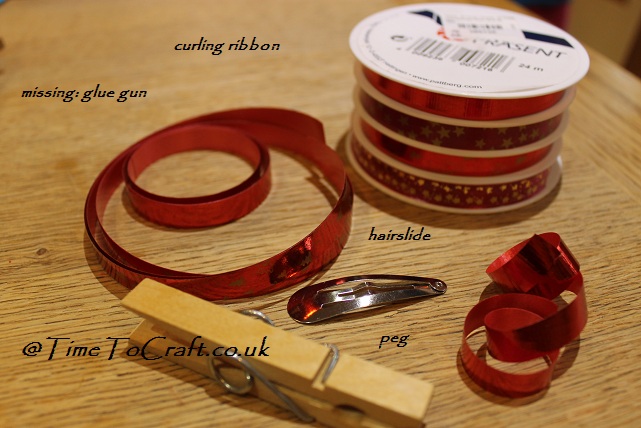 When Totally Tutorials posted up that their latest Tutorial Exchange was ribbons, how could I resist. I LOVE RIBBONS! So many ideas went through my mind, as I turned the reel of ribbons over in my hands. It took a very wet and dark day to finally make my mind up. A riot of curls on a hairslide to brighten up a winter day. (I know it's still Autumn, but I'm thinking ahead) This is so simple that the children can join in too.
You need:
8 strips of curling ribbon cut to about 30cm (12″)
plain hairslide
glue gun
pegs
Step 1: fold all the ribbon strips in half to form a crease in the middle.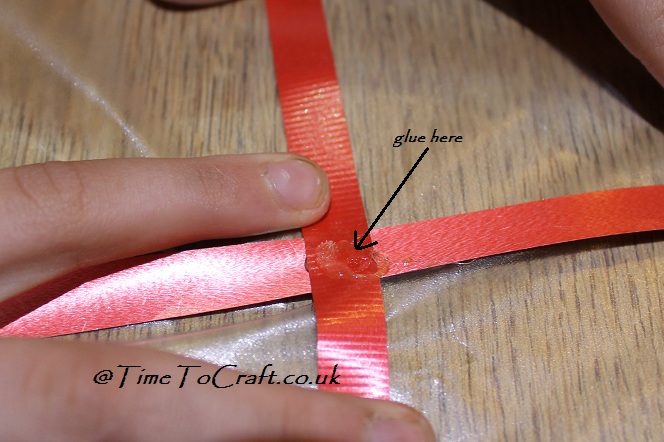 Step 2: Dab a small blob of glue on the crease of the first ribbon. I glued on the non-glossy side on the ribbon. Place the middle of the next ribbon on top of the first ribbon, to make a cross. Another blob of glue and put the middle of the next ribbon on top, so that only the middles overlap. Continue until all the ribbons are stuck together. (The ends of the ribbons will try to curl around, so I used pegs to keep them out of the glue area, as I worked.)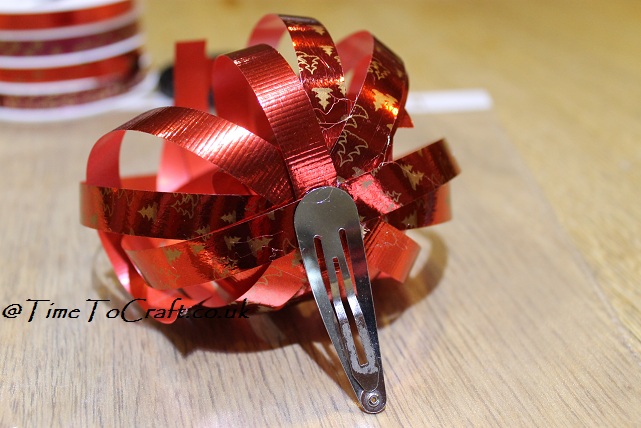 Step 3: Turn over the pile of ribbons and dab a blob of glue at the bottom and on the top of the  slide. (Double check that the slide is the right way round.) Press the slide and the ribbons together.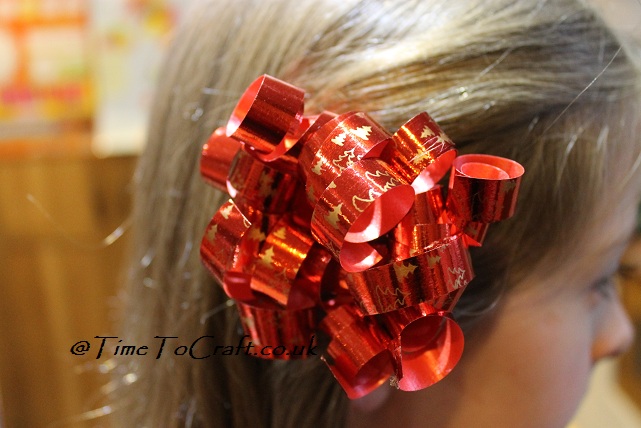 Step 4: Use scissors to curl the ribbons by pulling each of them firmly and carefully over the cutting edge.
Step 5: Pin the slide in your hair, or the nearest daughter walking passed in my case.
I think this would look great on an Alice band or as a brooch. A very quick way to add a bit of festive fun. Thank you Totally Tutorials for letting me join in and Abakhan for sending the reel of ribbons to me. It brightened today up a treat.