A few years ago, I bought AJ a lovely soft jumper which she adored. It was 70% lambswool and 20% Angora. She wore it everywhere and refused to be parted from it, even at night. After a few weeks, it needed a wash. I waited until she was at school and I pounced. Now the next part I can't remember how it happened, but I ended up putting her jumper in the normal wash. When I pulled it out of the machine,….well….my heart dropped. The jumper was totally felted and several sizes smaller. I tugged and pulled it in vain.
There was only one thing I could do……….I hid it. Unbelievably it worked, but I knew she would ask about her lovely jumper. So I rushed back to the shop only to find they had sold out. I'm not a pushy person, but I even got the poor shop assistant to check the stock in other shops. No luck.
Next stop, ebay. Found the same jumper, but a size smaller. Feeling a little desperate I bought her another soft jumper in her favourite colour. Guilt has a funny effect on me. I had to keep looking. Eventually I found the same jumper two sizes bigger and I started bidding. By this stage, my husband was beginning to despair, especially as my daughter had not even mentioned the jumper. But the guilt drove me and, fortunately, I won. Yeah! The jumper arrived and was put back in her drawer, some three months later.
There were no exclamations, no questions. She just put it on a few days later and wore it, without a single word of surprise. Phew! I had got away with it. I know madness, but I should add I was pregnant at the time.
I was now free to use the shrunken version. With great glee I wielded the scissors.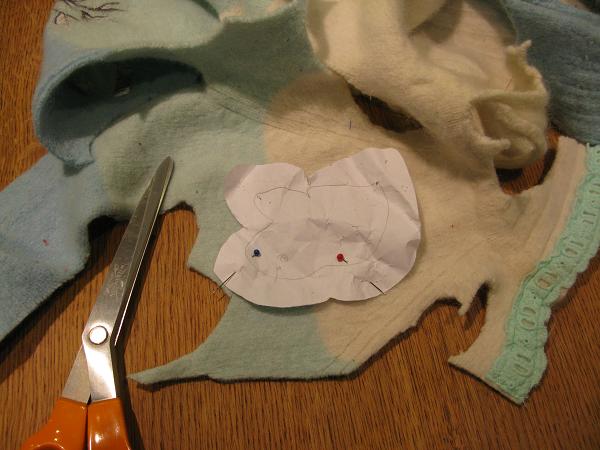 Since then, I have made three cute rabbits and I'm just about to start the fourth.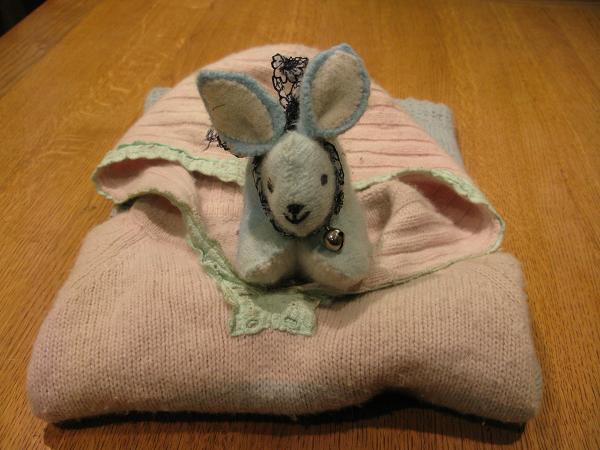 You can imagine that I am so careful not to let the same fate befall the second jumper, but if it does……