Nothing as nice as apple pie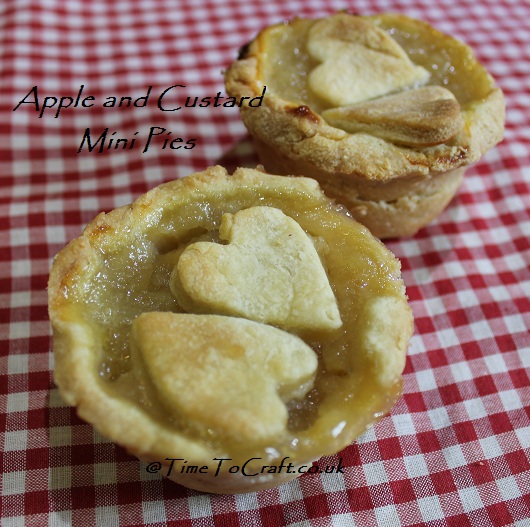 I have to admit that my baking and crafting mojo has been low, if not missing, for the last couple of months. I've made a couple of victoria sponge cakes and the odd batch of welsh cakes, but that is about it. There has been a bit of unproductive knitting. The sewing machine has been out once. Even my patchwork is sitting gathering dust, waiting for me to pick up some matching fabric. Ho hum.
Then last night I was cruising around Pinterest and one pin led to another, until I found Bakerella's pumpkin pies. Dutifully I pinned, thinking that I could use the bowls of pumpkin flesh that result from an afternoon carving pumpkins with the children. The sight of the little pastry cases reminded me of the mini apple pies I usually make each autumn. Hang on. It is autumn. I should be making them.
Apple pies are nice and we love them with custard or ice cream. These pies have traditionally gone into packed lunches for the children. Not easy to pack ice cream or custard, so I made an adaption. Just before I fill the pastry case with apple sauce, I add a generous dollop of custard. I've found canned custard works best. Then into the oven.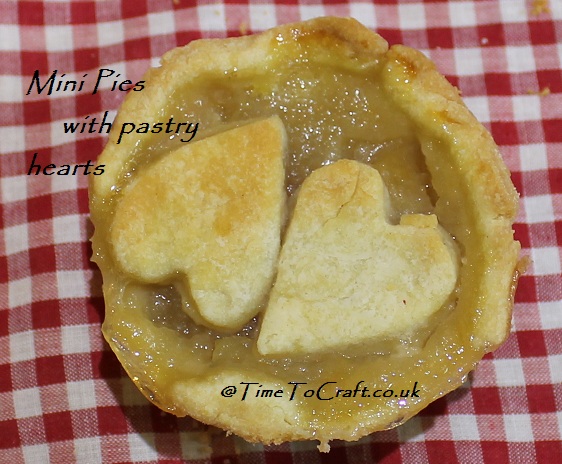 If I'm all out of custard, then the family soon communicate their disappointment. Yep, custard is popular.
I'm never going to win on appearance with these apple pies. The crit sheet would be too damning. Quite honestly, I cannot make enough of these pies to meet family demand, let alone spend time on the perfect crust.
This time, rather than leave the odd small ball of left-over pastry in the fridge, as I usually do (and end up throwing it away), I cut out hearts to go on top. I was greeted with lots of "ooh"s and smiles this morning. I guess the family doesn't mind my rough and ready pastry!

Thank you everyone who left such supportive comments about my last post. You guys rock! You helped me to see the bigger picture (pun intended). I have made so many wonderful connections with people through blogging, that I don't want to give that up. If I've never written it before, thank you for all your wonderful comments and the inspiration, and helpful suggestions that you share. I love, love reading them. Every single wonderful one.
Now, just need to find my sewing mojo. Maybe it's been sulking under my sewing machine all this time, along with the dust bunnnies. With apple pie in hand, I'm going hunt it down. Wish me luck.