Knitted bag and Happy Mother's day to you all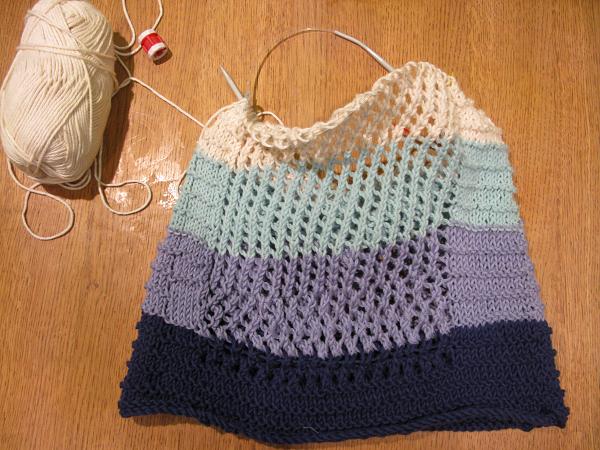 I have been procrastinating about my knitted bag this week. I went to the local craft shop and they had no orange or yellow cotton, which I needed if I wanted to continue my rainbow theme. I came home thinking that maybe I should dye my cream cotton with onion skins and that's when the procrastination set in. This morning I woke up and realised, I just didn't need yellow or orange. I needed to get on knitting my bag. It doesn't need to be a rainbow, as multi coloured is great. It does need to get knittted!
So I attached the cream and knitted. I can't believe I spent so much time thinking about the colour. In a strange way, I think I'm going to prefer the cream, after all! I am determined to finish the bag this week as photographing it on circular needles in challenging.
The children spent a lot of time in the garden today, while I continued to organize the craft supplies. They did call me out to see a ladybird that had been disturbed from hibernation. TF had it perched on the end of his finger. I wish I had grabbed my camera. Also spotted the first wasp.
The girls made me beautiful cards, at school, for Mother's Day. They made a point of saying so many wonderful things to me throughout the day, that I feel so spoilt. I also appreciate the effort that teachers put in to the organization of these cards each year. Thank you.