Yarn Along – Almost a knitted blanket
Its Wednesday, so time to share this week's reading and what's on the knitting needles.
To start, I have finished my cardigan, except for the buttons. Once the buttons are made and I can borrow a willing model, then I'll post up a photo. Also hoping for a bit of sun, to show the variation of the dark wool.
While I wait, I've picked up my knitted blanket project. I've started to knit the bands between the squares and sew the pieces together. It looks a bit straggly at the moment as I sew odd bits together, but I should have it finished by next week. It is coming together quite fast. Typical of me. I spend ages umming and ahhing, while the actual doing flies by. Its all in the planning or should I say procrastination.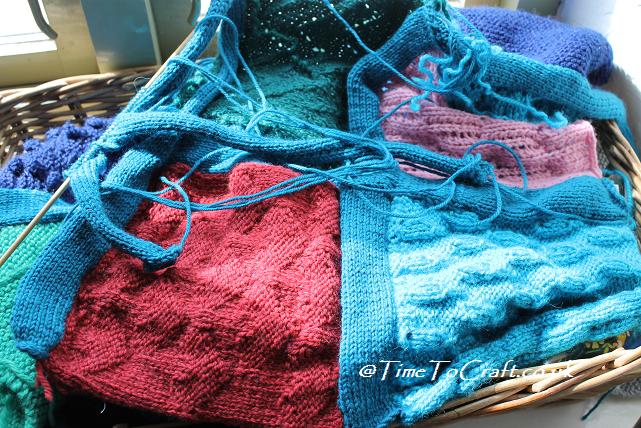 I have been knitting the bands, three at a time. Each band is only ten stitches wide. By having three bands and thirty stitches on my needles at the same time, it cuts down the knitting time taken as I'm not turning so often. It is a fairly mindless knit which is brilliant for doing while I help the children with homework or listening to them read. I'm far more patient if I'm knitting.
Moving on to books. I'm still reading The Hive. I will be for some time. The history of humans and bees is fascinating. Just been reading about how we used to have a theory that baby bees came from dead oxen. Partly arose as the flight of the queen bee had not been observed. We used to believe that it was a king bee who ruled the hive rather than a queen bee. It seems laughable now, but stories from history always make me wonder what we totally believe in now that will seem unbelievable in another 1000 years. Maybe even in a few centuries.
Now for the children's recommendations. Over the weekend, we were near Oxford, so popped into the Barefoot Books store. This is a real treat for the children, and we limited them to one book only. While the grown-ups drank coffee and tea, the children spent time choosing. AJ went for Stories from the Opera. She loves the pictures and the stories. It inspired some interesting play when we got home. Orchestrated by her and involving the other two. I love when a book inspires them. We've not taken her to an opera, but maybe this is the summer to do so.
BL chose the World Atlas, which she completely loves. She has been pouring over it at every opportunity. It ties up nicely with the work that they have been doing at school, connected to the Olympics this summer. TF fell for a book about Knights. He listens intently to the stories and points out details in the pictures. How my boy loves knights and their swords! I'm enjoying reading this to him. I love folk tales and each story told is from a different country.
Last night, just as I tucked him up in bed, he asked whether he could keep the book. So many of his reads recently have been from the library. When I told him that it was his, for as long as he wanted it, he hugged his new book to him.
If you are up for some more book and yarn chat, hop over to Ginny's for the Yarn along. I'll be over later, once the children are tucked up in bed.