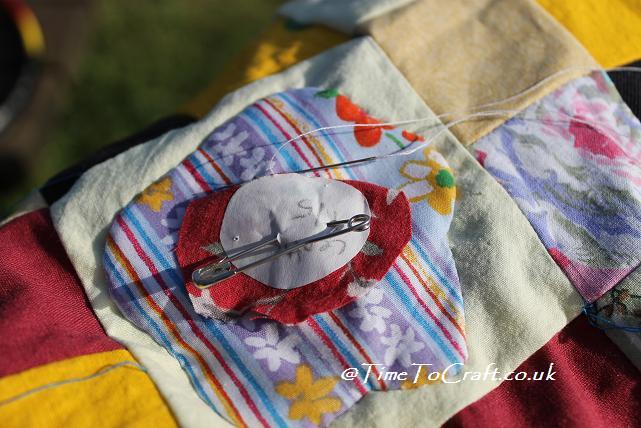 Time to shake the dust from a half finished patchwork quilt or use the fabric scraps put aside. Stitching bits of textile together, whether it involves quilting, patchwork or applique. Taking time to document my progress. Hoping to finish and not hide it away, half done. Would you like to join in?
My Hen patchwork is growing. Maybe not by the day, but it is growing. All the little squares are  in place and I'm now starting the applique. The weather was so lovely today that I sat outside while the children played. The pair of black caps were singing their little hearts out, just out of sight.
Its the first time that I've used freezer paper and I love it. Easy to do and mildly satisfying to rip the paper off afterwards. This patchwork is not going to be ready for Easter. Too many little pieces to applique. I'm enjoying the hand sewing a lot more than the machining.
Two inspirational quilts to share today.
Runner Ducks is sharing three of her quilts in the Flickr group. I love the colours and the pattern she has used in this one. This is the kind of patchwork that I would like to do eventually. Thank you Runner Ducks for joining in.
The next one is the fantastic Ang's recently rediscovered quilt. This was started by her Grandmother. I hope you don't mind me including your patchwork, Ang, but I am completely fascinated by it.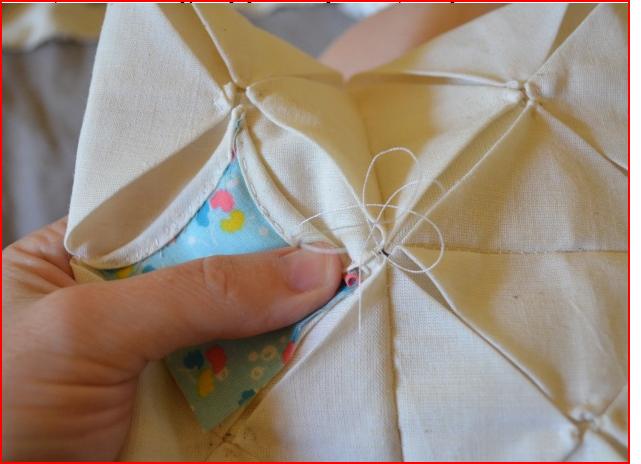 Go take a look at her blog post about it. There is a beautiful story behind this patchwork. I think that its the closest patchwork gets to being origami. I am adding this to my list of techniques I really want to try. I love it.
I need to get a move on with my quilt. I'm already day dreaming about the next one I want to make. Let me know if you would like to join in next time. I'd love to hear how you have dragged the half finished quilt out to finish it. Anyone beat the 22 years it took me to finish one?