Yarn Along – blanket knitting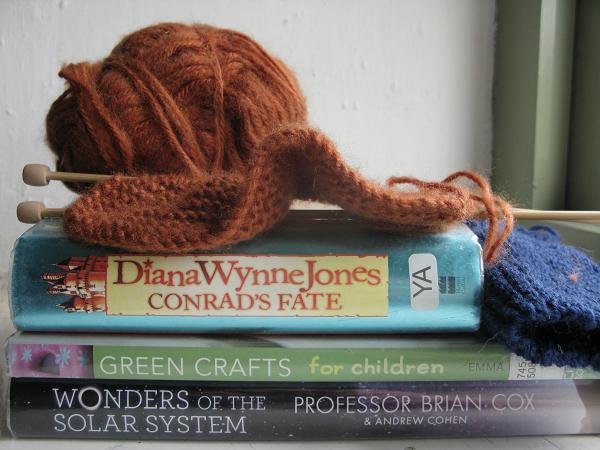 Ah Wednesday! Books and Yarn. It's that time again. Ginny's Yarn-Along.
I am reading another in the Diana Wynne Jones series, although I have to admit my copy of Hard Times has had less of my time. Something had to give, with all the patchworking I'm doing at the moment. AJ and I went to the library on Saturday and picked up our reserved books. While there we selected a few more books. I remember Green Crafts for children being publicized absolutely everywhere. We've spotted a few projects that were new to us and we would like to do.  I've seen a lot of the projects elsewhere, which is disappointing. Also picked up a copy of Brian Cox book. Fascinating and needs quiet time to read.
One more square finished for my knitted patchwork blanket and I'm onto the next. Umming and ahhing about how many squares I want to make. Weighing up potential coverage against washing practicalities. Maybe I should lay the squares out and see how it looks.
Just one photo today! Minimizing distractions after my crafty interlude yesterday, but I'll be heading over to the Yarn-Along later to catch up with what everyone else is reading and knitting. Special hello to all the fellow yarn alongers. I love reading your comments.