Yarn Along – Stripey socks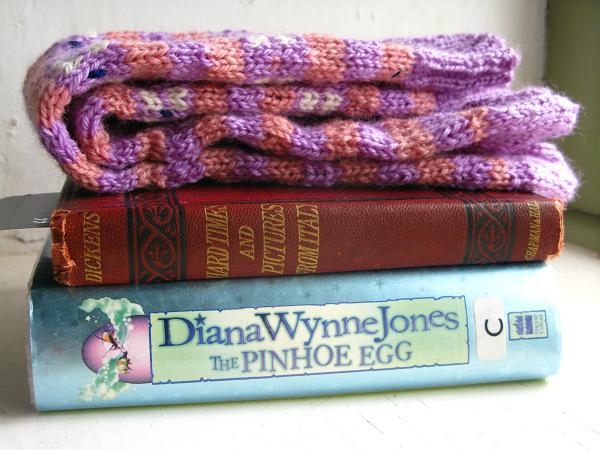 Books and knitting. Wednesday. It must be Ginny's Yarn-Along.
I've finished the socks for AJ. The 2 needle sock pattern (ravelry link) I use gives four different versions. I chose to do one of the versions that I have not knitted before. It turned out a slimmer sock, which is a wee bit snug to put on, but stays up nicely when on. I used odds and ends from my wool stash and I made the soles dark blue, for practical reasons. My dear daughter is not too keen on slippers and bottom of socks would soon look grubby if a light colour had been used! The blue should hide it a bit.
Also finished another square for my patchwork blanket, with another on my needles.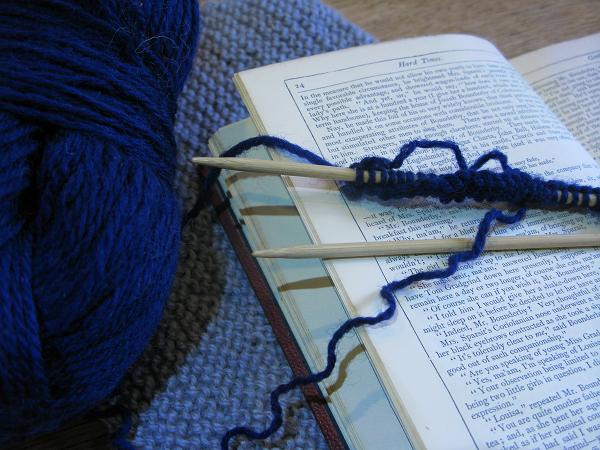 I've been busy reading this week, although you'd be forgiven for thinking that it all looks much the same as last week. I've read another Diana Wynne Jones book and several more chapters of Hard Times. Both thoroughly enjoyable, but so different. There are some phrases in Dickens that take me a second read to fully understand. We just don't talk like that anymore, but when I do fathom it out, the words paint such a vivid picture. Maybe its a shame we have lost some of these turns of phrases. In contrast, I could read and read Wynne Jones until the cows come home. Its easier to read and complete escapism. I need both styles of books.
If you are interested in knitting and books, I can recommend a visit to Ginny's. I always have the image, on Wednesdays , of all us knitting/book reading folk, that join in the link up, wandering from one blog to another, passing each other without even knowing. Hello to all that have made it here. I'll just pop the kettle on. You're just in time for a muffin straight from the oven.