Yarn Along and a sense of order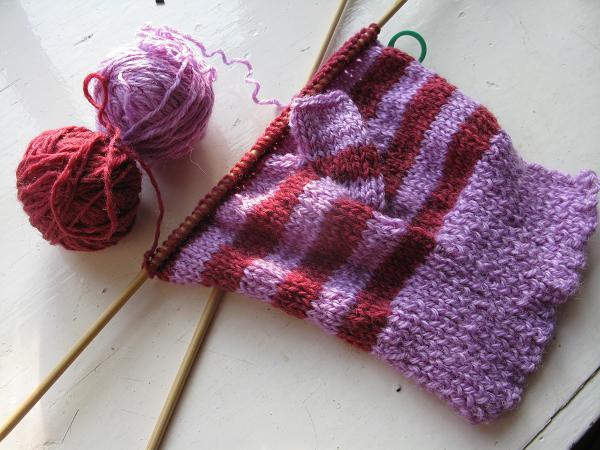 It's Wednesday, which means that it's Ginny's Yarn Along already.
I've cast on another pair of stripey fingerless gloves. Mainly so that I can make a bit more of a dent in my left over wool stash. This pair will probably end up in my stash of presents-in-waiting. It will be good to get a few more done and put away. I'm a little distracted by my hexagon quilting project, otherwise this glove would be part of a pair by now.
While knitting, I've been musing about how to finish my patchwork knitted blanket and I've figured out a perfect way forward. Expect to see one pair of finished gloves and a knitted blanket on my needles next week. There. Now I've said it, so I'm going to have to do it.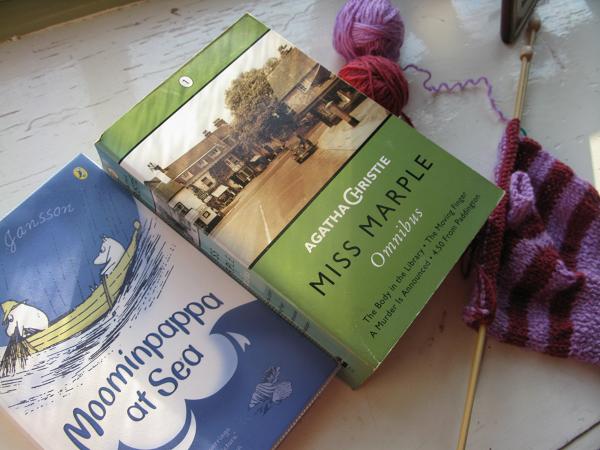 Book wise, I finished Charmed Life, which was very good. I've now passed it on to AJ and ordered the rest of the series from the library. AJ reads at such a rate, that I like to check out extra books to see if they are suitable for my nine year old. It's the old problem of reading age not matching real age. She did phenomenally well in her reading comprehension test this term, so I know that it is all going in! Makes it even more important that she reads books that are right for her age. She has found some books unsettling, despite them being promoted as being in her age range. I could put it down to different life experiences. I think another explanation might be that she is understanding more and is starting to pick up on the bits that grown-ups might read into the story. Makes book choices even more important.
She passed over Moominpappa at Sea to me, which she loved and totally suitable for her. I've been re-reading some Miss Marple books. Not for her. For me! I think they are appealing to my current de-cluttering mood as they provide a wonderful order to life. People take tea at set times and set days with neighbours. The lady of the house invites people over by letter. You can almost guarantee that you will have met the murderer by the end of the second chapter.
The pace is less hurried. Miss Marple sets her knitting down to quietly explain how the maid could not possibly have seen anything, as it was her afternoon off. It's a world that looks in control. Where meal plans and food orders would happen like clockwork. Bed sheets would be changed and laundered on a fixed day. I'm sure Miss Marple would make a wonderful neighbour, except for the inevitable murders that happen whenever she is around. Not sure I need that kind of excitement.
For more reading and knitting, head on over to Ginny's.