Recycling shiny wrapping paper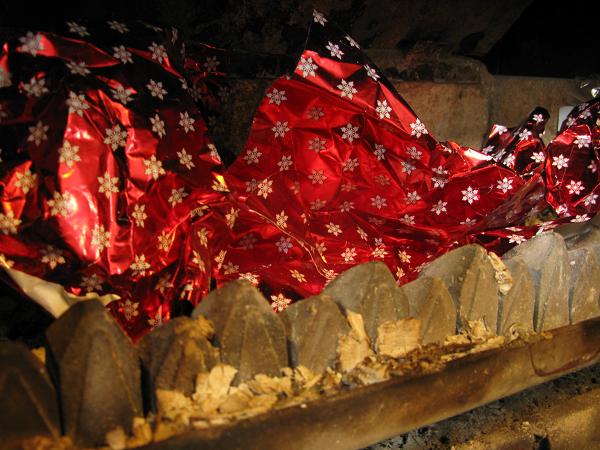 Conversation with my Mother at Christmas:
She: Oh, I'll keep some of that red shiny paper back. I can re-use it.
Me: Are you sure? It's quite torn. (looking down at remains of wrapping paper after my children seem to have shredded it whilst opening their presents.)
She: No. It will be fine for the fire.
Me: Are you sure? I'm not sure this shiny stuff works well as kindling.
She: Oh no. I'm not burning it. I put it in the wood burner when it's not lit. Makes it look like the fire is on.
Me: Are you sure?
She: Yes, it makes you feel warm. Its fooled a few visitors.
Me: Are you sure?
She: Here take some and try it in yours.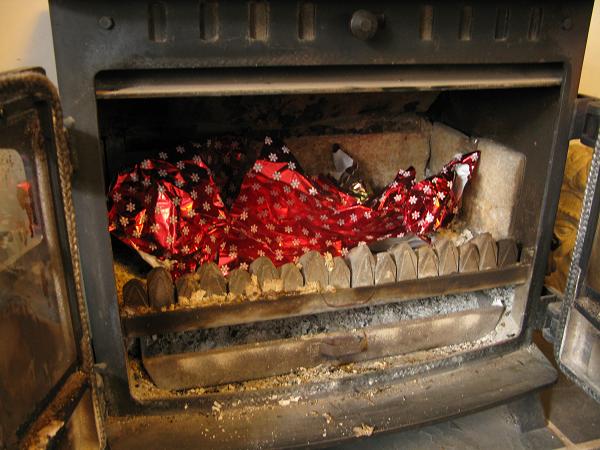 After a couple of weeks of using it, I can confirm it works! On a near subliminal level, it does make me feel that the fire is on. Hinting of warmth. Difficult to photo a subliminal effect. Try looking at it from a distance. Out of the corner of your eye. (Also the best method, if you don't want to see that I forgot to clean up around the fire place before grabbing the camera.)
Previously, we've put a candle either in or on top, when it's not quite warm enough for a roaring fire, but we still wanted the warming glow. Temptation is to do this all the time, but our candles store would soon be depleted. Plus the "do not leave the candle unattended" issue is raised. The wrapping paper goes on and on. So good that it now has its own place to hide when the fire is really lit.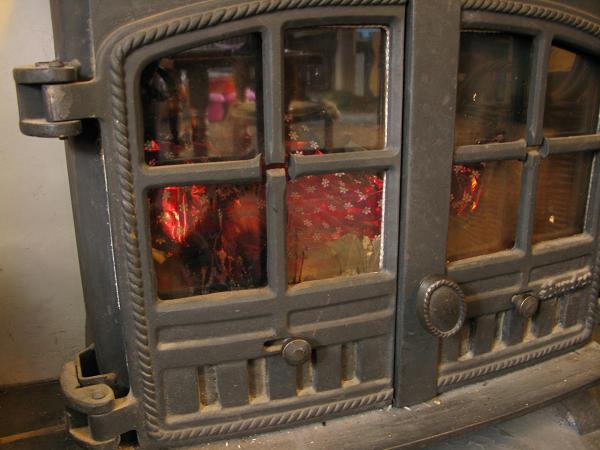 And its recycling! And its thrifty! And its simple! Even the children can do it! ….but this recycling tip is not going to change our lifes or finances much. Maybe we might use a little less fuel, but it does not change the fact that it doesn't work on really cold nights. Obviously. Those are the evenings when we need a real fire and there is no getting round it.
In between those times, I'll be recycling the paper to bring a little glow to our home, which is better than a cold grate!
Ahem…and just for the record….I'm sure too, now!