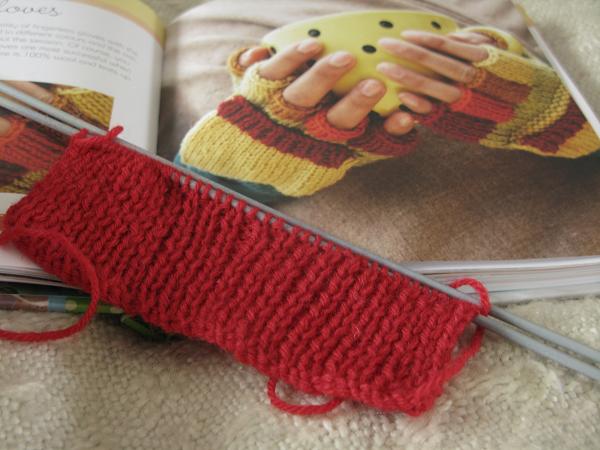 It's Wednesday. It's Ginny's Yarn-Along. It's my chance to put away my hexagon patchwork and pick up my knitting needles. To be honest, I need a change of scene.
At the weekend, we spent  a day in Bristol. Apart from the museum, the children wanted time browsing at a book shop. We must have spent an hour at least there. I limited them to one book, so they each came away with two! I feel that they are honing their negotiating skills!
I picked up a craft book. Just for Fun: 20 Handmade Projects to Stitch, Knit and Craft . I like the format and that it was targeted to beginners and improvers. I want to use some of these projects to do with the children. In the meantime, one project instantly grabbed me. Mittens that will be half-fingerless gloves. I've seen these on Ravelry and put them on my list, but seeing them in the book (holding a cup of coffee) hastily elevated the project to the front of the queue. Too advanced for the children to knit at the moment, so it's up to me to knit a pair for each of them!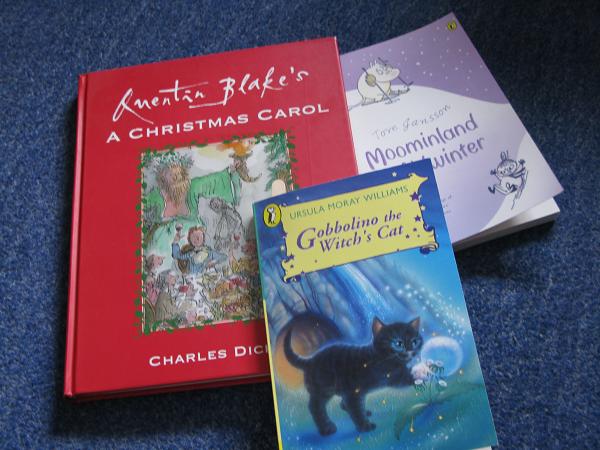 I've not settled into a book, since Christmas. Over the holiday, I spent time reading with the children and we are still finishing off a few of the books. Loved the version of A Christmas Carol. Too much for my 4 year old, but the older girls loved it. I'm reading Gobbolino the Witch's Cat with BL. It is absolutely perfect for her stage. She reads bits to me and I read to her.
I love a book that the children talk and talk about. Moominland is new to us ( – I know, where have we been!).  In the car to Bristol, AJ explained all the characters and the story to us, in a way that showed that it had fired up her imagination and the joy of a good story. After such a rave review, how could I resist slipping it out of her bookshelf and on to my bedside table!
For more knitting tales and novel stories, I'd hop over to Ginny's.