Homespun, Homeknitted Hat. Hurrah!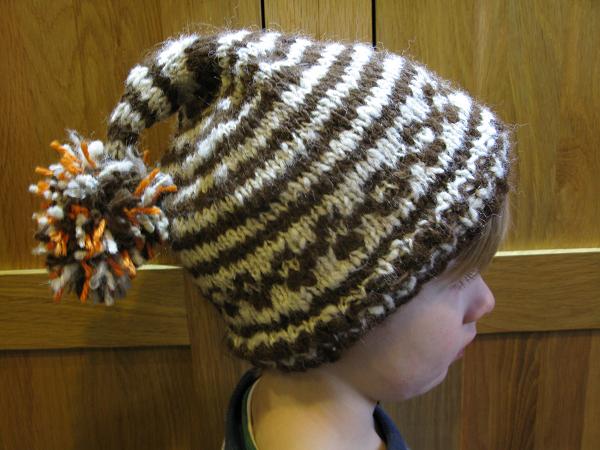 I've finished it! This little hat is so exciting. To me, at least. This is the first item I've finished that is knitted with yarn that I spun myself. On my spinning wheel. Other than raising the alpaca and hand shearing it, I'm not sure that I could have made this more from scratch. The alpaca was one of my early attempts at spinning, so it is uneven and chunky, but I reckon that its rustic feel works perfectly for this style of hat.
I started off using this pattern, but then I just decreased when I wanted to (ravelry notes here). Shaping it into a more stocking shaped hat. TF has his pom-pom. The pom-pom is heavy enough that it pulls the top part down.
I'm still figuring out the style that TF likes. He is growing and changing in so many ways at the moment, that he is getting harder to predict. Some days his negotiating skills seem beyond his age. Other days he can kick up a fuss in a shop, because I've said "No". His curiosity is focused. Yesterday as we all sat quietly, there was a sudden bang from behind my chair. He appeared, holding a needle, with the remains of wrinkled balloon. As he passed it to me, he said, in a matter of fact voice, "It really is a needle." Apparently the proper test for a needle is to see if it can actually pop a balloon. We live and learn.
He has his hat now, because we have some wonderful, windy, wintery weather. Waiting another week for Christmas just seems silly when his head needs it now.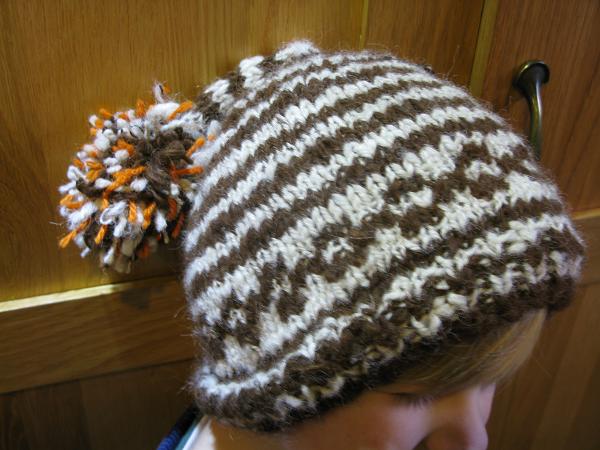 So I hope he will forgive me that it is not a beanie hat as he wanted. It does have a pom-pom. Lets hope that is enough to make it into a hat he wants to wear. Time will tell.