Someone is wishing for snow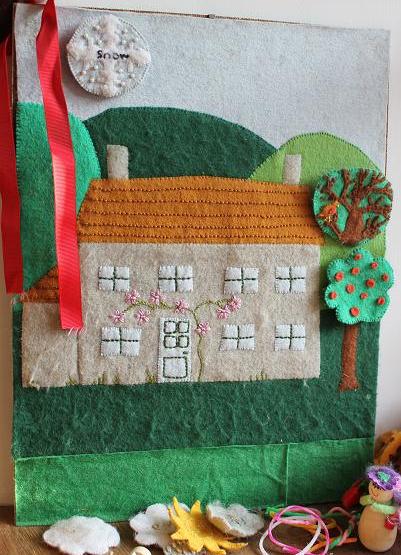 Years ago, when our eldest was just a wee babe, I made a weather and season calendar from felt. I cut out a cottage to resemble our own home. As we live in a valley, the background shows the fields of our neighbouring farm, going up the hills. I seem to remember that I intended to make a tractor, whose activities would change with the seasons. There was a badge to represent each type of weather and four different tops of the tree to show the season.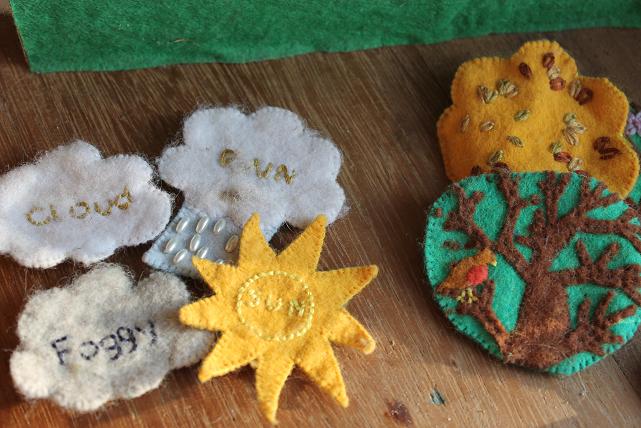 The felt badges are beginning to show their age, after so many years of use. When I made the calendar, I anticipated that once eldest was old enough, we would change the weather to show that day's weather and four times a year, we would change the tree, as the seasons changed. This activity happened on and off for the last nine years, but recently I've noticed a change. The weather displayed does not match the weather outside. At all!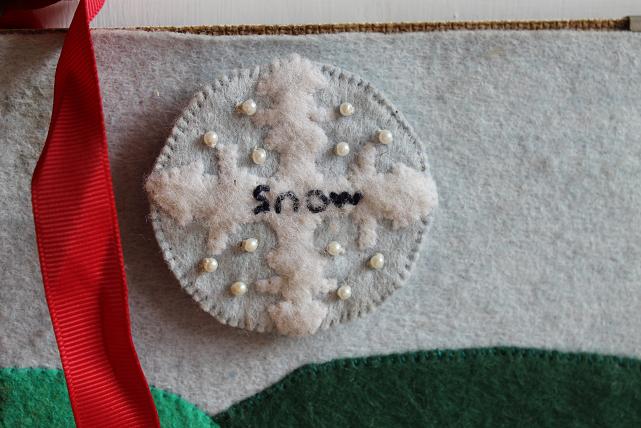 No matter how many times I switch the weather badge back to the current weather, it always goes back to snow! SNOW! I know that we've brought the final apples in from the orchard (Thank goodness), but it seems a bit early for snow. I'm still enjoying the last of the Autumn leaves. Not thinking about snow. I certainly wasn't thinking of snow back in the summer, when the snow badge mysteriously started to appear on our weather calendar.
So I asked the wee ones what was going on. Hmm! Turns out that while I believed this calendar was all about reporting the current weather, sometime over the elapsed years, it turned into a weather ordering machine. Put the weather on the calendar and that's the next days weather ordered. It seems that they enjoyed the snow last year. The days off school, collecting our Christmas turkey on the sled from the local farm, making snowmen. So they pushed their luck and ordered up snow.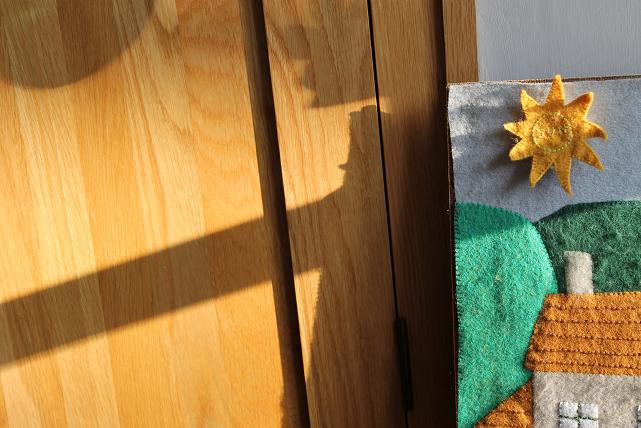 All I can say, dear children, is that I think your weather order machine is broken. Just look at the shadow and sun on the cupboard door today. It is sunny and warm.
Now my children have an answer for everything. One of them swapped the sun and the snow badges over again, while another explained, patiently to their mother, that it would not work if someone kept removing the snow badge.
As much as I love snow, I'm just not ready for it yet. I'm going to carry on swapping it back to sun, but if we do get early snow, please don't blame me. It might be that I just forgot to check the calendar, in time.