Yarn Along – Castle to Alpaca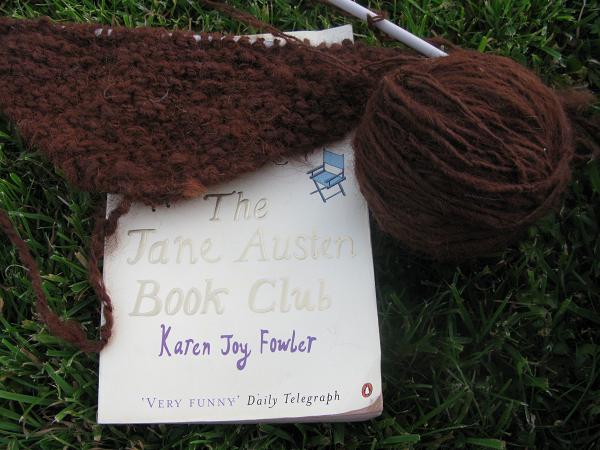 I'm joining in on Ginny's yarn along today. Reading and knitting. I now have so many new books on my reading list. I'm not sure I will ever get through them all.
We have a great big barn, down the road from us, that is full, absolutely full, of second-hand books. It is impossible to come out of the barn without at least one book. Usually a lot more. A few Sundays ago, we popped in as a family. We left with an armful of books. I limit the children to two books only. You never know what you will manage to find and I was thrilled to find a Dianne Wynne Jones and the Jane Austen Book Club.
I have started on the latter, which is on my Yarn Along book list. It is an easy read, which means that I can pick it up when I have time. I was surprised by it, but am enjoying it.

On the knitting side, I've finished the castle jumper.
I'm now knitting up the alpaca that I finished spinning this week. I finally chose the Sheep's wrap, found on Ravelry. I needed something simple, as the wool is dark and, to be honest, my yarn is the type that only the one who spun it could love. I'm looking forward to when I can spin thin, which everyone, and every book, tells me will happen with practise. The alpaca feels and smells gorgeous. I washed it with soap pods, which doesn't add any unnecessary fragrances. It will be a cosy, soft shawl, which is exactly what I was after.
So anyone else knitting and reading? There is still room on my reading list for more!