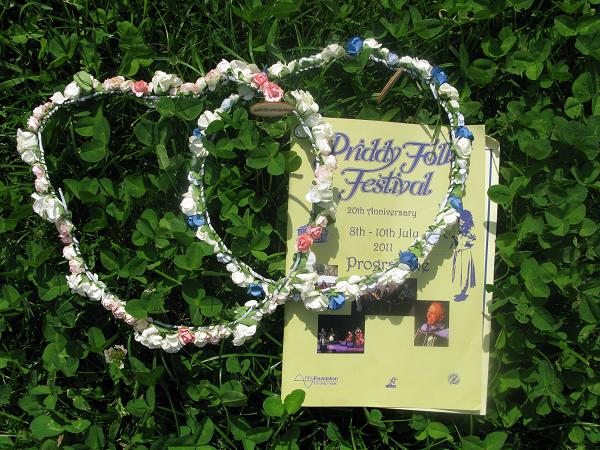 This Sunday, we went to Priddy Folk Festival. You'll have to take my word for this. I would be showing you all wonderful images of the festival, but….., yes there is a but……although I took my camera…….I forgot the memory card! No, the memory card was safe at home hiding in my computer. Darnations! I went around imagining the shots that I would have taken. Even better than last year, although I did say an emphatic "No" to more fairy glitter.
So instead, I'll use words and provide photo previews of crafting work-in-progress proof-of-concepts that I'm working on. Which will probably make it confusing, so apologies in advance.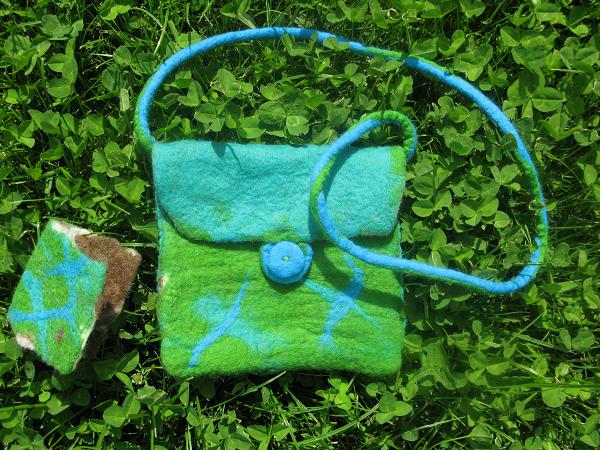 (felted bag I started last night, using merino rovings and jacob sheep fleece. Off cut will be a coin purse. TBC.)
The Children's tent at the festival was fun. They put on plenty of children's entertainment, which is free! We watched a one-man circus. Juggling knives, balancing on a big ball and tight rope walking. The children loved it, although my three were slightly nervous sitting at the front when he started juggling knives.
(First attempt at making a purse with a flat resist. Still needs a fastening. Off cut will be a notebook cover. TBC)
I could have taken a photo of TF talking to the pink flamingo. (image: man on stilts, wearing a "man sitting on pink flamingo" costume.) TF kept asking his father if the flamingo was real. Now he has added a giant pink flamingo to his wish list. I can see the attraction.
(TF kindly modelling necklace that I made last week. I knew I could trust him not to run off with it!!)
There was hula hooping, drumming workshops, morris dancing, community cardboard junk modelling at the festival. Plenty of fun stalls. A man playing a guitar made out of an oil can. The music tents are ticket only. I think next year we may go for a weekend pass. If I can get my act together and book early!
The children were determined to go on the inflatable slides and bouncy castles. I told them that if they were good, then they could go on one at the end. Throughout the afternoon, they took turns to let me know that they were being very good. So thoughtful. All three went on the tallest slide, but TF transferred to the bouncy castle after the first death slide. He said that it was scary, but a lot fun. No photo, of course.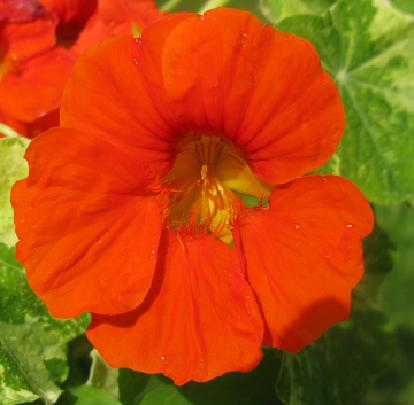 After the festival, we had to run an errand, which took us to our favourite strawberry grower. How could we not buy a punnet of their best! We sat overlooking the Somerset Levels, eating strawberries and drinking lemonade. Perfect end of the day. (Especially for TF, who stood watching the strawberry bags being ferried by a tractor. Pure bliss for a 4 year old boy!). No photo of strawberries, as we left none to bring home.  The place that my memory card was hiding.
So, lesson learnt. If I want photos, I need to take the camera AND the memory card. Together. I'll be adding a little pocket into the bag and purse. Just the perfect size for a spare memory card for my camera. Just in case!
Hope you all had a lovely weekend.