Knitting stitches – Mini beast pattern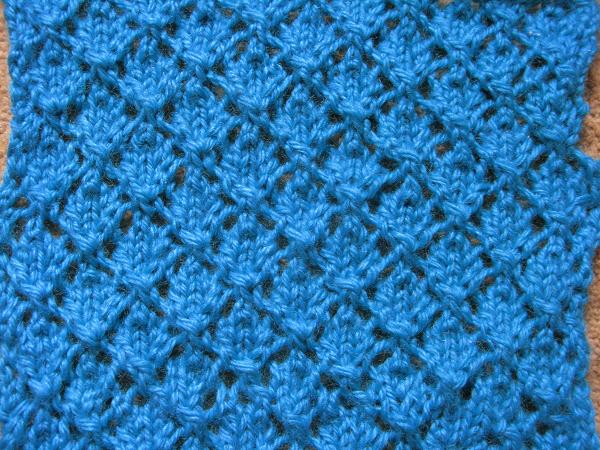 Next pattern for my knitted patchwork blanket. This is the ninth square. I love this one, but I really had to concentrate while knitting it. This is not the one to do if you are concentrating on a fascinating TV program like Brian Cox's Wonders of the Solar System.
Nor is it easy to pick up dropped stitches when your dog throws your hand up with her nose, sending stitches cascading from your needles.  As a result, there is a wobble at one side and one mini beast has a couple of legs joined together. It didn't help that there were errors in the original pattern instructions.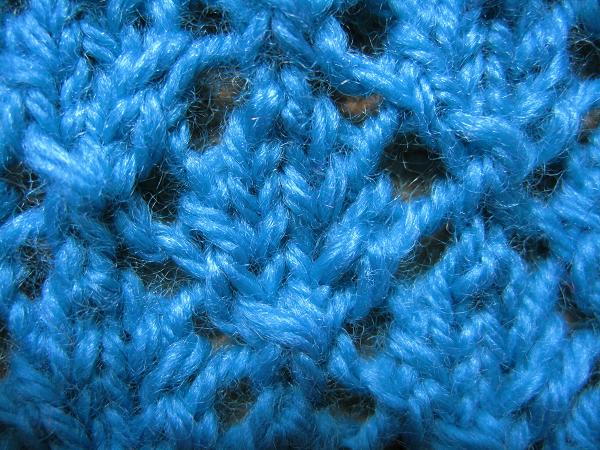 Despite the challenges, I really like this pattern. I'm calling this pattern "mini beast" as I think it looks more like a beetle than a leaf, which the pattern is based on. Definitely legs and wings.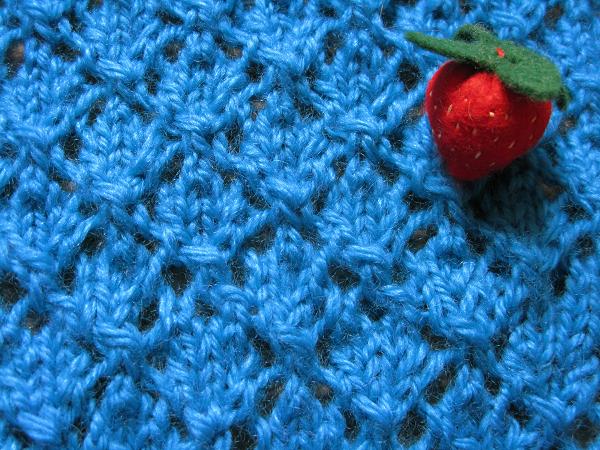 As a block of knitting, this stitch looks lacey. I could imagine using this stitch to knit a summer cardigan, a shawl or a scarf, maybe. It would look good on the leg part of socks and stretch beautifully. The individual stitches are not complicated. If I do this again, and I sure hope I do, I shall make sure that I have no other distractions.
Mini beast square
Cast on 37 stitches.
Abbreviation: P (purl), K (Knit), Yo ( yarn over), K2tog (knit 2 stitches together), P2tog (purl 2 stitches together), psso (pass slipped stitch over the knitted stitch), s1s (slip one stitch)
repeat the stitches between the pair of *s until the end of the row or the last few stitches.
Row 1 : purl
Row 2 : K1 *K2tog, Yo, K1, Yo, s1s, k1, psso, K1*
Row 3: purl
Row 4: K2tog, * Yo, K3, Yo, slip2 stitches knitwise, K1, pass 2 slipped stitches over,*, Yo, K3, Yo, s1s, K1, psso
Row 5:  purl
Row 6: K1 *Yo, s1s, K1, psso, K1, K2tog, Yo, K1*
Row 7:  purl
Row 8: K2 *Yo, slip 2 stitches knitwise, K1, pass 2 slipped stitches over, Yo, K3, * k2 at the end of the last repeat instead of 3
These eight rows complete one repeat. I repeated them 7  times for my square. I have the next square on my needles. I need to up my production rate, otherwise it will not be ready for next autumn, which is my target. Hmm…
Anyone else making slow progress through a patchwork knitted blanket?
Linking this up to Natural Surburbia. Please go and visit the other links. I always find something that inspires me!
edited 31/1/2013: I've created another sample using these eight rows to check that they work. They do, but I've remembered that this is a complex pattern. I found that I had to give the even number rows all my attention when I was knitting them. I also found it a good idea to count the stitches at the end of each row. So much easier to correct an error if you are still on the same row. Each row should end with 37 on the needle.
If you are using a different number of stitches than I've used for this sample, you may have to alter the starting and ending stitches. It is tricky, but well worth the effort! I'm carrying on with this new sample and making a cowl.
Just made a cowl using this stitch here