Wee wooden dolls have arrived!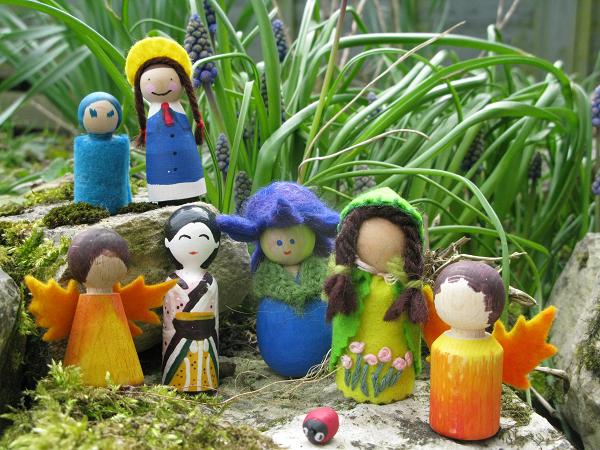 They have all arrived. Yeh! These are the beautiful dolls from my Wee Wooden Folk swap group. I love each and every one of them. We all had the same remit, but no two people had the same idea. An open ended challenge from Margaret at We Bloom Here inspired us all in different ways. To think I "umm-ed" and "ahh-ed" over whether a daffodil doll would be too obvious. Not wishing to add another daffodil doll to the swap collection!
As I love seeing how people move from idea to design to finished object, I'll include my initial design doodles. From left to right – lesser celandine, daffodil, bluebell hat and snowdrop.
The daffodil hat would have been fun to make. Anyway I digress.
Introducing the dolls, grouped by continent.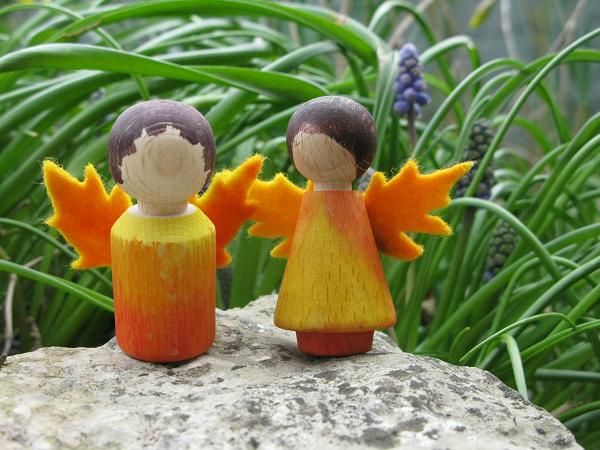 Here are Kaya's fairies inspired by the element of fire. They arrived first, flapping over the Channel from Holland.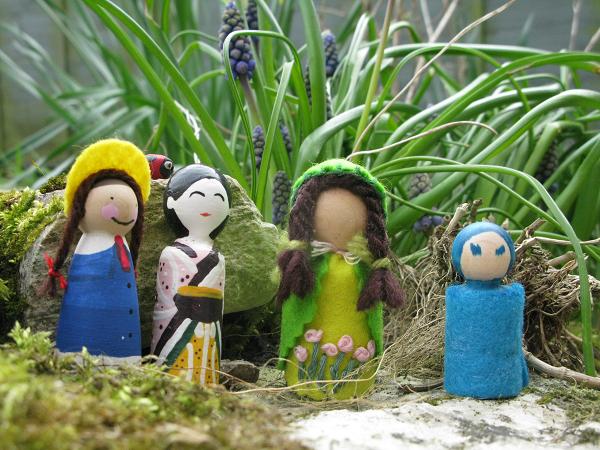 The others made their way over the Pond from Canada and the US and arrived today.
From left to right:
Madeline, inspired by one of our favourite books from Miriam in the US.
Maki which, means "true hope", from About A Girl in Canada.
A Spring Maiden from Angie in the US.
Little Boy Blue from Heather in the US.
This has been the first group swap I have joined in with. I have enjoyed every moment. My family has loved receiving the dolls. They have inspired such imaginative play in my children. A big thank you to all my fellow swappers. Your creative imagination and skills rock!
(This is the bluebell fairy that stayed with us. Along with our own Lily Puddle Two-Spot. Not sure what happened to her bluebell flower!)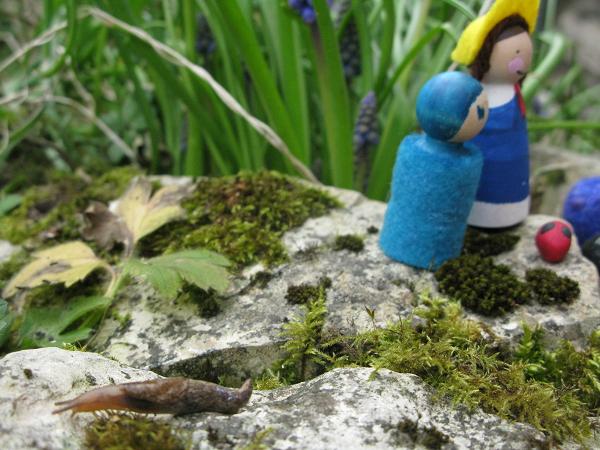 (Not all the garden inhabitants were thrilled to find their patch filled with chattering, giggling wooden folk.)
Of course a HUGE "Thank you" to Margaret for providing the inspiration and hosting this wonderful swap. Margaret has got a gallery building up on her site, showing the other swap groups. I recommend taking a look.