It's a mouse. An origami mouse. Folded from paper made out of the bark of the Lokta bush. This paper is so durable. I'm told that it will survive even a full cycle in the washing machine. I've not tested this out yet, but I'm sure it will happen eventually. Hiding out in someone's pocket.
These little mice are amazing. They multiply at an unbelievable rate. Even faster than real mice.
I am so enjoying making these tiny critters. They are addictive. The starting sheet is just under 10cm square. Resulting mice are tiny. I counted five sitting comfortably in my six year old's hand, at one point.
I must have made about twenty mice this weekend. Maybe thirty. I made them in the car and they kept the children entertained for the hour and a quarter journey. This is a record.
Like most objects that I make, they have disappeared almost as quickly as I can make them. This time I am left with just one origami mouse. The one in the first photo.
I have a solution. Oh, yes. I'm on to them. I've bought more paper today. While the children were at school. I'm going to make more mice and I'm going to hide them in my pockets. Ha! Let's see them disappear from there!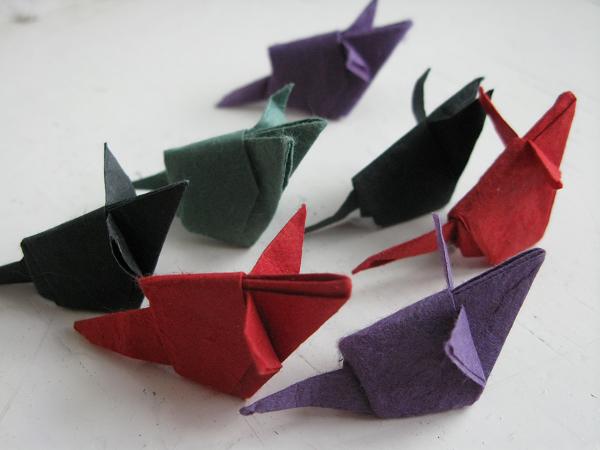 We had a lovely weekend. A flying start to spring. Lots of firsts. Lots of good company. Lots of fresh air. Lots of fun.