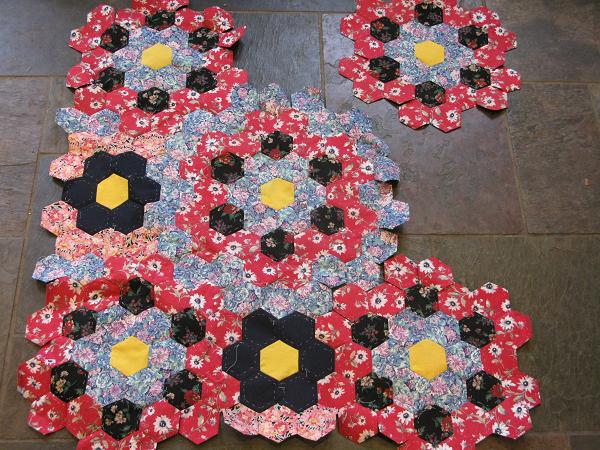 With a project of this size (start and design) and my ability to be so easily distracted by a new exciting project, I need a device to keep me concentrating on a project. By joining in with Melissa's Hex-Along, and promising myself that I will post up weekly progress, there is a good chance I might finish this quilt.
If I know that I am going to post up a photo every Tuesday, showing my progress, it focuses my mind. Gives me fresh incentive to pick it up and sew.  Anyone else find that they need that extra push to keep them on track?
I'm over half way through now. I can see the light at the end of the "hand stitching" tunnel. Once I start sewing these little hexagons, I cannot stop. I find myself thinking "Just one more side ". Next thing I know, I should have gone to bed ages ago! I think it is because they are small. Quite a few hexagon sides can be attached in no time at all, which is hugely satisfying. So I keep on going and time slips by quietly.
I'm still debating what to do at the edge. I've left off the outside darker hexagons for now. They may go on. Or I may do something else. I'll wait until the rest are sewn up. Then I'll experiment again with the design.
Right, off to join the last flower to the rest. Hopefully I'll have the hexagons all sewn up by next week. So close to finishing, it is tantalising!
Anyone else stitching hexagons?