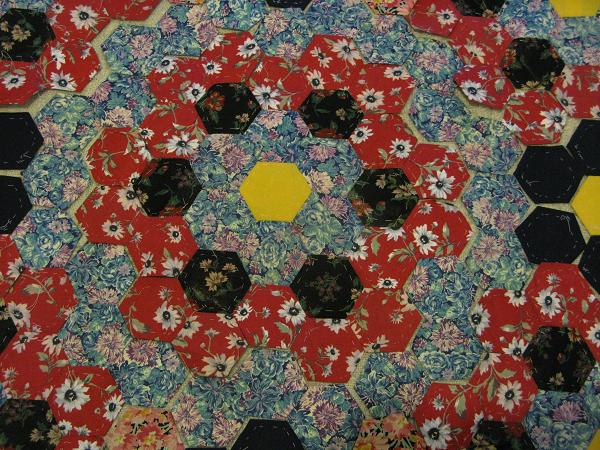 I am completely hooked on sewing hexagons since joining in with the Hex-Along going on at One Crafty Mama. Every idle moment has seen me making tiny little stitches. Joining one hexagon to another. It is such a brilliant project to pick up. Even when I only have a couple of minutes. This week, I estimate that I have attached over 160 hexagons.
This is a long neglected project (15 years). There is no documented design. I'm not sure there ever was a design, but I need one. I don't have enough of some hexagons for the quilt that I wanted to make. So I have compromised. The quilt has shrunk slightly, but not much.
This week I have worked on the five big flowers. TF and I spent a happy hour on Sunday, working out how we could join these flowers up. This is definitely an activity TF loves. He's my design buddy.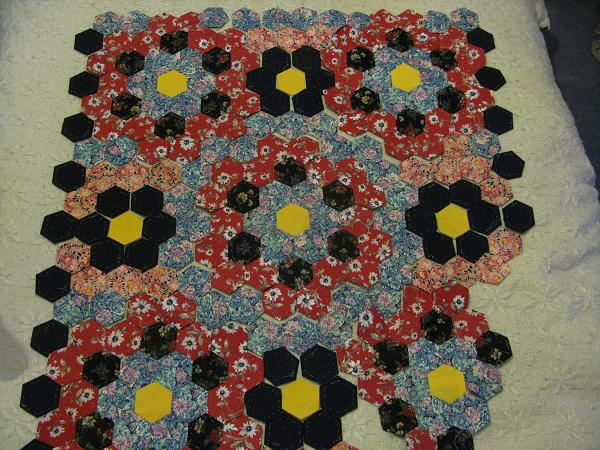 So this is the design we decided on. Apologies for the dull light, but Sunday was not the brightest of days. I reckon that I am about half way through.
I'm not sure how to do the edges. I quite like the jagged effect, so I'm in no hurry to add half hexagons to straighten them. At the moment, I think I'll add a wide border all around it, using the backing fabric. It would also make the quilt that little bit bigger.
How do other people finish off the edges of a hexagon quilt?
In case you are wondering what has happened to the remaining hexagons. Yes, the ones that didn't make it into the quilt design.  I certainly have enough for another quilt. I also have three children who have watched me stitching all week. They are inspired.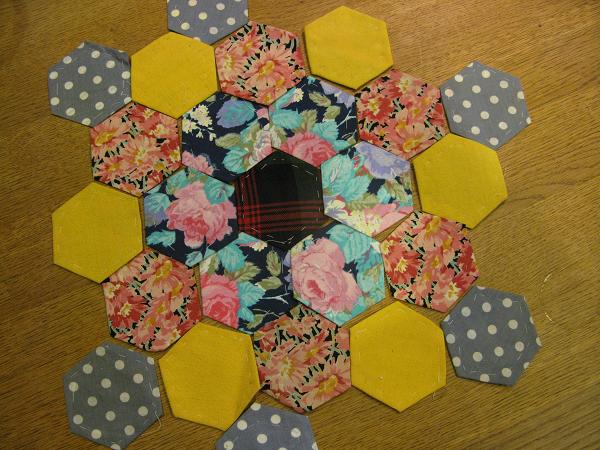 They want to make hexagon cushions. They want to sew them themselves.  Even TF, at the age of 3, fancies the idea of sewing. Hmm. I'm sure if he sits on my lap, he could manage a few stitches. Maybe I'll help him with the rest. They have designed their cushions. If nothing else, between us all, a dent in my bag of hexagons has been made. I'm loving these hexagons.